My wife and I decided to kick off California Wine Month by checking out the Ridge Vineyards Fall Release Celebration at Monte Bello ("MB").  So as soon as the event was announced, we RSVP'd and eagerly anticipated attending the event on September 1st.
However, not long after we decided to check out the Monte Bello Fall Release Celebration, we received an invite for the Lytton Springs Fall Release Celebration.  While, the wines were the same (although I had a feeling Ridge would pull something different out of their magic "library" hat for the Lytton Springs event), the menu featured completely different gastronomic delights so tempting we decided to check, the Lytton Springs celebration too!
Back-to back weekends of wine and food happiness…now that's what I'm talking about!
The five Fall Release wines featured at both events were:
Here's how it went down at Monte Bello…
Join us as we celebrate the release of our newest fall wines. Our winemaking team will be on hand to discuss the vintage and sample a variety of wines with you. We are very pleased to announce the annual return of Pizza Politana for this event! If you've been here to experience their amazing food-truck spin on wood-fired pizza before, then you already know how delicious this event will be, but if you've yet to experience this unique rendition of oeno-culinary magic… you'll be amazed!
It was an absofreakinglutely beautiful day! The skies were blue and beautiful, in the mid-70s, and no breeze to speak of.  It was the kind of day that can make one wonder why anybody would want to live anywhere other than Northern California…
One of the first things we noticed when we arrived at Monte Bellow is the relatively new facelift the winery has undergone, especially to the hilltop area in front of the winery.  It been upgraded to include more tables and made into a wonderful space for a picnic with a glass of wine and taking in the panoramic view of the Silicon Valley.
Down to business…First stop…a splash of the 2010 Ridge Monte Bello Chardonnay….an instant classic that's still young, but shows great structure.  It's opulent, but surprisingly vibrant,  with a harmonious stone-fruit, tropical fruit, mineral character. Long  satisfying finish.  If you haven't already snagged some, it's too late, it's sold out.  Glad I had a chance to taste it!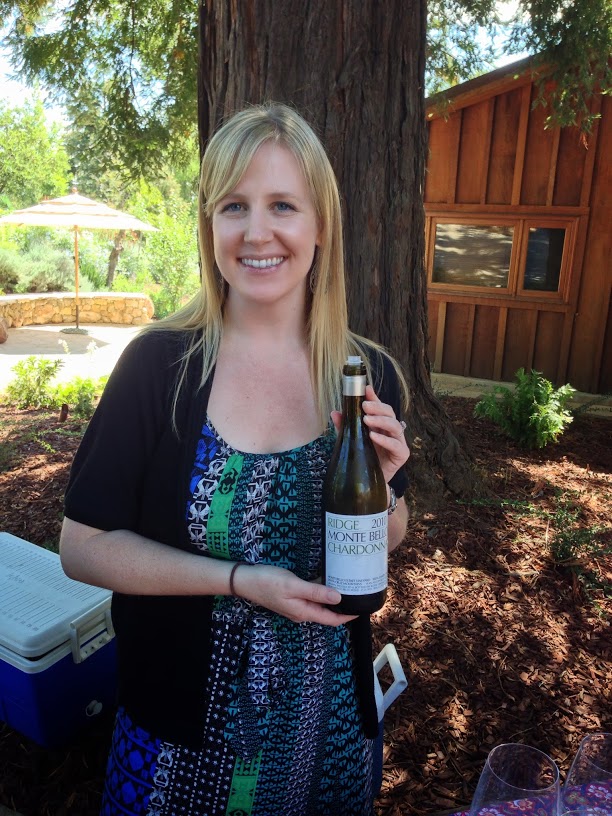 With a splash of the Monte Bello Chard in hand, we headed over to the Pizza Politana station to see what imaginative wood-fired pizza yumminess was in store…
Check out the menu and suggested pairings!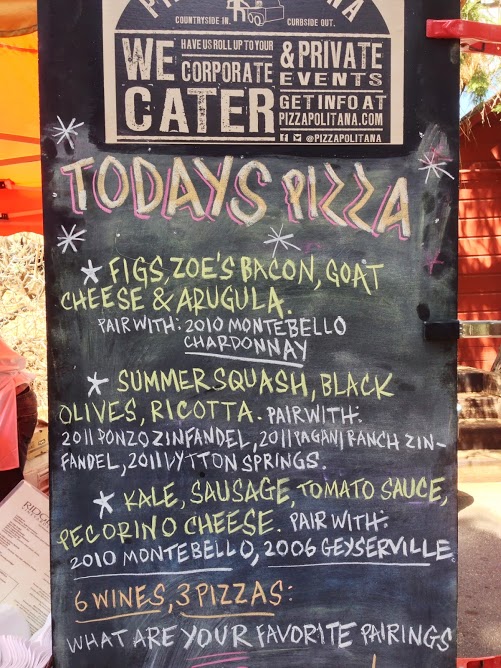 (And to my delight, there is was – a little sumthin, sumthin from the library, the 2006 Geyserville!)

Since the Fig, Bacon, Goat Cheese pizza recommended for our Monte Bello Chard wasn't ready, we happily drained our glasses and headed over to the barn. That's where the Zins were being poured…
2011 Ponzo Zinfandel – Pretty cherry, raspberry spice and subtle floral aromas.  On the palate, it's energetic, and velvety with flavors that follow the aromas.  Seriously delightful on its own or at the table.

2011 Ridge Pagani Ranch Zinfandel – A bigger wine that the Ponzo, with a bit more pronounced and complex aromatics. Exuberant cherry, raspberry, spiced oak, and a bit of eucalyptus leap from the glass.   Wonderful balance of ripe red fruits, tannins, and acidity. Long finish. 
2011 Ridge Lytton Springs – Superbly balanced.  Wonderful acidity. Gorgeous red fruit, sweet spice and bramble aromas; with ample black cherry, red currant, and spice flavors with a long lip-smacking finish. 
Then we headed over to the tasting room, where they were pouring:
2006 Ridge Geyserville – Lovely aromatics  with a melange of red fruits, spiced menthol, and subtle oak.  It's finessed, supple and well-balanced.  It the kind of wine that makes you just want to sit with, and wait for it to reveal its nuanced layers of intriguing aromas and flavors.   Fantastic with Kale, Sausage and Pecorino Pizza! 
And last but not least…
2010 Ridge Monte Bello – Another instant classic! This vintage includes all 4 Bordeaux grapes, Cabernet Sauvignon, Merlot, Petit Verdot, and Cab Franc. Billowing, complex, dark fruit, mineral, violets, and earthy aromas.  Layers of  blackberry, black currant, raspberry fruit with vanillin oak.  Balanced, and beautifully detailed with youthful sweet tannins.  Long finish.  Needs time to mature…the $64k question is…Can I wait?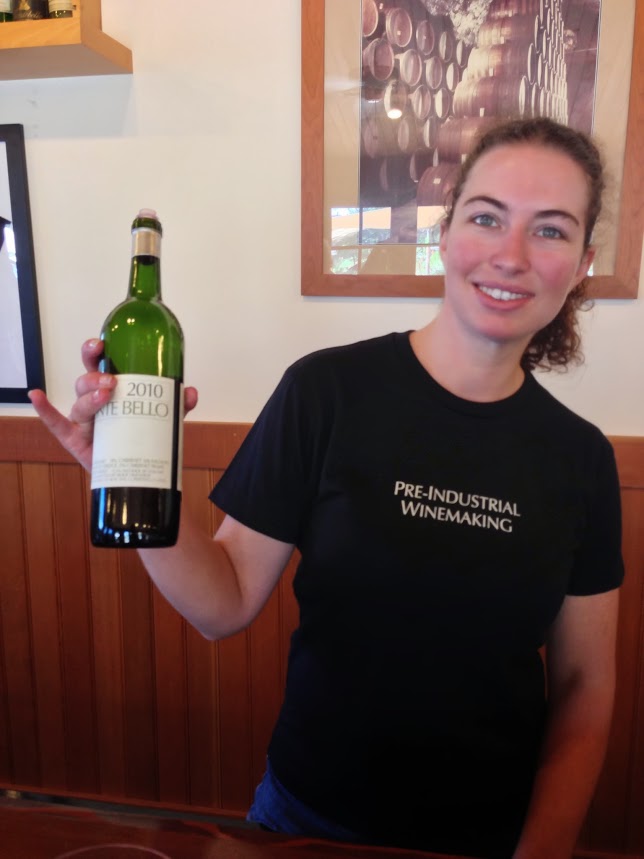 More oft than not, when we go to a Ridge event, we end up buying a bottle of wine.  This gorgeous day demanded it!
It's just  that the wines are some damned enjoyable and satisfying, that I always reach a point when I want a glass of wine.
Not another metered tasting room pour…
Yes…a proper glass of wine…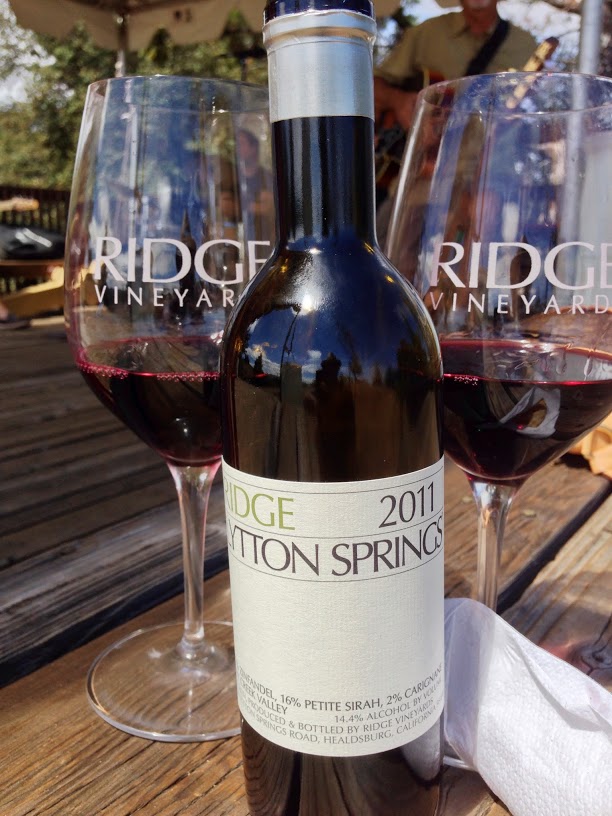 So we picked up a half-bottle of the 2011 Lytton Springs,  and headed up the hill for the best seats in the house for the sweet Jazz stylings of Real Time…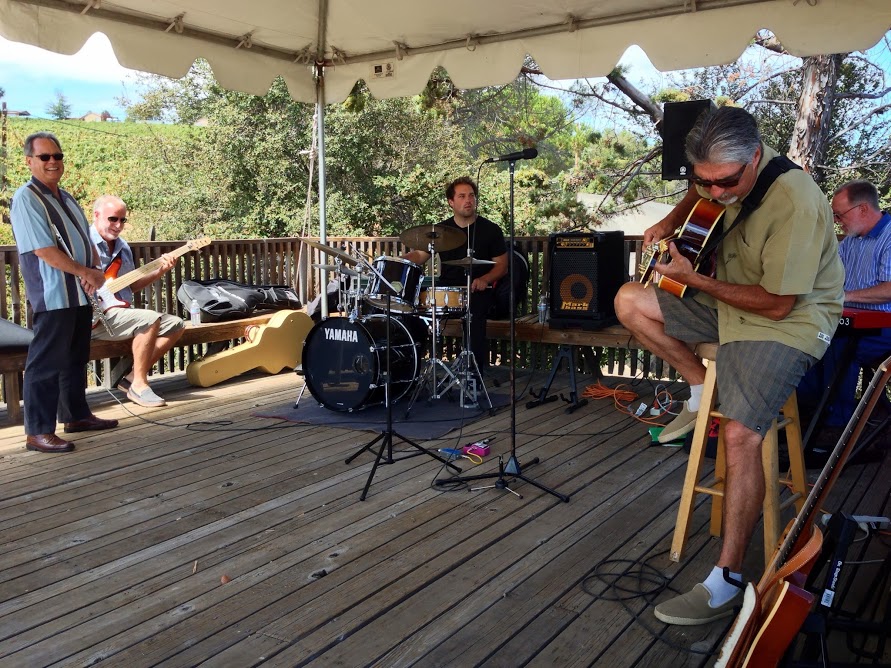 and proceeded to chill, while savoring the beautiful day, distinctive wines and killer pizza.
My favorite pairing of the day was the 2010 Monte Bello Chardonnay and this…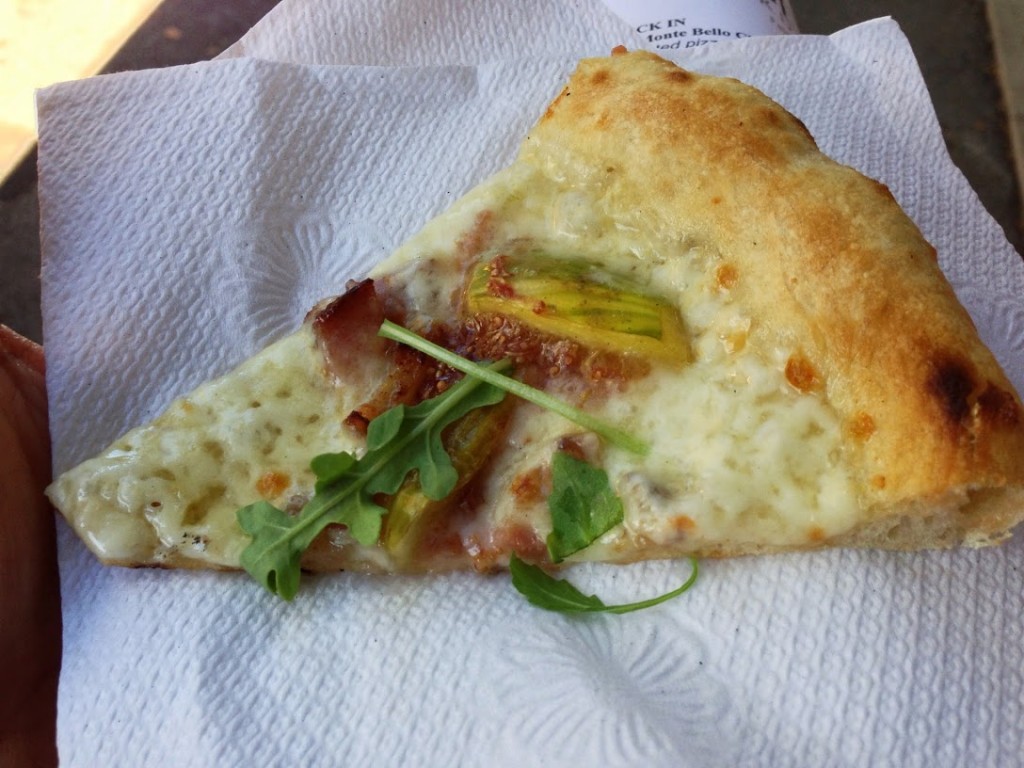 (It barely edged out the Lytton Springs + Summer squash, black olive ricotta pairing – though all the recommended pairings were fabulous)
My wine of the day was the 2006 Geyserville – a sublime wine with a bit of age that's showing superbly now..
The following weekend, we were off to Healdsburg – here's how it went down at Lytton Springs (recently included on Food& Wine 
Best California Wineries To Visit
)…
Unlike the perfect weather from the previous weekend, the day we visited Lytton Spring ("LS") it was HOT (it was 93 degrees and climbing when we left – btw my hat's off to the LS team for somehow keeping ALL the wines at appropriate serving temperature range – Bravo!).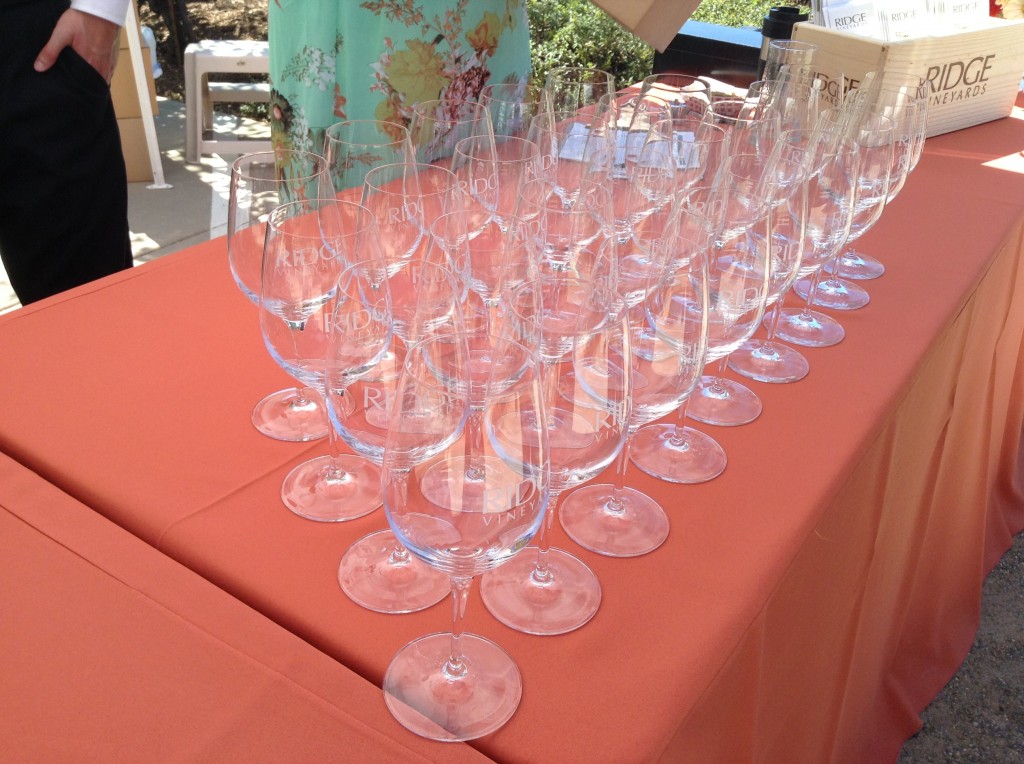 The theme was a virtual wine and food world tour with Spain, France, Argentina, Korea, and of course Sonoma County representing!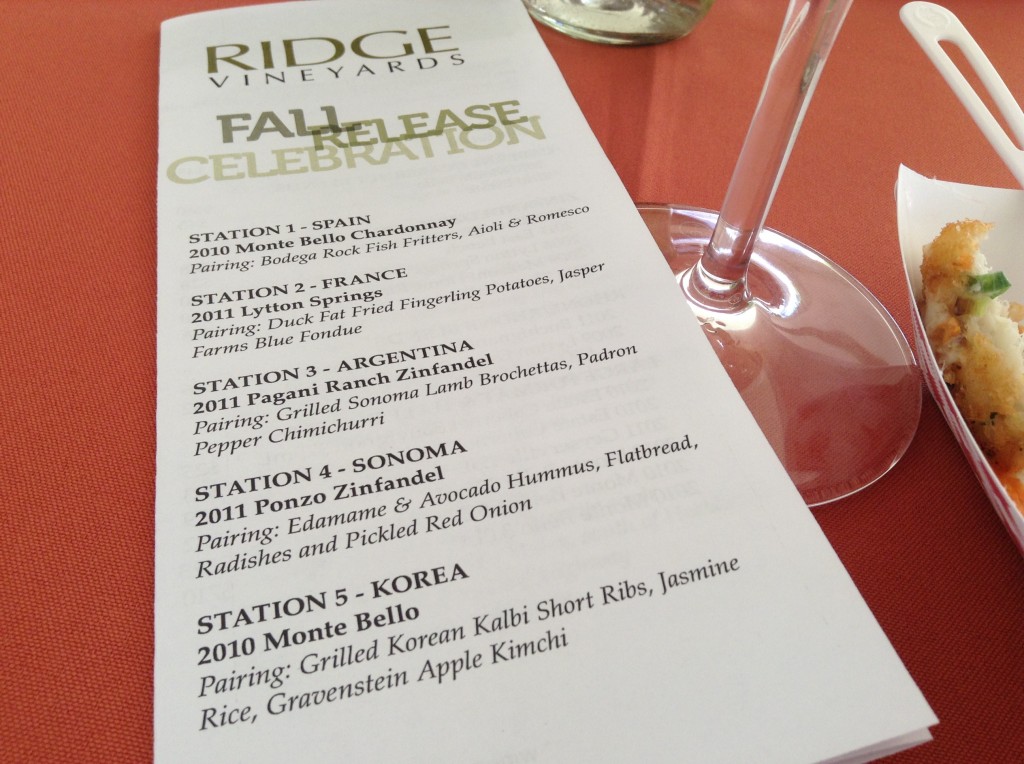 Check out the food and wine pairing menu!
Spain Bodega Rock Fish Fritters, Allioli & Romesco to pair with 2010 Monte Bello Chardonnay
France Duck Fat Fried Fingerling Potatoes, Jasper Farms Blue Fondue to pair with 2011 Lytton Springs
Argentina Grilled Sonoma Lamb Brochettas, Padron Pepper Chimichurri to pair with 2011 Pagani
Sonoma Edamame & Avocado Hummus Flatbread, Radishes and Pickled Red Onion to pair with 2011 Ponzo
Korea Grilled Korean Kalbi Short Ribs, Jasmine Rice, Gravenstein Apple Kimchi to pair with 2010 Monte Bello Cabernet
On top of that, the library selection was the Ridge 2005 Lytton Springs – Intriguing dark fruit, earth, bramble, mint, and spice aromas.  Silky smooth, harmonious, and complex with plum, cassis, bittersweet chocolate, mineral and spice flavors.  Long finish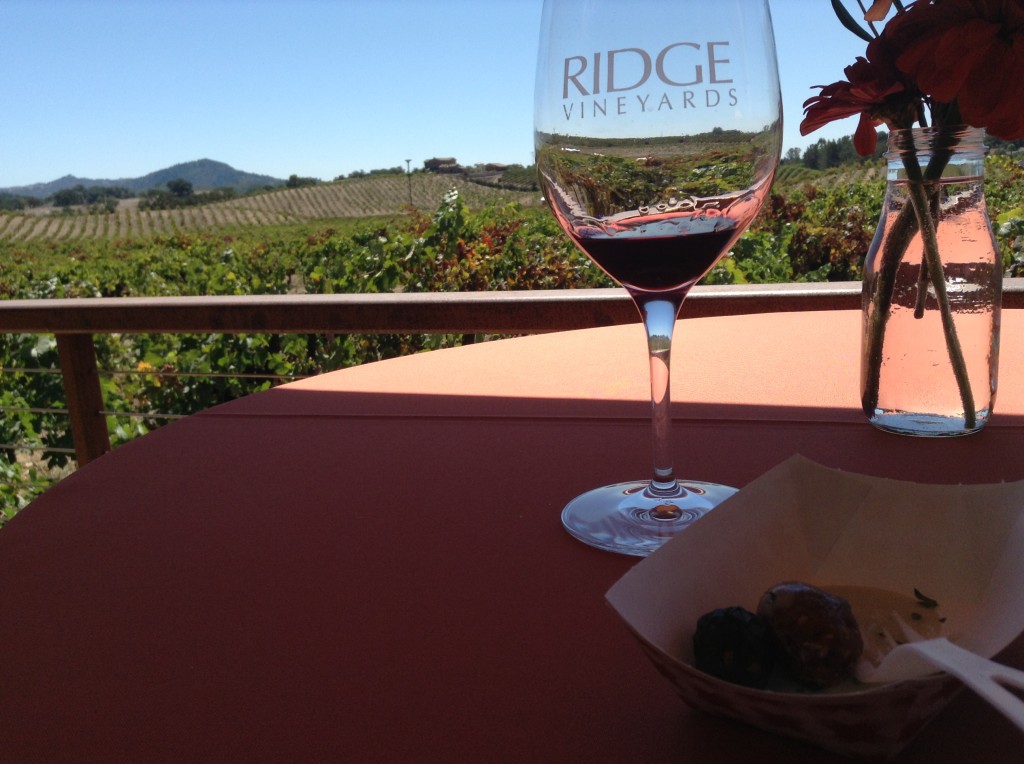 My favorite wine and food pairing was the "Argentina" – My sweet Lord, the fruit and spice profile of the Pagani was a the perfect complement to the spice of the Padron Pepper Chimichurri (which can be a challenge to pair – especially with a red)!
My wine of the day was the 2005 Lytton Springs.
If you know Ridge, then you already know the wines are the truth across the board.   Having been to a few Ridge events, I must say that the foods they offer up to pair with their wines are also the truth.  It's obvious that Ridge puts a ton of care and feeding;-) into their food and wine pairings, and it shows – All the suggested pairings were on point (I must confess, I did a double take when I saw the suggested Grilled Korean Short Ribs paired with the Monte Bello – but damned if it wasn't a delightful pairing)!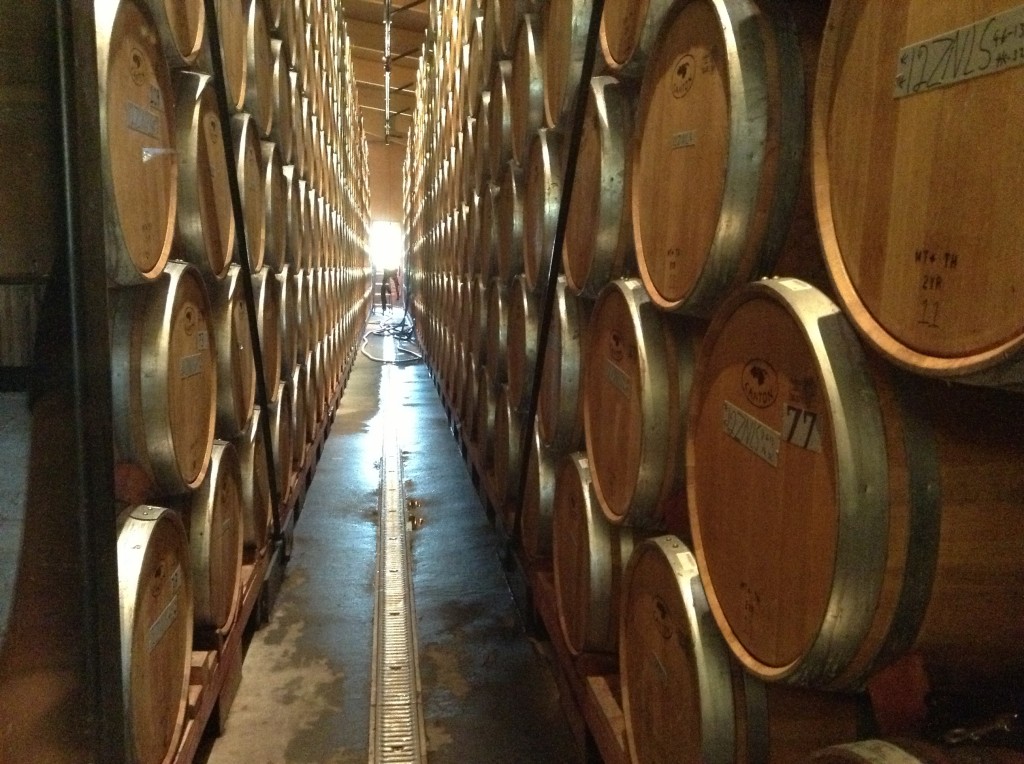 We had a great time at both events and it was interesting to compare and contrast the two experiences.
Monte Bello has those gorgeous panoramic mountain top views, the Jazz, and the wonderous pizza served up by Pizza Politana.  But, it was more challenging to revisit specific wine and food pairings because, the pizza you wanted may or may not be ready, when you were. Funny thing is –  one a few occasions, the wine in my glass disappeared before the particular pizza I wanted appeared!
On the other hand, it was easy to revisit wine and food pairings at Lytton Springs, the tasting room is more spacious, and it's hard to beat the bucolic vibe at LS.  I could sit and admire the vineyard there for hours. I also very much appreciated the opportunity to taste the current and 2005 vintage of the Lytton Springs. What a joy it is to experience how a distinguished wine ages.
Overall, I preferred the Monte Bello experience.  But my wife preferred the Lytton Springs experience.
You can't go wrong either way!
Related post: