Every Thursday I feature a wine I particularly enjoy, whether it's something new and different, is a great value, or from a producer worth checking out.  For this week, my Wine Of The Week is the 2010 Tablas Creek Vineyard Tannat.
The Winery
Tablas Creek Vineyard ("TCV") is probably the best-known of all Paso Robles wineries specializing in Rhone style wines.  It is a partnership between Robert Haas, and the Perrin Family of Chateau de Beaucastel in the Chateauneuf du Pape region in France. What I find interesting about TCV is that they specifically chose to establish themselves in Paso Robles because of the similarities of the soil conditions and climate of Paso Robles to Chateauneuf du Pape.  They went as far as to import vines from Chateauneuf du Pape.  The vines were propagated and grafted in their on-site nursery and used to plant their 120 acre organic vineyard.  Check the full story here.
The Wine
For the uninitiated, Tannat is a red wine grapes whose origins are believed to lie in Basque country, on the border between Spain and France.  The grapes have been be historically grown in South West France in the Madiran AOC.  However today, it's known just as much, if not more so, as the national red wine grape of Uruguay, a small country located on the Atlantic coast of South America.  In fact, more Tannat is grown in Uruguay than in the grape's native France.
Tannat..has adapted itself beautifully to Paso Robles and produces wines suitable for long aging with very dark color, distinctly aromatic, spicy aromatics and rich dark fruit
Tablas Creek has been bottling Tannat as a varietal wine annually since 2002, when through their efforts, Tannat was recognized as a separate varietal by Bureau of Alcohol, Tobacco and Firearms ("BATF").
Here's what TCV say about production of this wine..The Tannat grapes were destemmed and fermented using native yeasts. The wine was then moved to small barrels where it was aged for 18 months. The wine was bottled in May of 2011.  While in many vintages we blend in our small production of Cabernet Sauvignon with our Tannat, in 2010 we were so taken with the Cabernet, and so pleased with the Tannat's balance, that we bottled each separately.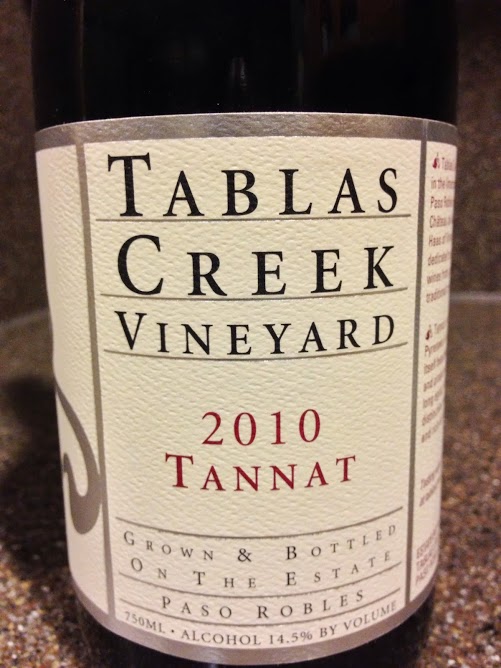 My tasting notes follow:
Inky opaque black-purple color with dark fruit, smoked meat, and sandalwood aromas. On the palate it's medium-bodied, and intense with a firm tannic structure.  It's muscular, yet polished with layered blackberry, raspberry, mineral, spice flavors. Medium-long finish. 14.5% alcohol
Rating: A-: Loved it!

Pair with: I very much enjoyed this with grilled tri-tip.  TCV suggests pairing with Braised Short Ribs, Boeuf Provençale, game stews, or Szechuan beef.
Sample purchased for review
Ratings Key:
(A+) – 98-100/Extraordinary
(A) – 94-97/Outstanding
(A-) – 90-93/Excellent
(B+) – 86-89/Very good
(B) – 80-85/Good
(C) – 70-79/Bleh
(D) – 50-69/#Fail
Follow me on Twitter @martindredmond for all things wine, and since I'm a wino, with latent foodie tendencies, you'll also find food and wine pairings, and food related stuff! Become a fan and join ENOFYLZ Wine Blog on Facebook. Cheers!
This article is original to ENOFYLZ Wine Blog.com. Copyright 2013 ENOFYLZ Wine Blog. All rights reserved.