Every Thursday I feature a wine I particularly enjoy, whether it's something new and different, is a great value, or from a producer worth checking out.  For this week, my Wine Of The Week is the 2007 Corté Riva Cabernet Franc.
My choice of wine for this week was largely driven by the fact that today, August 29th is #CabernetDay, a global celebration of all things Cabernet (Cabernet Sauvignon, Cabernet Franc, and Cabernet blends) on social media.  If #CabernetDay holds true to form, King Cab will dominated the conversation.  But, I've chosen to take the road less traveled, and selected a Cabernet Franc instead!
The Winery
Corté Riva is the first Filipino-owned winery in the Northern California wine region. The owners of the winery, husband and wife, Lawrence Cortez, and Nieves Cortez, and Romel Rivera immigrated to the US from the Philippines in the late 70s.
They are great example of immigrant who have achieved the "American Dream"  They worked their way up from the bottom in the wine industry – picking grapes, pruning, suckering, watching for frost on the cold spring nights (Filipino immigrants have been part of the labor force responsible for California's vineyards since the 1920s).
After decades in the wine industry and working their way up the ladder, in 2003 their first vintage was released; 350 cases of 2001 Corté Riva Merlot. The vintage received warm praises from many in the wine industry and sold out in two months!
Romel who is now the wine consultant, assists Lawrence, who has taken on the major roles of winemaker & cellar master for Corté Riva.  Nieves is Sales Manager, and in charge of the business aspects of the winery.
The concept for the brand pays homage to their last names Cortez & Rivera, thus transformed to Corté Riva! The vase used on the label reflects a past and present history of family – saving for the future.
Corté Riva has two collections of wine, the premium "Corté Riva" line is headed up by their flagship Mabuhay (which means "long life") Cabernet Sauvignon, and their value-oriented "Cortez 78" line of wines (I tried the Cortez 78 Merlot Rosé, and it was very good!)
The Wine
The wine is a blend of 85% Cabernet Franc from Thalia Vineyard, and 15% Merlot from the Kenefick Ranch Vineyard.  The Cabernet Franc grapes add a floral note and structure to the wine.  The wine was  aged 2 years in a 100% French Oak; 50% new.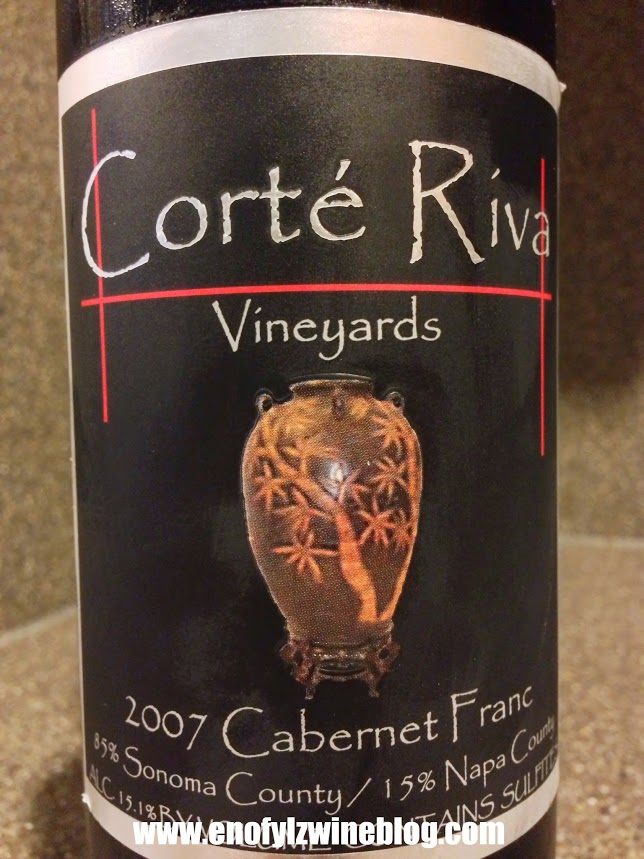 My tasting notes follow:
Inky opaque violet color with compelling dark fruits, violet, pencil lead, dark chocolate aromas. On the palate, it's medium-bodied, focused and smooth with sweet fine-grained well integrated tannins. It exhibits delicious cassis, plum, and dark chocolate flavors. Medium-long finish. 85% Cabernet Franc; 15% Merlot 
Rating: A-: 
Pair with: I enjoyed with tri-tip and marinated grilled mushrooms.  Consider pairing with kare-kare (a Filipino oxtail stew), beef caldereta, lasagna, or Middle-Eastern fare!
Sample purchased for review
Ratings Key:
(A+) – 98-100/Extraordinary
(A) – 94-97/Outstanding
(A-) – 90-93/Excellent
(B+) – 86-89/Very good
(B) – 80-85/Good
(C) – 70-79/Bleh
(D) – 50-69/#Fail
Follow me on Twitter @martindredmond for all things wine, and since I'm a wino, with latent foodie tendencies, you'll also find food and wine pairings, and food related stuff! Become a fan and join ENOFYLZ Wine Blog on Facebook. Cheers!
This article is original to ENOFYLZ Wine Blog.com. Copyright 2013 ENOFYLZ Wine Blog. All rights reserved.