It's that time of year… Yes, it's Rosé season!. With that in mind, I've embarked upon a series of weekly "Drink Pink!" Rosé tastings.  This week's Rosé is the 2012 Copain Tous Ensemble Rosé.
The Winery
Copain Winery was founded by winemaker Wells Guthrie in 1999.  According to the Copain website…
Wells Guthrie discovered early on that his taste in wine gravitated toward Europe in general and France's Rhône Valley in particular. So much so, he picked up and moved with his new bride to the region to learn from the best. For two years, Wells apprenticed for esteemed winemaker and living legend Michel Chapoutier in France's Rhone Valley. During that time, Wells was deeply inspired by the traditions and practices of French winemaking, not to mention the European attitude that wine is an essential part of life.
Guthrie started the winery with an old friend, and named it Copain, which means 'friend" in French.
Copain is focused on Chardonnay, Pinot Noir,and Syrah.  They also produce this Rosé, and an interesting, food friendly and outstanding wine named "P2″ which is a 50/50 blend of Pinot Noir and Pinot Gris. They offer three lines of wines, the entry-level "Tous Ensembles", mid-level "Les Voisins", and their top of the line "Single Vineyard" Wines.
Their beautiful tasting room is located in Healdsburg. The winery sits atop a hillside with a breathtaking view of the Russian River Valley. Here's a pic from my most recent visit…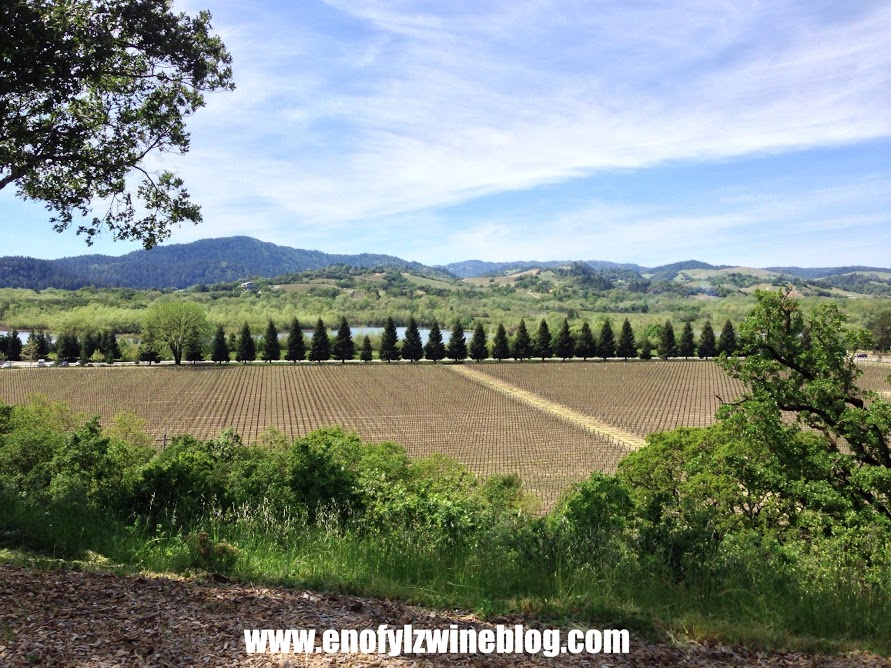 The Wine
The fruit for this Pinot Noir-based Rosé is sourced from the cool-climate Anderson Valley.   is the perfect companion to a summer evening, indeed.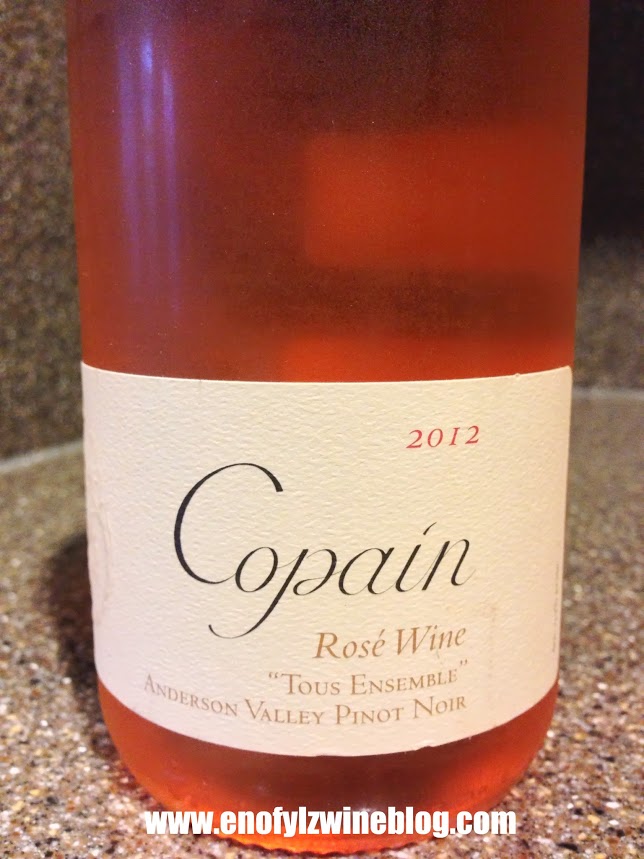 My tasting note follows:
Salmon color with a copper hue, it exhibits  appealing peach skin, red fruit and a hint of floral aromas. On the palate, it's light-bodied and fresh with a soft texture, along with delightful strawberry, honeydew, cherry flavors and a mineral undertone. Lingering finish.
Rating:  B+: Pinot Noir makes a great Rosé.  Copain makes small quantities of this delightful wine, so you'll have to look for it.  It's well worth the effort. >>Find this wine<<
Pair with: This wine works well as both an aperitif, and at the table.  Try with grilled fish paired with a salad.
Sample purchased for review 
Ratings Key:
(A+) – 98-100/Extraordinary
(A) – 94-97/Outstanding
(A-) – 90-93/Excellent
(B+) – 86-89/Very good
(B) – 80-85/Good
(C) – 70-79/Bleh
(D) – 50-69/#Fail
Follow me on Twitter @martindredmond for all things wine, and since I'm a wino, with latent foodie tendencies, you'll also find food and wine pairings, and food related stuff!
Become a fan and join ENOFYLZ Wine Blog on Facebook. Cheers! This article is original to ENOFYLZ Wine Blog.com. Copyright 2013 ENOFYLZ Wine Blog. All rights reserved