Every Thursday I feature a wine I particularly enjoy, whether it's something new and different, is a great value, or from a producer worth checking out.  For this week, my Wine Of The Week is the 2010 Bedrock Wine Co. Papa's All Blacks.
The Winery
Bedrock Wine Co. is an "itsy-bitsy winery making wine in a converted chicken coop". Though recently Morgan Twain-Peterson, the winemaker/owner of Bedrock Wine Co. announced some big changes including building a new winery, and hiring of close friend, Chris Cottrell to work with him.  Sounds like Bedrock will be moving from the "itsy-bitsy" level to a higher level production-wise.  The wines are already major quality-wise!
There are two things that make Bedrock Wine Co. special in my view – the first is Morgan (you can check out his full bio here), but suffice it to say he's been making wine since he was "knee-high to a bug" including working harvests in McLaren Vale, Australia and worked as a visiting winemaker at Chateau Lynch-Bages in Bordeaux before returning to California to focus on revitalizing California's heirloom vineyards. The second is his vineyard sources. I did a post last year entitled Bedrock Wine Co: Where Old Vine Love And Transcendent Wine Making Come Together, wherein I focused on the sources of Bedrock's grapes.
In terms of the wine making process itself at Bedrock, it's surprisingly Ole Skool (or as Morgan might put it "Cro-magnum").  Grapes are pitch-forked into a small Zambelli destemmer, the punch-downs are manual, after fermentation the wines are basket pressed in an Italian press that is manually operated.   It's a very manual and time-consuming process, but I can vouch for the results.  Peterson is making some unique distinctly Californian wines that are spectacular!
The Wine
This wine is the first collaboration between winemaker/owner  of Bedrock Wine Co., Morgan Twain-Peterson, and his father Joel Peterson. The elder Peterson, who was inducted into the Vintners Hall of Fame in 2011, and was the founding winemaker at Ravenswood is widely regarded as the "Godfather of California" Zinfandel.
This "all black" wine is derived from three of Sonoma Valley's most revered vineyards – 50% Bedrock Vineyard, 25% Monte Rosso, 25% Stellwagon – all of which have vines planted well before the turn of the previous century.
The wine is composed of Zinfandel from the ancient Stellwagen and Monte Rosso Vineyards, along with Petite Sirah and Alicante Bouschet from the Peterson family's Bedrock Vineyard. After native-yeast fermentation the wine was put down to 50% new French oak. This is a massively endowed wine, full of fruit and tannin with still prominent oak.  According to Morgan "I, personally, would stash this one in the back of the cellar and check it out in 4-5 years when the intricacies of its personality can be better seen".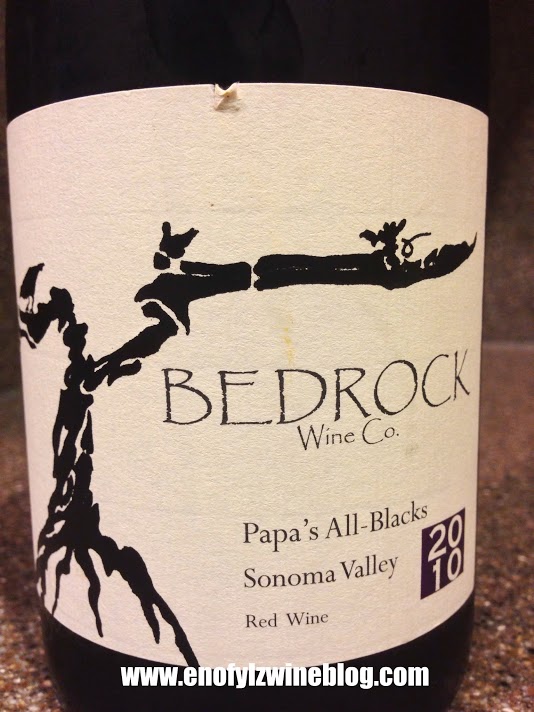 My tasting notes follow:
Inky purple color with aromatic violet, cassis, blackberry, plum and pepper aromas. On the palate, it's medium-bodied with medium+ acidity, very smooth texture, and well integrated tannins It shows blackberry, cassis, and a kiss of spiced licorice flavors. Long finish. Still young, but already well structured and damn tasty! 14.8% alcohol.
Rating: A-: This is an opulent wine, that I admittedly drank too soon.  Fortunately, I've got another bottle – which, Good Lord willing and the creek don't rise, I'm very much looking forward to in a couple of years! Will buy more next opportunity!
Pair with: Stuffed pork chop, venison, roast lamb, beef fajitas or  a nice grilled rib-eye steak!
Sample purchased for review
Ratings Key:
(A+) – 98-100/Extraordinary
(A) – 94-97/Outstanding
(A-) – 90-93/Excellent
(B+) – 86-89/Very good
(B) – 80-85/Good
(C) – 70-79/Bleh
(D) – 50-69/#Fail
Follow me on Twitter @martindredmond for all things wine, and since I'm a wino, with latent foodie tendencies, you'll also find food and wine pairings, and food related stuff! Become a fan and join ENOFYLZ Wine Blog on Facebook. Cheers!
This article is original to ENOFYLZ Wine Blog.com. Copyright 2013 ENOFYLZ Wine Blog. All rights reserved.