When I saw this week's Breakfast for Dinner theme, I immediately knew I had to pull double-duty this week. While I typically offer wine pairing recommendations for my #SundaySupper foodie friends, I'm in the kitchen this week too. That's because my dish this week – Hangtown Fry, is perfect for this week's theme. On top of that I have been craving since last year!
Legend has it that a 49'er hit a glory hole, an incredibly rich pocket of gold nuggets. He walked into the El Dorado Hotel restaurant in Hangtown, now Placerville California, and asked the waiter what was the most expensive item on the menu. The waiter answered that would be one of three things, oysters, which were tinned and shipped all the way from Boston, Bacon, which was scarce, and Eggs, which were also scarce. The prospector answered, fix them all on one plate and bring it to him. So was born the 'Hangtown Fry'.
I was introduced to Hangtown Fry by my friend Manny.  He made one for me during a "field trip" of our wine tasting club made to the Tomales Bay Oyster Company last year.  It was a day full of friends, fun, food, and wine. We enjoyed raw oysters, grilled oysters and clams, and various other barbecued delights, but the Hangtown Fry was my favorite!  I enjoyed it with a glass of sparkling wine. Simply put, it was a deathbed food and wine pairing for me!
For the uninitiated (and I was among them until last year), Hangtown Fry could possibly be the first California cuisine. It consists of fried breaded oysters, eggs, and fried bacon, cooked together like an omelet. In the gold-mining camps of the late 1800s, Hangtown Fry was a one-skillet meal for hungry miners who struck it rich and had plenty of gold to spend.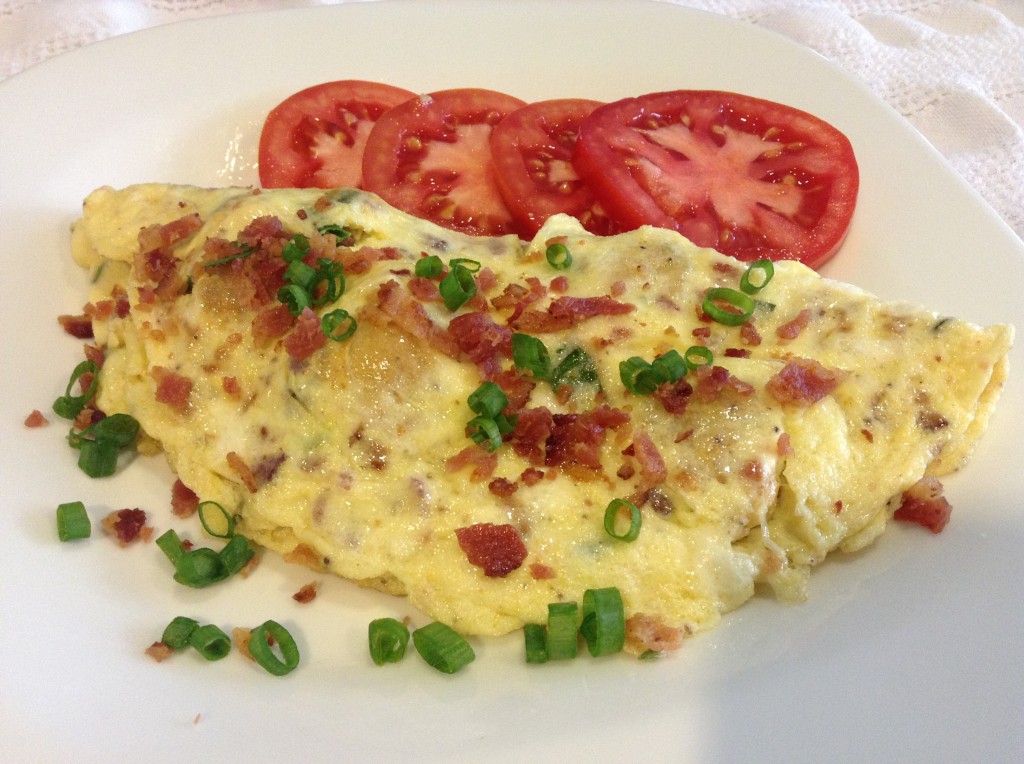 I choose to make my Hangtown Fry omelet style – mostly because I worked by way through college as a cook and I've made thousands upon thousands of omelets.  But you can make this frittata style and finish under the broiler.  In fact, the original recipe call for finishing a Hangtown Fry by putting a lid on the pan cooking until the top if set (about 5 minutes either way)

Hangtown Fry
Cuisine:
California Gold Rush
Prep time:
Cook time:
Total time:
Hangtown fry is a type of omelette made famous during the California Gold Rush in the 1850s. The most common version includes bacon and oysters combined with eggs, and fried together. The dish was invented in Placerville, CA a.k.a. "Hangtown"
Ingredients
3 strips cooked bacon, chopped or crumbled
3 oysters, shucked
1 tablespoon all-purpose flour
1 egg, beaten
1 tablespoon cornmeal
1 tablespoon butter
3 eggs, beaten
3 dashes of hot pepper sauce
I teaspoon, chopped fresh basil
kosher salt and cracked black pepper
2 sliced scallions, thinly sliced
Instructions
Cook bacon until crisp and set aside. Reserve 1 TBSP bacon fat.
If the oyster are large, cut into bite sized pieces.
Pat oysters dry, and season with salt and pepper; set aside.
Put flour, 1 beaten egg, and cornmeal in 3 separate bowls. Dip each oyster in flour, then egg, then cornmeal; place on a floured plate.
Heat reserved bacon fat in butter in a nonstick skillet over medium-high heat. Add oysters; fry, flipping once, until golden brown, about a minute.
Whisk remaining eggs in a bowl; season with salt and pepper and hot pepper sauce.
Add eggs to pan with half the bacon and scallions. Cook until eggs are just set, about 3 minutes.
Flip (if making omelet) or smooth over top; cover, and cook until top is set, about 5 minutes.
Transfer omelette to a plate, and garnish with remaining bacon and scallions.
Serve with sliced tomatoes
For more Breakfast for Dinner inspiration, check out the rest of the lineup the #SundaySupper team of food blogger has created, along with my wine pairing recommendations. All the recommended wines can be found for less than $20.
Pair these dishes with sparkling wine! Look for Gloria Ferrer Sonoma Brut.  It's a blend of (mostly) Pinot Noir and Chardonnay with pear, toasty almond, and floral aromas. On the palate it shows lively citrus, and apple flavors. Aside from being among THE most food friendly wines, know what else I love about bubbly? It's the only wine that's socially acceptable to drink any time of day!
Bubbly is so nice, I'm recommending it twice!  Pair these dishes with a sparkling Rosé.  One of my favorite is from Burgundy – Louis Bouillot Cremant de Bourgogne "Perle d'Aurore" Brut Rosé.  It's a beautiful eye of the swan color with fruity blackcurrant, strawberry character.
Pair these dishes with a Sauvignon Blanc from the Loire Valley.  Look for the 2011 Patient Cottat "Le Grand Caillou" Sauvignon Blanc.  It has a lovely tropical fruit, citrus, spice and mineral character with a tangy acidity.
Pair with these dishes with a Syrah, I like the 2011 Andrew Murray Vineyards Tous Les Jours Syrah. This damn tasty wine is full-bodied, with wonderful acidity, and a dark fruit, spice, and slight earthy character.  
Pancakes, Waffles, and French Toast topped with maple syrup is a very challenging pairing for wine.  You're probably better off with a cold glass of milk or your favorite cup of coffee, but if you have a sweet tooth, try the Yalumba Museum Reserve Muscat a fortified dessert wine from Australia.  One sip and it'll be Muscat love with its decadently rich toffee, caramel, and spiced orange peel character. 
Pair these dishes with Moscato d'Asti, a sweet, low alcohol wine produced in the province of Asti in North-west Italy.  Look for the 2011 Saracco Moscato d'Asti. It shows a sweet, fragrant, delicate, floral, tropical fruit, and a hint of honey character.  It's "frizzante", which means it's not as effervescent as most sparkling wines. 
Join the #SundaySupper conversation on twitter each Sunday. We tweet throughout the day and share recipes from all over the world. Our weekly chat starts at 7:00 pm EST. Follow the #SundaySupper hashtag and remember to include it in your tweets to join in the chat. Check out our #SundaySupper Pinterest board for more fabulous recipes and food photos.
Would you like to join the Sunday Supper Movement? It's easy. You can sign up by clicking here → Sunday Supper Movement.