It's that time of year… Yes, it's Rosé season!. With that in mind, I've embarked upon a   series of weekly "Drink Pink!" Rosé tastings.  This week's Rosé is the 2012 Broc Cellars White Zinfandel Arrowhead Mtn.
Broc Cellars is an urban winery located in Berkeley, California.  The proprietor is Chris Brockway, who grew up on Omaha and attended the University of Nebraska where he majored in Philosophy.  After college, he worked in restaurants back home before moving to Seattle, Washington. That's where he began to take an interest in wine. He decided to move to California to pursue a career in winemaking.  He took classes at UC Davis,  but transitioned to  Cal State Fresno where he  studied both winemaking and viticulture and earned his second degree in oenology in 2002.  Brockway was named the SF Chronicle's Winemaker to Watch in 2012.
We are a 'low wattage' winery in the sense that we have very little modern equipment. Grapes are pitchforked whole-cluster into the fermenters, fermentation is allowed to happen spontaneously, all wines are basket pressed, with little/no sulphur used in our wines until bottling. True asphalt winemaking, in an urban winery.
Broc Cellars is a small operation (~2,000 cases/yr) located in a small "hole in the wall" facility west Berkeley.  Brockway is focused on using minimal-intervention techniques for his wines.  The wines are low-alcohol, high acid, low/integrated oak fermented on native yeasts.
I had the pleasure of visiting the winery a few months ago, and came away impressed by the wines.  I picked up this bottle of wine, and a few others including another Rosé previously featured in this series, the 2012 Santa Ynez Valley Rosé.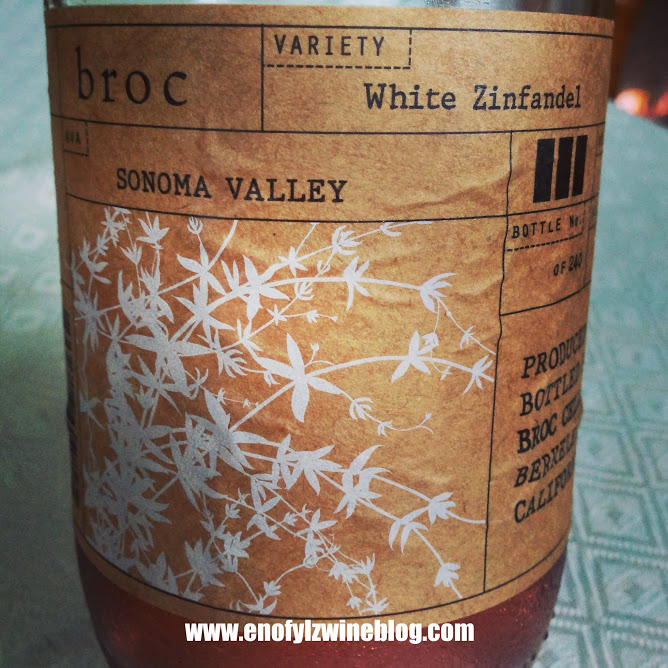 My tasting notes follow:
Pink grapefruit color with fresh cherry and nectarine skin aromas. On the palate, upon entry it's between dry and off-dry, but on the back palate, it finishes dry. It shows medium-acid with slightly spiced strawberry, white peach, and a bit of nectarine flavors and a lengthy satisfying finish. $20 SRP| 12% alcohol
Rating:  A-: I never though I'd be saying this…but I love this Rosé of Zinfandel! It's excellent and highly recommended!
Food pairing recommendation: Grilled Marinated Chicken Kebabs
Sample purchased for review 
Ratings Key:
(A+) – 98-100/Extraordinary
(A) – 94-97/Outstanding
(A-) – 90-93/Excellent
(B+) – 86-89/Very good
(B) – 80-85/Good
(C) – 70-79/Bleh
(D) – 50-69/#Fail
Follow me on Twitter @martindredmond for all things wine, and since I'm a wino, with latent foodie tendencies, you'll also find food and wine pairings, and food related stuff!  Become a fan and join ENOFYLZ Wine Blog on Facebook. Cheers!
This article is original to ENOFYLZ Wine Blog.com. Copyright 2013 ENOFYLZ Wine Blog. All rights reserved.