I recently had the pleasure of attending a La Rochelle Winery (of the Steven Kent Portfolio) Winemaker Dinner.  Called "Grand Cru Collection Pairing", it featured the cuisine of Chef Neil Marquis, wines from the "Grand Cru" collection, and the Winemaking Insight of Steven Kent Mirassou.  
I was inspired to go to the dinner after doing a tasting a La Rochelle a few months ago.  I was very impressed with their wines and the wine tasting experience.  So much so that La Rochelle and Steven Kent were the subject of the inaugural post in my "No Reservations Wine Tasting Series".  The cost of the experience was $75.
It was a perfect night in the Livermore Valley, weather-wise.  The tasting was held in the Reserve Room.
My tasting notes and the menu items follow:
The bubbly was paired with Warm Chive Crepes stuffed with Gruyere Cheese, Blanc de Noir Butter Melted Leeks & Apples with a Blanc de Noir Apple Glaze and Créme Fraiche (sorry not pics – I was hungry and before I knew it, the dish had disappeared 😉
The fruit is 100% Dijon clone 76. The wine was aged in 100% French oak, 50% of which were new for about 14 months. Production; ~100 cases produced
It was paired with Chardonnay & Spice Poached Pears on Baby Lettus with Smoked Asparugus, Smoked Mozzarella Toasted Pecans, Spring Flowers (Pansies), and a Chardonnay Pear Vinaigrette (seen below).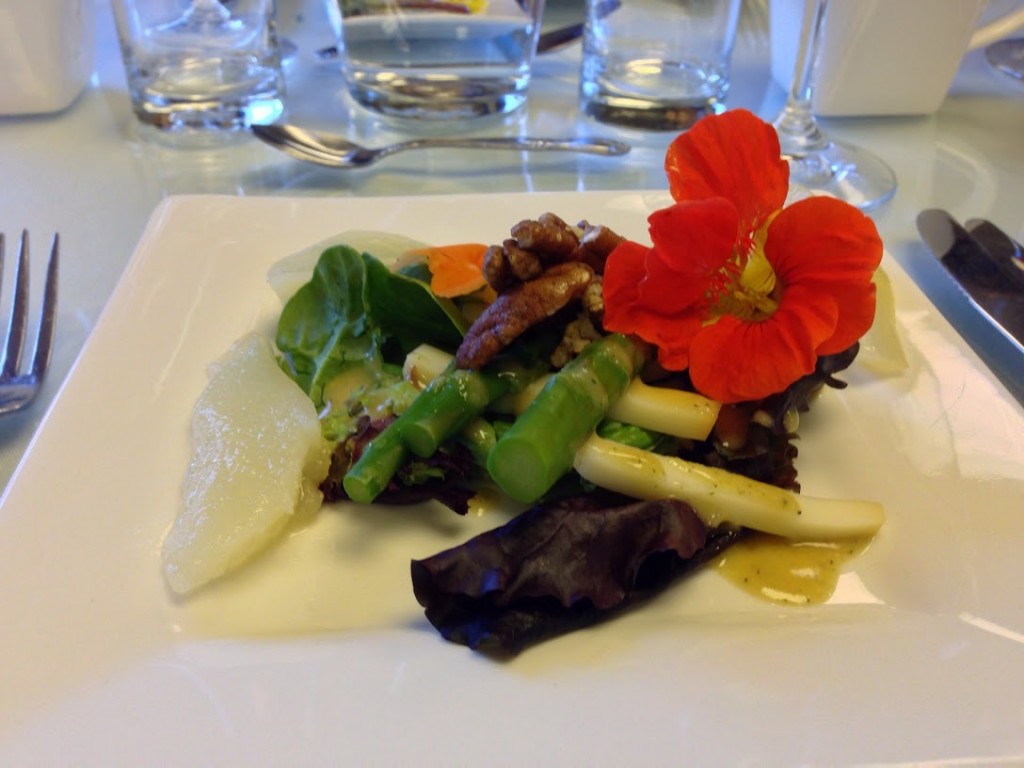 La Rochelle uses the Donum clone (a Roederer selection) for this wine.  2010 was their second release.  The wine was aged eighteen months in 100% French oak; 5 barrels – 3 new, two second-use. Production: 259 six-packs
The wine was paired with Pinot Noir Braised Pork Osso Bucco with Black Cherries and Root Vegetable Ragu on Creamy Polenta topped with Gremolata (seen below).  If there was ever a time I wanted to forget about dining etiquette, it was with this dish.  I wanted so badly to suck the marrow from the bone, when Chef Marquis pointed it out.  Alas, dining etiquette prevailed…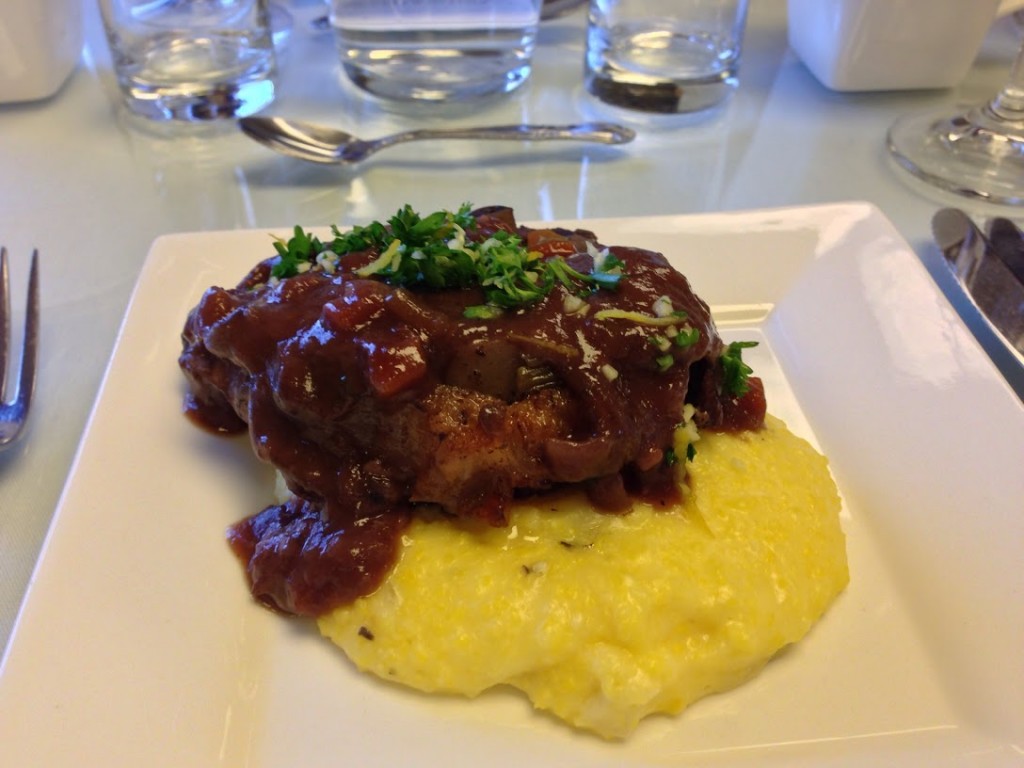 The wine is 100% Pinot Noir – Pisoni clone from the Santa Lucia Highlands apellation.  It was aged 18 months in 100% French oak; 3 barrels – 2 new, 1 second use. Production; 132 six-packs produced. The Soberanes Vineyard consists of 35 acres and was planted in 2008 by Gary Franscioni and Gary Pisoni to Pinot Noir, Chardonnay, and Syrah.  2010 marks the first release from this site for La Rochelle.
The wine was paired with Pinot and Pomegranate infused Smoked Filet Mignon on Farro Tomato Risotto with Wild Mushrooms and Pinot Raspberry Syrup (seen below).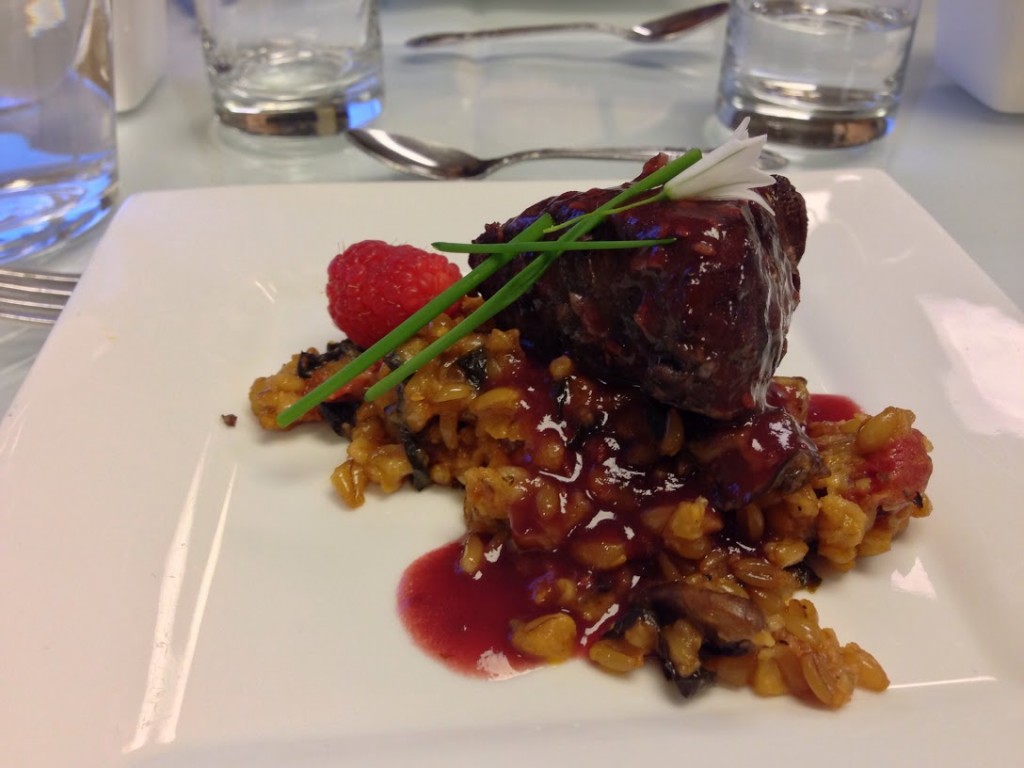 All the wine and food pairings were wonderful, but my favorite wine and food pairing of the evening was a toss-up between the second and fourth courses. Chef Marquis did an excellent job of "bridging", using both wines, and other key ingredients to tie the wine and the dishes served together.
My favorite wines were the two Pinot Noirs served.  The  surprise of the evening was the sparkling wine – first because, I wasn't aware that La Rochelle produced sparkling wine, and secondly I was taken aback by how damn good it was! It would be interesting to see how it would fare against Champagne in a blind tasting.
Both Chef Marquis and Steven Kent Mirassou were on hand to add some color to the evening's gustatory and vinous delights. I found Mr Mirassou's winemaking insights to be both delightful and interesting.  Among them…
It was a great winemaker dinner and an experience I recommend. You'd be hard-pressed to find a better value for the quality of food and wine served.  The only opportunity for improvement I noted, is that it was a warm evening, and the initial serving (more wine was available if requested) of both the sparkling wine, and the Chardonnay were served warmer than their ideal serving temperature.
Related post(s) you might enjoy:
Follow me on Twitter @martindredmond for all things wine, and since I'm a wino, with latent foodie tendencies, you'll also find food and wine pairings, and food related stuff!  Become a fan and join ENOFYLZ Wine Blog on Facebook. Cheers!
This article is original to ENOFYLZ Wine Blog.com. Copyright 2013 ENOFYLZ Wine Blog. All rights reserved.