It's that time of year… Yes, it's Rosé season!. With that in mind, I've embarked upon a   series of weekly "Drink Pink!" Rosé tastings.  This week's Rosé is the 2012 Bonny Doon Vin Gris de Cigare.
The Winery
Bonny Doon Vineyard, located in Santa Cruz, CA was established in 1983 by the inimitable Randall Grahm, a man of many interests, not the least of which is "thinking of fiendishly cunning stratagems for producing wines which express a sense of place and which actually make the world a more interesting burg". He's an interesting man. In fact, as I write this, based on what I know of him from his bio, and blogs about Bonny Doon, and social media, the first thing that popped into my head is that he could be the real life "Most Interesting Man in the World" (This from his Twitter profile – "Founder, Winemaker, Terroirist/Vinachrist and Prez-for Life @BonnyDoonVineyd, Defender of the Misunderstood and Underappreciated Doon-trodden Cépages of the Earth" – check out the bio here).  The wines Bonny Doon produces are a reflection of Grahm – they're thoughtful, eclectic, often unique, and interesting wines. )  Sure, the packaging is clever with inventive names, and beautiful art work.  But don't let the slick marketing fool you into thinking the wines aren't serious. Nothing could be further from the truth. The wines are seriously good.
The Wine
This an atypical Rosé in that the blend of 62% grenache, 17% mourvèdre, 9% roussanne, 6% grenache blanc, 6% cinsault includes traditional white Rhône varieties. A typical Rosé is composed of solely red grape varieties. Additionally, Bonny Doon employed the practice of bâtonnage–the stirring or re-suspension of lees after fermentation–to give the wine a creaminess of texture.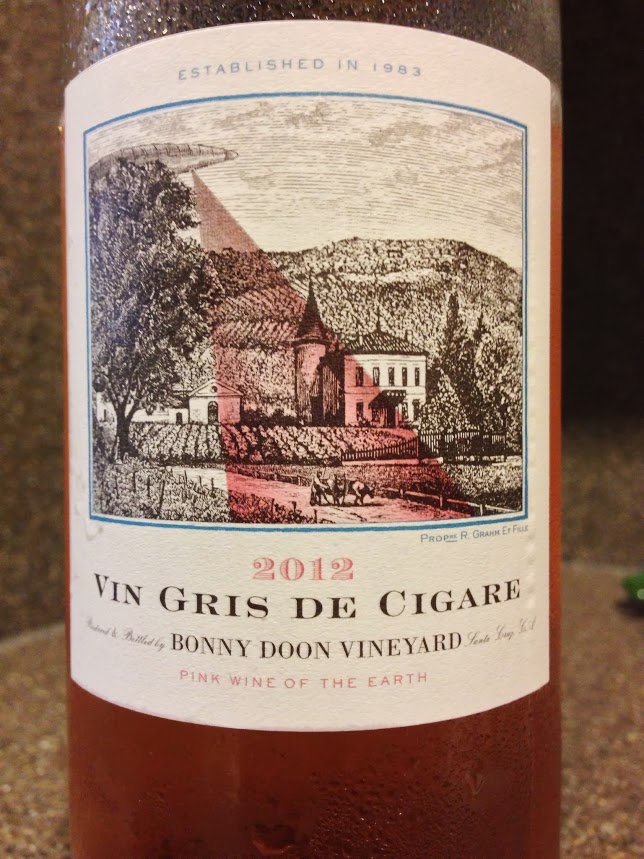 My tasting notes follow:
Salmon pink orange color with fresh strawberry, melon rind, stone fruit and a hint of floral aromas. On the palate it's dry, and between light and medium bodied with an attractive mouthfeel. It shows strawberry, white peach, spice and mineral flavors – 89 pts |12.5% | 7,000 cases produced
Rating:  B+ – A perennial favorite!
Pair with: Traditional Provençal fare including charcuterie, pâté, salade niçoise, and the aïoli platter. It's an incredibly flexible partner at the table, complementing everything from international cuisine—curries, tagines, or chiles rellenos—to a vast array of seafoods, poultry, salads, and cheeses.
Sample purchased for review 
Ratings Key:
(A+) – 98-100/Extraordinary
(A) – 94-97/Outstanding
(A-) – 90-93/Excellent
(B+) – 86-89/Very good
(B) – 80-85/Good
(C) – 70-79/Bleh
(D) – 50-69/#Fail
Follow me on Twitter @martindredmond for all things wine, and since I'm a wino, with latent foodie tendencies, you'll also find food and wine pairings, and food related stuff!  Become a fan and join ENOFYLZ Wine Blog on Facebook. Cheers!
This article is original to ENOFYLZ Wine Blog.com. Copyright 2013 ENOFYLZ Wine Blog. All rights reserved.