Every Thursday I feature a wine I particularly enjoy, whether it's something new and different, is a great value, or from a producer worth checking out. For this week, my Wine Of The Week is the 2012 Vía Cellars Tocai Friulano Fox Hill Vineyard.
The Winery
Vía Cellars is a project between Sebastian Donoso, who is also the winemaker for Campovida, and his wife, Sara Rathbun.  The two met at friend's dinner party, and fell in love.  They were married last year, the same year they started Vía Cellars.
Sebastian, who was born in Chile, moved to the United States with his family when he was 14. He attended architectural school in Miami, Florida, but quickly realized that's not what he wanted to do with the rest of his life.  He moved to California and graduated from Fresno State University with a degree in enology and began his career as a winemaker in Northern California.  His wife, Sara also works in the wine industry. She's worked her way up from pouring in tasting rooms, to selling winemaking supplies, to managing the marketing for a winery.  She's learned all sides the winemaking biz.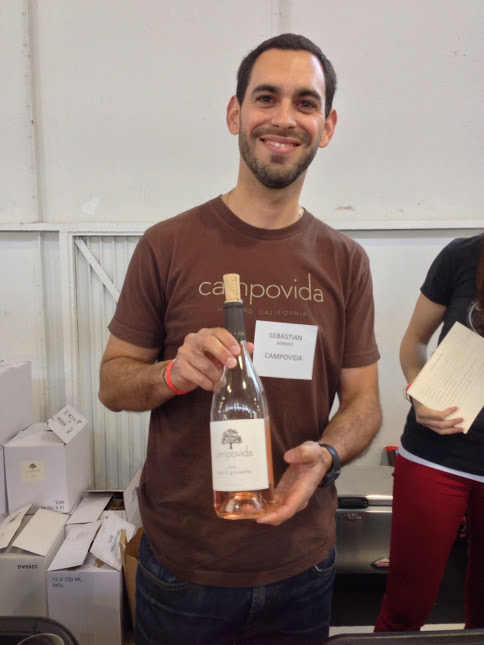 I first met Sebastian at the 2013 Rhone Rangers Grand tasting back in April.  I was focused on Rosé for the day, and the 2012 Campovida Rose was one of the best I tasted that day.  When I requested additional information about the wine, he was kind enough to send me a bottle.  He also sent along this bottle of wine.
This was the first time I've tried Tocai Friulano (aka Friulano).  Here's a quick 411 on Tocai Friulano:
Mostly grown in the Southern and Western foothills of the Alps ( In the Friuli region of Italy and Slovenia) , and in Chile where it is known as Sauvignon Vert (and was erroneously thought to be Sauvignon Blanc for many years)  Grown in tiny quantities in the U.S. 
Known as simply "Friulano" in the EU since 2007 due to agreement between the EU and Hungary, ostensibly because of potential confusion with Hungarian dessert wine Tokaji (makes no sense to me, but there you have it)
The most popular indigenous grape in the Friulano region of Italy, a region renowned for its snappy white wines
A "masculine" white grape with a bold personality
Challenging grape to profile. It can range from smoky, peppery, and sharp to lush with fruity, peach, pear spiked with mineral and spices.
The fruit for this wine was sourced from the Fox Hill Vineyards located in Ukiah in Mendocino County.  The grapes were picked at 23.5 Brix, whole cluster pressed, and barrel fermented in neutral French oak. The wine was aged in neutral French oak for four months with lees contact and stirred three times.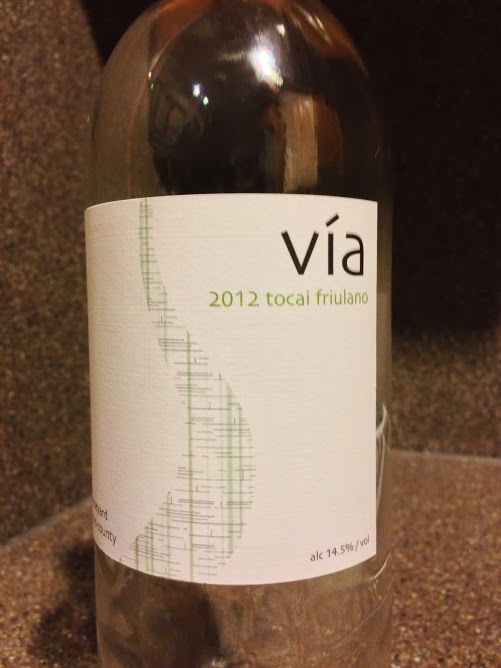 My tasting notes follow:
Very pale straw yellow green color with spiced citrus, stone fruit, mineral, and a kiss wildflower aromas.  On the palate it's approaches medium-bodied, with medium plus acidity.  It's dry on entry and fruity on the mid-palate with spiced citrus, pear,  hints of peach and mineral flavors  – 88pts |SRP – $25|Cases produced – 44|14.5% alcohol
Rating: B+ : This wine was an awesome introduction to Friulano for me.  Recommended!
Pair with:  Wonderful wine at the table due to its acidity and texture.  Pair with antipasti, fish, and poultry. Its classic pairing partner is Prosciutto San Daniele.
>>Find this wine<<
Sample provided for review
Ratings Key:
(A+) – 98-100/Extraordinary
(A) – 94-97/Outstanding
(A-) – 90-93/Excellent
(B+) – 86-89/Very good
(B) – 80-85/Good
(C) – 70-79/Bleh
(D) – 50-69/#Fail
Follow me on Twitter @martindredmond for all things wine, and since I'm a wino, with latent foodie tendencies, you'll also find food and wine pairings, and food related stuff! Become a fan and join ENOFYLZ Wine Blog on Facebook. Cheers!
This article is original to ENOFYLZ Wine Blog.com. Copyright 2013 ENOFYLZ Wine Blog. All rights reserved.
Spread the love!, Share this post