Every Thursday I feature a wine I particularly enjoy, whether it's something new and different, is a great value, or from a producer worth checking out.  For this week, my Wine Of The Week is the 2012 Donkey and Goat Lily's Cuvée Sparkling Chardonnay.

Winery
Donkey and Goat Winery is a family owned and operated urban winery located in Berkeley, California.  The winery is owned by Jared and Tracey Brandt.  Theirs is a story we've heard before, but with a "natural" twist.  They left tech careers to pursue their dreams of making wine. They got started making wines in the Rhône Valley, and returned to California to apply what they learned in France.
The "natural" twist is their focus –  no make that obsession, with making wines as naturally as possible.  While "natural" wine-making has become more and more en vogue  these days, the Brandts have been doing it since day one.  You can read their complete manifesto here, but suffice it to say they take minimal intervention to the next level.  This includes using native yeasts, fermenting their wines in used oak barrels or concrete (most wineries use plastic bins), using no machines for crushing the grapes, and not filtering or fining of their wines.
They also make it a point to mention their wines are made "for the table not the cocktail glass"  That means having their fruit picked sooner than most, with the decision on when to pick driven by flavor and structure rather than brix.  As a result their wine are lower in alcohol (also trending these days it seems – but my sense is that's another thing the Brandts were doing long before the pendulum started to swing toward lower alcohol wines)
Donkey and Goat produces wines from white, and red Rhône varieties, Chardonnay and Pinot Noir grown in the Anderson Valley, Mendocino Ridge and the unappreciated El Dorado appellation in the Sierra Foothills.
Donkey and Goat owners Jared and Tracey Brandt were named one of 5 Winemakers To Watch by Jon Bonné of the SF Chronicle in 2011.  They produce about 3,000 cases of wine annually.
The Wine
This is a fascinating wine. No scratch that…this is a luscious and fascinating wine! The 2012 vintage is the second that Donkey and Goat has produced a Petillant Naturel (a.k.a. Pet'Nat) A Pet'Nat is an absolutely natural sparkling wine that is a  product of the grapes harvested and no more. Unlike most sparkling wines, Pet'Nats have no added yeast or sugar (click here for details on the complete process)
The wine is made from organic Chardonnay grapes that are whole cluster pressed to a stainless steel tank and allowed to ferment naturally until ~2 brix then bottled under crown cap, later disgorged and then again under crown cap.
The wine is evolved beautifully from when I tasted it in the tasting room a couple of months ago.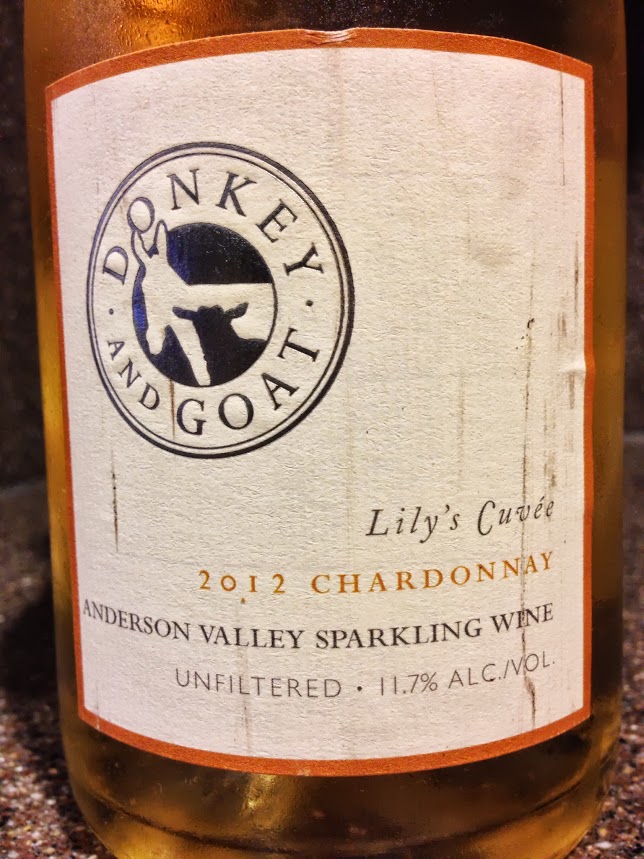 Since the wine is unfiltered and unfined, lees remain in the bottle.  After I opened the bottle, the lees we incorporated into the wine. Once the lees are incoporated the wine it looked cloudy….but that added a bit of body and flavor. It's doesn't take away anything from the wine.  Rather, it makes it better in my book!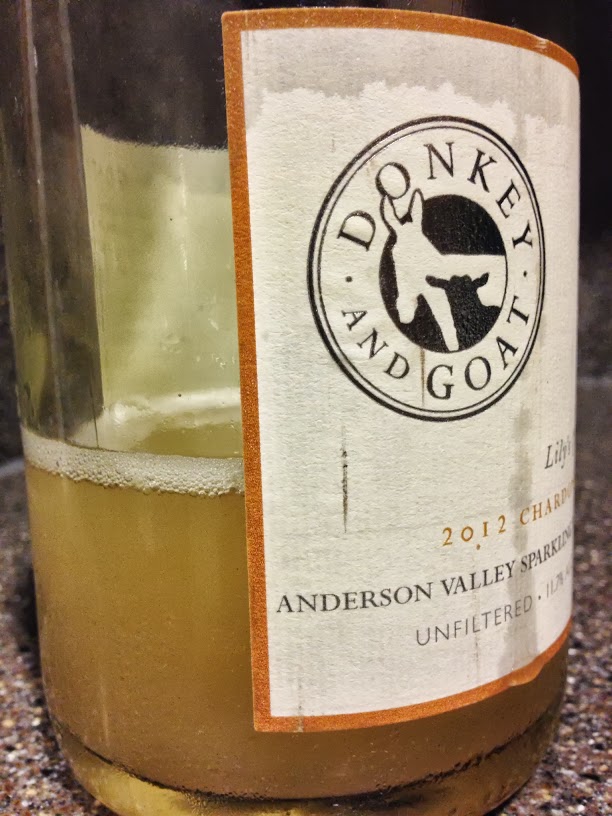 My tasting notes follow:
Golden copper color with apple, citrus, honey, and a bit of funk aromas. On the palate, it's fresh with a very creamy mousse, a ton of pin prick bubbles, and an intense, but pleasant off-dry fruitiness. It shows spiced mixed orchard fruit (sweet green apples, apricots, and nectarine) flavors with a kiss of minerality that adds a nice dimension to the mix.  11.7% alcohol. $28 SRP. Blend: 98% Chardonnay, 2% Roussanne.
Rating: A- : Will buy more!
Pair with:  Fantastic as aperitif, but it will also pair well with spicy fare. Thai, indo-Paki,  and Sushi come to mind!
>>Find this wine<<
Wine purchased for review
Ratings Key:
(A+) – 98-100/Extraordinary
(A) – 94-97/Outstanding
(A-) – 90-93/Excellent
(B+) – 86-89/Very good
(B) – 80-85/Good
(C) – 70-79/Bleh
(D) – 50-69/#Fail
Follow me on Twitter @martindredmond for all things wine, and since I'm a wino, with latent foodie tendencies, you'll also find food and wine pairings, and food related stuff! Become a fan and join ENOFYLZ Wine Blog on Facebook. Cheers!
This article is original to ENOFYLZ Wine Blog.com. Copyright 2013 ENOFYLZ Wine Blog. All rights reserved.