It's that time of year… Yes, it's Rosé season!. With that in mind, I've embarked upon a   series of weekly "Drink Pink!" Rosé tastings.  This week's Rosé is the 2012 Tablas Creek Patelin de Tablas Rosé.
The Winery
Tablas Creek Vineyard ("TCV") is probably the best-known of all Paso Robles wineries specializing in Rhone style wines.  It is a partnership between Robert Haas, and the Perrin Family of Chateau de Beaucastel in the Chateauneuf du Pape region in France. What I find interesting about TCV is that they specifically chose to establish themselves in Paso Robles because of the similarities of the soil conditions and climate of Paso Robles to Chateauneuf du Pape.  They went as far as to import vines from Chateauneuf du Pape.  The vines were propagated and grafted in their on-site nursery and used to plant their 120 acre organic vineyard.  Check the full story here.
 The Wine
Tablas Creek ("TCV") is no newcomer to Rosé.  Unlike many relative newcomers who have hopped aboard the dry Rosé bandwagon as of late, TCV has been producing a Rosé since 1999. And that's no surprise given their association with Chateau de Beaucastel in the Southern Rhone region in France.
Like most rosé wines from the Rhône Valley, it is based on the bright strawberry fruit and fresh acidity of Grenache, with additions of darker fruit, structure and spice from Mourvèdre and Counoise.
What is new for 2012 is that TCV decided to produce two Rosés.  This bottling was added to their excellent value-oriented Patelin de Tablas line, which also also includes the Patelin de Tablas Blanc, based on Grenache Blanc, and Patelin de Tablas, based on Syrah.
The other Rosé is 2012 Dianthus.  While this Rosé is dominated by Grenache, the Dianthus is dominated by Mourvedre.  I'm looking forward to giving that one a try too!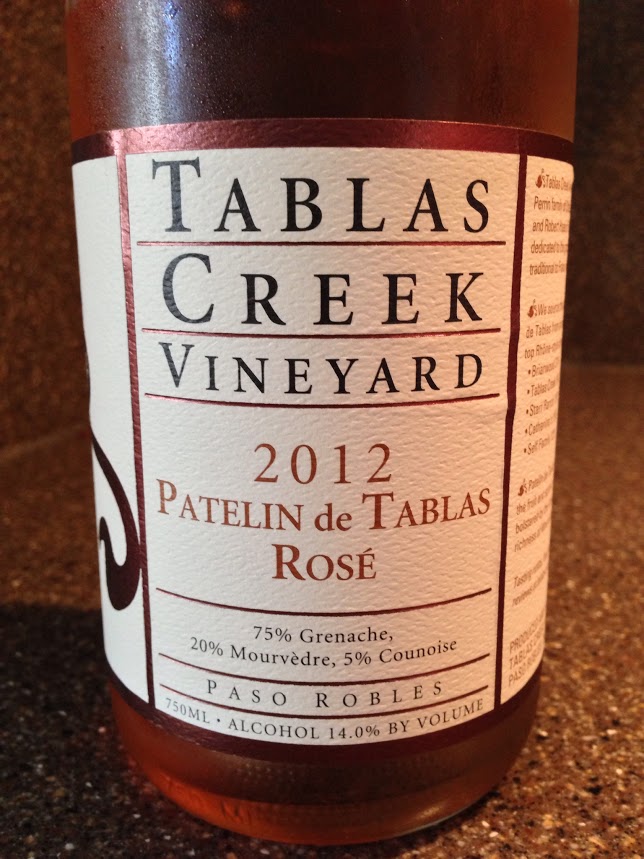 My tasting notes follow:
Copper pink color with enticing strawberry, stone-fruit,and spice aromas. On the palate, it's between light and medium-bodied, and fresh. It's dry on entry, but closer to off-dry on the back palate with strawberry, watermelon, spice and mineral flavors. Medium + finish. Blend of 75% Grenache, 20% Mourvedre, 5% Counoise. 14% Alcohol | $20 SRP| 1250 cases produced
Rating:  B+
This is a charming Rosé that is incredibly flexible partner at the table.  Unlike many Rosés, which are great with salads or lighter fare, this one can stand up to heartier fare. TCV recommends it with Crisp Crab Risotto.  Sounds like a winner to me!
Sample purchased for review 
Related posts:
Ratings Key:
(A+) – 98-100/Extraordinary
(A) – 94-97/Outstanding
(A-) – 90-93/Excellent
(B+) – 86-89/Very good
(B) – 80-85/Good
(C) – 70-79/Bleh
(D) – 50-69/#Fail
Follow me on Twitter @martindredmond for all things wine, and since I'm a wino, with latent foodie tendencies, you'll also find food and wine pairings, and food related stuff!  Become a fan and join ENOFYLZ Wine Blog on Facebook. Cheers!
This article is original to ENOFYLZ Wine Blog.com. Copyright 2013 ENOFYLZ Wine Blog. All rights reserved.