Every Thursday I feature a wine I particularly enjoy, whether it's something new and different, is a great value, or from a producer worth checking out. For this week, my Wine Of The Week is the 2011 Herencia Altes Garnatxa Negra. 
Herencia Altès is a project a long time in the making. For generations Nuria Altes and his family have been grape growers, with vineyards dispersed around the village of Batea. Now, Nuria have decided to give these grapes their own personality in the form of these handcrafted wines. While Terra Alta is not yet a well-known region – tucked away in the southeastern corner of Catalonia it borders Aragón and Valencia – it is one of the largest areas in Catalonia under vine. Built upon Roman and Moorish foundations it preserves a beautiful historical center and its grand church is testament to its past glories. In terms of viticulture, it is the most important village in Terra Alta accounting for over 50% of its entire grape production. Most of the grapes are sold to cooperatives or large companies outside the region. Herencia Altes is Nuria Altes' dream to put Terra Alta on the map and show the true quality of these wonderful old vines.
[Overview of  Spanish Wines]
This wine is a custom cuvee made for wine importer Eric Solomon by proprietor Nuria Altes. It is 100% garnaxta negra (grenache) raised on its lees in concrete vats.  The fruit is mix of very old garnaxta bush vines, which is balanced by the youthful intensity of younger vine fruit. .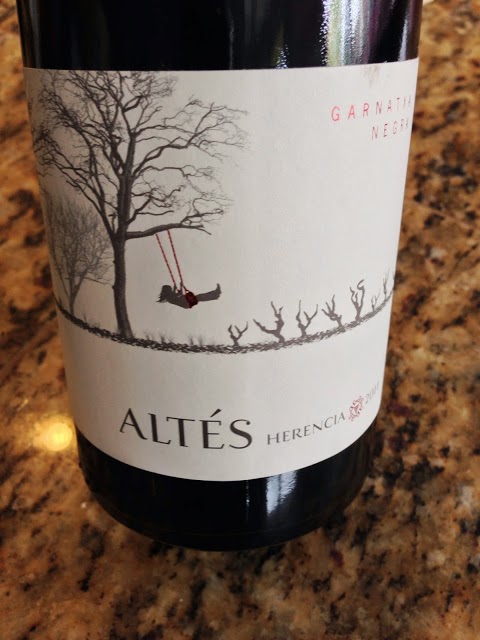 My tasting notes follow:
Crimson color with black cherry and spice aromas. On the palate, it's intense, medium-bodied with medium acidity and soft tannins. It shows cherry, pomegranate, mineral and spice flavors and a lengthy finish. 
>>Find this wine<<
Rating: A-
This wine is a great example of why Spain is unbeatable for wines that offer incredible value!  It drinks like many wines I've had in the $30-40 range. Sometimes the best thing you can say about a wine is "I'll buy again"  And I have! Pair with grilled meat, lamb or goat
The Wine Geek Stuff:
Alcohol: 13.8% alcohol.
Closure: Cork.
AVA: Spain> Catalunya> Tarragona> Terra Alta
Varietal(s): 100% Garnaxta Negro (Grenache)
SRP: $8.99
Ageability: Drink now, or hold for 2-3 years
Wine purchased for review
Ratings Key:
(A+) – 98-100/Extraordinary
(A) – 94-97/Outstanding
(A-) – 90-93/Excellent
(B+) – 86-89/Very good
(B) – 80-85/Good
(C) – 70-79/Bleh
(D) – 50-69/#Fail
Follow me on Twitter @martindredmond for all things wine, and since I'm a wino, with latent foodie tendencies, you'll also find food and wine pairings, and food related stuff! Become a fan and join ENOFYLZ Wine Blog on Facebook. Cheers!
This article is original to ENOFYLZ Wine Blog.com. Copyright 2013 ENOFYLZ Wine Blog. All rights reserved.