When I saw this week's Picnic #SundaySupper theme I was pretty stoked. I love to picnic! Especially in wine country. Nothing says spring or summer to me more than sitting in a vineyard with a basket full of goodies and a glass of wine, taking in the bucolic landscape.  Often, when I have found myself suggesting a visit to wine country to friends, who reply "I don't drink wine",  I suggest they go anyway because where there are vineyards you'll find beautiful tranquil scenery. Check out the view below!  Wine or no wine it's stunning!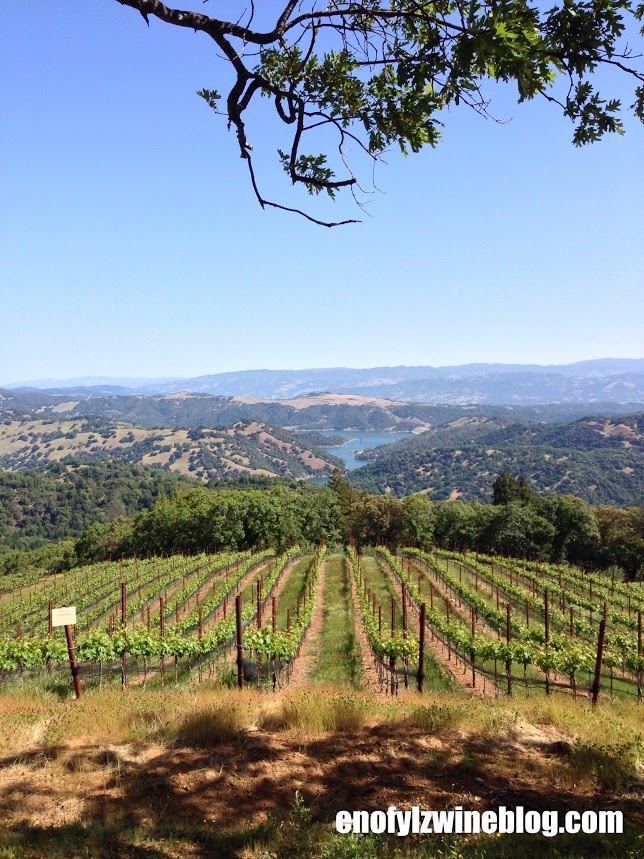 And speaking of wine, I think it's important to know that picnic wines are different from BBQ wines. BBQ is all about bold and spicy flavors, whereas picnic foods compose a broader range of lighter foods like salads of all kinds, cold fried chicken, charcuterie, cheeses, ripe fruits etc., mostly served cold. Great picnic wines should be light and refreshing, a good match for a variety of foods, and inexpensive (>$20).
My top 10 wines for picnics are:
Sparkling Wine
Rosé
Sparkling Rosé
Chardonnay (preferably unoaked or lightly oaked)
Sauvignon Blanc
Riesling
Vinho Verde
Moscato
Grüner Veltliner
Beaujolais
Check out the this week's fantastic lineup of creative and inspired picnic food put together by the #SundaySupper family of foodies, and my specific wine pairing recommendations.
Pair these dishes with a sparkling wine. Sparkling Wines are probably the most under rated food friendly wine there is.  That's because its crisp acidity and effervescence, which cleanses the palate and gets it ready for the next bite (think "scrubbing bubbles"). One of my favorites for under $20 is Roederer Estate Brut Anderson Valley.  It has a creamy, fresh-cut green apple, pear, and hazelnut with a kiss of vanilla character.   Here's another advantage of sparkling wines — Forget the corkscrew? — No problem with sparklers!! 
Pair these dishes with a Rosé.  Look for the 2012 Stepping Stone by Cornerstone Corallina Napa Valley Syrah Rosé It's a 100% Syrah with a medium-bodied, fresh strawberry, raspberry, citrus, and mineral character.
One of my favorite picnic wines is sparkling Rosé.  It's the ultimate in vinous synergy – combining the acidity, effervescence of bubbly with the overall food friendliness of Rosé.  If I had to choose a bottle of wine for a picnic and didn't know what was being served it would be a sparkling Rosé for me.  Try the Jean-Louis Denois Pinot Noir Brut Rosé, which is made from 100% Pinot Noir!
Pair these dishes with a Chablis, which is made from Chardonnay. Most Chablis are un-oaked which allows the purity of Chardonnay's aromas and flavors to shine. They also posses a unique minerality that add to its appeal for many.  Look for the 2010 Chateau de Maligny Chablis "Vielles Vignes".  It dense, crisp, and refreshing with stone-fruit, citrus, green plum and mineral character. 
Pair these dishes with Sauvignon Blanc, I recommend the 2011 Dashwood Sauvignon Blanc. It has a stone fruit, citrus and fresh tropical fruit aromas and flavors. 
Pair these dishes with Riesling.  I love the 2011 Chateau Ste. Michelle & Dr. Loosen Eroica Riesling. It's just slightly off-dry  with vibrant acidity and a beautiful white peach, grapefruit and mineral character.
Pair these dishes with Vinho Verde, a wine from Portugal. Vinho Verde isn't a grape variety.  It literally translates into "green wine", but means "young wine" – as in its meant to be consumed within a year of two of bottling.  Vinho Verde is made in white, red, and rose styles.  They are typically low alcohol, and have a bit of effervescence which further enhance its refreshing qualities.  Look for 2012 Quinta da Aveleda.
Pair these dishes with Grüner Veltliner, a refreshing, medium-bodied, peppery white wine with stone fruit flavors.  Grüner Veltliner goes with everything from green salads to cold poached salmon to fried chicken. Look for 2011 Stadlmann Gruner Veltliner.  It has a green apple, tropical fruit, lime, white pepper character with a great mouthfeel and an mineral undertone. 
I haven't forgotten about red wine for picnics and you shouldn't either!  I know a red wine isn't top of mind for most. But, hey it's summer, it's hot, you love red wine! Find one that is low in tannins, and bright fruit.  Beaujolais, Pinot Noir, and Grenache (especially from Spain) come to mind. Pair these dishes with a Beaujolais,an outstanding red picnic wine   Look for the  2010 Potel-Aviron Côte de Brouilly "Vieilles Vignes" Cru Beaujolais.  It has a black raspberry, floral, and asian spice character. Can't find a Beaujolais?  Then go with your favorite Pinot Noir – a similar style of wine. 
If your taste in wine leans toward the sweeter side, try Moscato. It's like summertime in a glass with its fruity orange blossom, tropical, citrus, or melon aromas and a touch of effervescence. And if you've got something spicy in your picnic basket, the sweetness will tame the heat. The best are from Italy. Pair these desserts with the 2011 Ecco Domani Moscato.
Here are the rest of this week's desserts and drinks (be sure to check out the Sangria –  another great picnic wine!):
Desserts:
Drinks:
Check back on Sunday for all the recipes! You can join in the chat on Twitter too: we'll tweet throughout the day and share all of our picnic recipes. Our weekly chat starts at 7:00 pm EST. To join in, just follow the #SundaySupper hashtag, and remember to include it in your tweets. You can also check out our #SundaySupper Pinterest board for more delicious recipes and photos.