Note: If you're just checking in, you might want to check out the first post in this two-part series of my experience at Passport To Dry Creek Valley. My wife and I and couple of friends attended the 24th Annual Passport To Dry Creek Valley held April 27th and 28th.
Dry Creek Valley is a premium wine region in Sonoma County, California. It's renown for its Zinfandel, but Dry Creek Valley, which is only  sixteen miles long by two miles wide offers a diverse range of vineyards, and world-class wines. The theme for this year's event was "A Modern Tradition with Century-Old Roots" I've been to beaucoup wine events, but what make this event special for me is the combination of wine, food, and entertainment. Check out the list of 52 participating wineries, and activities. With an event like this with wine, food pairing, and entertainment, I think it's best to take one's time, and enjoy it. It's about quality rather than quality for me! As far as which wineries to visit, we have a list of perennial favorites (Bella, Mauritson, Quivira, Ridge, and Seghesio) to which we mix in some wineries that are new to us, and leave some room for "audibles" – on the fly changes to the itinerary based on a whim and/or the feedback we get from other attendees.
An Italian Family Tradition in Dry Creek Valley
Our first stop, A.Rafanelli Winery, wasn't on our list.  It was an "audible" based on feedback from other #DCVPassporters we met at our hotel.  They told us we "had" to check it out because, it's not usually open to the public, the food and wines were great, as was the entertainment, a trio singing traditional Italian songs. It sounded good, and we'd never been to Rafanelli before.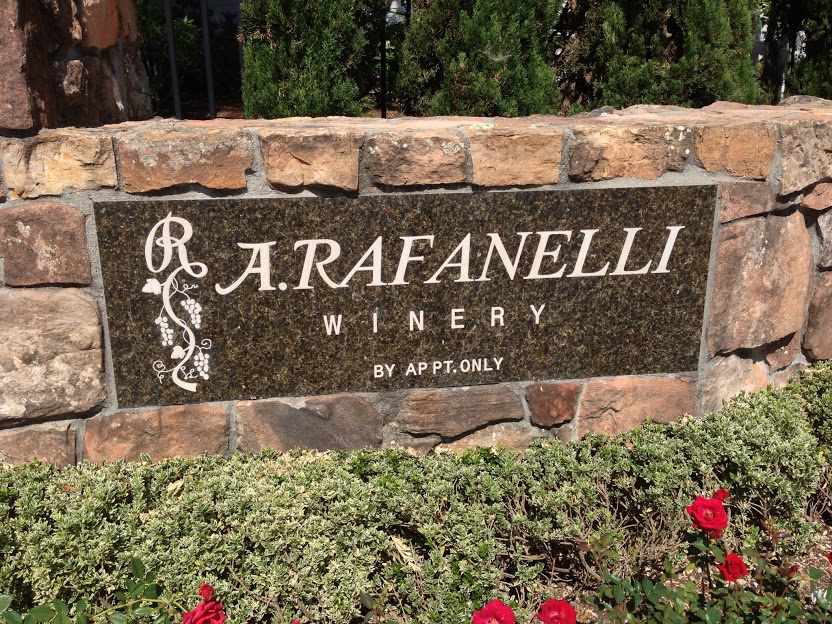 We arrived 15 minutes early and saw "The Line"…Apparently Rafanelli is a popular destination!  I had my doubts whether it would be worth the wait…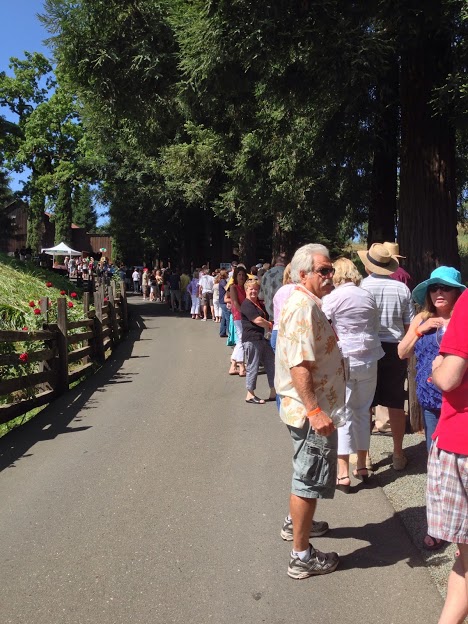 To Rafanelli's credit, there were a couple of gentlemen who came out and were pouring their estate 2011 Zinfandel and 2010 Cabernet Sauvignon for the folks in line… Then there was this beautiful '47 Packard to check out, and there was a trio singing Italian songs, so the wait (about 45 minutes) was bearable…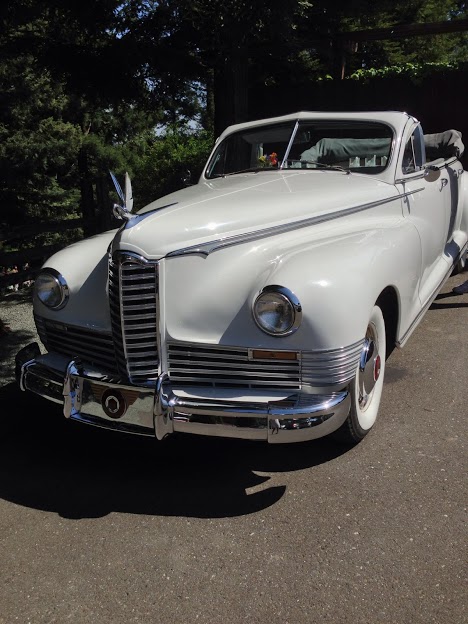 Once we did get inside though…let's just say the menu was extensive..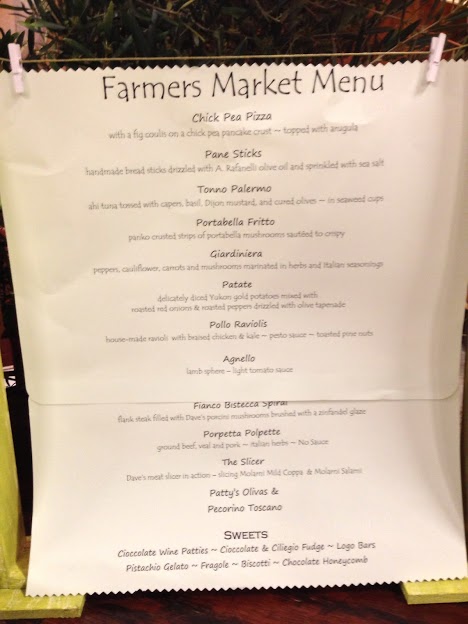 No way you leave Rafanelli hungry, unless you choose too!  And of course, there was plenty more of their Zinfandel and Cab to be had (the Cabernet, though young was my favorite). Yeah…it was worth the wait!  And Rafanelli just might make the perennial list too!
Time to hit some perennial favorites!
A True Vineyard Farm
Our next stop was Quivira Vineyards and Winery, just up the road from Rafanelli.  It's on our perennial list, in part, because they make one of my favorite Rosés, and it's  a chance to pick up a few bottles, But we also look forward to their other wines, they serve great food, and we like the vibe of the place.
There's always some cool stuff to check out. You can stroll in the gardens…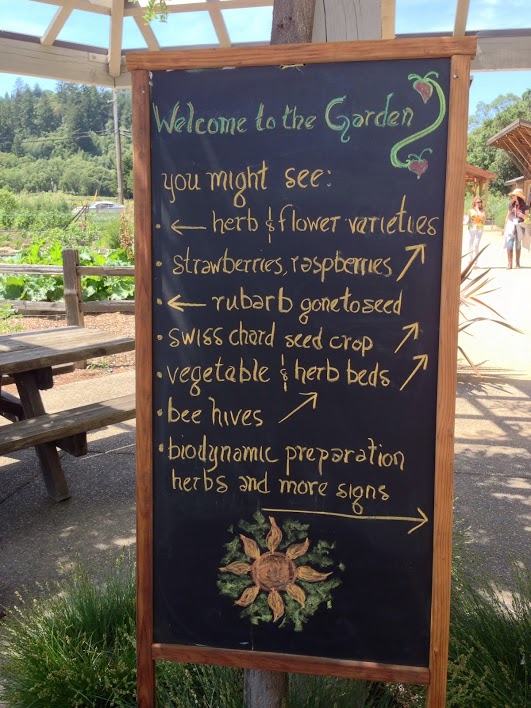 …or check out the chickens when you're there.  And for this year's Passport, there was a Provençal Market theme with artisan goods for sale (we picked up some honey). We tasted five wines.  My favorite was the 2010 Mourvédre, which was excellently paired with a Porcini Mushroom Royale!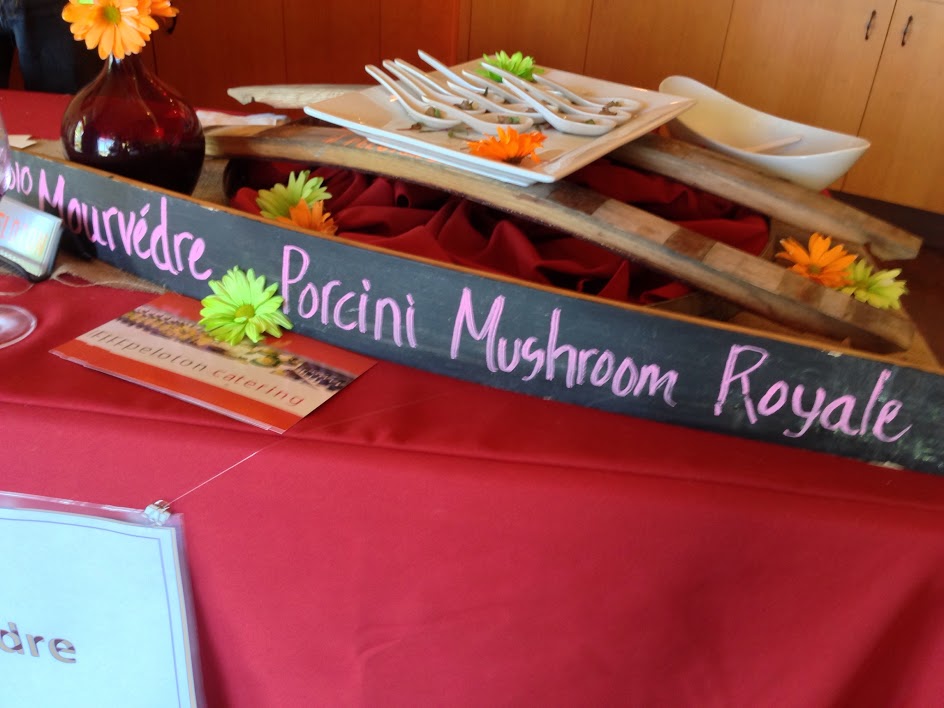 140 Years of Farming In Dry Creek Valley, and Nom, Noms Galore
Next up was Mauritson Family Winery. Great wine and food provided by celebrity chef Charlie Palmer's Dry Creek Kitchen in Healdsburg. Full stop.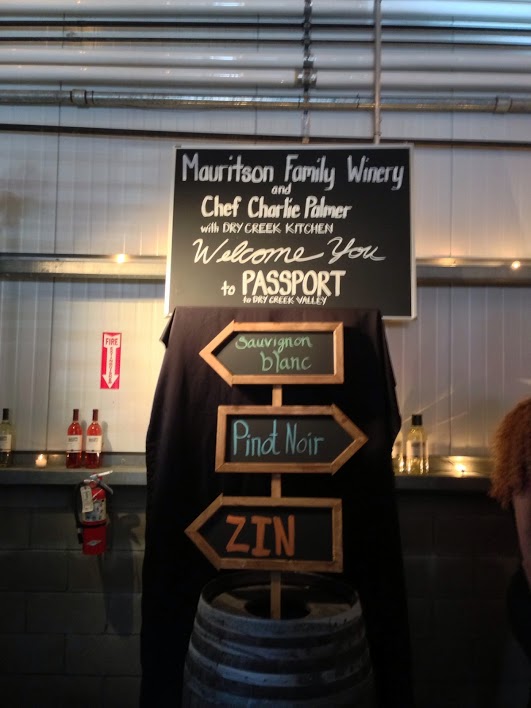 Hmmm…where do we begin this leg of our journey?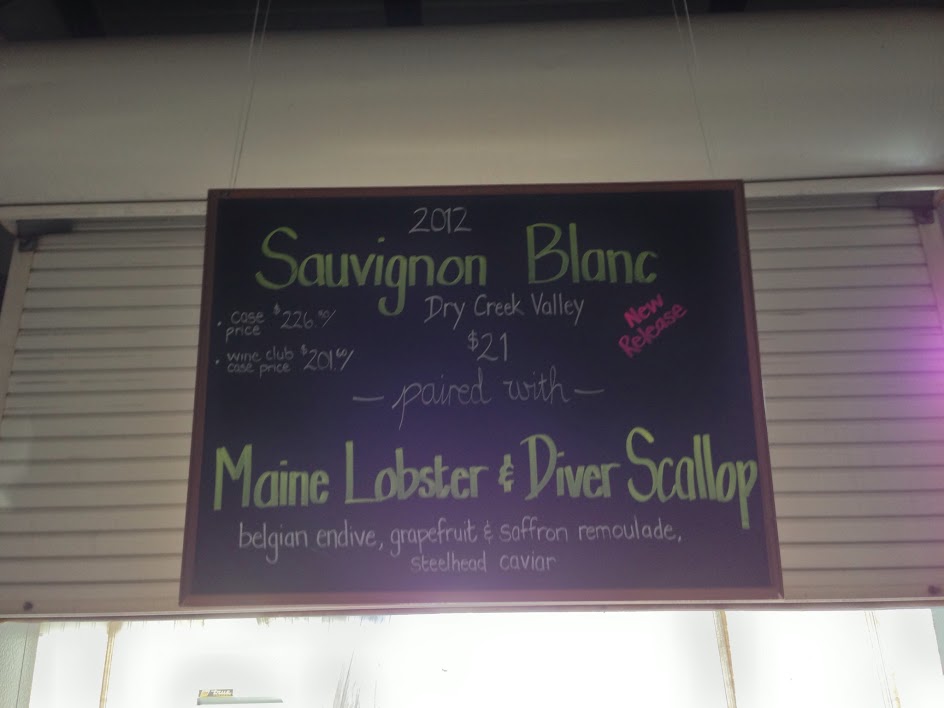 With a white of course! Main Lobster and Diver Scallop?…yes, please!
Smoked duck tacos and Pinot…you had me at Smoked Duck…
And yes, you also had me at "Rockpile"!  My favorite wine was the 2011 Mauritson Rockpile Zinfandel!
Iconic Vines and Wines
Last, but certainly not least, of the perennial favorites for the day was Ridge Vineyards. Since it was our fourth winery, we decided to slow it down, and relax a bit.  Ridge was the perfect place to do it!   We sat on the shaded patio, and sipped their superb wines, and took in the view. The wines, the view..it was one of those all too rare moments when…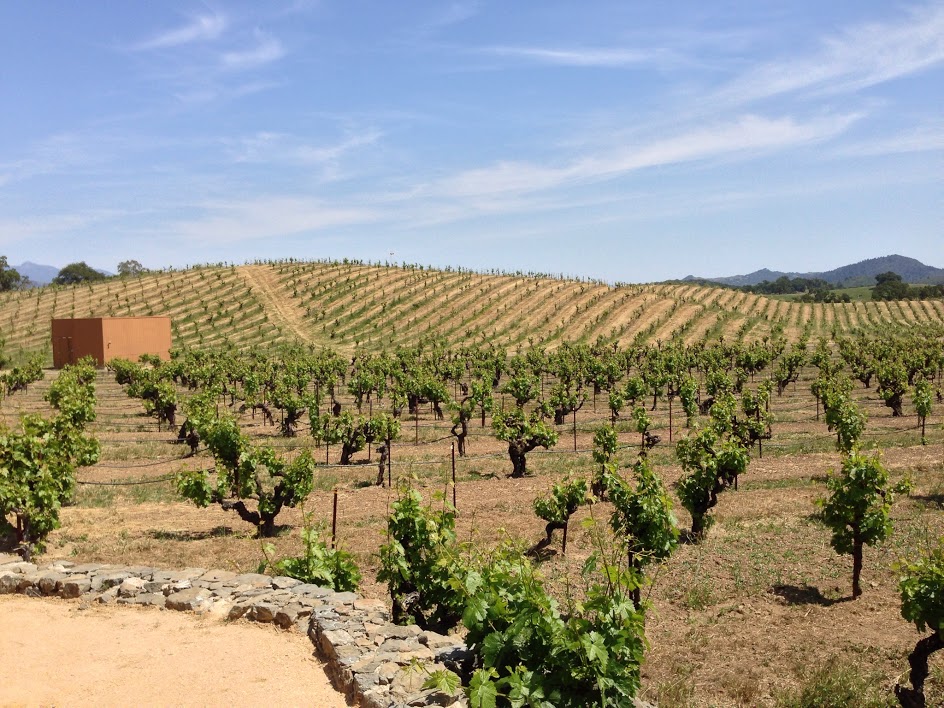 Oh, did I mention the Sonoma Duck Mole with Corn Spoon Bread, and Spring Onion Pico?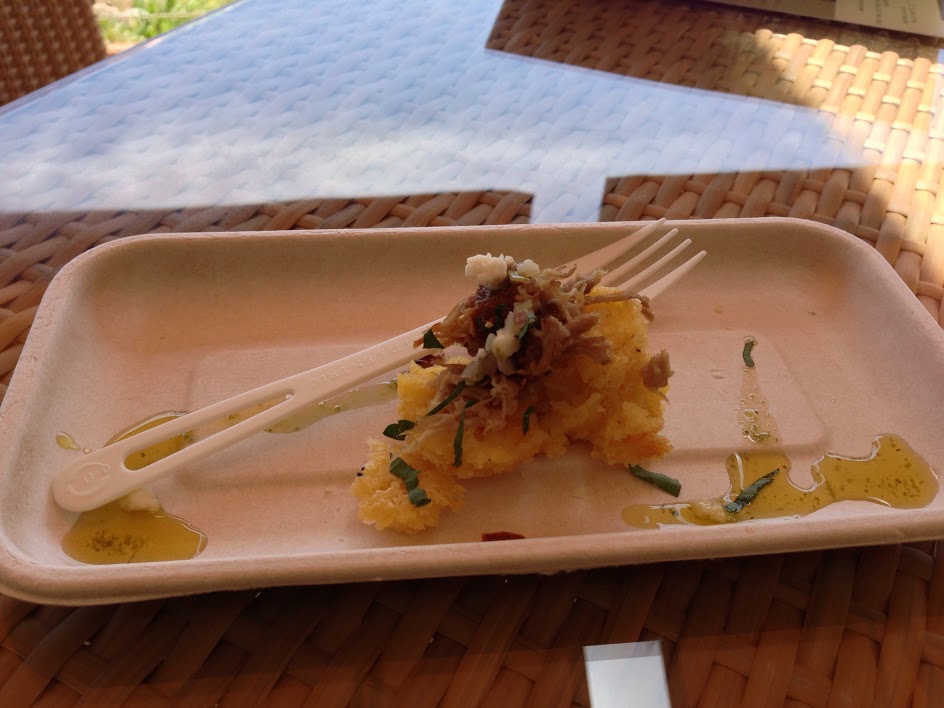 We tasted five wines at Ridge.  It came down to either the 2011 Geyersville or the 2008 Lytton Estate Syrah as my favorite.  So, was the Geyserville or the Lytton Estate Syrah my favorite?  Yes!
"One-Stop Shopping"
Buoyed after our break at Ridge, we decided to visit four wineries located in the Timber Crest Collective adjacent to the Family Wineries Dry Creek Co-op Tasting Room – Amphora, Peterson, Kokomo, and Papaprieto-Perry.
For owner and winemaker Rick Hutchinson art, wine, and life are inextricably interwoven. He's worked in the wine business in Sonoma for 20+ years.  The winery is named after clay jars used by ancient Greeks and Romans to store.
Amphora was tasting four paired with food from Saltwater, plus four additional wines.  Since I was the driver, I tasted four of the wines. My favorite was the 2007 Sangiovese Dry Creek Valley, and it was a great pairing was with Chicken Live Pate on a toasted baguette.
Father/son team of Fred and Jamie Peterson are the proprietors this eponymous winery, which is housed in the "Big Red Barn". The winery celebrated 25 years in business last year!
They had a nice line up of six wines, including a very nice and refreshing Rosé. And there was plenty of Mexican food on hand! My favorite wine was their 2010 Bradford Mountain Zinfandel.  It paired so well with the Mexican food!
Kokomo Wines is proudly named after Owner/winemaker's Erik's Miller's hometown of Kokomo, Indiana.  When we arrived…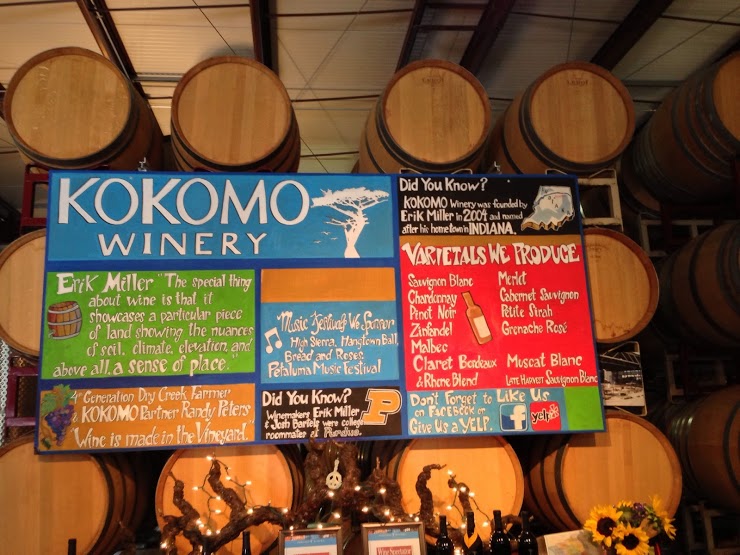 The band had it goin' on!…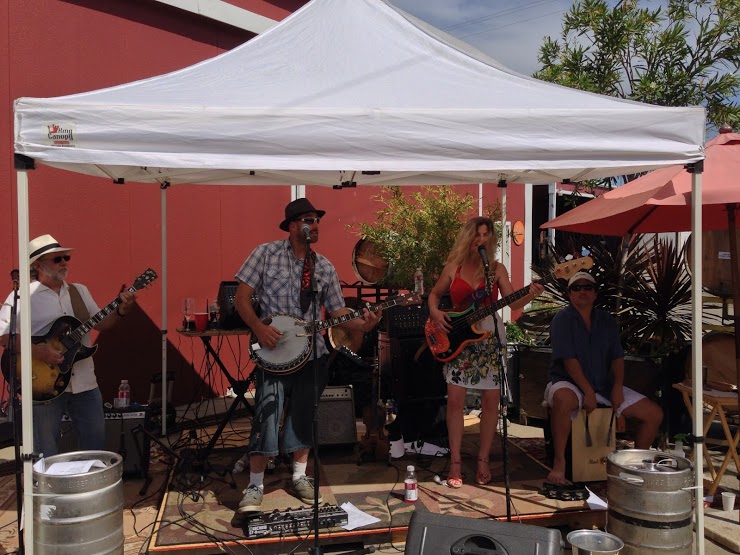 They were pouring their great Rosé, and five other wines on the Patio, in the Cellar and at the Bar.  It was a nice mix of wines too, the aforementioned Rosé, a Sauvignon Blanc, Chardonnay, Pinot Noir, Primitivo, and Cabernet Sauvignon.  Four of the wines were wonderfully paired with a likewise diverse sample of foods from K. King Catering.
Kokomo got my prize for "most unusual food pairing that worked"…Mini corn dog muffins with Chardonnay Mustard…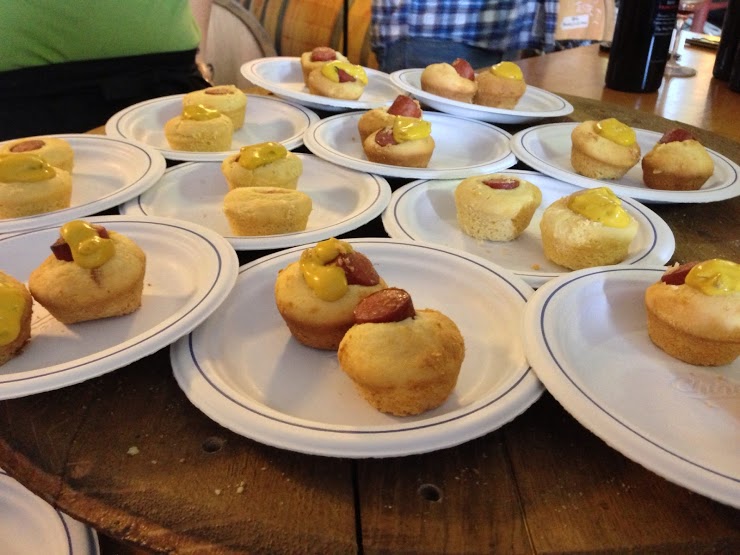 They were paired with their 2010 Primitivo, Timber Crest Vineyard. It was a toss-up between their excellent 2012 Grenache Rosé, and the Primitivo as my favorite.
Founded in 1998, Papapietro-Perry ("P-P") is a boutique winery focused on Pinot Noir and Zinfandel. Ben Papapietro and Bruce Perry met in the newspaper business, made premium garage wine for some time before going commercial starting with 75 cases of wine.
Check out this beauty…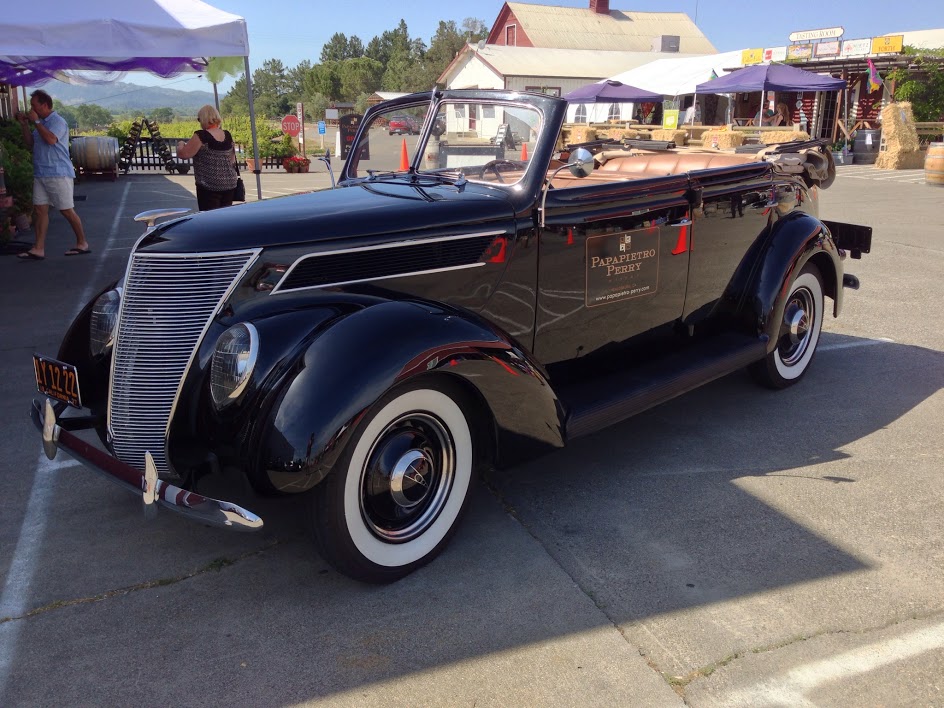 Papapietro had a "Celebration of New Orleans" theme.  The offered four different Pinot Noirs paired with "Big Easy Bread Pudding with Andouille Sausage and Gravy" from Park Avenue Catering.  But my favorite wine was their 2009 Pinot Noir ~ Pommard Clones ~ Russian River Valley, an off-list wine, but all their Pinots were fabulous! If Pinot Noir is your wine of choice, P-P is a must visit!
Adventurer, Cyclist, Educator
Our final stop for the day was Dutcher Crossing Vineyards and Winery.  It's a small winery owned by Debra Mathy.  She was an educator by training, but had dreamed of owning a winery since she went on a trip to Europe in high school.  In 2007, motivated by her father, and after a long search, she instantly fell for Dutcher Crossingin Sonoma's Dry Creek Valley.
The food and wine pairing menu for Passport included Sauvignon Blanc (paired with Meyer Lemon Marmalade with Chévre – Killer!), their excellent Stuhlmuller Chardonnay, a Zinfandel, Proprietor's Reserve Cabernet Sauvignon and a couple of barrel samples (2012 Mabaroshi Vineyard Pinot, and 2012 Maple Vineyard "Bills Block" Zinfandel") They also had a Port-style dessert wine.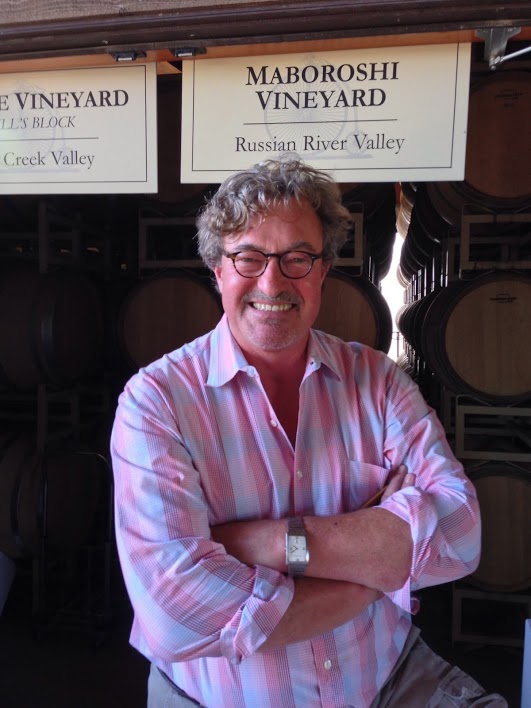 Since it was our last visit of the day, and it's such a beautiful property we took some time to take in the gorgeous serenity of the place while we savored their wine and food pairings.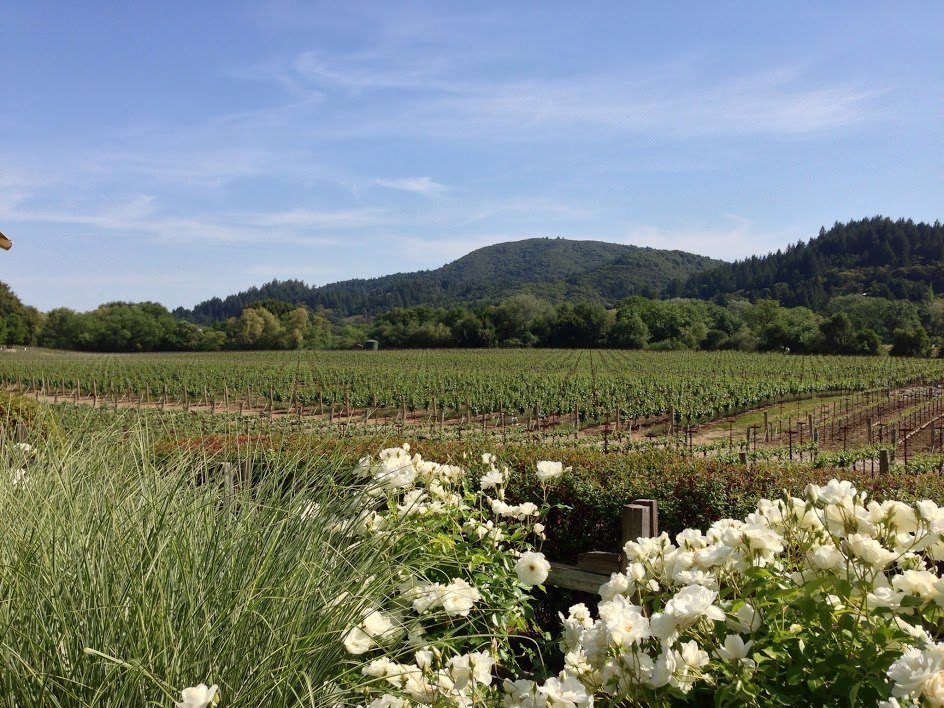 My favorites were the 2012 Sauvignon Blanc, and the 2010 Proprietors's Reserve Cab, which was excellently paired with Shredded Lamb Tacos!
Conclusion
We visited sixteen wineries over the two days.  There was plenty of outstanding wine, food and entertainment!  As I reminisce about our experience was strikes me most is the diversity of wines that was my favorite. While Dry Creek Valley has seemingly built its reputation on Zinfandel, the wineries of Dry Creek Valley offer so much more for wine lovers!  

Good Lord willing and the creek don't rise, I'll be back again next year!
Related posts you might enjoy:
For more information about the Passport to Dry Creek Valley check out the Winegrowers of Dry Creek Valley 
Follow me on Twitter @martindredmond for all things wine, and since I'm a wino, with latent foodie tendencies, you'll also find food and wine pairings, and food related stuff!  Become a fan and join ENOFYLZ Wine Blog on Facebook. Cheers! This article is original to ENOFYLZ Wine Blog.com. Copyright 2013 ENOFYLZ Wine Blog. All rights reserved.