My wife and I and a couple of friends attended the 24th Annual Passport To Dry Creek Valley held April 27th and 28th.  Dry Creek Valley is a premium wine region in Sonoma County, California. It's renown for its Zinfandel, but Dry Creek Valley, which is only  sixteen miles long by two miles wide offers a diverse range of vineyards, and world-class wines. The theme for this year's event was "A Modern Tradition with Century-Old Roots" According to the Winegrowers of Dry Creek Valley..
Passport to Dry Creek Valley was introduced in 1990, by the Winegrowers of Dry Creek Valley, as a time every year when the winegrowing community could come together to celebrate the generations of farmers, vintners and families that are the roots of the Dry Creek Valley wine region. Over the 24 years since, the event has become a beloved tradition among wine lovers who enjoy a world-class tasting experience with a festive twist, all within the idyllic Dry Creek Valley.  Over one weekend, Passport guests are welcomed into 50+ wineries throughout Dry Creek Valley, each offering a unique pairing of premium wine, gourmet food and entertainment.
I've been to beaucoup wine events, but what make this event special for me is the combination of wine, food, and entertainment. Check out the list of 52 participating wineries, and activities. The event was held from 11 am to 4:30 pm daily, so it would be virtually impossible to go to all the wineries over a two-day period (unless you decided to sprint from winery to winery and stayed at each winery for less than 15 minutes)  With an event like this with wine, food pairing, and entertainment, I think it's best to take one's time, and enjoy it. It's about quality rather than quality for me!
As far as which wineries to visit, we have a list of perennial favorites (Bella, Mauritson, Quivira, Ridge, and Seghesio) to which we mix in some wineries that are new to us, and leave some room for "audibles" – on the fly changes to the itinerary based on a whim and/or the feedback we get from other attendees.
We started the day with  a vineyard tour of Gustafson Family Vineyards which boasts a spectacular vineyard located 1800 feet above sea level.  The tour was hosted by owner Dan Gustafson and Winemaker & Vineyard Manager Emmet Reed.  The property which used to a sheep ranch. Today it's both home to the Gustafson family and a winery.  It's also home to the "Sonoma County Heritage Tree", a 300-year-old madrone tree that graces the property. It's the oldest of its kind in Sonoma, and possibly all of California.
The vineyard was planted in 2004. The vineyard at 20 acres is planted to Zinfandel, Petite Sirah, Syrah, Cabernet Sauvignon, Cabernet Franc, Petite Verdot, Sauvignon Blanc, and Riesling.  Gustafson wines are all produced from estate fruit.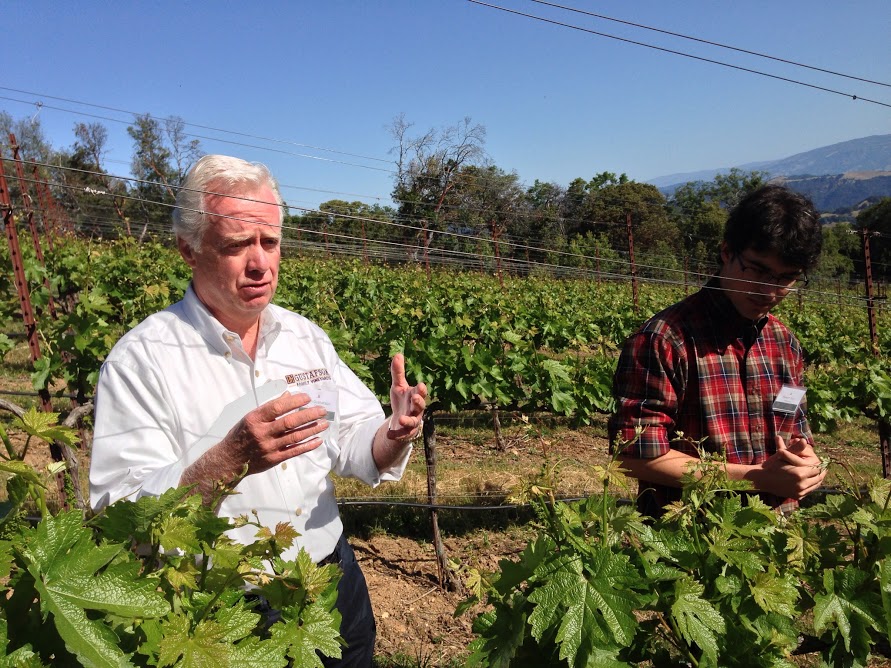 It was a very informative tour.  The passion and pride that Dan and Emmet have for the property was quite evident, and rightfully so.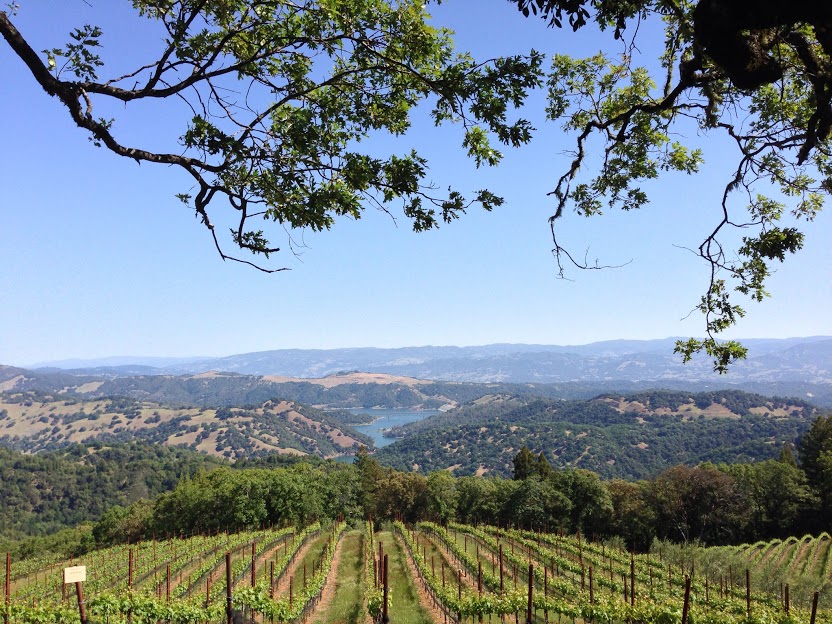 After the tour, which lasted about 30 minutes, we received a pleasant surprise when Dan informed us wed have the opportunity to taste their wines. I wasn't expecting that because the event didn't start until 11 and Gustafson wasn't our assigned starting winery.
I tasted 4 of the 5 wine offered (I skipped the dessert wine).  My favorite was the 2009 Estate Cabernet.  It was perfectly paired with Flank Steak sliders.
We had a great experience at Gustafson. Aside from the tour, and the very good to excellent wines, the winery itself is beautiful.  And the winery has, hands down IMO, the best picnic area in Sonoma County with stunning views of Lake Sonoma and Mt. St. Helena.
Dry Creek Valley Cal-Italian Style
Our check-in winery was Seghesio Family Vineyards, a perennial favorite. Picnic table was set up in the tree-shaded Grove. The primary tasting was held the spacious, idyllic, tree-shaded area called "The Grove" in front of the winery. There was some Live music by Frobeck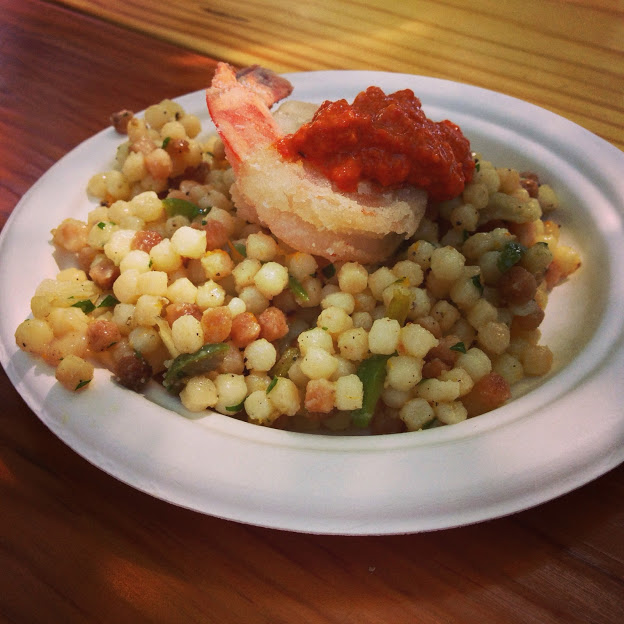 The theme as "Spring celebration of wine and food ― Italian style!"  They had plenty of food including Old world dishes like  Risi e Bisi, Gamberi e Fregola, Penne Bolognese, plus their family Sausage!  Each dish was superbly paired with Seghesio's great line-up of wines that included Zinfandels, Barbera, Sangiovese, and Arneis (a lovely crisp refreshing white), plus a real treat, the 2009 Quindici, the first wine by Seghesio Family Vineyards to be produced and bottled in Italy. It's a blend of 80% Sangiovese, 10% Merlot, and 10% Alicante Bouschet primarily sourced from Montalcino,
After tasting in The Grove, we headed down to the century-old barrel cellar for more tasting including Seghesio's Old-Vine Zinfandel (great with brownies!), and a library selection the 2003 Omaggio – their Super Tuscan blend. My favorites (it's impossible for me to pick one) were the 2009 Quindici, and the 2010 Cortina Zinfandel
Brother to Brother
After pulling ourselves away from Seghesio, we called an audible, and decided to check out Manzanita Creek Winery since it pretty close to Seghesio, and we've not been there before.
Manzanita Creek winery was founded by brothers Jack and William Salerno in 2001.  The brothers worked in construction and painting, which is unusual for winemakers.     Unlike so many wineries in Dry Creek Valley which are located among the vineyards, Manzanita Creek is located in a light industrial center, hence their tag line, "Great Wines…No Scenery…Never Boring".  I recognized the label as a brand being sold at Costco, so they're definitely enjoying some success. When we arrived they were pouring two Zinfandels and a Chardonnay, and serving up steak (and a tasty chimichurri), sausage and pasta salad.  Alas, the schedule live entertainment wasn't performing while we were there.  My favorite wine tasted was the 2008 Zinfandel Carreras Old Vine. 
Oysters and wines galore
Next up was Stephen & Walker Trust Winery, just up the street from Manzanita Creek. It's another winery we'd never before visited. 

They easily won the prize for most wines poured on Day 1. They were pouring 11 wines…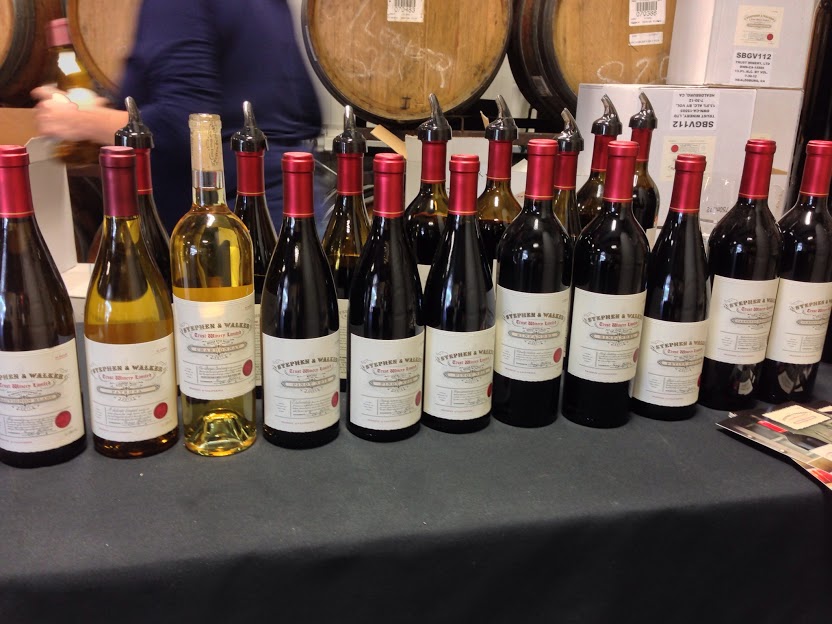 and serving up all you could eat oysters from Hog Island Oyster Co.!
Folks, we love raw oysters (an excellent pairing with their 2011 Sauvignon Blanc, Green Valley of Russian River Valley). We parked ourselves in front of the oysters, and slurped ourselves onto the Stephen Walker/Hog Island Oyster Co watch list.  I'm pretty sure there is a picture of my wife and her buddy on a wall somewhere at both places with a warning of some sort;-)
Aside from the oysters, they also served up handmade pizzas from a wood-fired oven, sausage sliders and cinnamon rolls (fantastic with their 2010 Chardonnay, Botrytis).  The Stephen and Walker staff was a friendly and fun bunch.
I can guaran-damn-tee you, if they're serving oysters next year…we'll be baaaaack!
I tried 7 of the 11 wines offered including tasting through all their Pinot Noirs, and Howell Mountain Cabs.  My favorite wine was the 2010 Cabernet Sauvignon, Howell Mountain.
Zin Alley
Dry Creek Valley is absolutely beautiful this time of year. The weather was great, the vines are gorgeous.  So after visiting the wineries in town, we were keen to get back out in beautiful vineyards. Our next stop was Talty Vineyards and Winery.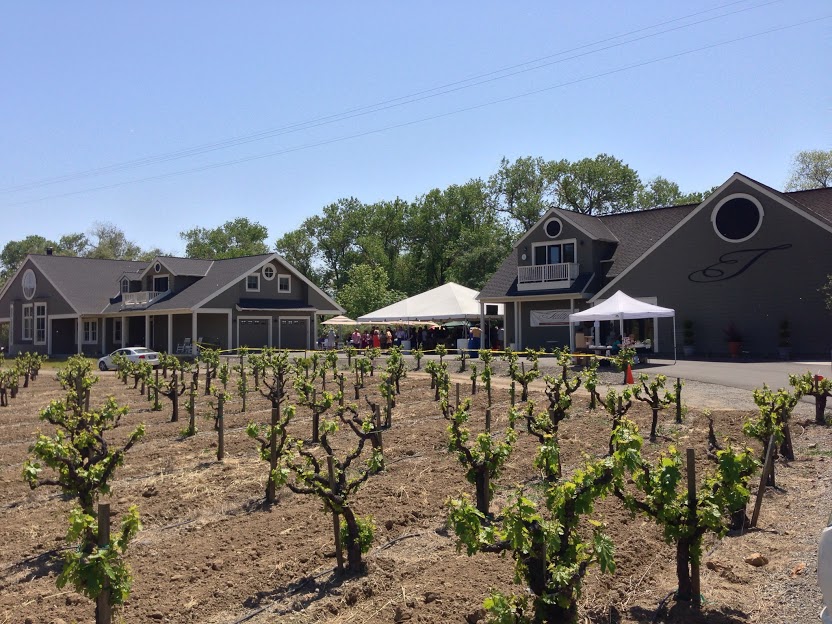 Talty is all about Zinfandel, the grape for which Dry Creek Valley is most well known.   Their estate Zinfandels are sourced from their six-acre vineyard.  They were tasting 4 Zinfandels, which were paired with "Famous TBO Lamb Tacos" (Marinated Rosen lamb with cherry chipotle Zinfandel sauce, Cabot White Cheddar, and Salsa de Cabo). Score!

Live entertainment was provided by "The Aces" band
Great pairing and Zins!  My favorites were the 2010 Dwight Family Vineyard and 2010 William Talty Estate Zinfandel.
The Wine Country Experience
Next up was Ferrari-Carano Vineyards and Winery, which is one of the most beautiful wineries in Dry Creek Valley.  Ferrari-Carano ("F-C") is best know for its breathtaking Ferrari-Carano Gardens which includes waterfalls, bridges and an amazing array of flowers. 

It's a great place to visit if you want the "Wine County Experience".  In addition to the beautiful Italianate-style Vila Fiore, and the Gardens, you'll find a great gift shop with plenty of wine country gifts, specialty food products, and housewares.
F-C was pouring five wines. The wines were poured in their tank room and cellars, so we got a chance to look around the winery a bit  My favorite was the Barrel Room. It was literally and figuratively cool.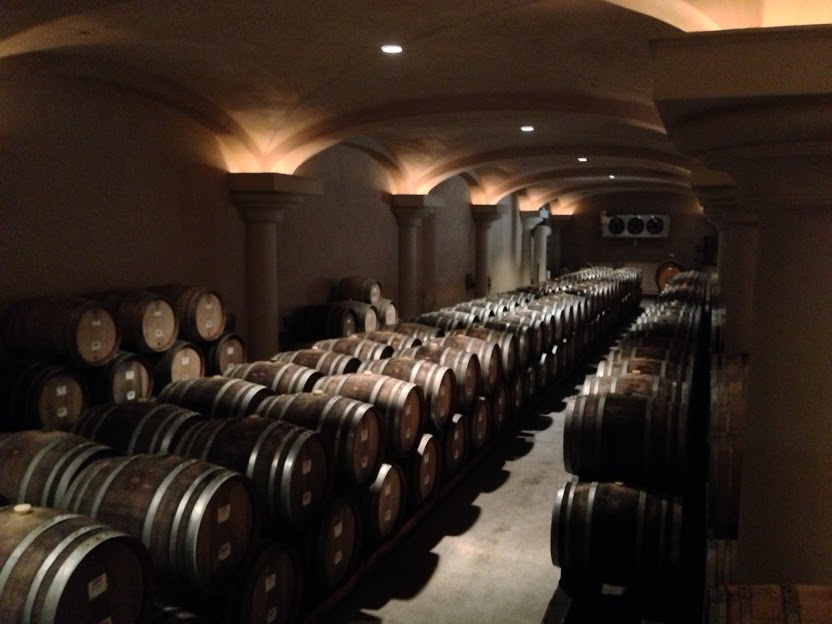 Of the five wines tasted, my favorite was the 2010 Siena, a Sangiovese/Malbec blend.  I must also mention the 2010 Baci, a Zinfandel infused with Natural Dark Chocolate.  It was a heavenly pairing with a Cherry Chocolate Biscotti!. Then again all the wines were expertly paired with food at F-C!
Sonoma Love
Our final stop of the day was Bella Vineyards and Wine Caves. Bella is a small winery run by Scott and Lynn Adams who got married in wine country, fell in love with it, and decided their life goal would be pursue their passions for outdoor living and fine wine.  The couple lives with their daughters on a 10-acre vineyard in the Russian River Valley.  Commencing with the 2008 vintage, they established a  independent winery focused on tiny lots of pinot noir and chardonnay from the fabled Russian River Valley and Sonoma Coast winegrowing regions. Taking inspiration from their home property, the brand is called "Ten Acre"
I love going to their Wine Caves, which tucked into a steep hillside under their prized Lily Hill vineyard.  The caves were excavated and completed almost 10 year ago, and include 5,200 square feet of barrel storage and working space and an additional 1,500 square feet of entertainment space.
The theme  brought to mind Alice in Wonderland, and the live entertainment was magical. The food, prepared by Bella's Michelin Star Chef, Bruce Frieseke was fabulous!
We literally kicked out shoes off, planted ourselves under a shade tree, and sipped their wines (Ten Acre Rosé for me…) while enjoying the entertainers. Perfect end to a great day!  My favorite wine was the 2010 Lily Hill Estate Zinfandel.
Look for my recap of Day 2 soon! 
Related posts you might enjoy:
For more information about the Passport to Dry Creek Valley check out the Winegrowers of Dry Creek Valley Follow me on Twitter @martindredmond for all things wine, and since I'm a wino, with latent foodie tendencies, you'll also find food and wine pairings, and food related stuff!  Become a fan and join ENOFYLZ Wine Blog on Facebook. Cheers! This article is original to ENOFYLZ Wine Blog.com. Copyright 2013 ENOFYLZ Wine Blog. All rights reserved.