It's that time of year… Yes, it's rosé season!. With that in mind, I'm starting a weekly series of  I rosé tastings.  My first wine in my "Drink Pink" series is the 2012 Bedrock Wine Company Ode to Lulu Rosé.
I adore rosé wines, at least the type of dry rosés that undergoing a resurgence these days.  Why? Rosés (in particular dry rosé) combine the best of white and red wines, while maintaining their own unique charm. They possess the crisp acidity, delicacy and freshness of white wines, and the flavors, and often the body of red wines.
Rosés are diverse bunch, produced from a wide range of grapes, in various styles ranging from simple quaffable wines to complex gems in a wide palette of colors. And they're among the best wines at the table.  They,of course, pair well with warm weather fare like salads, and light dishes. But they're also great picnic wines and barbecue wines. In fact, I  rosé don't relegate these babies to warm weather months. Because of their versatility they're wonderful year-round!
There's never been a better time to be a fan of dry rosé.  There are a multitude of choices in the market place.  I'll share with you my experiences as I search for the best rosés, and the best values.
Bedrock Wine Co. is an "itsy-bitsy winery making wine in a converted chicken coop". Though recently Morgan Twain-Peterson, the winemaker/owner of Bedrock Wine Co. announced some big changes including building a new winery, and hiring of close friend, Chris Cottrell to work with him.  Sounds like Bedrock will be moving from the "itsy-bitsy" level to a higher level production-wise.  The wines are already major quality-wise!
 "I probably work harder on my rose' then any other wine I make"- Morgan Peterson
2012 is the fifth vintage for Bedrock's Ode To Lulu Rosé.  The usual base of the wine is centered around the Mourvedre planted at Bedrock Vineyard in 1888, along with an additional 10% from Mourvedre planted in 1922 at Pagani Ranch.  This year's version also includes old-vine Carignane, from Contra Costa instead of Grenache.  The grapes are whole-cluster pressed, and fermented with native yeasts.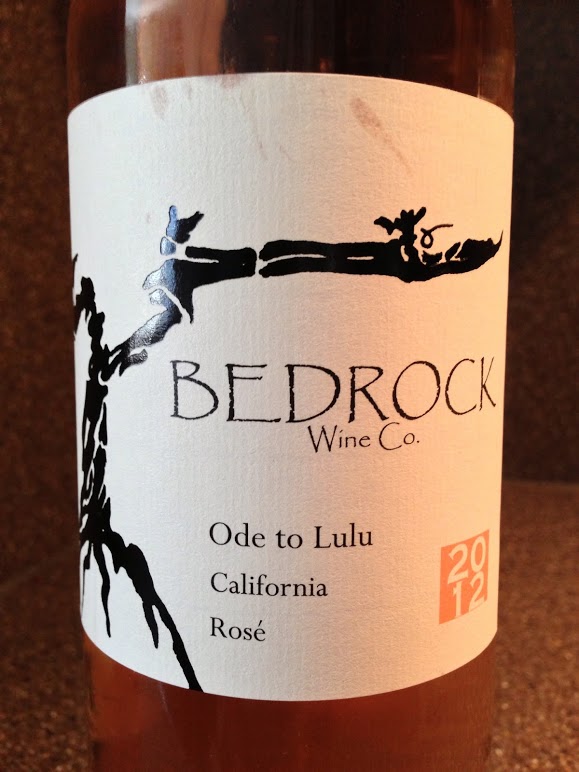 My tasting note follows:
Light copper/salmon color with stone-fruit, strawberry, and a hint of floral aromas. On the palate, it's medium-bodied, dry, and crisp with medium acidity, and peach, wild strawberry, sweet orange rind, and mineral flavors. Long spicy finish. 12.3% alcohol; SRP – $20
Rating:  A-
Wine purchased for review
Ratings Key:
(A+) – 98-100/Extraordinary
(A) – 94-97/Outstanding
(A-) – 90-93/Excellent
(B+) – 86-89/Very good
(B) – 80-85/Good
(C) – 70-79/Bleh
(D) – 50-69/#Fail
Follow me on Twitter @martindredmond for all things wine, and since I'm a wino, with latent foodie tendencies, you'll also find food and wine pairings, and food related stuff!  Become a fan and join ENOFYLZ Wine Blog on Facebook. Cheers! This article is original to ENOFYLZ Wine Blog.com. Copyright 2013 ENOFYLZ Wine Blog. All rights reserved.
Related posts you might enjoy: