Admit it. You're in a wine rut.  Regardless of whether you enjoy wine with a meal, as a cocktail, or both, you don't stray too far off the beaten path.  You cling to your handful of favorites like Chardonnay, Pinot Grigio, Cabernet Sauvignon, Zinfandel or Moscato.
Do you know there are over 10,000 varieties of wine grapes!
The true figure will never be known because number of grape varieties is a moving target.  New varieties are constantly evolving or being produced, and some obscure varieties become extinct.
Below is the Wine Grape Varietal Table put together by grape variety expert Steve de Long. It's lists 184 varieties of grapes.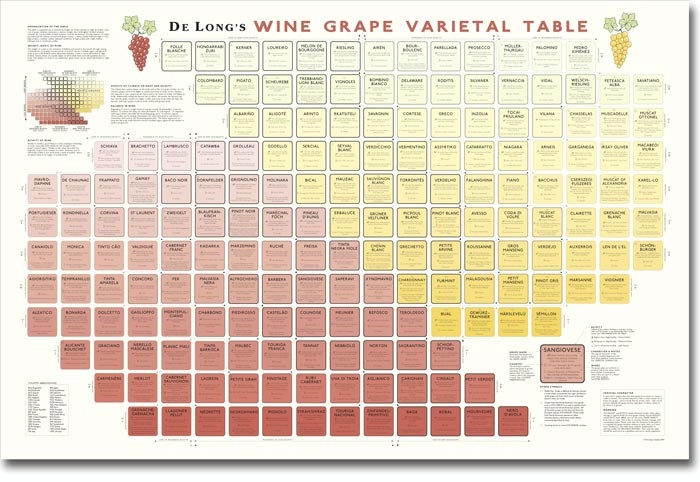 With so many varieties of grapes in the world, you're sure to find wines other than your "usual suspects" that will suit your personal tastes, and moods.
So, if you're ready for bit of vinous adventure, I'm offering some rut-busting wines to pair with the #SundaySupper team's culinary adventures this week. Check out this week's #SundaySupper menu and my wine pairing recommendations!

Pair these dishes with a sparkling wine – from South Africa!  South African sparkling wine is made in the traditional Champagne style is known as Methode Cap Classique, or MCC. Look for the Graham Beck Brut Sparkling Wine Western Cape. It's blend of Pinot and Chardonnay grapes with creamy apple blossom, tangerine, and exotic fruit character
Pair these dishes with a wine made from the Torrontés grape variety. Torrontés is Argentina's only truly indigenous grape.  It produces a juicy fragrant wine with citrus pineapple and spice flavors.  It's a pretty food friendly wine too.  It pairs wonderfully with seafood, or try it with a pasta primavera or spicy Asian noodle, or curry dishes. Look for the 2011 Bodegas Colomé "Estate" Torrontés Valle Calchaquí Salta.
Pair these dishes with wine made from the Marsanne grape variety. This is probably the finest grape variety you've never heard of. It makes a full-bodied, sometimes rustic wine with amazing complexity, and honey, peach, and sweet spice flavors. If you like Chardonnay, give this wine a try.  Look for the 2011 Qupé Santa Ynez Valley Marsanne.  It's a blend of 70% Marsanne and 21% Roussanne with floral, green apple, peach and ginger aromas, followed by energetic apple, peach,and citrus flavors on the palate.
Pair these dishes with wine made from the Pinotage grape variety. It is the signature red variety of South Africa.  It's a cross between Pinot Noir and Cinsault, two French grapes.  It shows the soft fruitiness of Pinot Noir, and the rustic characteristics of Cinsault. It produces a fruity, lively wine with soft tannins, and black fruit, spicy and many tasters report, banana flavors.  Look for the 2010 Southern Right Pinotage Walker Bay.
Pair these dishes with wine made from the Mencia (a.k.a. as Jaen in Portugal) grape variety. It's a grape that's indigenous to Spain that is gaining in popularity. Typical flavors are of earth, herbs (think mint, rosemary, thyme), dark fruits (raspberry, black cherry, blackberry). Look for the 2010 Amizade Mencia Monterrei.  It shows a spicy redcurrant and cherry aromas complemented by notes of Asian spices and minerals. On the palate it has lively acidity, and spice-accented dark fruit flavors with a hint of sassafras. 
Pair these dishes with wine made from the Aglianico grape variety. It's a grape that is native to Italy  which makes great full-bodied, intense, tannic wine with berry, cherries, plums and spice flavors. Its high acidity makes it food friendly. Pair with hearty meats, tomato-based pasta dishes like lasagna, or lamb. Look for the 2009 Musto Carmelitano "Serra Del Prete" Aglianico Del Vulture.
Pair these with a Cadillac – um…the little known village just south of Bordeaux known for its sweet botrytized white wines. It's never reached the lofty status of Sauternes, just across the river.  The wines are typically made from Semillion, Sauvignon Blanc, and Muscadelle grapes. Look for the 2009 Chateau Suau, Cadillac.  It a blend of 40% Sauvignon – 60% Semillon with a fruity, complex, and sweet peach and honey character with good acidity. 
Pair these desserts with a sparkling red wine – Brachetto d'Acqui, from Italy. It is a produced from the Brachetto grape.  Look for Banfi Rosa Regale. It has a delicate aromas of  rose petals and offers luscious flavors of fresh raspberries and strawberries.
Pair these desserts with Madeira, one of the world's great fortified dessert wines produced exclusively on the Portuguese archipelago of the same name that is actually closer to Africa than Portugal.  One of the things I appreciate about Madeira is that it's relatively indestructible.  Once opened, it will keep for years. Look for the Broadbent 10 year Malmsey Madeira.  It's a great match for rich desserts made with cream or chocolate. Or it can be the dessert in and of itself (If you have a sweet tooth, Madeira can satisfy it, and it has few calories too most other dessert choices!;-) 

And last, but not least, enjoy Bircher Muesli from Peanut Butter and Peppers with your favorite type of milk!
Join the #SundaySupper conversation on Twitter on Sunday, March 31st to talk all about citrus recipes! We'll tweet throughout the day and share recipes from all over the world. Our weekly chat starts at 7:00 pm EST. Follow the #SundaySupper hashtag, and remember to include it in your tweets to join in the chat. Check out our #SundaySupper Pinterest board for more delicious recipes and food photos.
Related post you might enjoy: