Every Thursday I feature a wine I particularly enjoy, whether it's something new and different, is a great value, or from a producer worth checking out.  For this week, my Wine Of The Week is the 2010 Tablas Creek Côtes de Tablas.
The Winery
Tablas Creek Vineyard ("TCV") is probably the best-known of all Paso Robles wineries specializing in Rhone style wines.  It is a partnership between Robert Haas, and Chateau de Beaucastel in the Chateauneuf du Pape region in France. What I find interesting about TCV is that they specifically chose to establish themselves in Paso Robles because of the similarities of the soil conditions and climate of Paso Robles to Chateauneuf du Pape.  They went as far as to import vines from Chateauneuf du Pape.  The vines were propagated and grafted in their on-site nursery and used to plant their 120 acre organic vineyard.  Check the full story here.
The Wine
Tablas Creek has been producing a red Côtes de Tablas bottling annually since 2000. It is their mid-level red Rhone blend based on Grenache. It is sandwiched between their Syrah based Patelin de Tablas bottling, which offers exceptional value,and their signature  Mourvedre-based Esprit de Beaucastel bottling. 
The Côtes de Tablas is a synergistic blend of four estate-grown Rhône grape varieties: Grenache, Syrah, Counoise and Mourvèdre typically found in red Southern Rhône varietal blends.  According to TCV, the wine features..
…the fruit and spice of Grenache balanced by the spice and mineral of Syrah, the appealing briary wildness of Counoise, and the structure of Mourvèdre.
This wine is  blended to be lushly fruity and appealing, and approachable sooner than their Esprit de Beaucastel bottling. 
All grapes were fermented in a mix of stainless steel and wooden upright fermenters on native yeasts.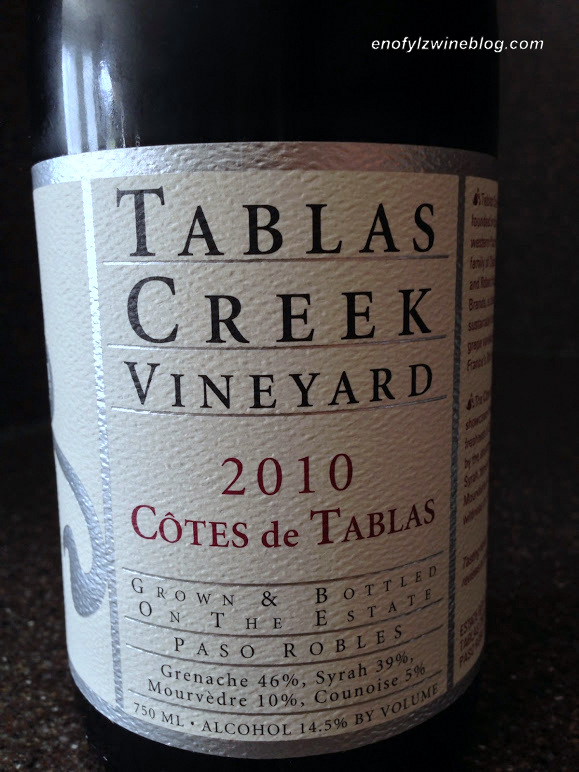 My tasting notes follow:
Dark ruby color with dark red fruit, and baking spice aromas. On the palate, it's medium-bodied, with medium plus acidity, and smooth textured with cherry, fig, spice and mineral aromas. Long finish.
Rating: A-
Pair with: Following one of the classic food and wine pairing guidelines – Pair humble with humble, and great with great, I paired this great wine with an equally great entrée from All Spice, a Michelin star rated Contemporary Indian cuisine restaurant in San Mateo, California – Slow roasted venison with farro risotto, braised ciopollini onion, wild mushrooms and grapes.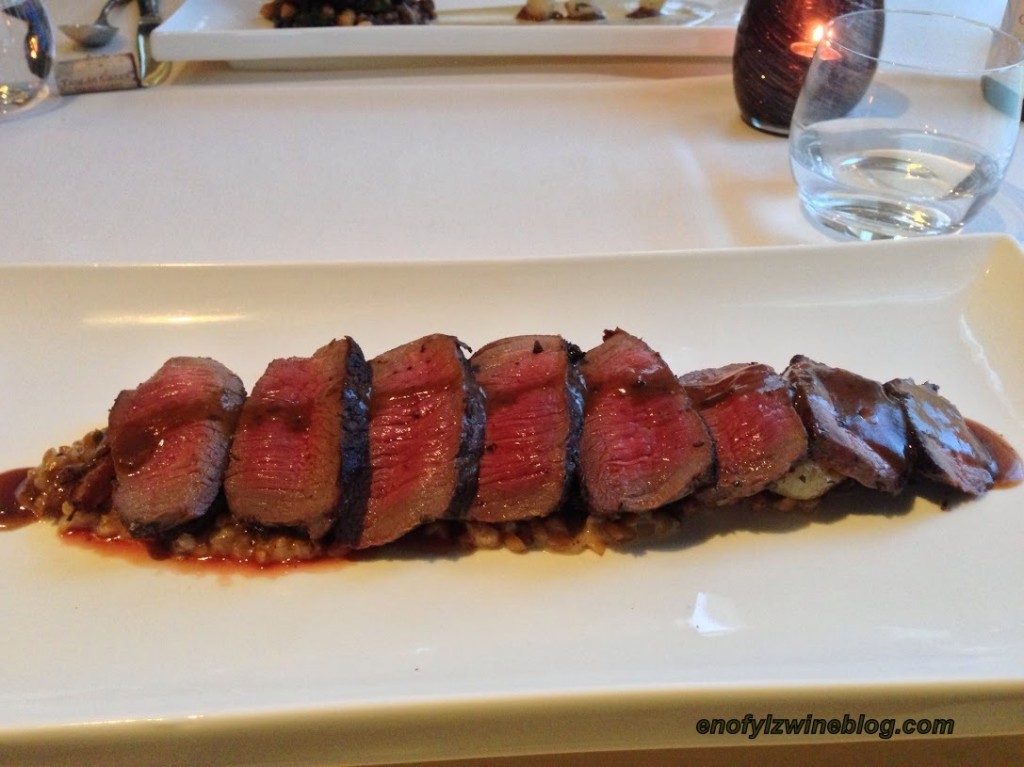 It was one of those elusive sublime pairings when not only did the wine and food taste great together,and enhance one another,  they became more than the sum of their parts and created a third more flavorful intermingling of sweet, savory, and spicy flavors.
This is a wine that is great at the table and will also pair with full-flavored stews, braises, game, red meat, BBQ chicken, or pasta dishes like Emeril's Shrimp and Pasta with Chilis, Garlic, Lemon, and Green Onions.
The Wine Geek Stuff:
Alcohol: 14.5%
Closure: Cork
AVA:> California> Central Coast> Paso Robles
Grape Varieties: 46% Grenache,39% Syrah,10% Mourvedre,and 5% Counoise
Cooperage: Aged for 12 months in 1200-gallon French oak foudres,
Retail: $30
Cases produced: 2,640
Drink: Now – 2022
>>Find this wine<<
Wine purchased for review
Ratings Key:
(A+) – 98-100/Extraordinary
(A) – 94-97/Outstanding
(A-) – 90-93/Excellent
(B+) – 86-89/Very good
(B) – 80-85/Good
(C) – 70-79/Bleh
(D) – 50-69/#Fail
Follow me on Twitter @martindredmond for all things wine, and since I'm a wino, with latent foodie tendencies, you'll also find food and wine pairings, and food related stuff!  Become a fan and join ENOFYLZ Wine Blog on Facebook. Cheers! This article is original to ENOFYLZ Wine Blog.com. Copyright 2013 ENOFYLZ Wine Blog. All rights reserved.