Late last year (I'm invoking the tried and true cliché; 'better late than never";-) I had the pleasure of attending a lunch hosted by the Pure Chablis, at one of San Francisco's best restaurants, Boulevard.  The Pure Chablis folks were touring the U.S. evangelizing the virtues of Chablis (pronounced Sha-blee).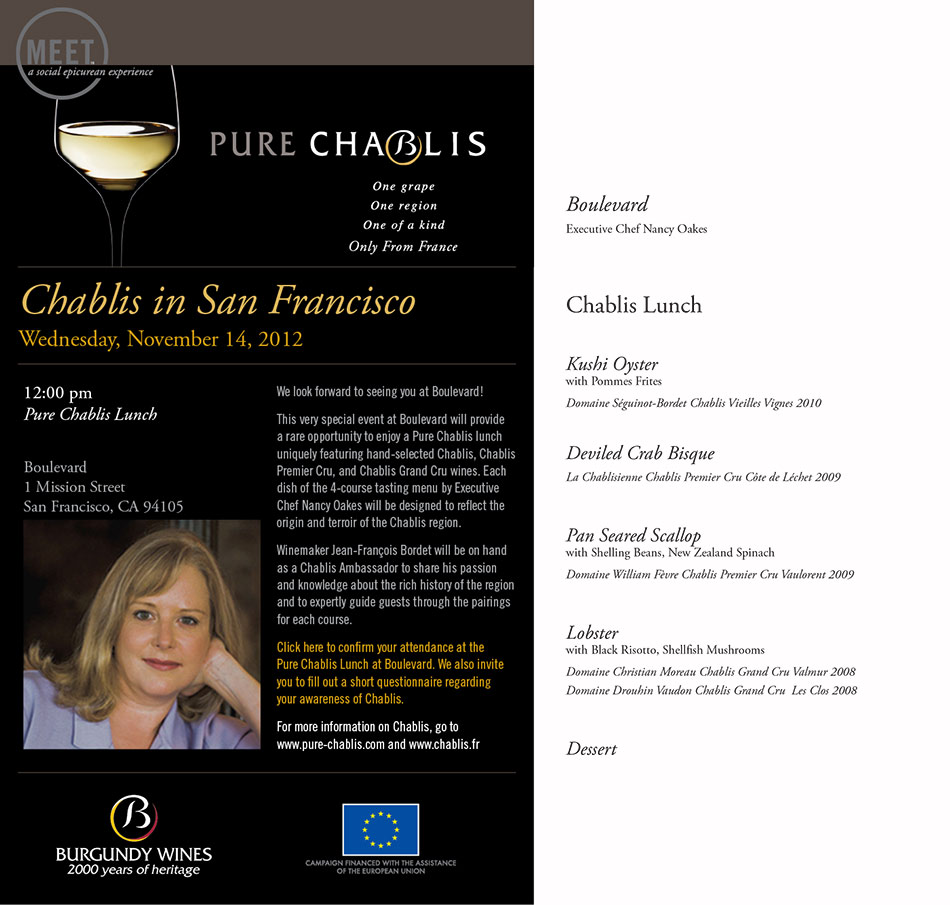 My own experience with Chablis?
None!
Of course, being a wine enthusiast, I knew of Chablis, but can one really know a wine without experiencing it?  I think not!
The two things I did know about Chablis were…
First, as Rosemary George,MW, author of "The Wines of Chablis and the Grand Auxerrois" puts it…
Chablis is Chardonnay, but not every Chardonnay is Chablis"
And secondly, I knew that this stuff, or  wines labeled as "White Burgundy" found on your local grocery stores shelves is not Chablis…Hell it may not even be Chardonnay!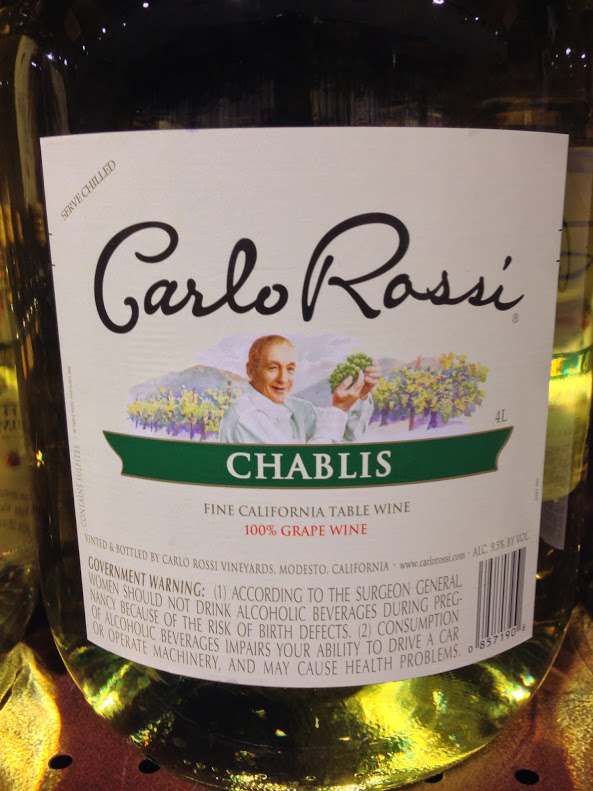 Therein lies part of challenge for the Chablisians – the majority of American consumers either don't know that Chablis is made from the Chardonnay grape (American's most popular grape variety), and/or they associate it with cheap generic jug wines such as Carlo Rossi and Franzia.  It's a shame that certain winemakers are allowed to genericize wines of place like Champagne and Chablis.
Since that wasn't the situation for me, I asked myself why I'd never tried Chablis.  My "self" concluded there were a couple of reasons I'd never tried Chablis…
I'm not a huge fan of Chardonnay. In fact, I'm border line ABC ('Anything But Chardonnay") type of guy . I tend to go with the three "Rs" – Rhône, Rosé or Riesling when i want a chilled wine. And that's because I don't care for the ubiquitous buttery, rich style – mostly because I don't think its food friendly.
Being from Burgundy, I thought it was too expensive.
As far as the first reason goes, I made the mistake many others have made – allowing the prevalent New World style of Chardonnay define Chardonnay for me.  As far, as the second reason goes, I was just flat-out wrong.  The wines are reasonably priced. In fact many offer great quality-price ratio ("QPR)")
Here's the 411 on Chablis…
Wine has been made in Chablis for centuries.  The founding of the village of Chablis dates back to Roman times, as do Chablis' wines.

t's the northernmost subregion of Burgundy.  

Chardonnay is the only grape variety permitted in Chablis
Granted AOC (appellation) status in 1938
What gives the region its unique "terroir" is a combination of its climate (harsh, cold and wet), and its clay soil referred to as Kimmeridge clay, that is composed of limestone, clay and fossilized oyster shells.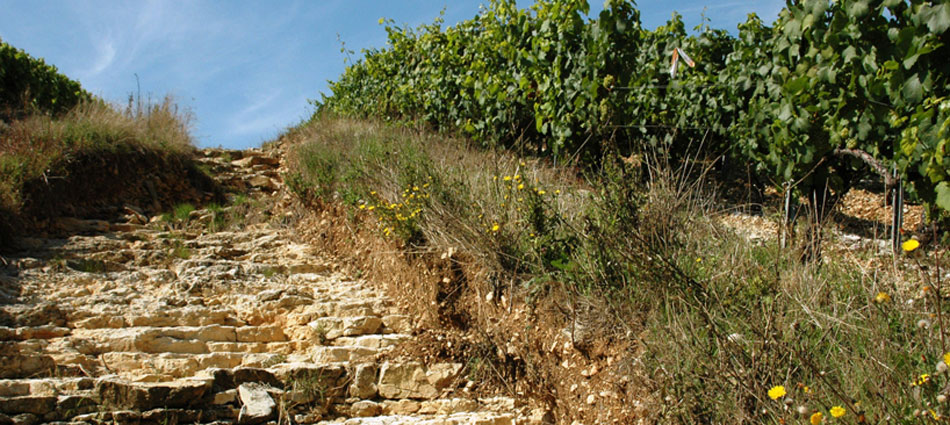 Chablis has four appellations (in ascending order of quality, power and depth)
Petit Chablis – Represents an entry-level Chablis.  Intended to be consumed young. Vineyards are located on flat ground.
Chablis – The grapes for this level are grown on north and east-facing hills.  These wines tend to show a bit more minerality, due to the high limestone content in the soil of the region.
Chablis Premier Cru – The grapes for this level are grown on south and west-facing hills.  As the name suggests, this level of quality takes it up a notch and produces wine with better aging potential.
Chablis Grand Cru – This is the upper echelon of Chablis, with only about 230 acres situated on one hill, on the north bank of the Serein River.  There are only seven vineyards from which to source the Grand Cru Chablis grapes. This level has the greatest potential for aging.
The tasting was led by the charming and voluble Jean-Francois Bordet, winemaker at Domaine Séguinot-Bordet, and President of the  Chablis Wine Board.  We tasted through 5 wines. The wines were superbly paired with food by prepared by Boulevard's chef, Nancy Oaks.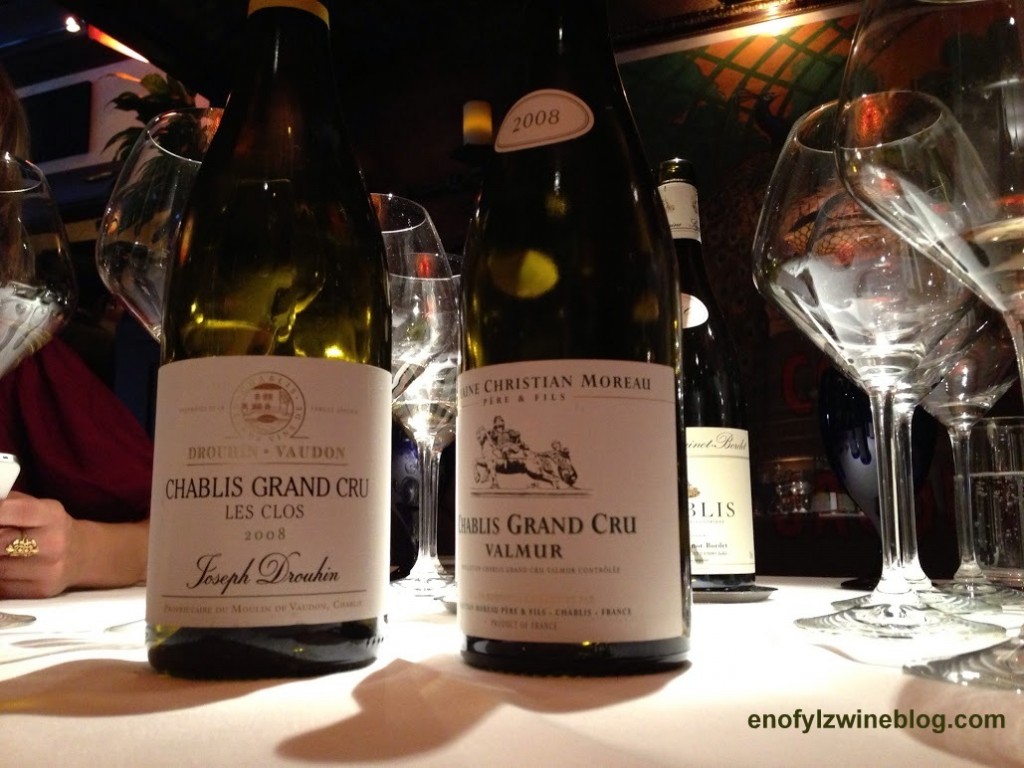 My tasting notes follow:
2010 Domaine Séguinot-Bordet Chablis Vieilles Vignes
Light yellow-green color with creamy apple, pear and mineral aromas. On the palate, the wine is between light and medium bodied, and fresh and wonderfully balanced with apple, pear and a bit of citrus flavors and lengthy finish. Average age of vines = 65 years (91 pts.)  SRP: $20 (Very good value!)
2010 La Chablisienne Chablis 1er Cru Côte de Léchet
Pale yellow straw color with lovely citrus cream, apple and a bit of spice aromas. On the palate, its medium-bodied, fresh and well-balanced with apple, gun flint, and a kiss of tropical fruit flavors and a lingering finish. Average age of vines = 25 years. Aged 12 months on fine lees in tanks and small barrels (92 pts.)  SRP: $21-$22 (Amazing value!)
2009 Domaine William Fèvre Chablis 1er Cru Fourchaume Vignoble de Vaulorent 
Medium straw yellow color with oyster shell, lemon and apple aromas. On the palate, it medium-bodied, and ample, yet nicely balanced by vibrant acidity. It shows tart apple, lemon flavors, and an engaging minerality. Lengthy finish. Grape hand harvested. Aged 10-13 months in French oak for approximately 50% of harvest, remainder in small S/S vats (91 pts.) SRP: $65
2008 Domaine Christian Moreau Père et Fils Chablis Grand Cru Valmur 
Straw yellow color with aromatic white flower, pear, and citrus aromas. On the palate, it medium-full bodied, and ample with fresh minerality and pear, saline and mineral flavors. Medium long finish. Average age of vines = 53 years. Harvested by hand. 50 of aging in stainless steel vats; 50% in barrels (90% in 1,2, and 3 y.o. barrels, 10% in new and 1 y.o. barrels) for 8 months (92 pts.) SRP: $65-$70
2008 Joseph Drouhin / Drouhin-Vaudon Chablis Grand Cru Les Clos
Pale straw yellow color with intriguing apple, white flower, and a hint of spice aromas. On the palate, it's medium bodied, and elegant with a wonderful creamy mouth feel and green apple, pear, citrus and mineral flavors. Long finish. Average age of vines = 37 years. Hand harvested. Aged in French oak barrels weathered for 3 years (0% new wood) for 12 months (93 pts.) SRP: $70-$75
In addition to the aforementioned five wines, I recently tried another Chablis, that I think is worth seeking out, especially if you're looking to try a great example of Chablis for under $20!
2011 Domaine Séguinot-Bordet Chablis 
Pale straw yellow color with apple, stone-fruit, and mineral aromas. On the palate, it's medium-bodied, fresh and well-balanced with apple, nectarine, and flinty flavors. Medium+ finish. (89 pts.) SRP: $18 – Very good value! (Sample purchased for review)
It was a fabulous lunch (and as it turned out, I was the only person who'd never had Chablis!).  The food, the wines, and the pairing were all outstanding.  And I learned much about what make Chablis special.
My takeaways were:
Chablis are dry wines renowned for their great aromas, flavors acidity, and minerality (and not just minerality in flavor, also minerality in texture)
Chablis' are great wines by any standard with a singular outstanding quality, and a compelling story behind them.
Chablis is a versatile wine that pairs well with a wide range of foods, from humble to the sublime
Thanks to Chablis, I'm not an "ABC" guy after all!
I'll be drinking more Chablis, and if you haven't tried it, I highly recommend you give it a try!
Other posts you might enjoy: