When I saw this week's #SundaySupper theme, it didn't take me long to decide which movie I would pick.  Sideways!  The best wine-theme movie I've ever seen.  There are three things I'll always remember about the movie…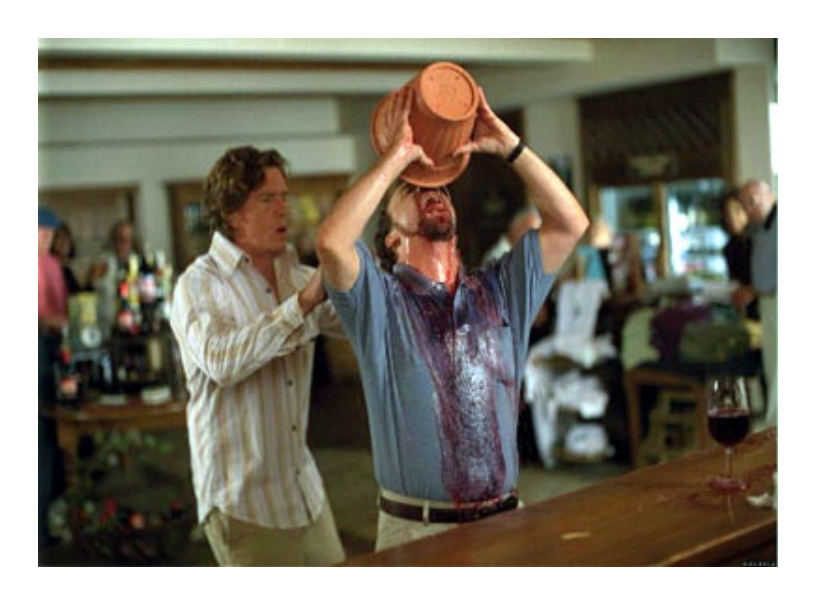 First, the line most people remember from the movie is…
No, if anyone orders Merlot, I'm leaving. I am NOT drinking any f**king Merlot!
Who knew that such a line could single-handedly, if unintentionally send Merlot sales into a downward spiral, and elevate Pinot Noir to dizzying heights?
Second, was the scene that I enjoyed the most and resonated with me, even before I got into wine big-time.  It was delivered by Virginia Madsen her Oscar-nominated role as Maya (caution – there is profanity at the end of the clip)
It was a beautiful, evocative scene that was that I'll always remember.
And last but not least was the most infamous food and wine pairing of all time, when a depressed Miles, played by Paul Giamatti pairs a 1961 Cheval Blanc – one of the great wines of the 20th century – with a burger and fries (and drinks the wine from a Styrofoam cup) At the time I had little idea what '61 Cheval Blanc (a red Bordeaux blend) was, and knew even less about food and wine pairing. Nonetheless I knew the pairing was kin to blasphemy.
Like any great movie, Sideways speaks to our human frailties, and our need to enter into life and relationships in such was that we experience fullness in our lives.  It wasn't about so much about wine, love, or buddies on a road trip. It was about the memories created.
It's the same with #SundaySupper, food bringing families together around the dining table and the memories that go along with it.
Check out the blockbuster recipes the #SundaySupper crew is premiering this week, and my wine pairing recommendations. Oh, and I've made sure to include Merlot among this week's recommended wines 😉
Pair these dishes with Prosecco. One of my favorites is the Terre di San Venanzio Fortunato Prosecco Brut. It show aromas of green apples, stone fruits, and white flowers. On the palate, it's medium-bodied, dry with a creamy mousse and apple, white peach flavors with a mineral undertone.
Pair this dish with Moscato d' Asti. I like the 2012 Vietti Cascinetta Moscato d'Asti.  It has a lovely rose, and peach character with a soft effervescence.
Pair this dish with Sauvignon Blanc.  Look for the 2011 Dog Point Sauvignon Blanc from New Zealand.  It's an outstanding value, and delivers grapefruit, tropical fruit, and lemongrass aromas followed by grapefruit, tropical fruit and hint of herb and mineral flavors.
Pair these dishes with Pinot Gris, or Pinot Grigio depending on geography and interpretation.  It's a grape that's made in a variety  of styles.  Look for the 2010 Domaines Schlumberger Pinot Gris Les Princes Abbes from Alsace, France. It's a dry-style with a rich honeyed tropical fruit and baked apple character. 
Pair these dishes with Viognier.  It's an aromatic white grape most often associated with the Rhône Valley in France.  It's underrated in its ability to be a good match for a variety of foods.  Look for the 2011 Yalumba Eden Valley Viognier from  Australia. It has a floral, citrus, apricot, and spice character. 
Pair these dishes with Beaujolais, a wine from the eponymous region made from the Gamay grape.  While I'm not a big fan of the Beaujolais Nouveau release annually in November, I am a fan of Cru Beaujolais.  They tend to be light-bodied, food friendly red wines with soft tannins.  Look for the  2010 Potel-Aviron Côte de Brouilly "Vieilles Vignes" Cru Beaujolais.  It has a black raspberry, floral, and asian spice character.  Can't find a Beaujolais?  Then go with your favorite Pinot Noir – a similar style of wine. 
Pair these dishes with Chianti, the classic Italian red wine. Look for the 2011 Coltibuono Cetamura Chianti.  It's a blend of 90% Sangiovese and 10% Canaiolo with a beautiful black cherry, spice, and licorice character with a kiss of rusticity.
Pair these dishes with Merlot.  Look for the 2010 Wild Horse Central Coast Merlot.  It has a fruit forward plum, sour cherry, baking spice character with good acidity. 
Pair this dish with (Miles would be devastated!) Chimay Grande Reserve (Blue Label) beer.  It's big beer, (9% alcohol) with a bit of a vinous character.  It show big, deep dark flavors with a kiss of sweetness  often found in Belgian beers.  If beer isn't your thing, pair with the Merlot recommended above. (Looks like Miles will be devastated either way;-)
Pair these dishes with a Rioja, the 2007 Bodegas Vina Eguia Reserva. It shows spice, leather and bright red fruit aromas followed by raspberry, sweet tobacco and vanilla spice on the palate.  I recommend letting the wine "breathe" for an hour or so and you'll be amply rewarded.
Pair these desserts with the  2012 Vietti Cascinetta Moscato d'Asti noted above.
Pair these desserts with Banyuls, a lighter style fortified wine made in France.  It's a Port-style wine made from Grenache, and is a great match for chocolate.  Look for the 2009 Les Clos de Paulilles Banyuls Rimage.  It has rich, dense blackberry, plum, caramel, and vanilla aromas and flavors. 
Pair this dessert with an Oloroso Sherry, a denser richer style of Sherry.  Look for the Lustau East Indian Solera. It's a provocative sweet creamy Sherry with a toffee, fig, caramel, raisin, and baking spice  (cinnamon and clove) character. 
Bottle Shock (beverages)
Join the #SundaySupper conversation on twitter on Sunday, April 14th to talk all about movies that have inspired us to head into the kitchen – and the food that comes from that inspiration (7pm EST)!  We'll tweet throughout the day and share recipes from all over the world.   Follow the#SundaySupper hashtag, and include it in your tweets to join in the chat. Check out our #SundaySupper Pinterest board for more delicious recipes and food photos.