Last month I attend one of the best tastings I've ever been to. And certainly the tasting with the highest "return on investment"..ever!  The tasting was held at K&L Wine Merchants in Redwood City.  It was billed as a Special Rioja Tasting featuring a Cune & Contino Library Tasting with Winemaker Jesús Madrazo.
The following point can not be overstated…
There were 7 bottles of wines with a total value of $1,545 being poured.  The cost to taste was $5 (somebody pinch me!)
Here's what the K&L flyer stated…
Jesús Madrazo, winemaker of Contino, will be here to pour the 1974 Contino, the first ever vintage for this legendary Rioja estate!.  As his family has also been involved in the ownership and direction of Cune, we will also be featuring some older Cune wines as well as a few more recent examples.  Jesus is one of the best winemakers in Spain, has a great palate, and should be an excellent guide to not only walk you through these older vintages of two of Rioja's most storied wineries, but all things Rioja as well.
Rioja
Rioja is Spain's preeminent wine region.  It is subdivided into three zones: Rioja Alta, Rioja Baja and Rioja Alavesa. Many wines have traditionally blended fruit from all three regions. Though Rioja Alta, the coolest of the three regions, is generally regarded as producing the best and most age-worthy fruit.
Tempranillo is the great indigenous black grape of Spain. Traditionally, red Rioja wines are a blend of (mostly) Tempranillo, Garnacha (Grenache), Mazuelo (Carignan), and/or Graciano.
In general Rioja's traditional red wines are aged longer before they are released than any other wines in the world. That's because the aforementioned traditional blend  of grapes can age at an incredibly slow pace.
Here's a crazy example. The renowned estate of Marqués de Murrieta released their 1942 Gran Reserva in 1983!
These days the philosophy about the benefits of long aging are changing in Rioja.  Some bodegas have veered away from tradition and are now aging their wine for a shorter periods.  Wine drinkers today, have  a choice between traditional Old World style well-aged earthy wines, and more New World fruit driven wines.  Of course there are wines throughout the spectrum. 
Compañía Vinícola del Norte de España
Compañía Vinícola del Norte de España ("CVNE."), or Cune [pronounced COO-neh] as it is known among Rioja lovers, is one of the most historic and renowned bodegas in Spain.  It was founded 1879 by the two brothers, Eusebio and Raimundo Real de Asúa.  With their combination of traditional roots and innovative vision, they have been one of Rioja's most reliable sources for high quality wine.
CVNE is composed of three separate bodegas: Cune, Viña Real, and Contino. The company is still run by descendants of the founders. The CVNE and Viña Real bodegas are run today Victor Urratia Ybarra, a member of the Real de Asua family, who is CEO of CVNE, and President of Contino
Spaniards talking about making wine use the verb elaborar, to elaborate, not fabricar, to produce or manufacture.  To elaborate something, Spain's winemakers say, implies consciousness, time, and the labor of creation and nurturance.
Cune is the winery where the company began in 1879. Today it still sits on its original site, in the wine district, Barrio de la Estación, in Haro.  Their flagship wine is the Imperial Gran Reserva.  It is housed in one of its historic cellars was built by Gustave Eiffel.  Grapes for their wines are sourced from Rioja Alta, and Rioja Alavesa.
Contino makes single-estate Riojas from their 62 hectares of vineyards located in  Rioja Alavesa.   It is owned 50/50 by CVNE and the Perez Villota family.
The estate, situated on the northern bank of the river Ebro, includes a farmhouse that dates back 200 years along side their state-of-the-art wine-making facility.You'll also find some of the oldest vines of Graciano, an indigenous Spanish grape variety, in Rioja.  Graciano is used in the estate wines, and Contino also produces a 100% bottling of Graciano.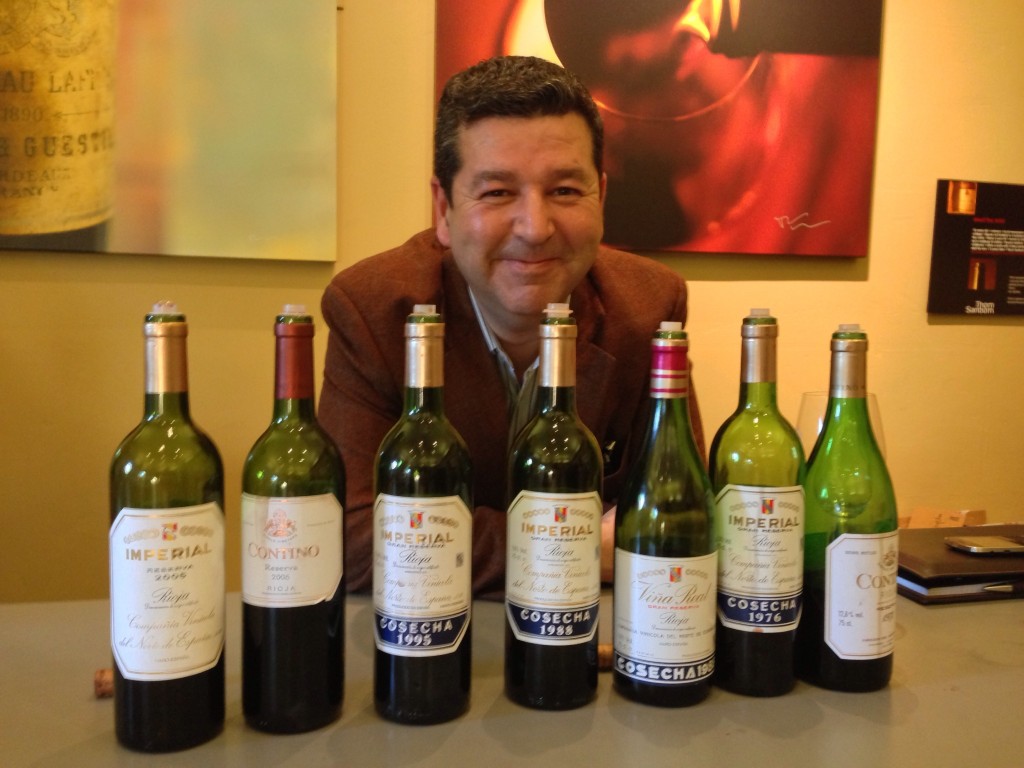 Jesús de Madrazo Mateo is a fifth-generation member of the Real de Asua family. They founded and still own a controlling share of CVNE.  His father, Jose Madrazo Real de Asua, who was on the CVNE board of directors and GM of Viña Real brand, conceived the idea of creating the first single estate Bodega in Rioja, and founded Contino
Jesús studied viticulture at Madrid's prestigious University of Agriculture, and is an Agricultural Superior Engineer. He started training at CVNE in 1988, and took his first paid position in 1995 in the CVNE technical department as an assistant winemaker.  He's been the head winemaker for Contino since 1999.
The Wines Tasted
All the wines came from vintages rated as "good" by the  Rioja's regulatory body, the Consejo Regulador de Rioja, except for the wines from the 1995, and 2005 which were rated as "excellent"
Four off the seven wines tasted were from the highest quality classification, "Gran Reserva", while others were classified as "Reserva". See below for the minimum (many producers exceed the minimum) aging requirements:
Reserva – Reds are aged 3 years with 1 year in oak.
Gran Reserva – Reserved for wines from phenomenal vintages. Aged a minimum of 5 years before release with 18 months of oak aging. Most producers will do 20-30 months in barrel.
The quality of the lineup, which spanned 30+ years was remarkable.  All the wines showed substantially complex aromas and flavors, with plenty of acidity and structure to enable them to continue to age gracefully for many more years, if not decades. All the wines were fabulous!
My very favorite wines of the tasting were 1974 Contino Reserva, and the 1976 Cune Imperial Gran Reserva.  They were both beautifully mature wines that possess an almost ethereal elegance.
My complete tasting notes follow: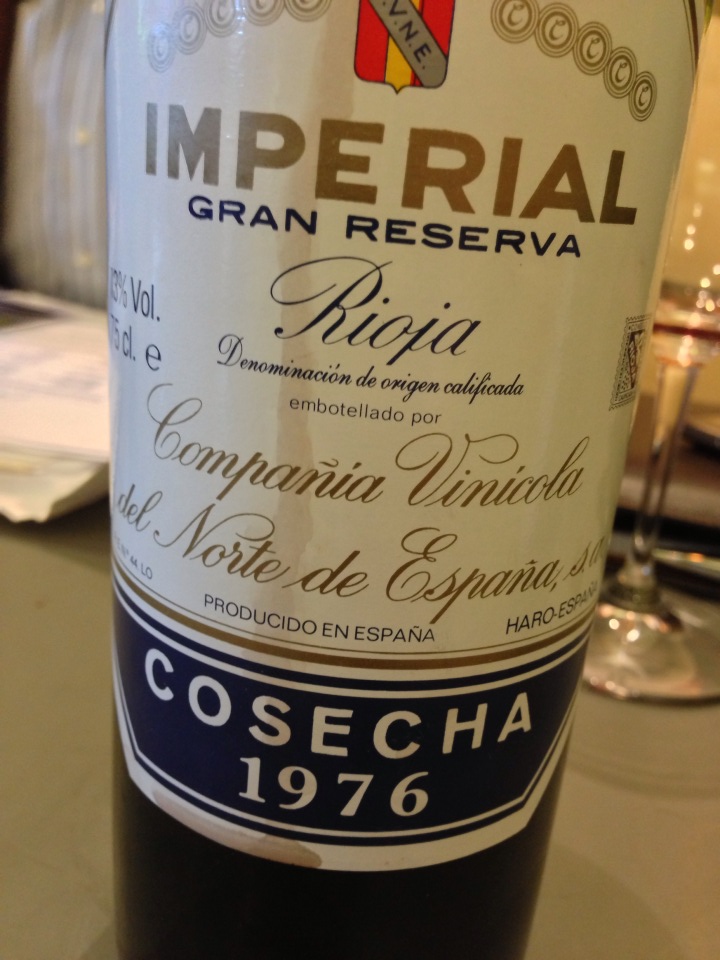 1976 C.V.N.E. (Compañía Vinícola del Norte de España) Rioja Imperial Gran Reserva 
Brickish red with a dark orange hue and a pale meniscus. It's aromatic, and complex with savory, dried red fruit, roast meat, tobacco a hint of floral aromas. On the palate, it's exceedingly silky, elegant, and well-balanced with dried cherry, tobacco,and a bit of dill flavors. Long finish. (95 pts.) – $299.99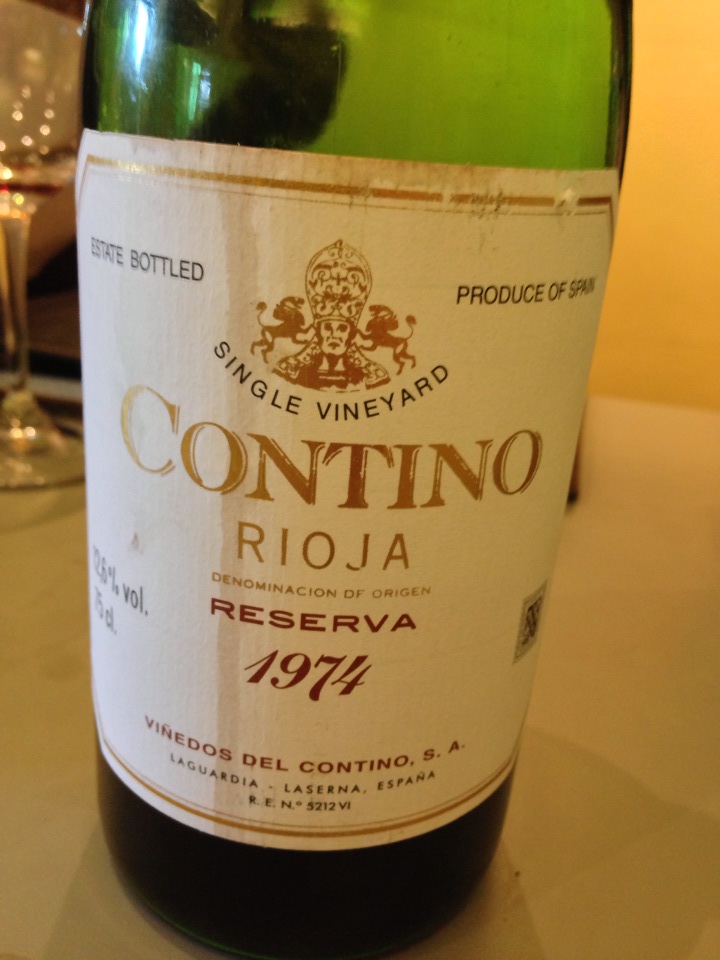 1974 Bodegas y Viñedos del Contino Rioja Contino Reserva 
Garnet color with a brick hue and thin meniscus. Shows complex aromas of dried cherry, orange peel, camphor aromas. On the palate, it's exceedingly smooth, elegant, and Burgundian with dried cherry, spice flavors with a savory undertone. Long finish.(94 pts.) – $649.99
Tasting mature wines such as these is such a rare treat. And, for me, tasting beautifully mature wines is  the apogee of the wine experience.
If you're looking for mature wines without three "B" (Burgundy, Bordeaux, or Barolo) sticker shock check out Rioja, where mature wine can be found without paying exorbitant prices.
One of the joys of being a wine lover aside from, of course, the wines is sharing in the experience with others.  Jesús Madrazo struck me as being remarkably humble, sincere and engaging.  When I mentioned that my wife and I plan to travel to Spain in June, he offered up his contact info, and immediately extended an invitation to visit his winery.  He also offered a some great suggestions on where to eat in San Sebastian.  Meeting him was another part of what turned out to be an experience that exceeded my wildest expectations.
The Spanish have a saying when they are tasting extraordinary wine…"Beber este vino es como hablar con Dios" – Tasting this wine is like talking to God...Indeed it was!
Salud!
Related Posts You Might Enjoy: