Every Thursday I feature a wine I particularly enjoy, whether it's something new and different, is a great value, or from a producer worth checking out.  For this week, my Wine Of The Week is the 2008 L'Aventure Côte à Côte.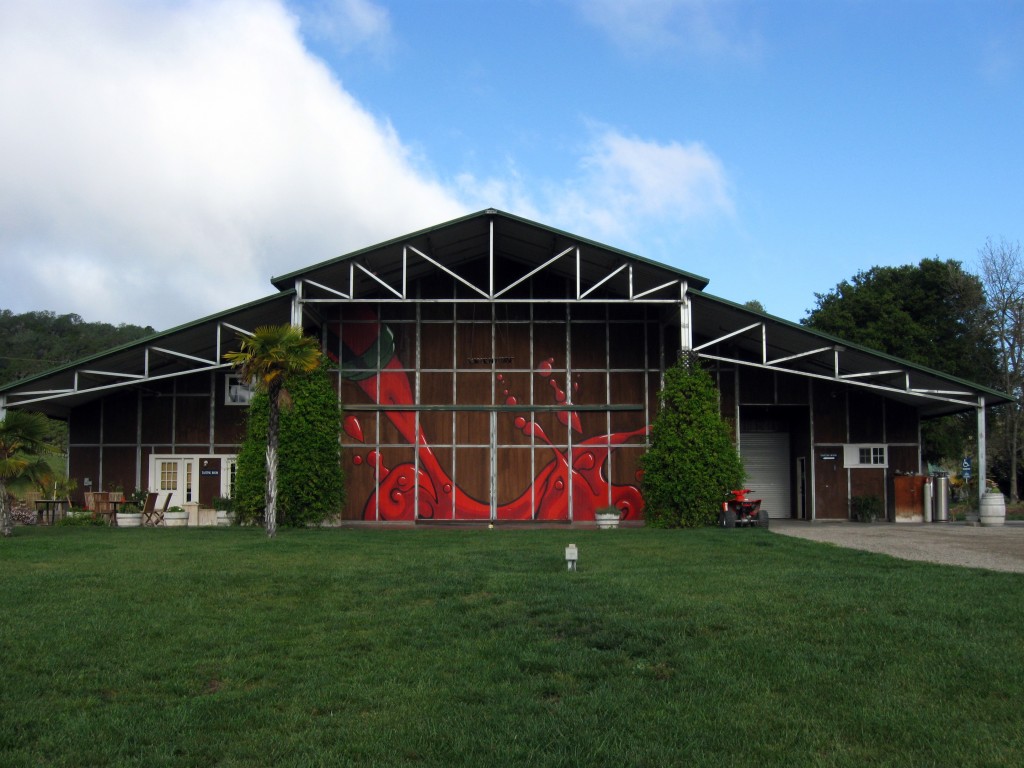 Winery
L'Aventure Winery is located in Paso Robles, CA.  Stephan Asseo is the owner and winemaker. He has been making wine for over 30 years, having graduated from oenology college(L'Ecole Oenologique de Macon) in Burgundy, France in 1982.
Thereafter, over the years, his family purchased a few wineries in France. With an inimitable style, and a reputation as a maverick vigneron Stephan elevated those properties to a level of quality that brought him continuous accolades from the European press, travel guides and the Wine Spectator.
Stephan immediately "fell in love" with the unique terroir of west side Paso Robles. The rolling topography of the Santa Lucia Mountain Range, the deep calcareous soils, and the maritime influence of the renowned Templeton Gap all combine to produce a world-class wine country, with the potential to craft some of the world's greatest blends. It is here, in Paso Robles, that Stephan began his adventure, "L'Aventure".
However, he found the AOC regulations in France stifling.  He wanted to expand his expertise, and pursue his ideal as a winemaker. One of his ideas was to create Cabernet/Syrah blend.  So, in 1996, he began a quest for a great terroir outside of France
He spent a year searching the world over  including Australia, South Africa, South America,and the U.S (Napa/Sonoma and Santa Barbara counties). He found what he was looking for on the west side of Paso Robles.
He founded L'Aventure in 1998, and purchased 127 acres of land, which is mostly planted to Syrah, Cabernet Sauvignon, and Petit Verdot.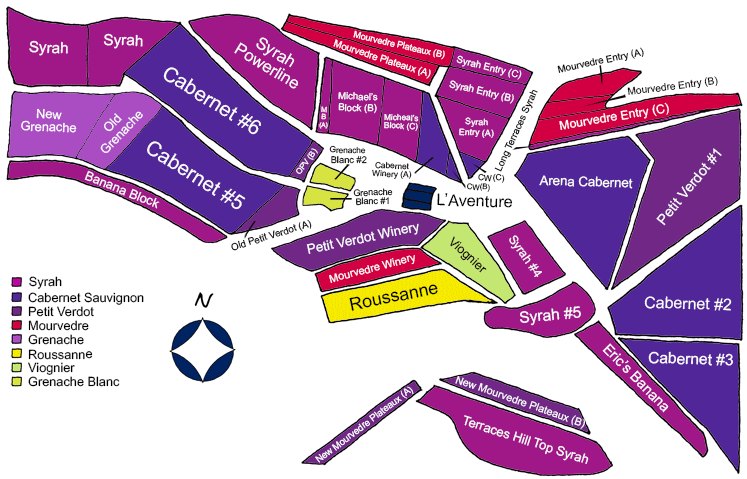 Oh, and that Cab/Syrah blend that he wanted to make?  It's called Optimus, and it's L'Aventure's flagship wine.
Wine
This is L'Aventure's classic Chateauneuf du Pape style blend of Grenache, Syrah, and Mourvedre. It's a big wine that,for me, deftly manages to not veer off into being jammy. It's a beautiful blend that is a natural expression of grapes, place and vintage.  I think it's a nice blend of Old World and New World stylistically.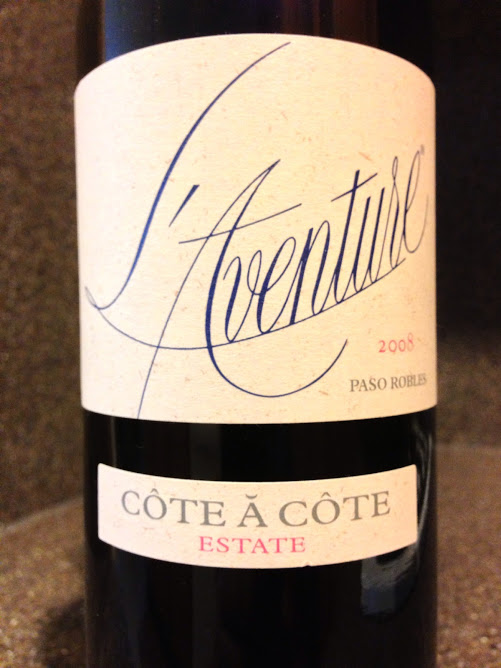 My tasting note follows:
Opaque violet color and a bit warm on the nose initially, but blew off in short order. Shows blackberry, spiced plum, charcoal, pepper, and anise aromas. On the palate, it's full-bodied, fresh, lush, and layered with well-integrated tannins and blackberry, spice, red currants, vanilla, and kiss of bittersweet chocolate flavors. Wine changed over the course of an hour; started with blackberry flavor, then showed blueberry notes. Long finish. 
Rating: A- (93pts)
Pair with: I enjoyed this with a grilled boneless rib-eye steak.  In a word – fantastic. Try it with Leg of Lamb Shawarma, Braised Short Ribs, Boeuf Provencal or Pasta with Meat Sauce.
The Wine Geek Stuff:
Alcohol: 15.9%
Closure: Cork
AVA:> California> Central Coast> Paso Robles
Grape Varieties: 40% Grenache, 40% Syrah, 20% Mourvedre
Cooperage: Unknown
Retail: $82
Cases produced: Unknown
Drink: Now – 2022
>>Find this wine<<
Wine purchased for review
Ratings Key:
(A+) – 98-100/Extraordinary
(A) – 94-97/Outstanding
(A-) – 90-93/Excellent
(B+) – 86-89/Very good
(B) – 80-85/Good
(C) – 70-79/Bleh
(D) – 50-69/#Fail
Follow me on Twitter @martindredmond for all things wine, and since I'm a wino, with latent foodie tendencies, you'll also find food and wine pairings, and food related stuff!  Become a fan and join ENOFYLZ Wine Blog on Facebook. Cheers! This article is original to ENOFYLZ Wine Blog.com. Copyright 2013 ENOFYLZ Wine Blog. All rights reserved.