Every Thursday I feature a wine I particularly enjoy, whether it's something new and different, is a great value, or from a producer worth checking out.  For this week, my Wine Of The Week is the 2008 Castello di Amorosa La Castellana.

Winery
Castello di Amorosa is Napa Valley's own slice of Tuscany.  It's a winery with its own authentic Tuscan castle (Approximately 121,000 sq. ft., including 107 rooms on 8 levels above and below ground), and one of Napa's premier "destination" wineries.  While I'm not a huge fan of destination wineries because the wines often take a back seat to whatever the attraction is (they don't call Napa Valley "adult Disneyland for nothing;-), Castello di Amorosa is an exception.  In addition to a great experience touring an authentic Tuscan castle (complete with a torture chamber), you'll find moat loads of  "better" and "best" wines rather than simply " good" wine.
The story is how the castle came to be is fascinating (click here for history of the project). When Dario Sattui who also owns and operates the V. Sattui Winery, conceived the idea his thought was…
 I would specialize in making small lots of primarily Italian-style wines, showcase them in an authentic, medieval castle setting and sell them directly to the public, not in stores or restaurants.
Castello di Amorosa offers a wide array of wines.  In addition to the wines one would expect to find at a Napa Valley winery, (Chardonnay, Cabernet Sauvignon, Merlot, and Zinfandel) they also offer three Gewüztraminers (dry, slightly sweet, and late harvest), various Red, Rosé, and White Italian varietals, Muscato Canelli port, and a slightly sweet, sparkling Rosé!
Castello di Amorosa produces about 8,000 cases a year.  The wines are only available at the winery, through its wine club, or online (www.castellodiamorosa.com).
Wine
This wine is what is referred to as a super-Tuscan. There are generally two kinds of super-Tuscans, those that are dominated by Sangiovese, or those dominated by Cabernet Sauvignon.  This wine falls into the latter category.
The term "Super Tuscan" describes any Tuscan red wine that does not adhere to traditional blending laws for the region
The name for this wine "La Castellana" refers to the wife of the Lord and master of the castle. The fruit for this wine was sourced from their estate vineyard,and Passaro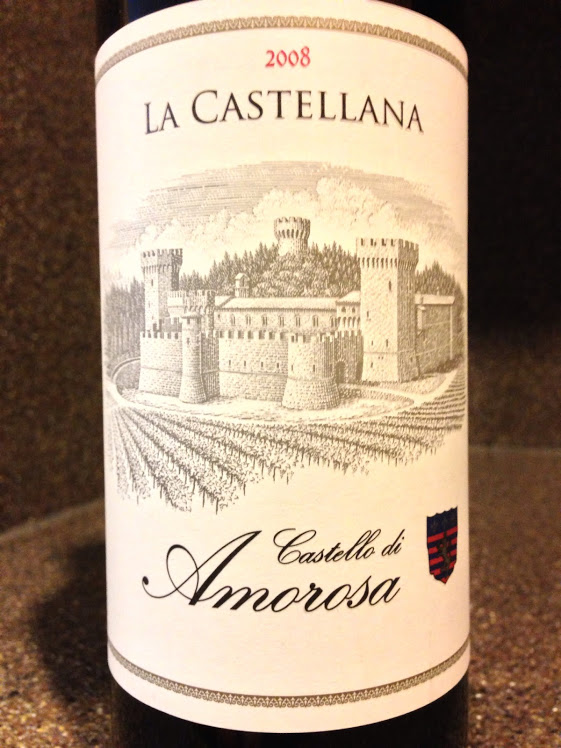 My tasting notes follow:
Opaque dark garnet color with aromatic dark red fruits, toasted oak,and spiced tobacco aromas. On the palate, it's voluptuous and smooth with well-integrated soft dusty tannins, good balance, and blackberry, plum, bittersweet chocolate, and spiced vanilla flavors. Long finish.
Rating: A- (91pts)
Pair with: Hearty fare such as grilled steak, sausages, Venison Stuffed Mushroom Caps, Shepherd's Pie,  Braised Lamb Shanks, Veal Parmesan  or Rigatoni rigatoni with a wild boar ragú.
The Wine Geek Stuff:
Alcohol: 14.6%
Closure: Cork
AVA:> California> Napa Valley> Diamond Mountain

Grape Varieties: 70% Cabernet Sauvignon, 16% Merlot, and 14% Sangiovese
Cooperage: 20 months in French Oak
Retail: $88
Cases produced: 1,634
Drink: Now – 2020
>>Find this wine<<
Wine provided as a sample for review.  Many thanks to Castello di Amorosa
Ratings Key:
(A+) – 98-100/Extraordinary
(A) – 94-97/Outstanding
(A-) – 90-93/Excellent
(B+) – 86-89/Very good
(B) – 80-85/Good
(C) – 70-79/Bleh
(D) – 50-69/#Fail
Follow me on Twitter @martindredmond for all things wine, and since I'm a wino, with latent foodie tendencies, you'll also find food and wine pairings, and food related stuff!  Become a fan and join ENOFYLZ Wine Blog on Facebook. Cheers! This article is original to ENOFYLZ Wine Blog.com. Copyright 2013 ENOFYLZ Wine Blog. All rights reserved.