Every cuisine has at least one – a one-pot meal, a dish of humble origins that is the quintessential definition of that place and people. There's Gumbo, Cassoulet, Risotto, Irish Stew and Pad Thai to name a few. And the Spanish? Well, they have paella.  March 27th is National Paella Day.
Paella originated Valencia region of Spain. According to The Paella Company…
Paella was originally farmers' and farm labourers' food, cooked by the workers over a wood fire for the lunchtime meal.  It was made with rice, plus whatever was to hand around the rice fields and countryside: tomatoes, onions and snails, with a few beans added for flavour and texture. Rabbit or duck might also have been added, and for special occasions, chicken plus a touch of saffron for an extra special colour and flavour. Paella was also traditionally eaten straight from the pan in which it was cooked with each person using his own wooden spoon.
There are three main types of paella; Valencian consists of rice, green vegetables, meat (rabbit, chicken, duck, pork), land snails, beans and seasoning; Seafood replaces meat and snails with seafood  such as prawns, mussels, and clams and omits beans and green vegetables, and Mixed, a combination of meat, seafood, vegetables.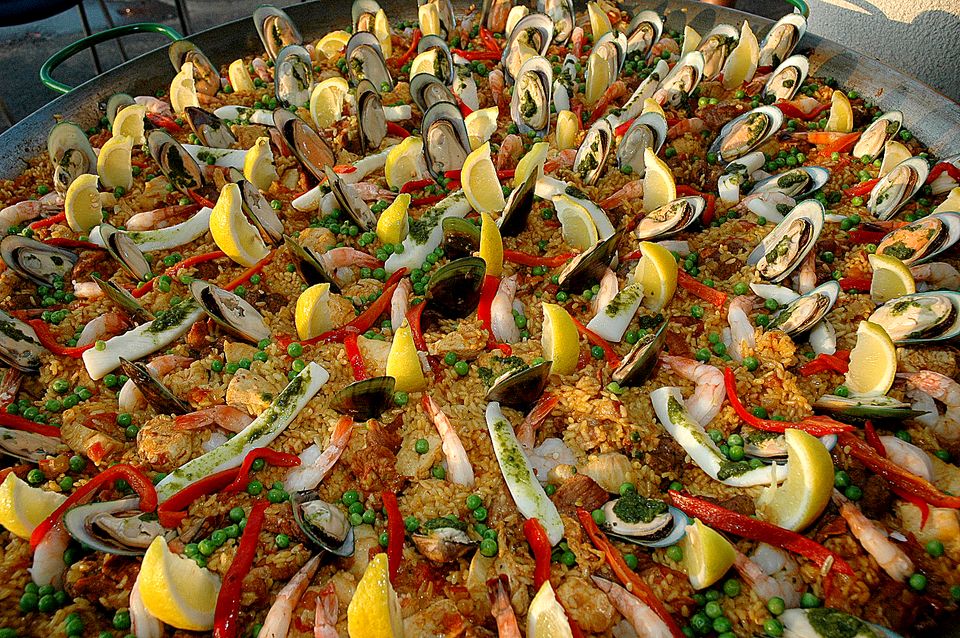 In addition to the three main types of Paella, two other popular variations are Vegetarian, which typically contain vegetables like artichokes, lima beans, red and green peppers,and Paella Negra, which is typically seafood, cooked with squid ink, so it looks black.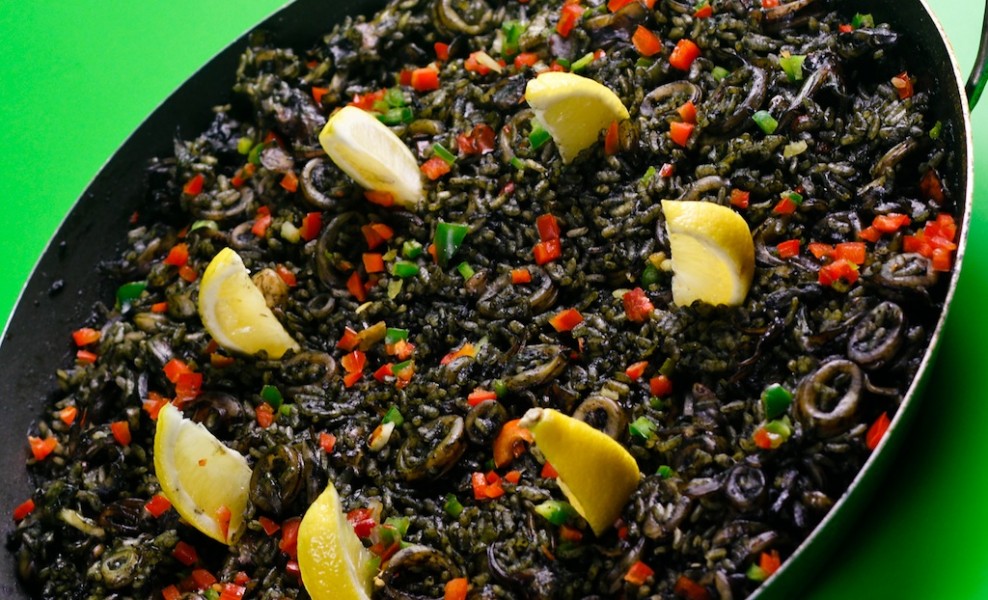 When pairing paella with wine, I recommend keeping a few food and wine pairing guidelines in mind:
Here are my wine paring recommendations by type:
 Valencian, and Mixed 
Pair with a chilled dry rosé. or an inexpensive red Rioja, other Tempranillo or Grenache. Here are a few I like (click on the link for where to buy):
Rosé
Reds
Tip: Avoid high alcohol 'fruit-bombs' or overly alcoholic, tannic reds.
Seafood 
Pair with Albarino, white Rhone blend, Brut Cava, or Rueda.  Here are a few to look for (click on the link for where to buy):
Vegetarian 
If vegetables include asparugus and/or artichokes, pair with New World Sauvignon Blanc, otherwise, chilled dry rosé, white Rhone blend, Pinot Gris, or Brut Cava will be nice matches.
Need a recipe? Check out his great recipe for Mixed Paella from The Not So Cheesy Kitchen.
I  hope you'll join me in celebrating one of world's most well-known and beloved dishes.  Have your favorite paella and a glass of wine today!
Viva Espana y Buen apetito!