I love living in Northern California for a multitude of reasons.  Among them is my proximity to wine country.  I have wine country within 30 minutes to the East of where I live, 45 minutes to the South, and Napa and Sonoma are less 90 minutes away.  Of course, being a certified wine geek, I love wine.  But I also love wine country.  I often recommend to friends that don't (yet;-) drink wine they take a drive to wine country anyway.  I make this recommendation for two reasons.  First wine country is just beautiful, especially this time of year (as you can see from the photo below) when there are harbingers of Springtime abound.  The other reason I recommend they venture into wine country is the food. You'll find some of the best places to eat in wine country, whether you drop in at a  road-side Deli, or (if you're lucky and patient) you go to a world-renown restaurant like the French Laundry!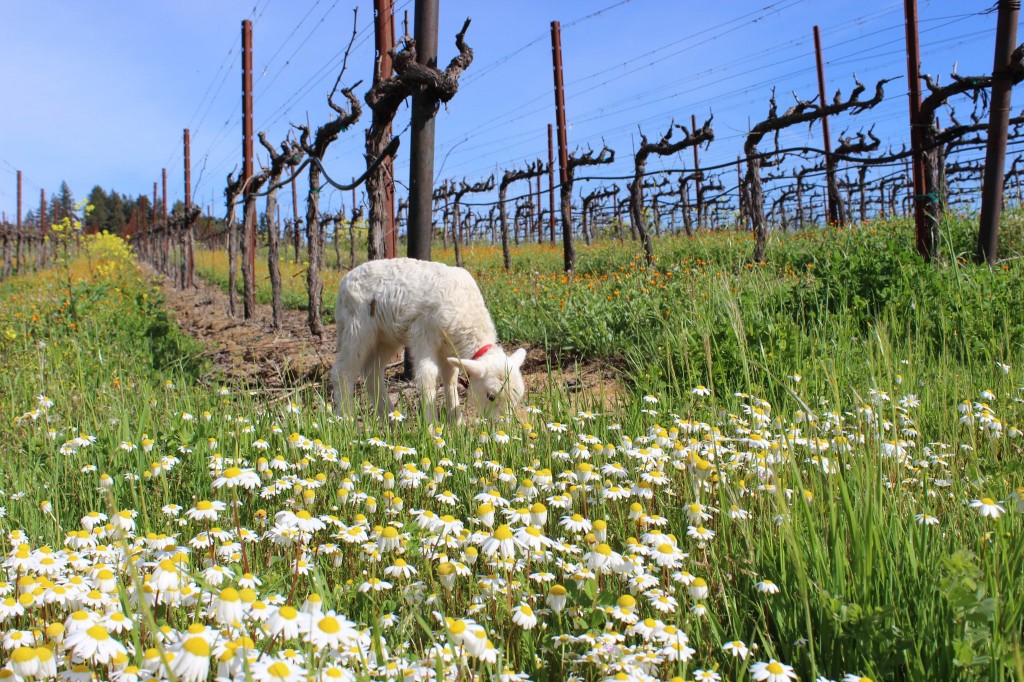 And speaking of great food, check out the sensational Springtime recipes the #SundaySupper family presenting this week! Whether it's St. Patrick's Day green, green food or spring inspired, the week's #SundaySupper menu is sure to please your taste buds!  My wine pairing recommendations are italicized, Click on the name of the recommended wine to find out where to buy.
Pair these breakfast dishes, and bread with a Brut sparkling wine, which is the most food friendly style of sparkling wine. One of my favorites is Mumm Brut Prestige. It shows biscuit, sweet citrus, red fruit and subtle floral aromas.  and cherry , vanilla and citrus flavors with a creamy mouthfeel. I like the 
Pair these dishes with Pinot Grigio.  Look for the 2011 Alois Lageder Pinot Grigio Alto Adige.
Pair these dishes with Riesling.  I love the 2011 Chateau Ste. Michelle & Dr. Loosen Eroica Riesling. It's off-dry  with vibrant acidity and a beautiful white peach, grapefruit and mineral character.  Or if you're ready to switch it up a bit, and try one of something new, try with one of my perennial faves, the 2011 Pine Ridge Chenin Blanc-Viognier. It's a blend of 79% Chenin Blanc, 21% Viognier that is low alcohol (12%) with an aromatic, juicy grapefruit, melon, passionfruit, and baked stone fruit character with great acidity that make it a versatile food pairing partner.

Pair these dishes with Sauvignon Blanc, I recommend the 2011 Dashwood Sauvignon Blanc. It has a stone fruit, citrus and fresh tropical fruit aromas and flavors that is a manifestation of Springtime in a glass!
Try these dishes with a glass of Rosé, which is an underrated, food-friendly wine.  I'd generally recommend looking for 2012 vintage, but many are just now being released. A perennial favorite of mine is produced in Spain by Bodegas Muga.  Look for the 2011 Bodegas Muga Rosado. It's a Tempranillo-based Rosé with floral, citrus, melon and strawberry character.  Want to know my other food and wine pairing tip? If I'm not sure about a food and wine pairing, I reach for Rosé!
Pair these dishes with Pinot Noir, the Chef's wine.  Look for the 2011 Hahn Winery California Pinot Noir. It has wonderful mixed berry, lavender, and spice aromatics, that follow onto the palate.
Pair these desserts with Törley Doux Sparkling Tokaji. It's a rare sparkling Tokaji, a wine produced in Hungary from a blend of blend of Furmint and Hárslevelű grape varieties.  It's layered and concentrated with an intriguing dried citrus, tropical fruit, wildflowers, and honey character. 
I recommend you try these desserts with the 2010 Mourvedre Mon Doux
Here is the rest of this week's Springtime #SundaySupper menu!
Frozen Desserts:
Beverages:
Please be sure you join us on Twitter throughout the day during #SundaySupper. We'll be meeting up at 7:00 p.m. EST for our weekly #SundaySupper  live chat where we'll talk about our favorite cookout recipes!
All you have to do is follow the #SundaySupper hashtag, or you can follow us throughTweetChat!