I recently attended, as a media guest, my first winemaker dinner.  The dinner was held at Osteria Coppa, and featured the wines of Beni di Batasiolo.
Osteria Coppa is located in San Mateo California and specializes in farm-to-table modern, Italian cuisine. The pizza dough and pasta is handmade, the salumi is cured in-house.  Their signature dish is  Tagliatelle Bolognese (named "Top 10 Dishes of 2010" by the San Jose Mercury News), but these also serve up plenty of other handcrafted savory pastas, thin-crust Neopolitan style pizzas, antipasti, salumi, salads, and mouth-watering house-made desserts.
The restaurant has earned the TOP 10 Italian "Diners Choice Winner" on Open Table, and been voted "Best Italian Restaurant in the Bay Area" by San Francisco's Best of the Baylist. Executive Chef Chanan Kamen uses organic and seasonal ingredients directly from farmers markets, local artisans, purveyors and farmers.
Beni di Batasiolo, as it is known today, was founded in 1978 and is located in Piemonte, Italy.  The winery is owned by the Dogliani family. The Dogliani family's history dates back to 1882 when the family established itself as grape growers in Lange. They are a premiere wine producer of several key Italian varietals, including Moscato, Barbaresco, Barbera, Dolcetto d'Alba, Gavi, and Nebbiolo. Their wines are imported exclusively through Boisset Family Estates. In addition to the winery, the family also owns the Batasiolo SPA, Il Boscareto, which is a 5-star luxury resort.
As the story goes, the family changed the name of their winery from Fratelli Dogliani to Beni di Batasiolo in 1978 in order to avoid confusion with a grape growing region, also located in Piemonte, with the same Dogliani name. Fiorenzo Dogliani is currently the CEO.
Beni di Batasiolo, was among the first to bring Barolo wines to international prominence in the 70s. Today, the company sells wine in 68 countries—with the U.S., Canada and Europe its most important markets.
Here's the menu: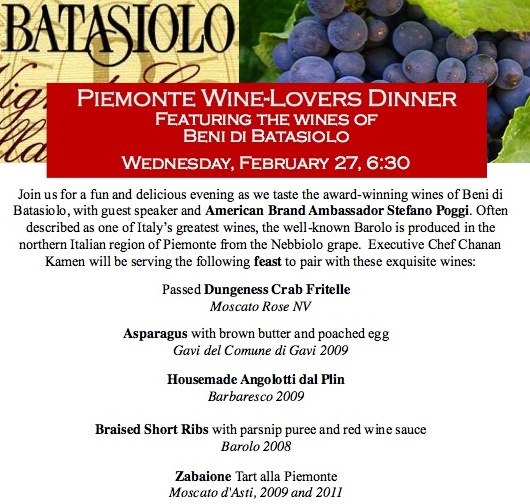 My tasting notes and thoughts about the pairings follow:
Course 1 – Passed Dungeness Crab Fritelle  and NV Moscato Rose
N.V. Beni di Batasiolo – Strawberry color with spiced strawberry, floral and a bit of citrus aromas. On the palate it has a creamy mousse, and is moderately sweet with juicy spiced wild strawberry, and citrus flavors. Medium finish (88 pts.)
This was a wonderful pairing to start the evening.  I was expecting the Moscato to be drier, but the sweetness of the Moscato, along with the delicate effervescence of the wine were a great complement to delicately sweet crunchy goodness of the Crab Frittelle.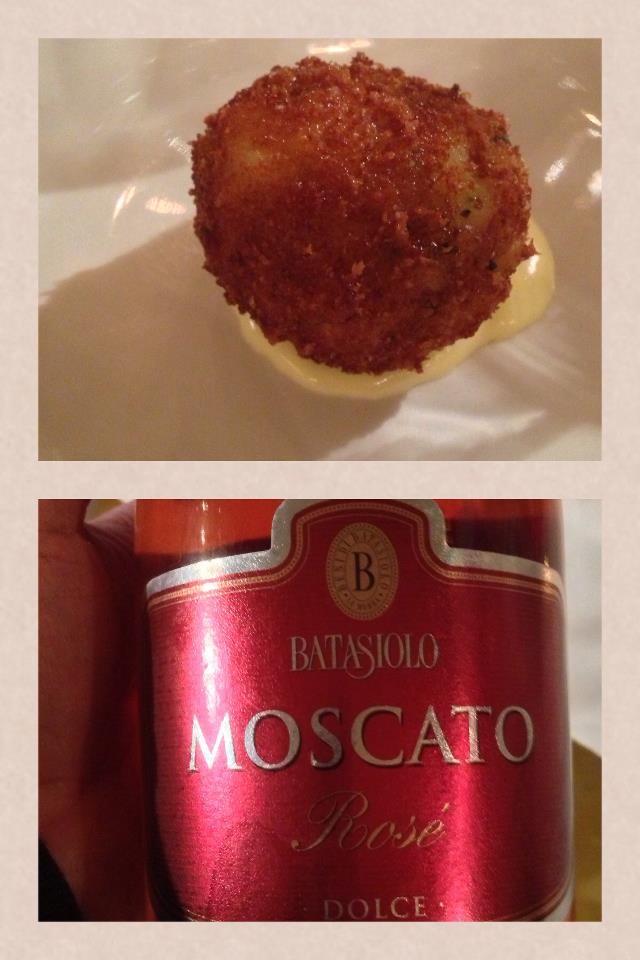 Course 2 – Asparagus with brown butter and poached egg
2009 Beni di Batasiolo Gavi Granée – Pale yellow color with a green tinge with orchard fruit, green apple and a bit of tropical fruit aromas. On the palate, it's dry and between light and medium-bodied with lively acidity along with crisp citrus, and chalk flavors. Medium-long finish. (90 pts.)
When I saw that asparagus was being served, I two thoughts were top of mind for me.  First I was a bit surprised because asparagus is a vegetable with  a reputation for being challenging to pair with wine, and secondly I thought "here's a Chef not afraid to take chances.  It was a beautiful pairing.  The perfectly tender asparagus amplified the fruit flavors of the Gavi (made from the Cortese grape variety), while the lively acidity of the Gavi was fantastic with the poached egg, brown butter and a shaved Parmesan.   
Course 3 – Housemade Angolotti Dal Plin
2009 Beni di Batasiolo Barbaresco – Garnet color with beautifully aromatic rose, cherry, anise and mineral aromas. On the palate, it's medium-bodied, and fresh with dusty tannins along with dried cherry, spice and a hint of mineral flavors. Long finish. 13.5% alcohol (92 pts.)
Mmmm…this was a very harmonious (and the sexiest) pairing of the night for me.  The body of the wine and the dish were well aligned, and the spice notes of the wine accentuated the spices in the sauce.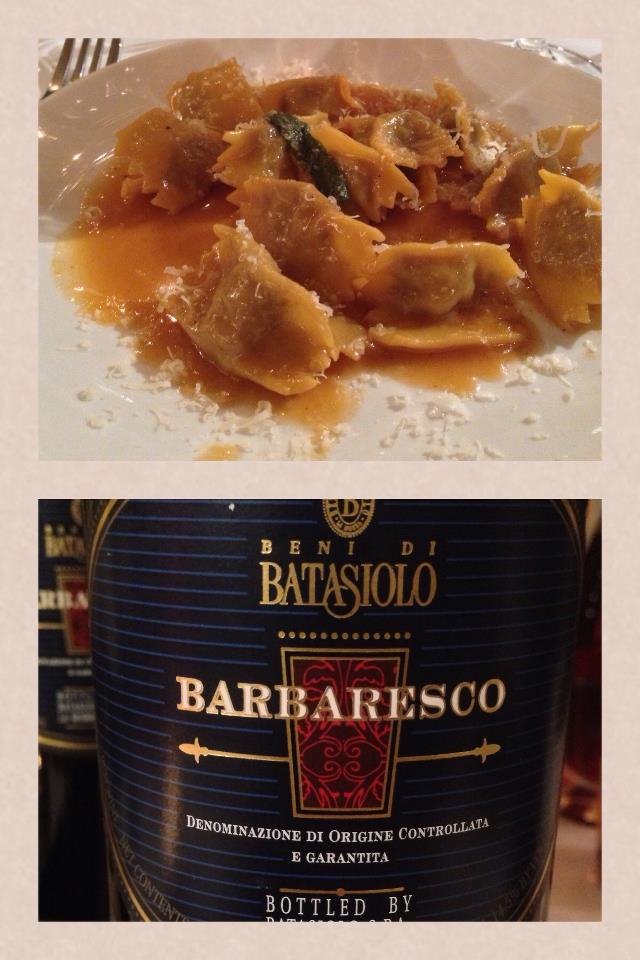 Course 4 – Braised Short Ribs with parsnip puree and red wine sauce
2008 Beni di Batasiolo Barolo – Dark garnet color with red rose, cherry, and a hint of anise aromas. On the palate, it's medium bodied, bright and elegant with fresh cherry, and mineral flavors. Medium-long finish 14.5%  (90 pts.)
This was the pairing of the night for me (by the slimmest of margins edging out the third course pairing).  The Barolo had a bit more body than the Barbaresco, and it was perfectly aligned with the body of the dish, which was melt-in-your-mouth tender, but intensely flavored.  And the smooth, elegant character of the wine accentuated the creaminess of the dish.  Favoloso!
Course 5 – Zabaione Tart alla Piemontese
Sorry..no pics for this course…by the time we got to dessert, my table mates and I were having a blast talking about food, wine and life, and well I forgot to take one…Doh! You'll have to take my word for it, the Zabaione was beautifully presented!
2009 Beni di Batasiolo Moscato d'Asti Bosc dla Rei – Pale yellow color with fruity orchard fruit aromas. On the palate, it's delicately frizzante with peach and honey flavors. Medium finish. From 375ml (87 pts.)
2011 Beni di Batasiolo Moscato d'Asti Bosc dla Rei – Golden yellow color with lychee and tropical, and stone fruit aromas. On the palate, it's delicately frizzante with peach, honey and lychee flavors. Medium finish. A bit less sweet than the '09. (88 pts.)
The Zabaione Tart paired with Moscato di'Asti was a sublime pairing and the perfect end to  a delectable meal with fabulous wines.  While I enjoyed both wines with dessert, I thought the 2009 was the better match of the two.  On the other hand, the 2011 was better on  its own.
Beni di Batasiolo is looking to raise its profile internationally, and collaborating with local restaurants, like Osteria Coppa for an evening of wonderful wine and fabulous food is a great way to do it!  I heartily recommend their wines.  Likewise the food at Osteria Coppa was delizioso!  If you enjoy winemaker dinners, check out some others they have planned by visiting their website.  As winemaker dinners go, they're reasonably priced too!  I plan to go back to Osteria Coppa,and  recommend you drop in for lunch/dinner. Salute!
Follow me on Twitter @martindredmond for all things wine, and since I'm a wino, with latent foodie tendencies, you'll also find food and wine pairings, and food related stuff!  Become a fan and join ENOFYLZ Wine Blog on Facebook. Cheers! This article is original to ENOFYLZ Wine Blog.com. Copyright 2013 ENOFYLZ Wine Blog. All rights reserved.
Related posts: