Every Thursday I feature a wine I particularly enjoy, whether it's something new and different, is a great value, or from a producer worth checking out.  For this week, my Wine Of The Week is the 2009 Castello di Amorosa Sangiovese

Winery
Castello di Amorosa is Napa Valley's own slice of Tuscany.  It's a winery with its own authentic Tuscan castle (Approximately 121,000 sq. ft., including 107 rooms on 8 levels above and below ground), and one of Napa's premier "destination" wineries.  While I'm not a huge fan of destination wineries because the wines often take a back seat to whatever the attraction is (they don't call Napa Valley "adult Disneyland for nothing;-), Castello di Amorosa is an exception.  In addition to a great experience touring an authentic Tuscan castle (complete with a torture chamber), you'll find moat loads of  "better" and "best" wines rather than simply " good" wine.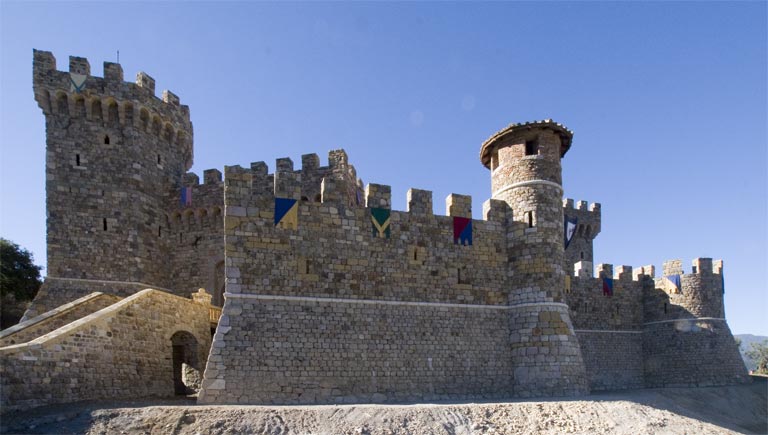 The story is how the castle came to be is fascinating (click here for history of the project). When Dario Sattui who also owns and operates the V. Sattui Winery, conceived the idea his thought was…
 I would specialize in making small lots of primarily Italian-style wines, showcase them in an authentic, medieval castle setting and sell them directly to the public, not in stores or restaurants.
Castello di Amorosa offers a wide array of wines.  In addition to the wines one would expect to find at a Napa Valley winery, (Chardonnay, Cabernet Sauvignon, Merlot, and Zinfandel) they also offer three Gewüztraminers (dry, slightly sweet, and late harvest), various Red, Rosé, and White Italian varietals, a Super-Tuscan,  a Muscato Canelli port, and a slightly sweet, sparkling Rosé!
Castello di Amorosa produces about 8,000 cases a year.  The wines are only available at the winery, through its wine club, or online (www.castellodiamorosa.com).
Wine
The fruit for this wine is primarily from the Castello di Amorosa estate.  In addition to Sangiovese, this wine also includes a bit of Merlot.
My tasting notes follow:
Carmine color with cherry, mushroom. and dried rose petal aromas. On the palate, it's medium-bodied, and fresh with a smooth texture and sour cherry, strawberry, vanilla flavors with a savory undertone and a lengthy finish
Rating: A- (90pts): I really enjoyed this wine.  It has a nice balance of fruit, oak and earthiness.
Pair with: I enjoyed this wine with lasagna (if it grows together, it goes together after all;-), but don't limit your pairings to pizza and red-sauced pasta. Pair with caprese salad with fresh basil, Italian bread soup, wild mushroom risotto, rustic paella, grilled fare, and a variety of cheeses. For example consider pairing with mild blue-veined cheeses like Gorgonzola or Cambozola.
The Wine Geek Stuff:
Wine provided as a sample for review.  Many thanks to Castello di Amorosa
Ratings Key:
(A+) – 98-100/Extraordinary
(A) – 94-97/Outstanding
(A-) – 90-93/Excellent
(B+) – 86-89/Very good
(B) – 80-85/Good
(C) – 70-79/Bleh
(D) – 50-69/#Fail
Follow me on Twitter @martindredmond for all things wine, and since I'm a wino, with latent foodie tendencies, you'll also find food and wine pairings, and food related stuff!  Become a fan and join ENOFYLZ Wine Blog on Facebook. Cheers! This article is original to ENOFYLZ Wine Blog.com. Copyright 2013 ENOFYLZ Wine Blog. All rights reserved.