Every Thursday I feature a wine I particularly enjoy, whether it's something new and different, is a great value, or from a producer worth checking out.  For this week, my Wine Of The Week is the 2009 Beni di Batasiolo Barbaresco
The Winery
Beni di Batasiolo, as it is known today, was founded in 1978 and is located in Piemonte, Italy.  The winery is owned by the Dogliani family. The Dogliani family's history dates back to 1882 when the family established itself as grape growers in Lange. They are a premiere wine producer of several key Italian varietals, including Moscato, Barbaresco, Barbera, Dolcetto d'Alba and Nebbiolo. In addition to the winery, the family also owns the Batasiolo SPA, Il Boscareto, which is a 5-star luxury resort.
As the story goes, the family changed the name of their winery from Fratelli Dogliani to Beni di Batasiolo in 1978 in order to avoid confusion with a grape growing region, also located in Piemonte, with the same Dogliani name.
All wines are produced from estate fruit.  The estate is composed of 9 vineyard sites, planted 70% to Nebbiolo, totaling 345 acres. In addition to Nebbiolo, which is used to produce Barolo, and Barbaresco, other grape varieties grown are Arneis,Barbera, Brachetto,Chardonnay, Cortese, Dolcetto, Moscato, Pinot Blanc,and Sauvignon Blanc.  They have a pretty full line-up of wines including:
Barbera d'Asti DOC,
Barbera d'Alba DOC

Dolcetto d'Alba DOC, 

Gavi di Gavi DOCG

Lange DOC Chardonnay & Nebbiolo, 

Moscato d'Asti DOCG,

Asti DOCG, 

Spumante Method Classico, 

Piemonte DOC Brachetto,

Moscato Passito DOC

Grappa
The Wine
I adore Italian wine, but I must confess this was my first Barbaresco!  That's mostly because while Barolo, and Barbaresco are among Italy's most important and great wines, they have a reputation for being pricey, especially Barolo.  I've bitten the bullet a few times and purchased bottles of Barolo  for special occasions  that I've enjoyed immensely (I even have a few in my cellar).  But since I knew less about Barbaresco, and they tend not to be as readily available, I've never purchased one.  Barolo has the bigger rep so I've gone with it. The thing about Barolo's rep though, is that it's like an old lady, you're always waiting around on it.  In other words it's a wine many recommend not touching for at least 10 years after they are released!
Not familiar with Barbaresco?  Here's a quick 411 on the wine:
Produced from the Nebbiolo grape variety

Named after a wine growing region in Piemonte. It's situated in an area of the Langhe on the right hand side of the Tanaro River, specifically in the comunes of Barbaresco, Treiso and Neive plus San Rocco Senodelvio (once part of Barbaresco, but not part of Alba)

The Barbaresco zone receives a maritime influence which enables the Nebbiolo grown there to be ripen a little earlier, and have softer tannins that its big-brother Barolo.
Awarded DOCG status (the highest classification of Italian wines) in 1980
Under DOCG rules it is allowed to age for a year less than Barolo
It is a geographically smaller region than Barolo, thus annual production of Barbaresco is around 35% the production of Barolo and therefore the wines are not as widely available outside of Italy.
So it was with great anticipation I was looked forward to trying this wine.  And not only because it first Barbaresco, but also because it was part of a Piemonte theme wine dinner Osteria Coppa, a highly regarded Italian restaurant I've been looking forward to experiencing.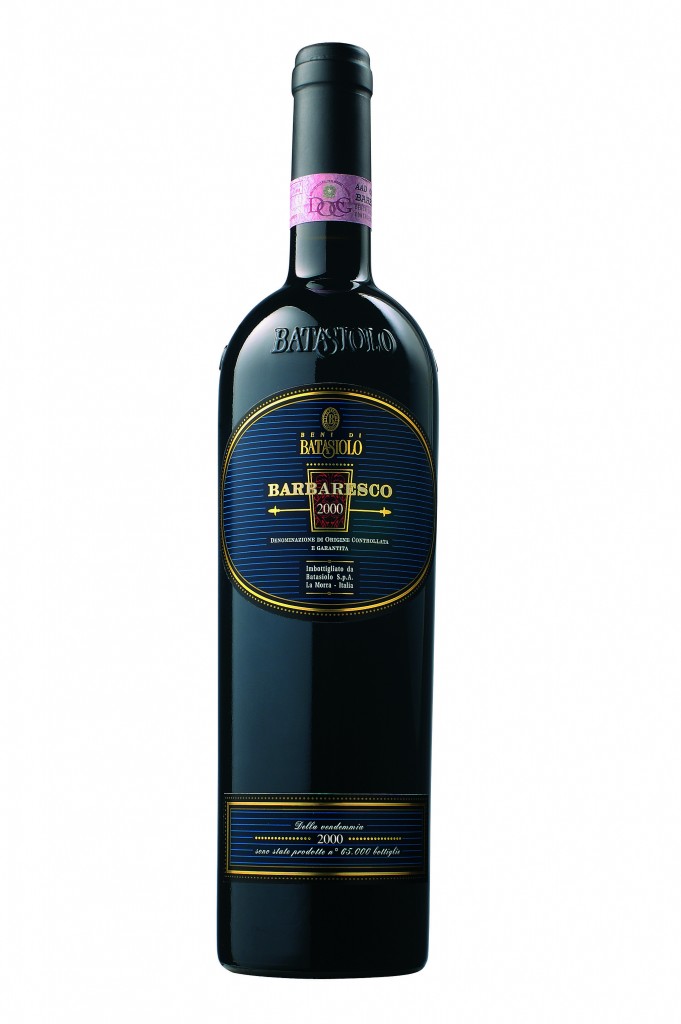 My tasting note follows:
Garnet color with beautifully aromatic rose, cherry, anise and mineral aromas. On the palate, it's medium-bodied, and fresh with dusty tannins along with dried cherry, spice and a hint of mineral flavors. Long finish.
Rating: A-: I really enjoyed this wine, especially its aromas which we just beautiful.
Pair with: I had this paired with Angolotti dal Plin from Osteria Coppa (see video below), and it was a wonderful pairing!

But it would also pair well with roasted meats, game, Coq-au-vin, stews, dry, aged, high-flavor cheese and truffles…OMG would this pair with truffles!
The Wine Geek Stuff:
Alcohol: 13.5%
Closure: Cork
AVA: >Italy> Piedmont> Langhe> Barbaresco
Grape Varieties: 100% Nebbiolo
Cooperage: Fermented on skins in SS; Aged for 2 years – one year in oak barrels and a further year in the bottle.
Retail: $29 (average price per winesearcher.com)
Cases produced: 6,667
Drink: now – 2018
>>Find this wine<<
Ratings Key:
(A+) – 98-100/Extraordinary
(A) – 94-97/Outstanding
(A-) – 90-93/Excellent
(B+) – 86-89/Very good
(B) – 80-85/Good
(C) – 70-79/Bleh
(D) – 50-69/#Fail
Follow me on Twitter @martindredmond for all things wine, and since I'm a wino, with latent foodie tendencies, you'll also find food and wine pairings, and food related stuff!  Become a fan and join ENOFYLZ Wine Blog on Facebook. Cheers! This article is original to ENOFYLZ Wine Blog.com. Copyright 2013 ENOFYLZ Wine Blog. All rights reserved.