My wife and I make it a point to drink sparkling wine on a weekly basis.  It's typically Friday night…thus "T.G.I.F. Bubbly"  It's a celebration of sort, to the end of the workweek.  She get's to drink, and enjoy the bubbly, while I get to drink, enjoy and blog about it!  This week's sparkling wine is the NV Bouvet Signature Brut
The Winery
Bouvet-Ladubay history dates back to 1851, when it was founded by Etienne Bouvet.  It is the second oldest sparkling wine–producing house in Saumur.  By 1890, it had become France's largest producer of méthode traditionnelle wines. It remains one of France's greatest producers of méthode traditionnelle sparkling wine using the Loire Valley's indigenous Chenin Blanc blended with small amounts of Chardonnay.
For Bouvet-Ladubay, wine is a living art that must be practiced with wisdom, uniting tradition, experience and the most finely tuned technology in the creation of refined, handcrafted wines of impeccable quality and consistency.
After the untimely deaths of three of the Bouvet heirs in the early 1900s left Bouvet-Ladubay without a guiding hand, the increasingly troubled firm was purchased by Justin Monmousseau and merged with his own still wine–producing firm in 1933. It is currently run by the fourth generation of the Monmousseau family.  In July 2006, Bouvet was acquired by Dr. Vijay Mallya of the world's largest group of alcoholic beverages, the UB Group, based in India.
The Wine
Bouvet-Ladubay sources its fruit from more than 100 plots in the Loire Valley.  It has  long-standing relationships with many winegrowers. The limestone subsoil of the Loire Valley is ideal for the cultivation of Chenin Blanc.  The mild climate coupled with excellent drainage of the clay creates the natural acidity needed to produce a balanced sparkling white wine. The grapes are pressed in the vineyards and the juice is delivered directly to their cellars. Fermentation takes place in stainless steel, then the finest wines from each lot are blended and the cuvée is bottled for the second fermentation.  The wine is aged for two years.  It is imported by Kobrand Wine & Spirits.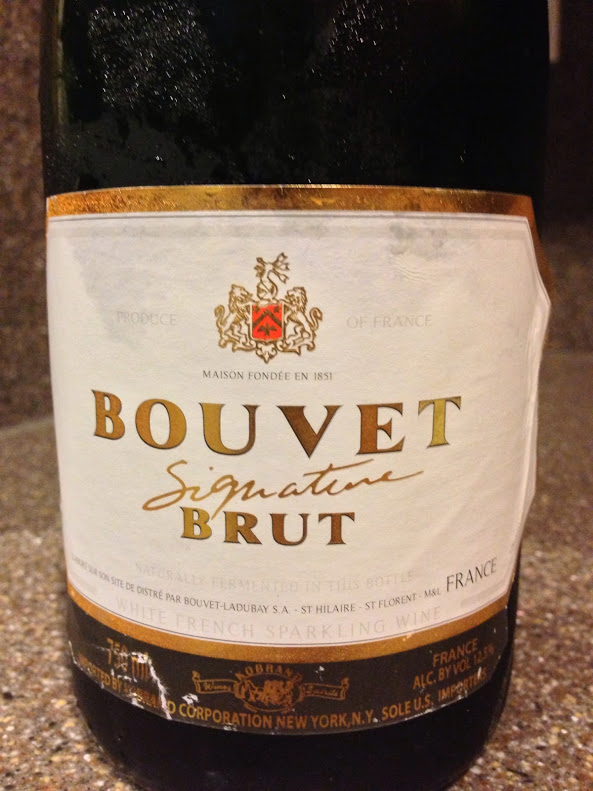 My tasting notes follow:
Pale golden-yellow color with big bubbles and low-key yeast and green apple aromas. On the palate, it's light-bodied, and straight forward with moderately creamy mousse and melon, green apple mineral flavors. Short finish – 85pts
Rating: B –  This is a good bottle of bubble, and a nice alternative to Champagne.  This bottle was gift.  It retails for $16 ($12 ClubBev) at BevMo. But I can think of a few bottles of bubbly I enjoy more for less…
Pair with: This one is an excellent aperitif.  Pair with fried snacks like seasoned popcorn, potato chips, or french fries. Also pair with golden king crab, shrimp and lobster dipped in drawn butter!
The Wine Geek Stuff:
Alcohol: 12.5% alcohol.
Closure: Cork
Where it's from: > France> Loire Valley
Grape varieties: 80% Chenin Blanc, 20% Chardonnay
Production method: Traditional Method

Dosage: Brut
Retail: $12
Cases produced: Unknown
Drink: Now – 2014
>>Find this wine<<
Follow me on Twitter @martindredmond for all things wine, and since I'm a wino, with latent foodie tendencies, you'll also find food and wine pairings, and food related stuff!  Become a fan and join ENOFYLZ Wine Blog on Facebook. Cheers! This article is original to ENOFYLZ Wine Blog.com. Copyright 2013 ENOFYLZ Wine Blog. All rights reserved.