Open That Bottle Night was held last this past weekend – Saturday, February 23rd (it's the last Saturday in February annually).  Ever since I found out about "Open That Bottle Night" ("OTBN") several years ago, I've looked forward to participating every year.  However, I wasn't able to participate this year due to a previous family commitment.
Not familiar with OTBN?  It was created by Dorothy J. Gaiter, with her husband John Brecher, who wrote the wine column Tastings for The Wall Street Journal from 1998 to 2009, in the year 2000. It has been celebrated every year since.  According to the OTBN website (check it out for OTBN stories, party ideas )…
Every year since 2000, on a special Saturday night in February, friends, couples and groups around the world get together to enjoy particular bottles of wine, champagne and spirits. The bottle that you enjoy, traditionally, is one that you have been saving for some special event that, so far, has never quite happened. Open That Bottle Night (OTBN) is the event you have been waiting for…the time when you are entitled to uncork that cherished bottle and enjoy the contents. It doesn't matter if the wine is expensive or low cost, white or red, or even if it is still good. What matters are the memories
Candidly, I'm not very good at saving a bottle for a special event and somehow not quite getting around to it. I get around to it!  If anything, I have the opposite challenge…keeping my hands off of wines that would benefit from some additional bottle aging.  Nonetheless, it's been my annual excuse to participate in this great event, whether to commit another case of vinous infanticide or just open great "weekend" bottle of wine that is ready!
Thanks to one of our vinous partners-in-crime, Manny, we had the opportunity to celebrate OTBN, at least in spirit, the next day (this past Sunday).  It came in the form of his invitation for a 'Wine Masters Library Tasting".
This is a rare and exclusive gathering for our small list of wine masters to bring a library wine to share with fellow enthusiasts over the course of a lazy afternoon!
While I don't count myself to be a wine "master", there is no doubting that myself and the other participants are avid wine enthusiasts.  One is even a sommelier!
We couldn't have picked a better day to "Open That Bottle" for our Master's Library Tasting. It was a beautiful day – sunny and in the 60s.  Though we were tasting inside, this view beckoned us with each sip and nibble…It was a beautiful day!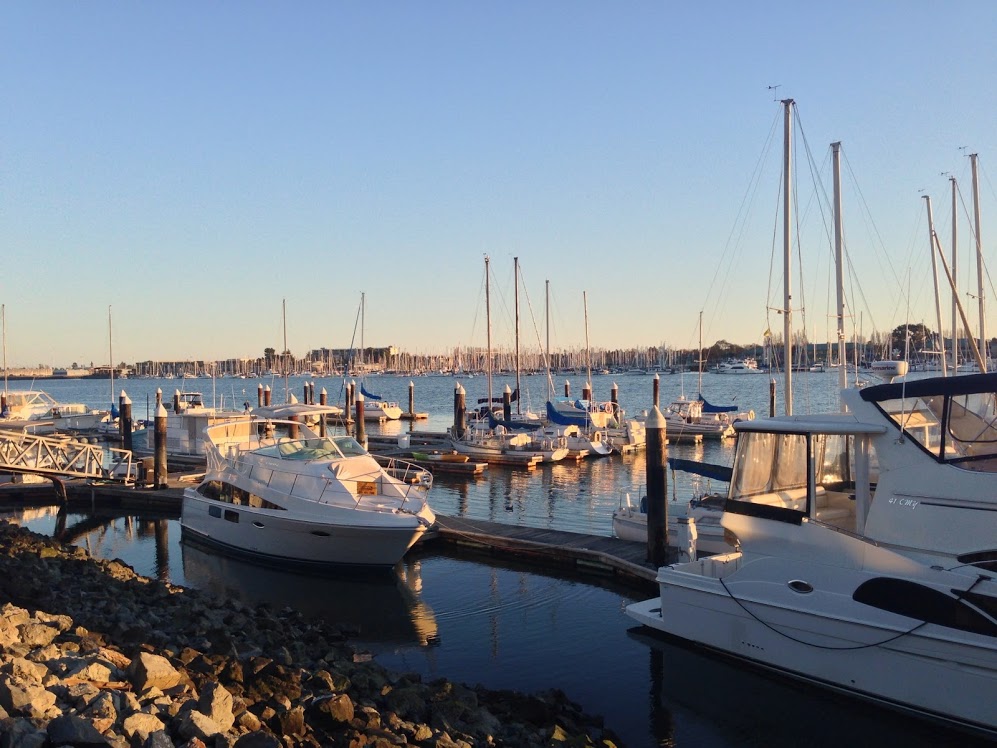 It was an intimate gathering. There were eight of us who tasted all the wines.
In addition to tasting wine, Manny was doing his thing in the kitchen so we had plenty of fab food too! As the saying goes…Manny really "put his foot in it".
The wines and my tasting notes are listed below, in the order tasted.
We decided to taste the Merlot first, in part because we suspected it may have been past its prime.  It was. But it wasn't bad either.  One of the tasters suggested it "needed food".  I think she was right!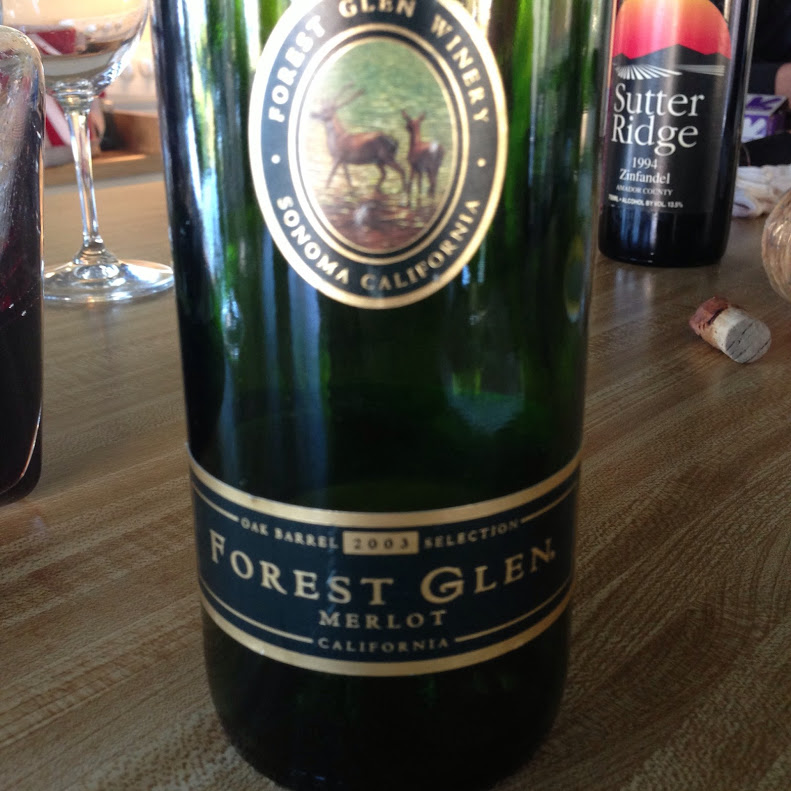 2003 Forest Glen Merlot – USA, California, Sonoma County, Sonoma Coast
Brickish garnet color with low-key tobacco, oak, and cherry aromas. On the palate, it's light-bodied, easy with dried dark cherry, and slightly savory flavors. Short finish.  (84 pts.)
The next bottle of wine was the most interesting to me. First of all,  Zinfandel isn't the top of mind when it comes to wines that age well. So when I saw a 1994 Zin, I had my doubts. The wine was also from a producer who is apparently either no longer in business or making Zinfandel (I couldn't find it in CellarTracker – definitely an exception).
I was also surprised to see it was only 13.5% alcohol, especially being from Amador County where high temps can drive up sugar/alcohol levels.  It was a surprisingly good bottle of wine.  Score!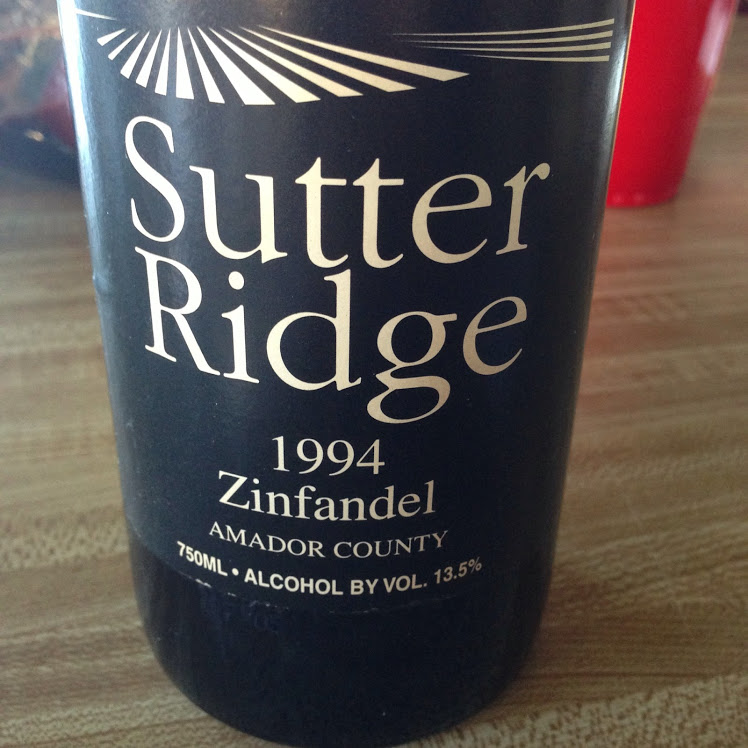 1994 Sutter Ridge Zinfandel – USA, California, Amador County
Opaque dullish tawny color earthy, spiced kirsch aromas. On the palate, it's medium-bodied, and smooth with gobs of vibrant spiced cherry liqueur flavors. Medium finish.   (88 pts.)
After a bit of discussion about which wine to taste next we decided to go with a Napa Valley Cabernet Franc from Ehlers Estate.
Ehlers Estate was established in 1886 by Bernard Ehlers. Today, the winery is part of the Leducq Foundation, a non-profit entity started by Jean and Sylviane Leducq.  All the profits from the winery go the foundation, which is devoted to supporting cardiovascular research around the world.
You don't find Cabernet Franc as a stand along bottling often, but this one from Ehlers is a was straight up steller!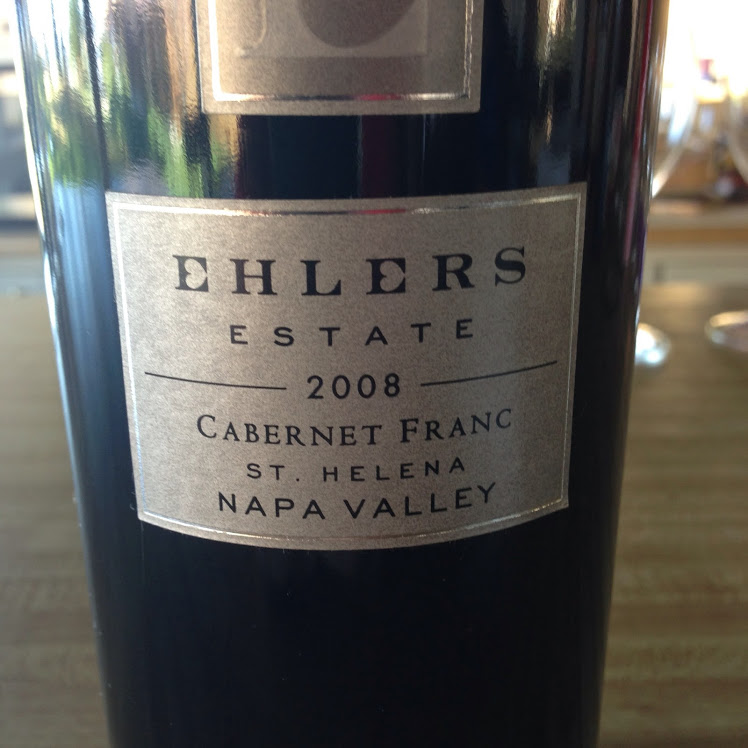 2008 Ehlers Estate Cabernet Franc St. Helena – USA, California, Napa Valley, St. Helena
Garnet color with cherry, oak, cigar box, and violet and dried herb  aromas. On the palate, it's medium-bodied, fresh and lively, and smooth textured with sweet tannins and black cherry, blueberry, plum, vanilla, mineral and spice flavors. Long finish  (91 pts.)
The next wine was from Portugal.  It is produced by the Symington Family.  In addition to the Altano label under which this wine is sold, they also sell Port (most notably Warre's, Cockburn's, and Graham's) , Madiera, and other still wines. The wine is a blend of  70% Touriga Francesa, 30% Touriga Nacional.
Touriga Franca has been described by Jancis Robinson as playing "Cabernet Franc to Touriga Nacional's Cabernet Sauvignon"
This was my first still red wine from Portugal…What a great introduction.  Pleased to meet you indeed!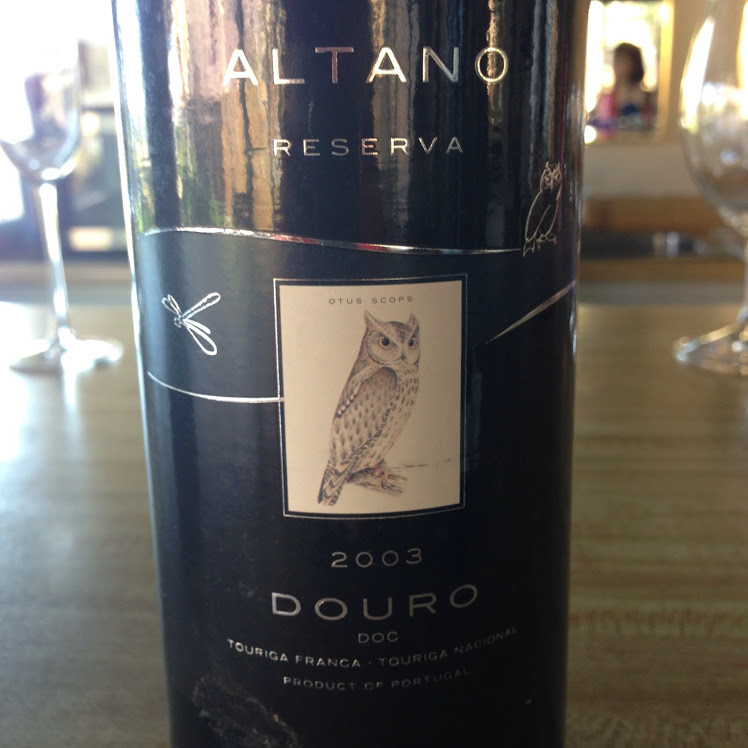 2003 Symington Douro Altano Reserva – Portugal, Douro
Dark garnet with a brickish hue and earthy, oak, black cherry, and violet aromas. On the palate, it's medium-bodied with black cherry, spice, and mineral flavors. Medium-long finish. Drinking well! (90 pts.)
What we though was going to be the grand finale was the wine from the iconic Ridge Vineyards in the Santa Cruz Mountains.
Ridge Vineyards  is a California winery with two estates, Monte Bello in Cupertino, and Lytton Springs in Healdsburg.  They are best known for producing single-vineyard premium Bordeaux style Cabernet Sauvignon Blend ("Monte Bello"), Zinfandel, and Chardonnay.  Ridge was established by three engineers from nearby Stanford Research Institute.  They produced its first commercial wine in 1962 after purchasing the winery in 1960.
It wasn't too long after that Ridge gained an international  rep when the  Ridge Monte Bello, under the direction of winemaker Paul Draper , took fifth place in the "Judgment of Paris" in 1976 against nine other French and California wines.  Here's what's really cool though, the 1976 Monte Bello unanimously took first place in The Judgment of Paris 30th Anniversary when it was tasted against the same wines thirty years later!
This particular wine might be considered "Monte Bello Junior."  The grapes for the Estate Cabernet Sauvignon are sourced from the same famed Monte Bello vineyard that produces the flagship Ridge "Monte Bello".  However, after years of experience, Ridge has learned that certain parcels produce a more approachable wine that develops its full complexity earlier.  Those grapes go into the Estate Cabernet Sauvignon (formerly the Santa Cruz Mountains prior to the 2008 vintage).
Thus, from one vineyard, we make two wines – distinct in style, but sharing the vineyard's individuality.
It's hands down one of the best values in Cabernet Sauvignon you'll find!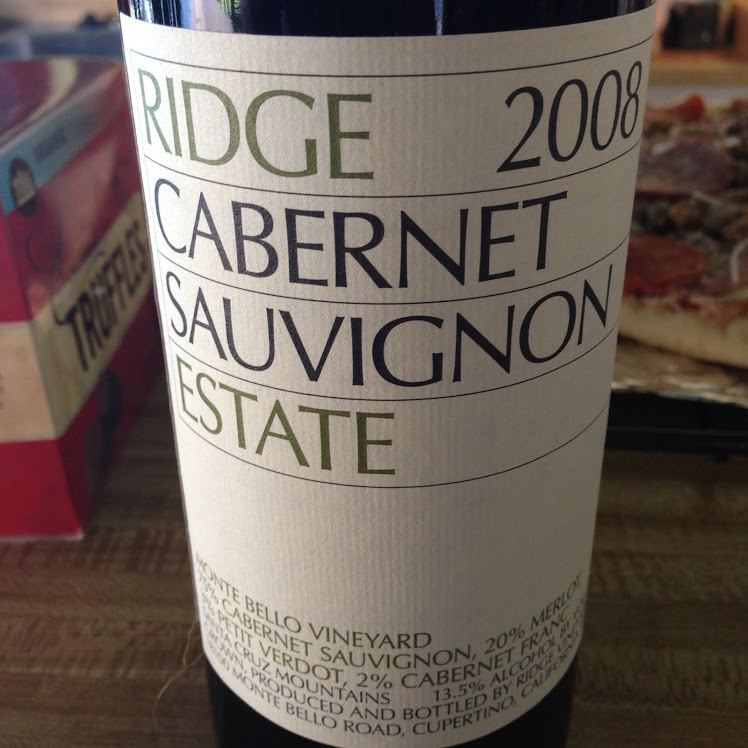 2008 Ridge Cabernet Sauvignon Estate – USA, California, San Francisco Bay, Santa Cruz Mountains
Carmine color with beguiling cassis, tobacco, black cherry, and violet aromas. On the palate, it's medium-bodied, balanced, and fresh blueberry, black cherry, and bittersweet chocolate flavors with well-integrated tannins. Medium-long finish.75% Cabernet Sauvignon/20% Merlot/3% Petit Verdot/2% Cabernet Franc 13.5% Alcohol (91 pts.)
The next wine turned out to be the grand finale because after we polished it off the Ridge Estate Cab…well we were having such a good ole time talking about life, love, and wine that, it just didn't feel like it was time to go.  At that point, our friend Lamont offered to go home and pick up a magnum of a "nice Bordeaux"…Sure why not?!  Twenty minutes later we were pouring this beautiful wine in the decanter!
Château Malescot St. Exupéry has a long history in the Margaux appellation of the Bordeaux region of France.  Records indicate wine was produced here as far back as 1608.  But the winery as it is known today came about in 1955, when purchased by father and son team Paul and Roger Zuger.  The vineyards are planted to 50% Cabernet Sauvignon, 35% Merlot,10% Cabernet Franc and 5% Petit Verdot.
The wine produced here was classified as one of fourteen Troisièmes Crus (Third Growths) in the historic Bordeaux Wine Official Classification of 1855.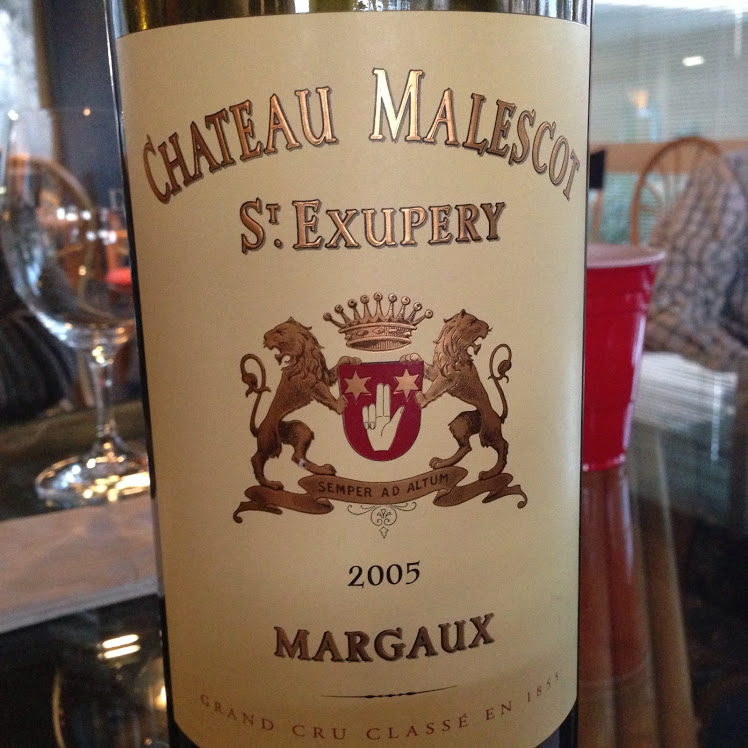 2005 Château Malescot St. Exupéry – France, Bordeaux, Médoc, Margaux
Inky color with complex earthy, smoke, cassis, black cherry, spice and a hint of licorice aromas. On the palate it's medium-bodied refined, and focused with cassis, black cherry, spice and sweet oak flavors. Long finish. From 1.5L bottle (93 pts.)
It looks like we saved the best for last! The consensus wine of the day was Château Malescot St. Exupéry.
It was a great afternoon/evening of friends, food and of course wine.  And in the true spirit of "Open That Bottle Night", we made some great memories!
Related posts you might enjoy:
Follow me on Twitter @martindredmond for all things wine, and since I'm a wino, with latent foodie tendencies, you'll also find food and wine pairings, and food related stuff!  Become a fan and join ENOFYLZ Wine Blog on Facebook. Cheers! This article is original to ENOFYLZ Wine Blog.com. Copyright 2013 ENOFYLZ Wine Blog. All rights reserved.