The theme for the most recent gathering of the Pacific Point Wine Club ("PPWTC" was "Wines of Spain".  The PPWTC is entering its third year, and going strong.  Initially we met every couple of months, but based on popular demand, we now meet every 6 weeks or so. It's been so gratifying to see folks grow in their knowledge of wine while having fun, and making new friends.  We've even had  a "field trip" last year  when we got together at the Tomales Bay Oyster Company for a day full of food, fun and wine!  We're planning a  Bocce ball night next month.
We changed things up a bit for the "Wines of Spain" theme.  It was our first time geographic rather than varietal theme, and we also changed how the wines for our blind-tasting were acquired.  Rather than folks bringing bottles, I purchased all the bottles for the tasting. That way we could ensure a more consistent quality in the wines tasted, there would be no duplicates, and we could capitalize on the opportunity for regional diversity that Spain is all about.
The Food
We always get the night started with food and fellowship.  Everyone is asked  to bring an appetizer or dish that will pair with the wines we'll be blind-tasting.  Since our theme was " Wines of Spain", the two main entrees were of Spanish origin.
We enjoyed Seafood Fideuà (pronounced FID-a-wah, but a.k.a "Fideo" and pronounced FI-day-o), a dish that originated in the Valencia region of Spain.  It's similar to Paella except it's made with toasted noodles instead of rice.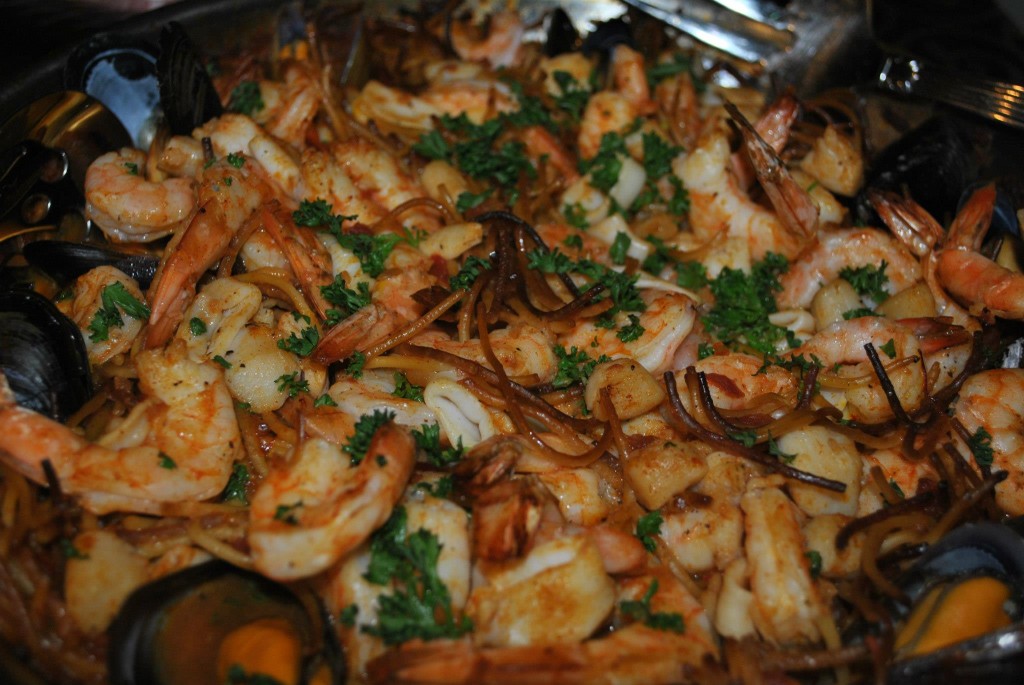 The other main dish was this fabulous Paella…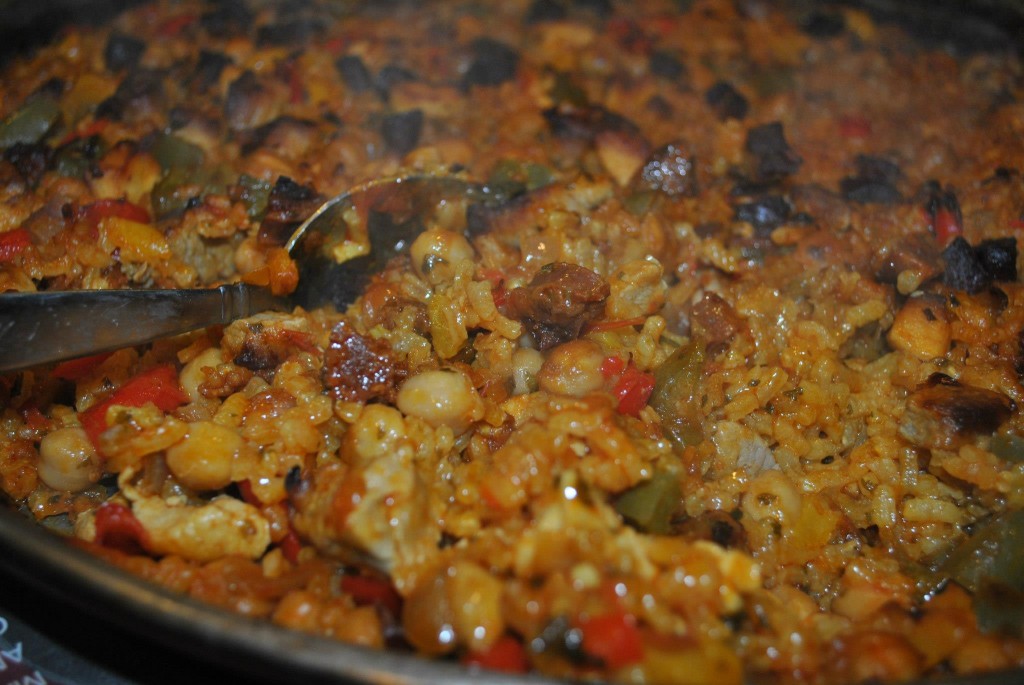 Other culinary delights were homemade lentil salad, homemade sweet tamales, and a plethora of other appetizers.  And what's food without wine? We always have few bottles of "starter" wines on before the main event.  For this gathering all the wines Spanish including:
Segura Viudas Brut Reserva (our "house" Cava – I get it for $6/bottle at BevMo) 

2011 Rio Madre Graciano Rioja (no detailed notes here on this unusual wine made fror the Graciano grape,  but it was damn tasty, and I'll be buying more!)
Spanish Wine Overview
Spain has about 2.8 million acres under vine, making it the most widely planted wine-producing nation in the world.  It's in perennial third place among wine-producing countries behind Italy and France, and ahead of the U.S.
The main grapes are Tempranillo, Garnacha (Grenache) (reds); Airén, Viura/Macabéo, Verdejo,  and Albariño (white). But there are over 200 different varieties of grapes grown in Spain! Aside from still red, white and rose wines, Spain also produces sparkling wine called "Cava" and one of the world's most underrated wines, and miraculous wines- Sherry. 
Spain is in the midst of a wine revolution which has seen an explosion in the styles of wines, modernization of wine-making techniques, brands, and regions. As a result, Spanish wine are enjoying an worldwide surge in popularity. Eric Asimov of the N.Y.T. says
The wine universe has been expanding at an accelerated rate over the last decade or so, and no place illustrates it better than Spain.  New appellations have joined historic names.  Forgotten regions have reinvented themselves.
As you can see from the map below, Spain has wine growing regions pretty much everywhere.  But that is part of Spain's advantage – a winning combination of altitude and latitude.
There are over 60 different wine growing regions known as "DO's" or Denominaciones de Origen (with two exceptions – DOC Rioja, and DOQ Priorat – considered to be the flagships of Spanish wine making).  Such diversity certainly presents a challenge in terms of getting to know the regions, and the types of wines produced there.
I like the way the Wines of Spain USA simplifies the process, by classifying Spain's wine regions into six climatic categories on the mainland – Green Spain, North Central Spain, Ebro River Valley, The Meseta, the Mediterranean Coast, and Andalucía.  Each  of the climatic regions contains specific DOs .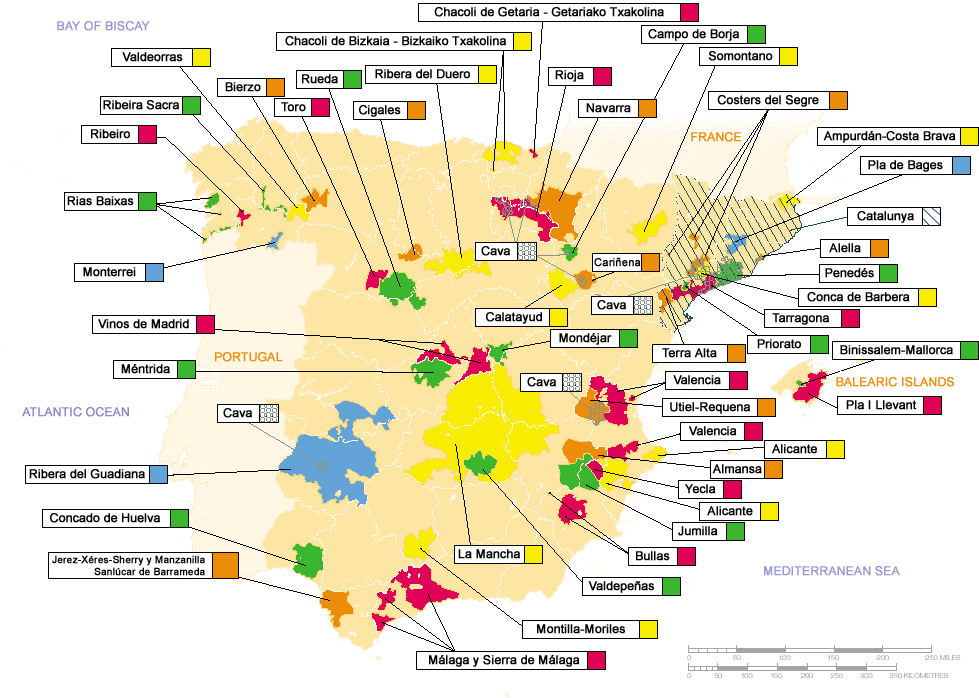 We ended up with wines from 4 of the 6 climatic regions identified above.  From those 4 climatic regions we had wine representing 7 different DO's.  Four of those 7 DOs are considered "major". Here's what Spanishwine.com says about the 4 major DOs.
"DOC Rioja – Old and traditional one on hand, and modernistic on the other.  Suave reds based mainly on Tempranillo but also Graciano and Garnacha blends.  Heavy use of oak for long ageing, which is a signature Rioja style.
DO Ribera del Duero – More modern, full-bodied and slightly more rustic wines than Rioja, though the regions are close in proximity.  Ribera wines are mostly all Tempranillo, darker and purpler, able to appreciate with age.
DO Toro – near Ribera del Duero, similar landscape, similar grapes, but Toro claims its own clone of Tempranillo the Tinta de Toro variety.  Toro reds are chewy, inky reds, massive with oak, or unoaked, with a signature spicy Toro note. Home of very old vines, some of the oldest in Spain.
DO Yecla – an area further South, on the Mediterranean coast and also home of the Monastrell, or aka in French Mourvèdre.  The variety thrives in this hot, arrid climate, most often in bunch vines.  Monastrell wines are distinctive, often young, with a spicy, peppery character and affordable price. "
The Wine Tasting
All wines were purchased from K&L Wine Merchants, which has a fantastic selection of Spanish wine.  Five of the eight wines were denoted as "Top Pick" on the K&L website.  The wine purchased ranged in price from $7.99 to $17.99.
Five of the eight wines were from the most well-known wine-producing regions identified  above.  There were two wines from Rioja, and one each from Ribera del Duero, Toro, and Yecla.  The other wines were from Campo de Borja D.O.,Valdeorras, and Alicante.  One of the wines was a "Reserva" level wine ( for red wines –  aged for at least 3 years with at least 1 year in oak).
The Wines of Spain theme brought out a crowd.  There were 20 tasters.  The wines were rated based four criteria – aroma, body, taste, and finish – each scored on a scale of 1-5.  All tasters were required to evaluate and score all the wines.  The winner was based on the wine receiving the highest median score.
It's a pretty diverse group wine experience-wise, though I would say the majority are pretty casual wine drinkers, rather than serious "wine enthusiasts".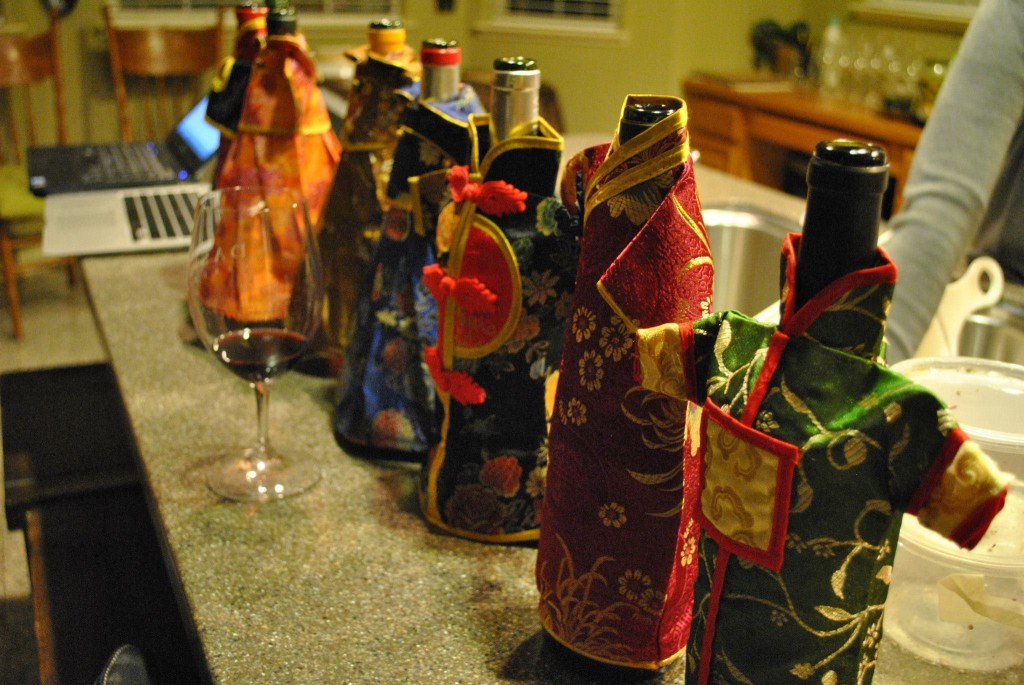 The eight wines we blind-tasted (listed in the order tasted) and my tasting notes follow (click on the links for details about each wine from the K&L Wine Merchant website) :
2010 Montebuena Rioja Cuvée KPF – Spain, La Rioja, Rioja Garnet color with moderately aromatic red fruit, oak and a hint of spice aromas. On the palate, it light-bodied with ripe spiced cherry flavors and powdery tannins. Medium finish (88 pts.)
2010 Bodegas Borsao Garnacha Campo de Borja Tres Picos – Spain, Aragón, Campo de Borja Violet color with aromatic smoky dried herb, spice and red fruit aromas. On the palate, it's medium-bodied and intense with cherry, raspberry, and spice flavors. Medium long finish. Made from 100% Garnacha aged in equal parts stainless steel and French oak.  (89 pts.)
2007 Viña Eguía Rioja Reserva – Spain, La Rioja, Rioja Ruby color with moderately aromatic spiced leather, red fruit, and a hint of tobacco aromas On the palate, it's between light and medium bodied, and elegant with layers of cherry, spice, mocha, clove flavors nicely balanced with supple tannins, and good acidity. Long finish. (91 pts.)
2011 Bodegas Torremoron Ribera del Duero Tinto – Spain, Castilla y León, Ribera del Duero Dark almost opaque violet color with candied cherry, raspberry, and hints of anise, and pepper aromas. On the palate, it's medium-bodied, and dusty tannins,and ripe slightly tart cherry, raspberry, and mineral flavors. Long finish. Made with 100% Tempranillo (80-100-year old vines); aged completely in stainless steel. (90 pts.)
2010 Señorio de Barahonda Barahonda Barrica – Spain, Murcia, Yecla Garnet color with mixed black and red fruit, earth and spice aromas. On the palate, it s medium-full-bodied with cherry, plum, dark chocolate, and spice flavors, and good acidity. Long finish. Blend is composed of 75% Monastrell (a.k.a. Mourvedre)and 25% Syrah aged in a combination of French and American oak for six months. (90 pts.)
2009 Telmo Rodríguez Mencía Valdeorras Gaba do Xil – Spain, Galicia, Valdeorras Dark garnet color creamy fresh cherry, floral, and spice aromas. On the palate, it's medium-bodied with red cherry, blueberry, spice and a bit of mineral flavors. Medium-long finish. 100% Mencia from Galicia region of Spain (90 pts.)
2011 Bodegas Volver Monastrell Tarima – Spain, Valencia, Alicante Dark violet color with tight nose showing aromas of mixed berry,and leather aromas. On the palate, it is medium-bodied, and focused with a creamy mouthfeel, and black raspberry, and black cherry flavors supported by good acidity. Medium-long finish. Fruit is from 40-75 year old Monastrell (Mourvedre) vineyards (89 pts.)
2010 Teso La Monja Toro Romanico – Spain, Castilla y León, Toro Nearly opaque purple color with black and red fruit, coffee, and spice aromas. On the palate, it's full-bodied focused, and round with black cherry, raspberry, and spice flavors. Long finish. Very good QPR at $15! 100% Tinta de Toro (Tempranillo) aged in 100% new French oak for six months (91 pts.)
As the party…er meeting..er gathering continued unabated,  I tabulated the results…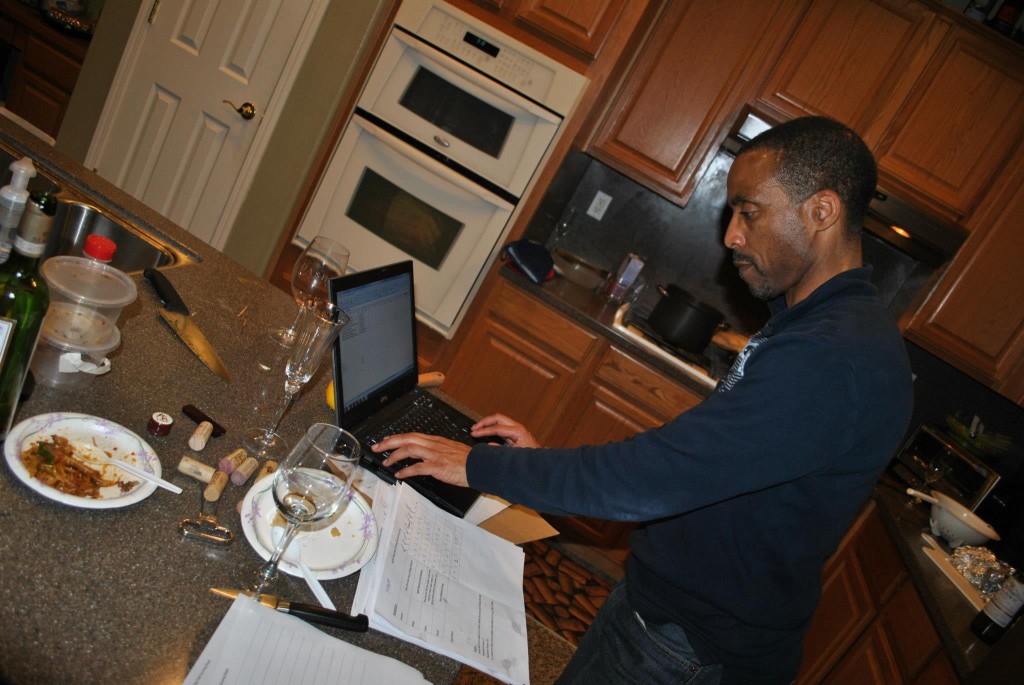 The envelope please…
The winner was the 2010 Teso La Monja "Romanico" Toro ($14.99)…a 100%Tinta de Toro (a local strain of Tempranillo) from the Toro region of Spain.
If there's one thing I've learned about blind tastings is there is always a surprise or two. The surprise for me was that the 2007 Viña Eguía Rioja Reserva, the only "Reseva", and one of K&L's best sellers, finished last.  I believe it would have done better had I aerated before hand.  In hindsight I should have…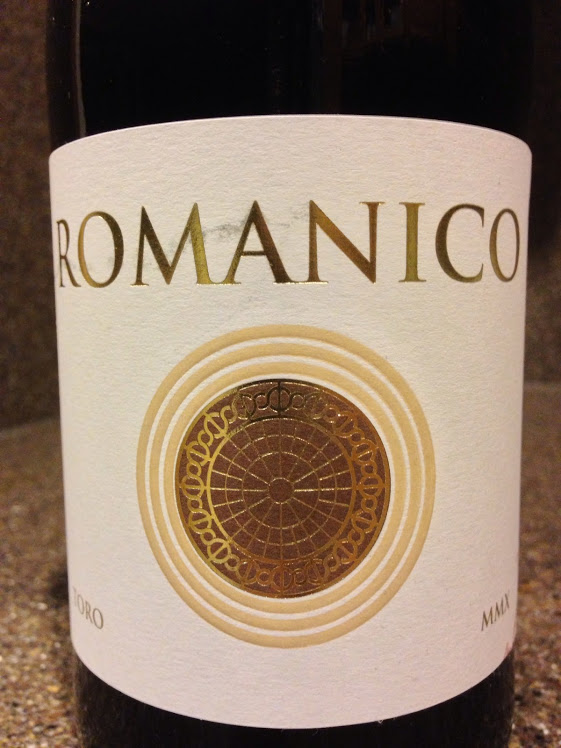 The results were close. The top 5 wines we separated by a mere point!
The order of finish for the runners-up were as follows:
Conclusion
Our Wines of Spain night was a great success with great food, fun, fellowship and of course wine!
It's been my experience is that Spanish wines are well made, and you won't find better value anywhere else in the world (there were at least 4 wines from this tasting that will be repeat purchases for me)! That's why one of my wine resolutions for 2013 is to buy more Spanish wine.  If you haven't yet discovered the wines of Spain. What are you waiting for? If you have discovered Spanish wine…drop me a comment and let know our favorite(s)!
Related posts  you might also enjoy:
Follow me on Twitter @martindredmond for all things wine, and since I'm a wino, with latent foodie tendencies, you'll also find food and wine pairings, and food related stuff!  . Become a fan and join ENOFYLZ Wine Blog on Facebook. Cheers! This article is original to ENOFYLZ Wine Blog.com. Copyright 2013 ENOFYLZ Wine Blog. All rights reserved.