Every Thursday I feature a wine I particularly enjoy, whether it's something new and different, is a great value, or from a producer worth checking out.  For this week, my Wine Of The Week is the 2011 Donkey and Goat Roussanne Stonecrusher.
Winery
Donkey and Goat Winery is a family owned and operated urban winery located in Berkeley, California.  The winery is owned by Jared and Tracey Brandt.  Theirs is a story we've heard before, but with a "natural" twist.  They left tech careers to pursue their dreams of making wine. They got started making wines in the Rhône Valley, and returned to California to apply what they learned in France.
The "natural" twist is their focus –  no make that obsession, with making wines as naturally as possible.  While "natural" wine-making has become more and more en vogue  these days, the Brandts have been doing it since day one.  You can read their complete manifesto here, but suffice it to say they take minimal intervention to the next level.  This includes using native yeasts, fermenting their wines in used oak barrels or concrete (most wineries use plastic bins), using no machines for crushing the grapes, and not filtering or fining of their wines.
They also make it a point to mention their wines are made "for the table not the cocktail glass"  That means having their fruit picked sooner than most, with the decision on when to pick driven by flavor and structure rather than brix.  As a result their wine are lower in alcohol (also trending these days it seems – but my sense is that's another thing the Brandts were doing long before the pendulum started to swing toward lower alcohol wines)
Donkey and Goat produces wines from white, and red Rhône varieties, Chardonnay and Pinot Noir grown in the Anderson Valley, Mendocino Ridge and the undiscovered El Dorado appellation in the Sierra Foothills".  In addition to the aforementioned still wines, they are also tinkering with a zero-dosage sparkling wine called "Ginger"
I came to know about Donkey and Goat when one of my fellow wino buddies mentioned how much he really enjoyed their Rosé.  I'm definitely a Rosé fiend, but by the time we got over to the winery for their Fall Open house last year, it was long gone.  As good fortune would have it, we were dining at Eleve, a Vietnamese restaurant in Walnut Creek, and they were serving the 2011 Grenache Rosé Isabel's Cuvée by the glass.  Wow! One of the best Rosé's I've ever had!  Rest assured we won't miss out on the 2012 vintage!  I subsequently found out they produced an orange wine late last year (late to the party again damnit!) Fortunately, I was able to pick up a bottle a few weeks ago.
Donkey and Goat owners Jared and Tracey Brandt were named one of 5 Winemakers To Watch by Jon Bonné of the SF Chronicle in 2011.  They produce about 3,000 cases of wine annually.
The Wine
This is an orange wine, which is essentially a wine made from white wine grape varieties (in this case Roussanne) that spends some time fermenting on grape skins (i.e. it's produced like a red wine. It's the skins that give the wine its color).
This white (orange) wine will surprise as it spent 16 days on the skins in a 4 ton open top wood vat before we pressed off to complete fermentation in neutral oak barrels. Orange wines, as they are called, are fascinating for many reasons but most exciting for us is the incredible versatility at the table.
The fruit for this wine is from the Elen Ridge vineyard in El Dorado County at 2400 feet elevation.  It was aged 10 months in neutral French oak.
Since this was the first time I'd had an orange wine, I wondered what was the appropriate serving temperature. I assumed, it shouldn't be served at classic white, or Rosé wine temperature of 43-46 F because of the presence of tannins.  I went with the typical serving temperature for a light red – around 50-55 F and took the wine out of the refrigerator for about 25 minutes.  That seemed to be a good temperature.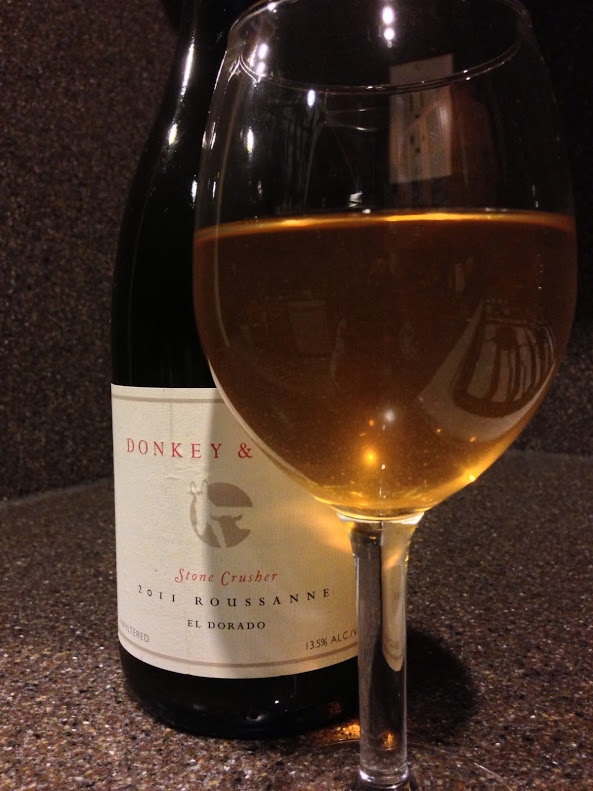 My tasting notes follow:
Lovely golden orange color with spiced orange peel and hints of floral and lanolin aromas. On the palate, it's medium-bodied, dry, and nicely balanced with a wonderful vein of acidity, present but subtle tannins, and ample apple, nectarine, and sweet spice flavors. Long finish. – 90pts
Rating: Highly recommended. I've been eager to try an orange wine, and this was my first one. Score!
Pair with:  This is a very food friendly wine in my book.  I enjoyed it with an avocado stuffed with Muhammara (a spicy roasted almond, and red pepper dip that originated in Syria) one night, and spicy vegetable biryani the next.  It was an especially great pairing with the Muhammara stuffed avocado. The wine's acidity was a nice counter-point to the richness of the avocado. And the fruit was a nice counterpoint to the spice in the Muhammara. Other parings to consider are paella, fideua, Indo-Paki cuisine, and roasted winter vegetables. You can bet your bottom dollar I'll have a bottle for Thanksgiving next year!
The Wine Geek Stuff:
Wine purchased for review
Related post you might enjoy:
Follow me on Twitter @martindredmond for all things wine, and since I'm a wino, with latent foodie tendencies, you'll also find food and wine pairings, and food related stuff!  . Become a fan and join ENOFYLZ Wine Blog on Facebook. Cheers!
This article is original to ENOFYLZ Wine Blog.com. Copyright 2013 ENOFYLZ Wine Blog. All rights reserved.