Sure everybody knows about Valentine's Day, but did you know there is a "Singles Awareness Day" (S.A.D.) too? It's celebrated tomorrow, or the 14th, or the 15th.  Makes sense too…there are plenty of folks who are single and not involved in a romantic relationship.
I say celebrate either way!  And nothing says celebration like a bottle of bubbly! So whether you're looking to add a little "je ne sais quo", a little "pop", to your Valentine's Day  or Singles Awareness Day celebration, think sparkling wine!  Better yet, think sweet pink sparkling wine! It just screams "It's party time" – solo, duo or otherwise!
This sweet pink sparkling wine is brought to you by the good folks at Naked Rebel Winery.  Naked Rebel winery was started by two brothers Chip ("Winemaker and Professional Cuddler"), and AJ Forsythe ("Sir Money Bags") who made wine while they attended Cal Poly.  Aside from this wine, sold under the Pink Panda Cellars label, they also produce a Cabernet Sauvignon/Syrah blend for "the young at heart"
Pink Panda Bottle Glowing in the dark

Every bottle we make is printed with glow in the dark ink, so you and your loved one can find them in the dark.  You're welcome.
There's some clever marketing in full effect at Naked Rebel aimed straight at Millenials, and other casual wine drinkers who want to get their drink on without feeling compelled to be intellectually stimulated.  In fact, I suspect the good folks at Naked have another type of stimulation in mind. I think there are droves of folk who'll they Naked hits the nail on the head when they say…
It is Pink, it is supposed to be fruity!
Because despite the ever-growing trend toward dry pink wines, there's a big market for consumers who think pink and think sweet.  And they like it like that!
This one is worth checking out too because  behind the glow in the dark, cute Panda packaging you'll find a good pink sparkling pink made from Pinot Noir.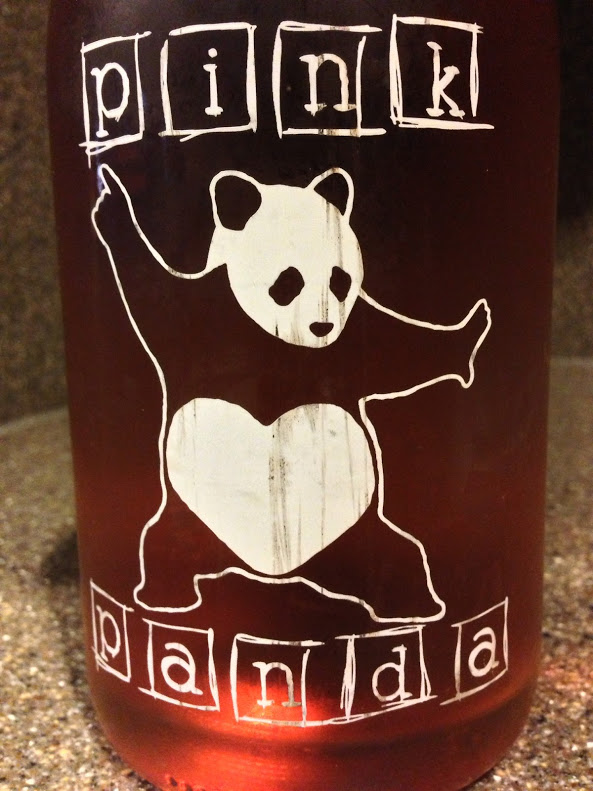 My tasting note follows:
Pretty pink color with ripe fresh strawberry soda aromas.  On the palate, it's fruity, and sweet with a moderately creamy mousse and strawberry and raspberry flavors.  
If you like your sparkling wine fruity and sweet, this is a fun quaff I recommend!  Proceeds from the sale of this Pink Panda supports  a good cause too.  For  every bottle you buy, Naked Rebel Winery makes donation to the Susan G. Komen foundation.
Pair with: Chocolate covered strawberries, strawberry shortcake, creme brulee, or for the young or young at heart celebrating V-Day, get naked and pair with your sweetheart! And for those celebrating Singles Awareness Day? I say you deserve to celebrate too!
The Wine Geek Stuff:
Alcohol: 11% alcohol.
Closure: Cork
Grape varieties: 100% Pinot Noir
Production method: Charmat Bulk
Dosage: Demi-Sec
Retail: $18
Cases produced: 400
Drink: Now – 2014
>>Find this wine<<
Sample provided for review by Naked Rebel Winery
Follow me on Twitter @martindredmond for all things wine, and since I'm a wino, with latent foodie tendencies, you'll also find food and wine pairings, and food related stuff!  . Become a fan and join ENOFYLZ Wine Blog on Facebook. Cheers!
This article is original to ENOFYLZ Wine Blog.com. Copyright 2013 ENOFYLZ Wine Blog. All rights reserved.