Last week I attended the 22nd Annual Zinfandel Festival.  It's hosted by the Zinfandel Advocates & Producers ("ZAP").  This was my second year attending this mother of all things Zinfandel event.
I attended two of the four events – Epicuria Food & Zin Pairings on Thursday, and the Grand Tasting on Saturday.
Epicuria
Epicuria, a "gourmet adventure", is a walk around tasting offering samples of diverse culinary delights prepared by a cadre of restaurants and other food purveyors paired with Zinfandel.  What I appreciate about it is that it expands one's perception of Zinfandel's affinity for a variety of foods.  In other words, Zinfandel can be so much more than a BBQ, and burger wine!
Embark on a gourmet adventure as you explore the versatile flavors of Zinfandel at ZAP's informal dine-around event. You have the opportunity to sample sophisticated and whimsical culinary creations from master chefs, perfectly paired with 50 top Zinfandel wines.
I came to the event hungry. Very hungry.  But I knew there would be plenty of food. Top notch food.  And plenty of Zinfandel! Top notch Zinfandel!  You would have had to roll me out of the Concourse Exhibition Center if I'd tried everything, even half of everything offered!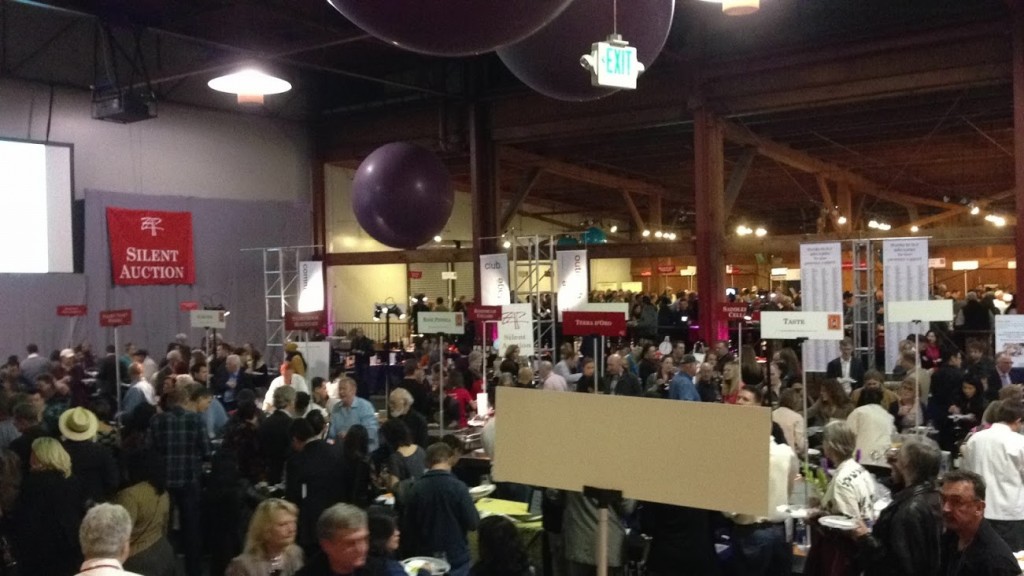 The epicurean highlights for me were:
Harris' signature steak tartare beautifully paired with Ridge Vineyards 2005 Lytton Springs, and 2007 Lytton Springs.
Smoked duck, apple compote, fennel crepe from Taste in Plymouth (fabulous restaurant – highly recommend) paired with 2010 Terra d'Oro Deaver Vineyard Zinfandel.
Spicy Thai curry pulled pork on candied jalapeno rafts garnished with cilantro and lime from Le Truc, paired with Rock Wall Wine Company 2010 Hendry Reserve.
Lamb merguez and wild boar sausage with mango chutney and sauerkraut from Rosamunde Sausage Grill.

Soleil's African Cuisine; Moroccan Carmoula seafood with couscous Tanzanian coconut fish; plus beans stew (slow garbanzo, red beans in spiced coconut sauce).

Chicken croquette with chipotle paired with m2 2010 Old Vine, Soucie Vineyard
The little bit of carnivorous heaven on earth pictured below is a "lamb lollipop" courtesy of Ruth's Chris Steak House.  I've never had one before, but let's just say it was the most delicious, delectable, and delightful lamb that I have ever had the pleasure of consuming! It was paired with 2009 Bonneau Rockpile Zinfandel.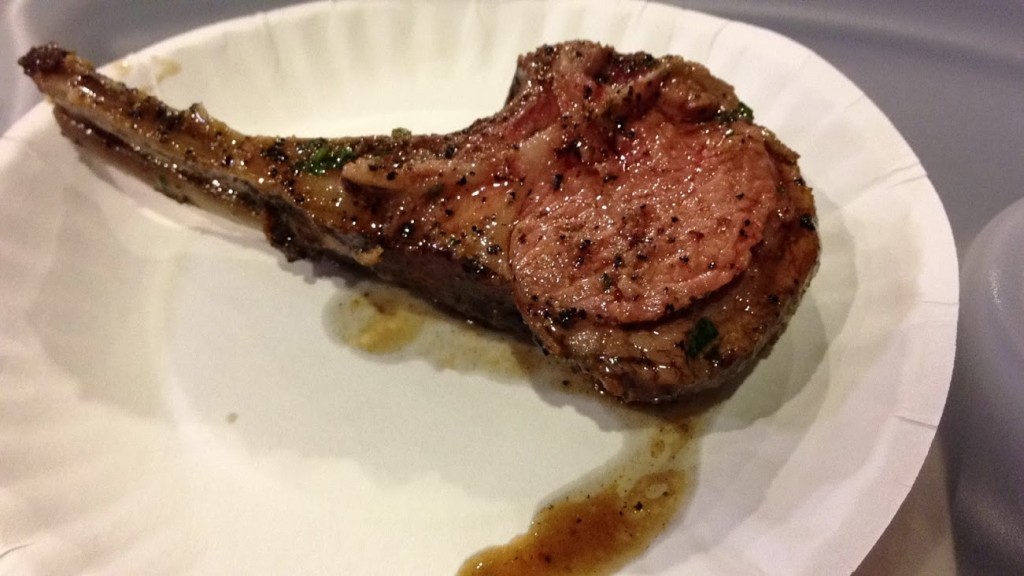 Oh and for my sweet tooth, I capped off my Epicuria experience at Healdsburg Toffee Company which had a fabulous selection of sweet treats including chocolate drizzled candied cayenne pecans; cinnamon and nutmeg spice in milk chocolate, dark chocolate cherry bomb; and the peanut butter crisps pictured below: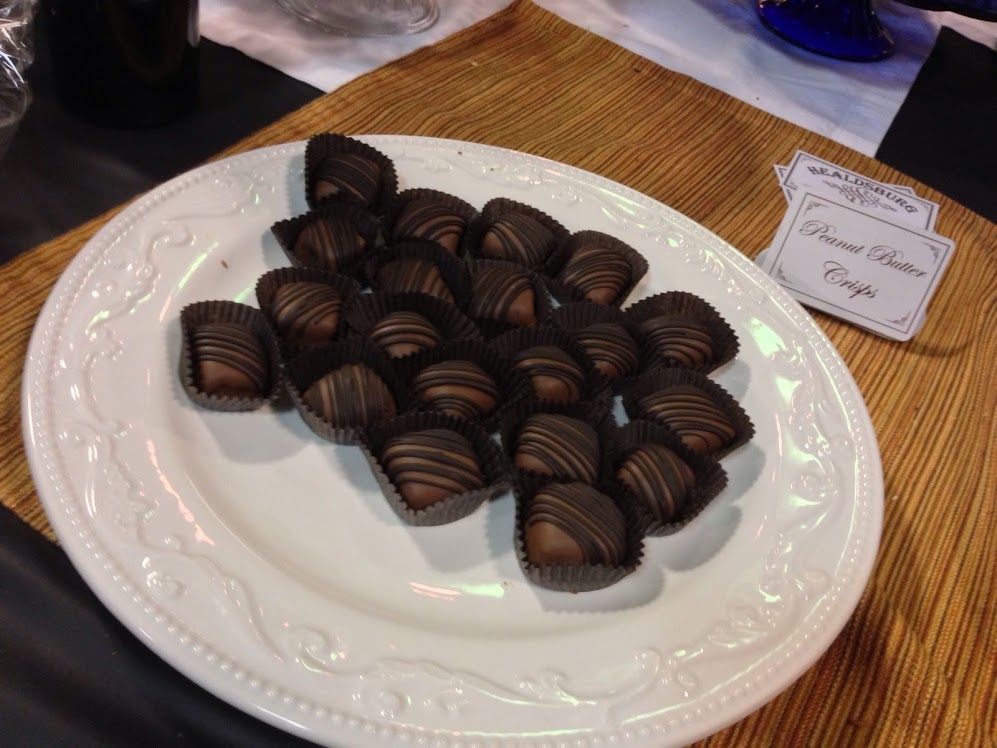 But the best of the bunch for me was the bacon-dipped chocolate bites! My sweet goodness!
Grand Tasting
ZAP's Zinfest is very well-organized.  I especially appreciated the Tasting Program and Tasting Map.  In addition to tasting hundreds of Zinfandels and Zinfandel blends, Saturday activities also featured Winemaker Workshops, ZinKitchen Seminars, and new for 2013, a Terroir Tasting area.  One thing I did miss from last year was the Media Lounge – a quiet area set aside for media and trade folks lined with bottles almost every producer.  It was great to be able to adjourn to the Media Lounge  and taste at one's own pace once the main floor got crowded mid-afternoon when the general public is admitted (there is a 4 hour window between 10 am-2 pm for media and trade). Once the general public is added to the mix, the event turns into a writhing sea of humanity.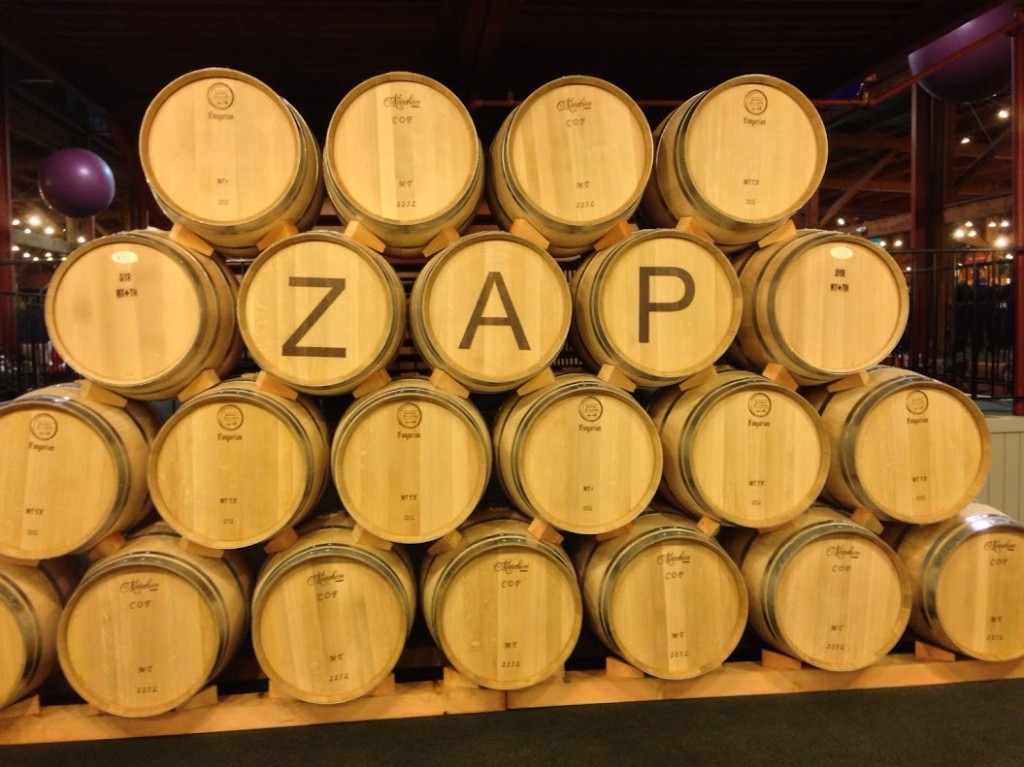 And speaking of bodies of water…check out the young man on bucket brigade below emptying dump buckets from the ocean of Zinfandel!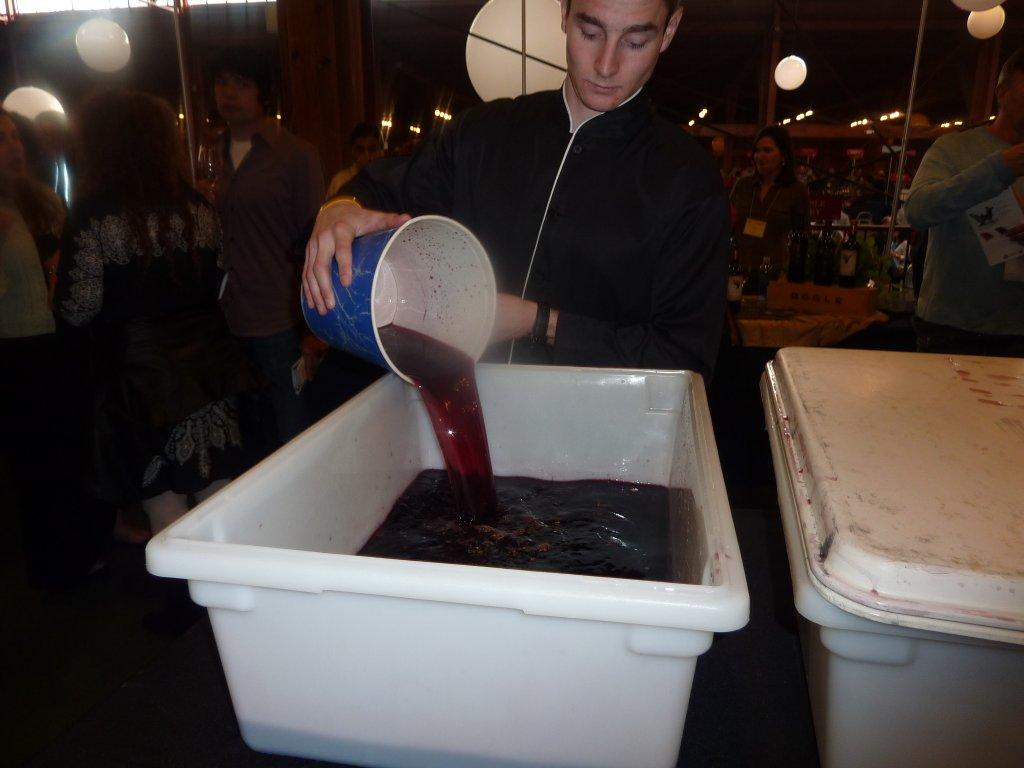 The Grand Testing featured 193 wineries scheduled to participate (probably 400 wines).  Since it was impossible for me to taste all the wines, my strategy was to try 25 producers that were new to me. That strategy creates a dilemma for me.  That's because on one hand, it means skipping some of my favorite perennial top-notch Zinfandel producers like Bedrock Wine Co., Black Sears, Carlisle, Carol Shelton, Dashe Cellars, JC Cellars, Ridge Vineyards, Robert Biale, Seghesio, Turley and Valdez Family.  On the other hand, I dig uncovering new gems.  Of course the "right" answer for me was do both.  I tasted wines from 25 new to me producers.  Then at the end of the day did my "taster's choice" when I stop by some favorites to do a little tasting!
I ended up tasting 75 wines before tapping out mid-afternoon,and doing my "taster' choice".
My favorite new to me wines, which I rated "outstanding" – 90 points or higher were (in alphabetical order):
2011 Brown Estate Vineyards Zinfandel Chiles Valley ($50)
2011 Brown Estate Vineyards Zinfandel Napa Valley ($42)
2010 Charter Oak Winery Guido Ragghianti Old World Field Blend ($58)
2010 Charter Oak Old Vine Monte Rosso, Sonoma County ($48)
2009 Grgich Hills Zinfandel Estate Grown ($35)
2010 Klinker Brick Zinfandel Old Vine Old Ghost ($37)
2010 Limerick Lane Zinfandel Dry Creek Valley ($40)
2010 Limerick Lane Zinfandel Russian River Valley ($44)
2010 Ottimino Zinfandel Biglieri Vineyard ($38)
2009 Ottimino Zinfandel Rancho Bello ($30)
2010 Puccioni Zinfandel ($29)
2011 Ravenswood Zinfandel Teldeschi $35) (barrel sample)
2009 Scott Harvey Vineyard 1869, Napa Valley ($45)
2010 St. Anne's Crossing Serracino, Dry Creek Valley ($50)
2010 St. Anne's Crossing Zinfandel King City ($36)
2010 Storybrook Mountain Zinfandel Mayacamas Range ($36)
2010 Talty Winery Zinfandel Dwight Family ($30)
2009 Talty Winery Zinfandel Estate William Talty Vineyards ($38)
2010 Three Wine Company Zinfandel Evangelho Vineyard ($32)
2009 Vino Noceto Zinfandel OGP Grandpère Vineyard ($29)
2009 Woodenhead Zinfandel Guido Venturi Vineyard ($34)
2010 Woodenhead Zinfandel Leras Ranches Bertoli ($30)
In terms of my favorite perennial top-notch producers, I was only able to get to a few because it got to be too crowded.  The wines from that bunch that stood out for me were:
2010 Black Sears Estate, Napa Valley
2011 Carlisle Winery Monte Rosso Vineyard, Sonoma Valley ($45) 

2010 Dashe Cellars Florence Vineyard, Dry Creek ($35)

2011 Ridge Vineyards Primitvo (barrel sample)
2010 Valdez Family St. Peter's Church Zinfandel
Whenever I go to ZAP's Zinfest, I'm reminded of my epiphany wine.  It was 1999 Lolonis Redwood Valley Zinfandel.  So my old friend Zinfandel…until our next reunion…I'll drink of you often! Cheers!
Related post you might enjoy: