Every Thursday I feature a wine I particularly enjoy, whether it's something new and different, is a great value, or from a producer worth checking out.  For this week, my Wine Of The Week is the 2010 Carlisle Zinfandel Martinelli Road Vineyard
Winery
Carlisle Winery & Vineyards is a small Sonoma County based winery  based in Santa Rosa. According their website they specialize in the..
…production of old-vine, vineyard designated Zinfandels and red Rhone varieties (Syrah, Grenache, Mourvèdre, and Petite Sirah).
Mike Officer is the Owner/Winemaker.  He caught the wine "bug" early – at age 19 – when he tasted a late-harvest Riesling (It seems like we all start with sweet wines doesn't it?) After graduating from college, he worked in software development for five years, but realized that was not his passion.  He knew the answer would involve wine, but he wasn't sure in what capacity.
He decided to try winemaking,  starting with making 5 gallons of Zinfandel in his kitchen.  Some years later, he  and his wife Kendall found themselves making 300 cases of "garage" wine.  They decided to jump in with both feet and established Carlisle Winery & Vineyards in 1998.  They've focused on old-vine Zinfandel, and red Rhône blends, until the 2010 vintage, when they made their first white wines.
In addition to their own estate vineyard, they source grapes from Sonoma County, primarily the Russian River, and Dry Creek AVAs.  Officer always been a fan of old-vine vineyards.   In fact, of the 16 vineyard sources listed on their website, half ( Gold Mine Ranch, Martinelli Road Vineyard, Montafi Ranch, Pagani Ranch Vineyard, Papera Ranch, Rossi Ranch Vineyard, Saitone Ranch, and Two Acres) are considered historic vineyards by the Historic Vineyard Society .
Carlisle wines are available via a mailing list.  The mailing list is currently closed, but if you would like to be added to the waiting list, click here.
The Wine
Fruit for this wine is from the Martinelli Road Vineyard, located on Martinelli Road between Forestville and Guerneville in the Russian River Valley.  It was first planted in the early 1870's by the Banfield Family.  Most of the vines succumbed to Phylloxera within their first decade of life. The Banfields sold the property to the Butlers in the 1880's and any dead or diseased vines were replaced. In 1903, Giuseppe Martinelli purchased the ranch,and it's been in the family until it was recently sold to the McWilliams Family of Arista Winery. Unlike many old-vine vineyards, the Martinelli Road Vineyard is nearly 100% Zinfandel. Out of the five acres of old vines,  the only other known vines are two Mourvèdre vines, two Blauer Portugeiser vines, and one unidentified white.
A favorite at ZAP's Grand Tasting in January 2012, even among those preferring lighter, more elegant wines.
The grapes were picked at 25.2 Brix. After a five-day cold-soak, indigenous fermentation began. Pressed after 16 days on the skins to all French oak, 22% new. It was bottled unfined and unfiltered.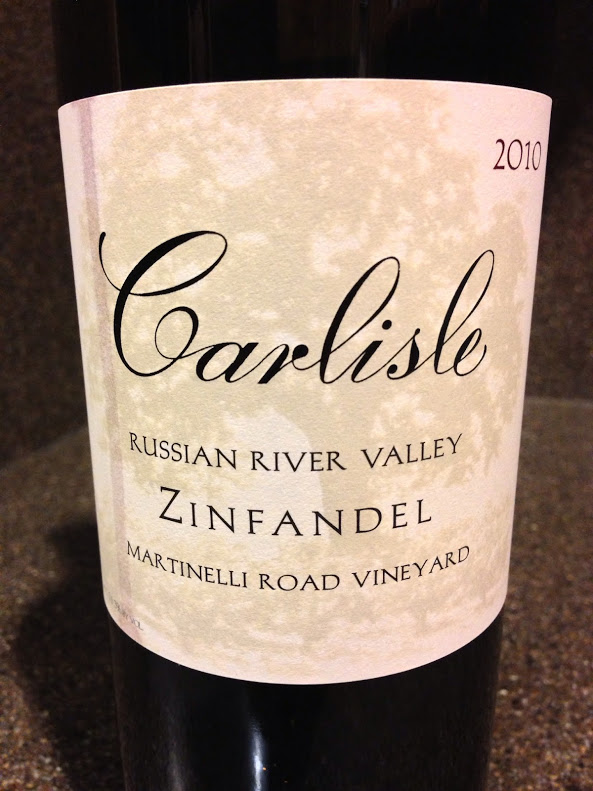 My tasting notes follow:
 Violet color with slightly earthy cherry, raspberry, mineral, and baking spice aromas. On the palate, it's medium-bodied, fresh, and shows vibrant youthful raspberry, cherry, and spice flavors. Medium/long finish.
Rating: Highly recommended. I was surprised to see it was 16.3% alcohol.  It's doesn't drink like a heavyweight owing to it's surprising acidity. It's young, and while it's drinking well now, it will be get better with additional aging. Now if I can just keep my hands off of it for a few years!
Pair with:  Certainly you could go the traditional burger and BBQ route, but wine is up for a challenge.  Pair with Seared Ahi Tuna, Brazilian Feijoada, Roast lamb, or hearty Pasta with Artichoke, Pancetta, and Mushrooms.  And this would be fantastic with a dish I sampled at Zinfest last week –  Moroccan Carmoula seafood with couscous Tanzanian coconut fish!
The Wine Geek Stuff:
Wine purchased for review
 Related posts you might enjoy: