Every Thursday I feature a wine I particularly enjoy, whether it's something new and different, is a great value, or from a producer worth checking out.  For this week, my Wine Of The Week is the 2007 Caymus Cabernet Sauvignon.

The Winery
Caymus Vineyards, a family owned winery, is one of Napa Valley's many iconic Cabernet Sauvignon producers.  The winery is owned by the Wagner family who have been Napa-based in the Rutherford appellations since 1906 following the San Francisco earthquake.  They started planting vineyards that same year.  For many years they grew they own grapes for use in bulk wines.  In 1941 the family purchased 70 acres of prime vineyard in Rutherford, but it took another 20 years before they started seriously planting high-quality grapevines on land that had been a fruit ranch. They continued farming vineyards until the winery was eventually launched.
In 1971 Charles F. (Charlie) Wagner and his wife Lorna Belle Glos Wagner asked their son Charles J. (Chuck) Wagner, who had just graduated from high school, if he would be interested in joining them in starting up a winery. If Chuck declined the offer, Charlie and Lorna were planning to sell out of their ranch in Napa Valley and move to Australia. Chuck accepted his parents' offer to launch the winery, Caymus Vineyards.
The Wagner's produced their first vintage in 1972 producing 240 cases of Cabernet Sauvignon.  Caymus Vineyards took its name from the original Mexican land grant known as Rancho Caymus, awarded to George Young in 1836.  The grant encompassed land that eventually became the town of Rutherford.
Caymus produces two Cabernet Sauvignon, their top of the line Special Selection Cabernet Sauvignon, and their Napa Valley Cabernet Sauvignon.  Both bottlings have been very consistent over the years garnering 90+ scores from Wine Spectator, with this bottling being scored less than 90 points only twice in the last twenty years.  And the Caymus Special Selection is the only wine in history to be named "Wine of the Year".  In addition to Cabernet Sauvignon, Caymus also produces a Napa Valley Zinfandel, and Sauvignon Blanc.
Unlike many iconic Napa Valley Cabs which must be purchased on faith because they're not available for tasting, Caymus offers a sit-down tasting hosted by their "wine educator" featuring four Caymus Vineyards wines, including the current release of Special Selection Cabernet Sauvignon.   The tastings run $30.
Over the years, the family has expanded its holdings to include Mer Soleil, Belle Glos, Meiomi, and Conundrum.
The Wine
Grapes for this wine are sourced from multiple AVAs throughout Napa Valley and represent Napa's geographically small but diverse terroir. It includes both mountain fruit, and fruit from the  valley floor.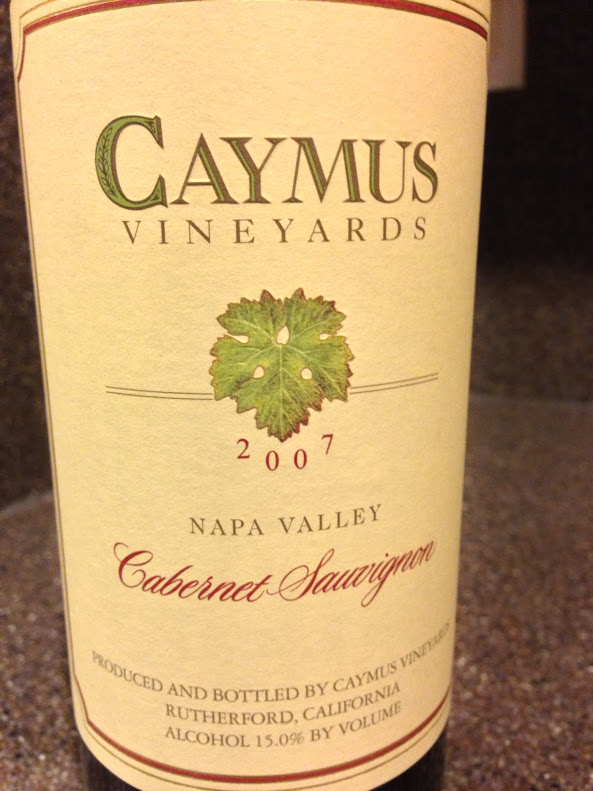 My tasting notes follow:
Inky violet color with black currant, tobacco, blackberry, mint, cedarwood and a bit of violet aromas. On the palate, it's medium-full bodied, focused and deftly balanced with blackcurrant, blackberry, and a hint of bittersweet chocolate flavors wrapped in sweet fine grained tannins. Long finish. – 92pts
Rating: Highly recommended.  This wine is, relatively speaking, for an iconic Napa Valley Cab producer a good value at $60.  You could easily spend more and not get the consistent quality Caymus delivers.
Pair with:  This is a rich supple wine that many will enjoy one its own. Of course, carnivores will enjoy this wine with beef, ostrich, venison, lamb or wild fowl.  Also consider with grilled dished, hearty stews, or braised ribs. It would also pair well with meaty fish like tuna or swordfish, especially grilled.
The Wine Geek Stuff:
Alcohol: 15%
Closure: Cork
AVA: > California> Napa Valley
Grape Varieties: Cabernet Sauvignon
Cooperage: 16 months in French oak
Retail: $70
Cases produced: Unknown
Drink: Now-2017
>>Find this wine<<
Wine from the Redmond Cellar. Tasted 1/28/13
 Related posts you might enjoy: