Every Thursday I feature a wine I particularly enjoy, whether it's something new and different, is a great value, or from a producer worth checking out.  For this week, my Wine Of The Week is the 2010 Bedrock Wine Co. Heirloom Wine Pagani Ranch

The Winery
Bedrock Wine Co. is an "itsy-bitsy winery making wine in a converted chicken coop". Though recently Morgan Twain-Peterson, the winemaker/owner of Bedrock Wine Co. announced some big changes including building a new winery, and hiring of close friend, Chris Cottrell to work with him.  Sounds like Bedrock will be moving from the "itsy-bitsy" level to a higher level production-wise.  The wines are already major quality-wise!
There are two things that make Bedrock Wine Co. special in my view – the first is Morgan (you can check out his full bio here), but suffice it to say he's been making wine since he was "knee-high to a bug" including working harvests in McLaren Vale, Australia and worked as a visiting winemaker at Chateau Lynch-Bages in Bordeaux before returning to California to focus on revitalizing California's heirloom vineyards. The second is his vineyard sources. I did a post last year entitled Bedrock Wine Co: Where Old Vine Love And Transcendent Wine Making Come Together, wherein I focused on the sources of Bedrock's grapes.
In terms of the wine making process itself at Bedrock, it's surprisingly Ole Skool (or as Morgan might put it "Cro-magnum").  Grapes are pitch-forked into a small Zambelli destemmer, the punch-downs are manual, after fermentation the wines are basket pressed in an Italian press that is manually operated.   It's a very manual and time-consuming process, but I can vouch for the results.  Peterson is making some unique distinctly Californian wines that are spectacular!
The Wine
The grapes for this wine were sourced from Pagani Ranch, one of the many vineyards from which Bedrock Wine Co. sources grapes that are listed in the registry of the Historical Vineyard Society.  Pagani Ranch Vineyard is run today by the founder's grand-daughter and great-grandson, Norma Amantite and her son Dino.
Here's what the Bedrock Wine Co. says about the wine…
The first vintage of what should be many from the storied and ancient Pagani Ranch.  A classic field-blend planted in the 1880's.  Pagani Ranch's cool soil and unique mesoclimate yield a rich, dense, but vibrant wine.  After a taxing growing season the Amantite family did a highly selective pick which yielded less than .5 tons per acre.  Fermented in open-top vats using native yeasts and then barreled down to 100% French oak, of which 33% was new, the wine aged for 11 months in barrel.  The resulting wine is black, powerful, and perfumed, and a testament to experienced farming overcoming a tough year. 9 barrels made.
The last time I saw Morgan he comments that most folks are drinking his wines too young.  Guilty as charged!  The good news is I have another bottle.  I do my best to hold on to that for a few years to see how it ages…but no promises;-)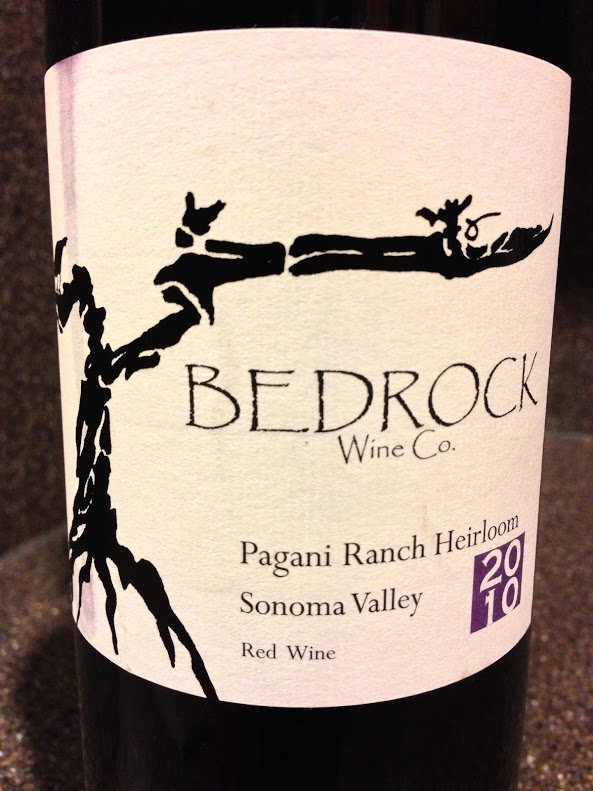 My tasting notes follow:
Opaque violet color with beautifully aromatic plum, blackberry, cassis, spice and hints of violet aromas. On the palate, it's full-bodied, fresh, intense, and elegant with blackberry, and spice flavors. Long finish.
Rating: Highly Recommended.
Pair with: This wine has a nice vein of acidity, making it food-friendly.  Try with roasted or grilled pork, or beef, Mexican food. For a twist try with seared ahi tuna or pâte, or a chicken liver mousse!
The Wine Geek Stuff:
Alcohol: 15%
Closure: Cork
AVA: > California> Sonoma County> Sonoma Valley
Grape Varieties: Field blend of Zinfandel (approximately 65%), Alicante Bouschet, Grand Noir de la Calmette, Petite Sirah, and Lenoir.
Cooperage: 100% French oak French oak from Ermitage and Rousseau, 33% new for 11 months
Retail: $37
Cases produced: 225
Drink: now – 2020
Related posts you might enjoy: