This week's sparkler is produced by Roederer Estate, owned by Louis Roederer Champagne, which is renowned for producing the luxury Champagne Cristal. Besides various holdings in France, the Roederer group also includes Scharffenberger Cellars, another sparkling wine house in Anderson Valley.
The California operation is located in Anderson Valley, north of the Napa Valley.  While Anderson Valley may not have the cachet of Napa, or Sonoma, I've found the tasting rooms to be more intimate, the locals are more friendly.  It's picturesque and beautiful wine region.
The Anderson Valley is cooled by the nearby Pacific Ocean, and the seemingly omnipresent bank of fog.  The region is home to a wealth of cool climate grapes especially Pinot Noir, Chardonnay, and Alsatian varieties like Riesling,Gewürztraminer, and Pinot Gris. Since Pinot Noir,and Chardonnay thrive there, the region produces some impressive sparkling wines.
My wife and I had the pleasure of visiting Anderson Valley last week. We dropped in at Roederer Estate.  What a beautiful property.  Ironically, our last visit was during winter a few years ago.  We tasted some great wine, and told ourselves we've got to get back to the areas during another season! We've got our eye on the 16th Annual Anderson Valley Pinot Noir Festival, or maybe during Harvest.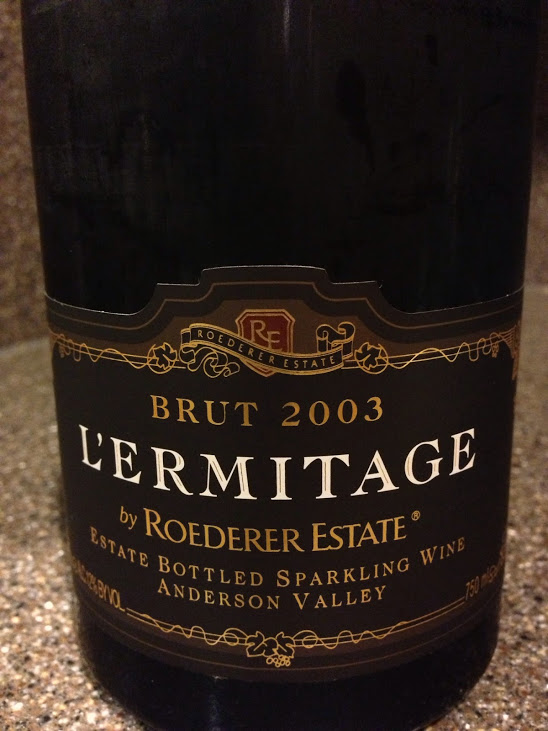 My tasting notes follow:
Pale straw yellow color with bread crust, baked apple, and hazelnut aromas. Persistent bed of tiny bubbles. On the palate, it shows a delicate mousse with baked apple , hazelnut, and hints of burnt sugar and mineral flavors. Long finish. 12.1% alcohol – 92pts
Rating: Highly Recommended – Fantastic bottle of California bubbly.  This is world-class bottle of bubbly I would love to see blind tasted against Champagne!  And it's a relative value too when compared to top of the line offerings from a few of it's Napa, and Sonoma competitors. 

Pair with: The beauty of sparkling wines is their versatility with food, because of their palate cleansing quality (think scrubbing bubbles;-). I think this one works well as work both as an aperitif (Kettle-style potato chips, and seasoned popcorn are coming to mind), or main courses like sushi, sashimi, shellfish, lobster mac and cheese, or roast chicken. Even pair with a light dessert like shortbread cookies, or fresh fruit!
The Wine Geek Stuff:
Alcohol: 12.1% alcohol.
Closure: Cork
AVA: > California> North Coast> Anderson Valley

Varietal(s): 52% Chardonnay, 48% Pinot Noir, 4% aged reserve wine (vintage '99)"
Cooperage: Aged 5.5 years in French oak cask + at least 6 month in bottle
Dosage: Brut
Retail: $47
Cases produced: 5,251
Drink: Now – 2015
>>Find this wine<<
Wine purchased for review
Related posts you might enjoy: