Last weekend I had the pleasure of attending the Ridge Vineyard final Wine Bloggers Tasting of the 2012.  The Wine Bloggers Tasting is hosted by Christopher Watkins, Ridge's indefatigable ambassador and Tasting Room Manager.   He has been hosting the Wine Bloggers Tasting for about two and a half years now.  What make each event special (aside from the fact you'll be drinking some magnificent wine) is that there is a theme, which Christopher keeps secret until you arrive.
It was  a treacherous trek up to Monte Bello because, it was a cold and stormy day (it was pouring buckets of rain, and I wondered if frogs were in the forecast).  Little did I know something even more treacherous, and foreboding that spin-outs, and mudslides awaited…
As we entered the Monte Bello suite this is what I saw…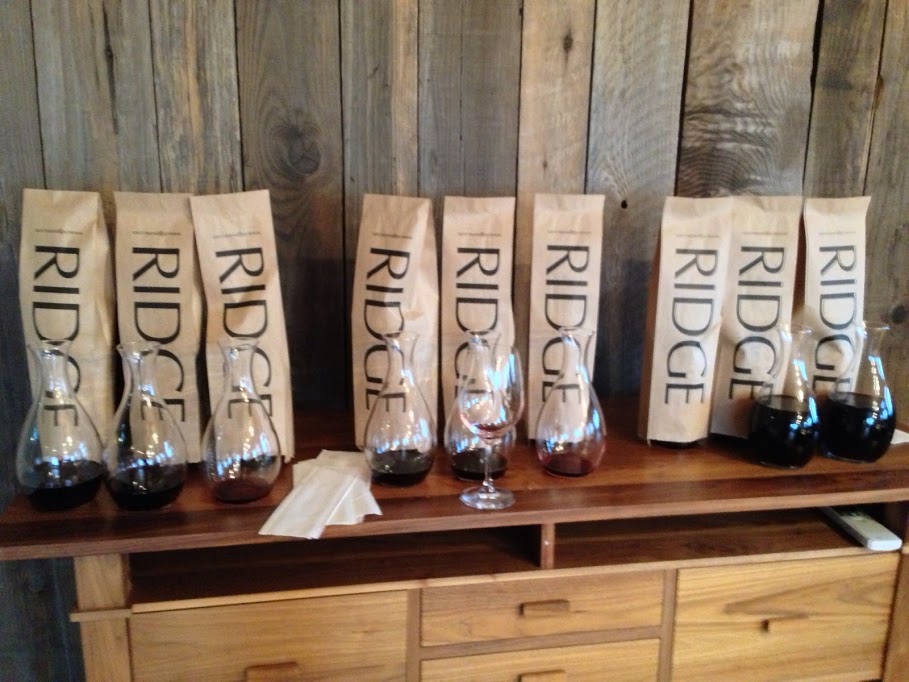 And I said to myself…Oh (insert your favorite expletive here), a blind tasting!
Now I've done blind tastings before, but I've always known what the varietal was, and vintage didn't really matter.  The purpose of the  blind tastings I've done  is to take expectations/perceptions surrounding the quality/cost of the wine out of the equation.
No problem…I'm all for finding a $10 buck bottle of wine I like as much or more than one for that cost two or three times that amount.
No sirree…this wasn't that kind of blind tasting. This was the kind of blind tasting that makes or breaks careers (sommeliers), and reputations (wine critics – see the related post below for the most well-known example involving Robert Parker, Jr.) Fortunately for me, I have no sommelier career aspirations, and precious little reputation 😉
Here's what the devious Mr. Watkins asked of the us…Taste the 3 flights of 3 wines, and discern what is the same about them, and what is different about them.  
In other words, it potentially involved picking varietals and vintages. It was my worst blind tasting nightmare realized (in a standing in an amusement park line dreading the scariest ride you can think of, surviving it, then getting back in line kinda way;-)
It was a distinguished group of bloggers that tasted through all the wines.  After each flight we discussed our thought about flight.  After tasting through the three flights Christopher revealed what was the same about each wine, and what was different.  I'll recap my tasting notes, and share my thoughts on each round before revealing the wines below.
Round 1
I thought all three wines were Zinfandel.  I scored the wines, A, B, and C –  90, 90, and 92 points respectively.  The common denominator on all the wines was a smoky dark red fruit character for me.  I did not some cassis on wine B, and that wine C was fuller bodied and had a longer finish than the others
Round 2
I noted all were Bordeaux varietals.  All the wines had more going on aromatically for me, and the common denominators were a cassis, blackberry, blueberry, and tobacco character.  I scored the wines 91, 91, and 93 point respectively.  My guess was Monte Bello, primarily because of the tobacco aromas.
Round 3
I was clueless as to what the varietal.  The common denominators for me were earthy red fruits (cherry, raspberry) with some spice and mineral character. I scored all three 91 points.
My overall guess as to what was the same about all three wines?  My guess (S.W.A.G. really) was that wine C in each group was from the same vintage.
*Insert that annoying buzzer sound when a contestant gets the wrong answer here*!!!
The Reveal
Round 1 – All the wines turned out to be the 2009 Estate Cabernet Sauvignon – poured the half bottle, full bottle and magnum format.
I'm familiar with horizontal (same vintage different wines), and vertical tastings (different vintages, same wine type).  But are you familiar with a diagonal tasting?  In the  midst of discussing the similarities and disparities among the wines (including horizontal and vertical tastings), a joke was made about the tasting possibly being a diagonal tasting…well if you look at the picture above and draw a straight line from left to right you get…drum roll please….a diagonal line.  Well, if I ever taste the same wine again from different size bottles, I'll always think of it as a diagonal tasting ( it's quite interesting…I recommend it)!
Note: From what I was able to discern when I Googled "what is a diagonal wine tasting, it's wines from either the same or different type or geographical area, but of different vintages or producers (I like the way I think of it better;-)
Round 2 – A vertical tasting (2004, 2005, and 2006) of the Estate Cabernet Sauvignon.
Round 3  – Here's where the trickeration come in – Three bottles of the same wine – the 2007 Estate Cabernet Sauvignon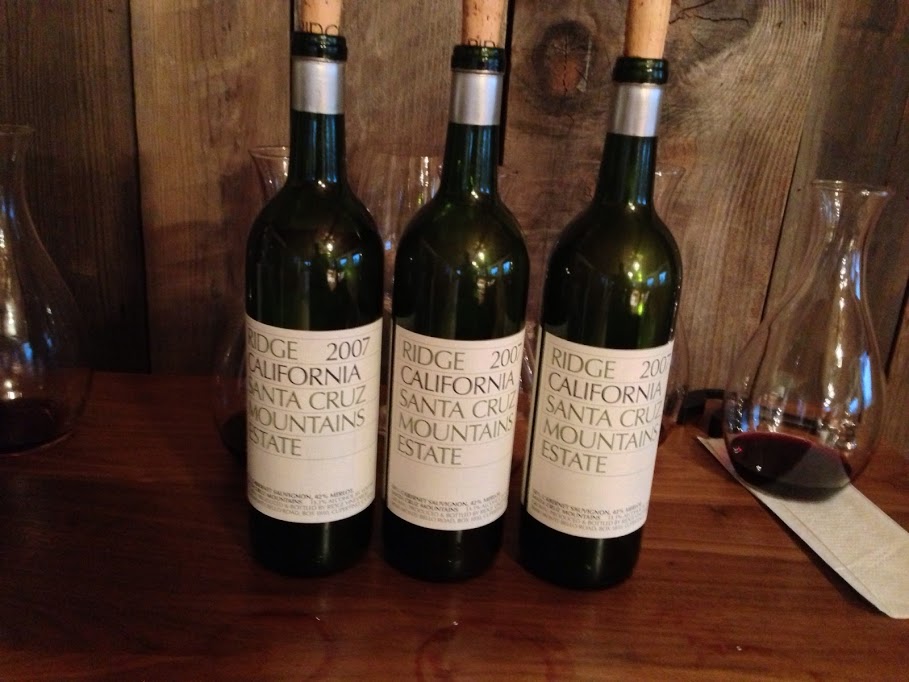 There you have it – a most challenging comparative blind tasting  – different bottle sizes, a vertical tasting, and the same bottle of wine served up three times.
Despite crashing and burning, I found myself surprisingly buoyant about the experience. And why not?  It a fun, informative tasting, with great wine, and great wine peeps (including more than a few for whom I have a great deal of respect).  Definitely a "live and learn" experience with some great takeaways to build on…
This reinforced what I've learned about the impact of the size of the bottle on aging.  wine bottle in half-bottles ages faster than wine bottled in full-bottles, which age faster than wines bottled in magnums.
It's great to have first hand experience to see how a wine changes with age
That thing with the same bottle of wine – I feel good about scoring all three wines the same. Also, I think it speaks to the relative complexity of the Estate Cab (an outstanding value for $40 bucks) because each time I stuck my nose in the glass, or took a sip, it was different.
It was great experience for the continual process of honing my palate and wine tasting skills
Oh, and I picked up couple of bottles of the '09 Estate Cab on the way out!
Related post you might enjoy: