This week's #SundaySupper theme "Home for the Holidays", and is all about holiday traditions. Americans are such a diverse people.  As such, we have diverse holiday traditions that reflect our multitude of heritages. I prefer to focus on the common threads that run through the our diverse national fabric.  Among those common threads are family and tradition, and that's  #SundaySupper movement is all about.
Our family tradition is to gather on Christmas Eve for our holiday meal and opening gifts (it used to be one gift when I was a kid, and when my kids were small – since we all adults now, and getting together can be like herding cats, we just open all the gifts on Christmas Eve). We've enjoyed Prime Rib, the last couple of years, but don't really have a long-standing standard holiday meal. I guess, it's more about getting together than what we eat.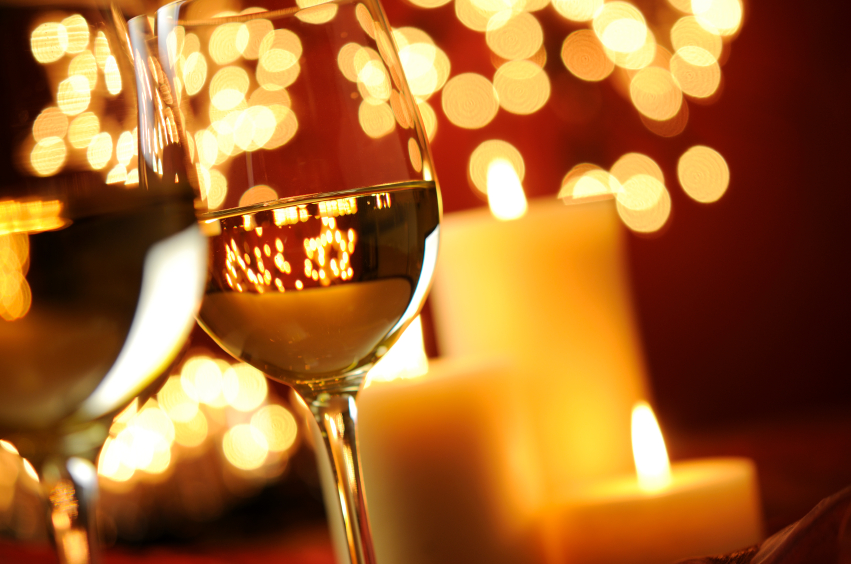 For this week's "Home for the Holidays" theme, as best as I can, my wine pairing recommendations will reflect our diversity.  Aside from wanting to make my wine pairing recommendations congruent with this week's theme, my reason for doing so also reflects some pragmatic food and wine pairing advice…that is pair the foods of a place with the wines of that place (Spanish wines with Spanish food, German wine with German food, etc).The flavors of food and wines that have "grown up" together over centuries (at least primarily in the case of the European "Old World" countries) are almost always a natural match. So where I could readily discern a heritage of the dish, my wine pairing recommendation(s) will be for a wine from that country. Of course, there are exceptions, but keeping this guideline in mind is a great place to start.
Here is this week's stellar line-up of dishes.  My wine pairing recommendations are italicized.
Breakfast
Pair these breakfast dishes (except the coffee cake) with sparkling wine. Nothing like adding some sparkle to your morning to start the day!.  Look for Scharffenberger Brut Excellence, a California sparkling wine from Mendocino County.  It's a blend of Chardonnay, and Pinot Noir with a lovely red fruit, apple, citrus and a touch of honey character.  
Pair the coffee cake with the Broadbent 10 year Malmsey Madeira. One of the things I appreciate about Madeira is that it's relatively indestructible.  Once opened, it will keep for at least 6 months.  It's a great dessert wine to keep on hand because it has a backbone of natural acidity.  It a great match for fruitcake, or rich desserts made with cream or chocolate. Or it can be the dessert in and of itself (If you have a sweet tooth, Madeira can satisfy it, and it has few calories too most other dessert choices!;-) 
Appetizers & Snacks
Pair these dishes with the Scharffenberger Brut Excellence
Main Dishes and Sides
Pair this dishes with a white Rhone blend. What's great about blends is that the combination of grape varietals creates vinous synergy – a wine that is greater than the sum of its parts. Look for the 2011 Tablas Creek Patelin de Tablas Blanc. It's a blend of Grenache Blanc, Viognier, Marsanne, and Roussanne. It's a crisp and aromatic wine with honeysuckle and stone fruit aromas that follow onto the palate. It also has very good acidity and an appealing minerality that make it versatile food partner.
Pair the following dishes with the 2011 Burgáns Albariño Rias Baixas a crisp, fresh food-friendly white wine from Spain with a crisp apple, apricot and peach character. 
Pair these dishes with Gruner Vetliner (Groo-ner Velt-Leen-er), the primary white grape variety of Austria.  It is typically medium-bodied, high-acid mineral driven wine that is very food friendly.  Look for the 2011 Laurenz V. Singing Gruner Veltliner. 
Pair these dishes with Sangiovese (that is if you prefer wine over the delightful Martinis;-). I recommend the 2010 La Mozza I Perazzi Morellino di Scansano. It's a "Super-Tuscan blend of 85% Sangiovese, 5% Syrah, 5% Alicante, 2% Colorino and 3% Ciliegiolo.  It shows a wonderful mixed berry, and spice character with a bit of smoky tobacco, and licorice aromas. 
Pair this dish with the Scharffenberger Brut Excellence sparkling wine:
Pair these dishes with Torrontes, a white Argentine wine grape variety that produces delightful, spicy, perfumed wines.  Look for the 2011 Bodega Colome Torrontes. It's off-dry with an aromatic fresh citrus, kiwi, and white flower character. 
Pair these dishes with a Riesling.  One of my favorites is the 2011 Josef Leitz Rüdesheimer Drachenstein "Dragonstone" Riesling. It's an off-dry Riesling with an apple, pear, citrus, and mineral character with great acidity. 
Pair this dish with the 2009 Boas Vinhas Tinto Dao, a red wine from Portugal that is a blend of the indigenous Portuguese grapes Touriga Nacional, Alfrocheiro and Tinta Roriz with a  plum, dried berry, blackberry and spice character that is layered with supple tannins and good acidity.
Pair this dish with a Moscato d'Asti Moscato d'Asti from Italy.  Look for the 2011 Saracco Moscato d'Asti. It shows a sweet, fragrant, delicate, floral, tropical fruit, and a hint of honey character.  It's "frizzante", which means it's not as effervescent as most sparkling wines. It's also a wonderful example of why I love sparkling wines, they can work with all the courses of a meal from appetizers through dessert. 
Desserts
Pair these desserts with a Sauternes,  a sweet wine from the Sauternais region of the Graves section of Bordeaux. They are made from  Sémillon, Sauvignon Blanc, and Muscadelle grapes affected by noble rot.  Look for the 2005 Guiraud Sauternes.  It has a full-bodied, honeyed, lemon tart, baked apple, baking spice, and  vanilla cream character
Pair these desserts with an Oloroso Sherry, a denser richer style of Sherry.  Look for the Lustau East Indian Solera. It's a provocative sweet creamy Sherry with a toffee, fig, caramel, raisin, and baking spice  (cinnamon and clove) character. 
Pair these Italian desserts with the 2011 Saracco Moscato d'Asti.
Pair this dish with a late harvest Riesling.  Look for the  2011 Joh. Jos. Prum Wehlener Sonnenuhr Riesling Auslese. It's a has an elegant, floral, spicy, exotic, and tropical fruit character. 
Pair this dish with an a German Red wine made from the Spatburgunder (Pinot Noir) grape variety. Look for the 2009 Friedrich Becker Estate Pinot Noir.  It's a spicy treat with a strawberry, cherry, and earthy character that will stand up to having the Pfeffernusse dipped in it, or used as a based for gluhwein, a spiced red wine drink!
Drinks
What does it mean for you to be Home for the Holidays?  Please join on us on Twitter throughout the day during 
#SundaySupper
 on December 23rd.  In the evening we will meet at 7pm EST for our 
#SundaySupper
 to talk about our Holiday Traditions.  We are so excited to have you join us.  All you have to do is follow the 
#SundaySupper
 hashtag or you can follow us through
 TweetChat
.
Please feel free to share with us and our followers your favorite Holiday recipe on our #SundaySupper Pinterest Board.  We are excited to have you!