Every Thursday I feature a wine I particularly enjoy, whether it's something new and different, is a great value, or from a producer worth checking out.  For this week, my Wine Of The Week is the 2011 Bonny Doon Vineyard Vin Gris de Cigare
The Winery
Bonny Doon Vineyard, located in Santa Cruz, CA was established in 1983 by the inimitable Randall Grahm, a man of many interests, not the least of which is "thinking of fiendishly cunning stratagems for producing wines which express a sense of place and which actually make the world a more interesting burg". He's an interesting man. In fact, as I write this, based on what I know of him from his bio, and blogs about Bonny Doon, and social media, the first thing that popped into my head is that he could be the real life "Most Interesting Man in the World" (This from his Twitter profile – "Founder, Winemaker, Terroirist/Vinachrist and Prez-for Life @BonnyDoonVineyd, Defender of the Misunderstood and Underappreciated Doon-trodden Cépages of the Earth" – peep the bio here).  The wines Bonny Doon produces are a reflection of Grahm – they're thoughtful, eclectic, often unique, and interesting wines. )  Sure, the packaging is clever with inventive names, and beautiful art work.  But don't let the slick marketing fool you (Hell, I enjoy looking at the website because it's just plain fun to read the marketing spiel) into thinking the wines don't live up to the hype. The wines are seriously good.
My first visit to Bonny Doon was a couple of years ago. I'm a Rose fiend,and I'd heard good things about Bonny Doon's. On top of that I'd read good reviews of the co-located restaurant (at the time – the Cellar Door – since April this year re-branded as Le Cigare Volant, same as their signature Syrah)  We had a fantastic meal there, and while we went for the 2010 vintage of this wine, we actually preferred their other Rosé the 2009 A Supposedly Clever…Rosé – a puncheon fermented in 100% new wood.  Um…last time saw a Rose produced that was never!  It turned out to be a happy (and quite tasty) accident.
We returned about couple of months ago to eat at the restaurant and do some tasting.  I'm glad we diid…I was saddened to learn according to the restaurant would cease operations on December 31!  The restaurant has straight up novel and delicious fare. (see pics below)…I definitely recommend.  Try to get there before year-end!
We had a wonderful meal, and a great tasting (picked up this wine and few others) even had a chance to see Grahm (he was there our last visit too…the man puts in work).
The Wine
Yes…it's the middle of December, and I'm drinking the quintessential summer wine – Rose.  Having flashbacks to the long warms days of summer? Nah, (OK..maybe just a little) I just know that Rosé is one of the most food friendly wines one can drink. So I buy a couple of cases of the stuff every year and drink it all year-round (in fact, a Rose was the best wine I with my Thanksgiving meal this year)
This Rose is a bit different from most because it's not made exclusively from red wine grape varieties.  Bonny Doon adds two white grape varieties – Roussanne and Grenache Blanc – to what would otherwise be typical Southern Rhone red varieties. According to Bonny Doon..
 …we find the addition of mineral-rich white wine adds incremental gravitas without creating ponderousness–a mortally dangerous element in a perfect apéritif wine.
They also employed the practice of bâtonnage–an Old World technique of the stirring or re-suspension of lees after fermentation–to add creaminess to the texture of the wine.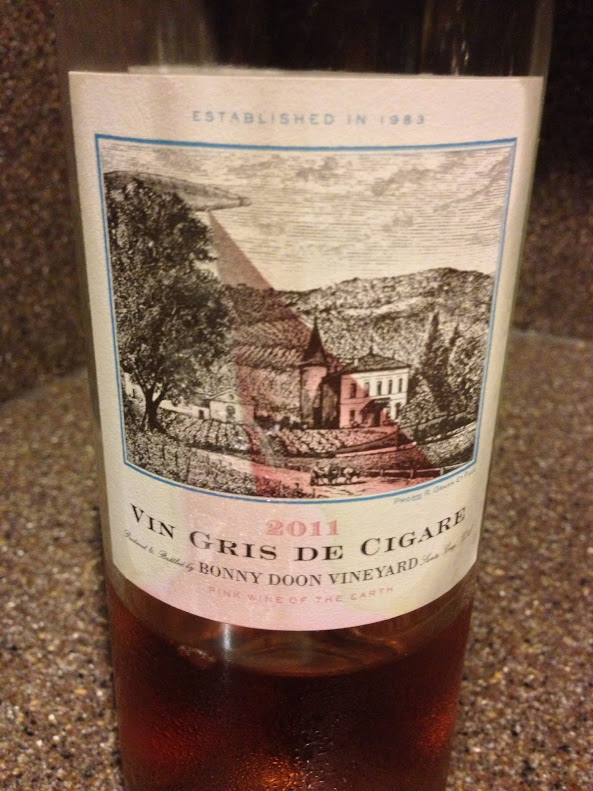 My tasting notes follow:
Pretty salmon pink color with citrus, red fruit, and mineral aromas. On the palate, it's medium bodied and fruity with good balance and acidity followed by cherry, strawberry, and citrus flavors. Medium-long finish. 
Rating: Highly Recommended…This one goes on my buy every year list when I stock up on Rosé!

Pair with: I paired with Crockpot ChickenSpaghetti because I wasn't sure if I wanted to go with a red or white wine. I had a feeling this wine would be a wonderful match and…SCORE!  This is a food friendly wine that will pair well with a variety of cuisines (It will be a great wine for upcoming Holiday meals) including charcuterie, many popular Mexican, Indo-Paki, Thai, Vietnamese dishes, along with a variety of salads, poultry and seafood. 

The Wine Geek Stuff:
Alcohol: 14.3% alcohol.
Closure: Screwcap
AVA: > California>Central Coast
Grape Varieties: 73% Grenache, 10% Mourvédre, 8% Grenache Blanc, 5% Roussanne, 4% Cinsault
Cooperage:
Retail: $16
Cases produced: 5,400
Drink: now – 2014
>>Find this wine<<
This above wine was purchased for review
Related post you might enjoy: