This week's Favorite Celebrity Chef #SundaySupper theme was a blast from the past for me.  While I count Alton Brown, Paula Deen, Tyler Florence and Emeril Lagasse, among my favorite celebrity chefs, it wasn't one of their dishes that was top of mind for me.
You know how there are dishes you will always remember because they just blow you mind for one reason or another?  Well, I'll never forget the first time I had Blackened Redfish.  That was probably 30 years ago, yet I can still recall it like it was yesterday. Those layers of sassy Cajun spice and flavors took my taste buds to a place they'd never been before!
The man who put Blackened Redfish on our culinary maps was Chef Paul Prudhomme. Chef Paul's claim to fame is the legendary K-Paul's Louisiana Kitchen in the French Quarter of New Orleans, which he and his wife Kay opened in 1979.  Prior to opening K-Paul's Prudhomme was the executive chef at the another iconic New Orleans restaurant, the Commander's Palace, where he was succeeded by Emeril Lagasse. According to Wikipedia…
Prudhomme has been credited with popularising cajun cuisine and in particular blackened redfish during the 1980s, and has been credited with introducing the turducken.
His cookbook Paul Prudhomme's Louisiana Kitchen, published in 1984, was awarded the Culinary Classic Book Award in 2012 by the International Association of Culinary Professionals.  That's were I got the recipe for his Oyster and Brie soup.  It's a recipe I've had my eye on for years and finally decided to make for this week's Favorite Celebrity #SundaySupper theme.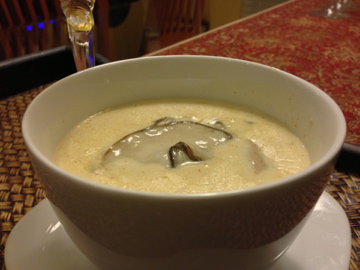 The soup is creamy but not too heavy ( I think of it as a Cajun Oyster and Brie bisque) with a slightly peppery kick that reminds me of an Etouffe. It was a fabulous pairing with the sparkling wine (Crémant) I used in the soup.

Oyster and Brie Soup and Wine Pairings for Celebrity Chef #SundaySupper
Author:
Chef Paul Prudomme
Ingredients
3 dozen small to medium oysters in their liquor, about 18 ounces
4 cups cold water
½ pound (2 stick) unsalted butter
½ cup all-purpose flour
1 cup coarsely chopped onions
½ cup coarsely chopped celery
½ tsp. white pepper
½ tsp. ground red pepper
1 lb fresh brie cheese, cut in small wedges, with rind on
2 c. heavy cream
½ champagne, optional
Instructions
Combine oysters and water; stir and refrigerate at least 1 hours. Strain and reserved the oysters and oyster water; refrigerate until ready to use.
In a large skillet melt the butter over low heat. Add the flour and beat with a metal whisk until smooth. Add the onions and celery; sauté about 3 minutes, stirring occasionally. Stir in peppers and sauté about 2 minutes more. Set aside.
In a 4-qt saucepan, bring oyster water to a boil. Stir in the sautéed vegetable mixture until well mixed. Turn up heat to high. Add cheese; coo until cheese starts to melt, about 2 minutes, stirring constantly. (Be careful not to let the cheese scorch.)
Lower heat to simmer and contue cooking for about 4 minutes, stirring constantly. Remove from heat, strain soup and return to pot. Turn the heat to high and cook about 1 minute, stirring constantly. Stir in cream; cook until close to a boil about 2 minutes. Stir in champagne, if desired.
Turn off heat and add oysters. Let pan sit for about 3 minutes to plump oysters. Serve immediately.
Notes
The recipe calls for Champagne, but opted for a sparkling wine from the Burgundy region of France instead. While Champagne sill has that "je ne sais quoi" (something special), a Crémant (a sparkling wines made outside of the Champagne region using the same production method are known)
Speaking of wine pairings, I'm also offering wine pairings for this week's fabulous Favorite Celebrity Chef #SundaySupper menu.  My recommended wine pairing are italicized.  Click on the name of the wine to find out where to purchase.
Pair these Starters, Snacks and Sides with NV Blason de Bourgogne Crémant de Bourgogne Brut Réserve from Trader Joe's.  It's a tasty blend of Pinot Noir, Chardonnay, Gamay and Aligoté with a toasty pear, fuji apple, citrus and hint of baking spice character. This is our new everyday sparkling wine! At $10/bottle it's a very good value!
Pair these main dishes with the 2010 Bodega Colomé Amalaya – a silky smooth blend of Malbec, Cabernet Sauvignon,Syrah and Tannat from Argentina with a mixed black and red berry, oaky spice and sweet tobacco character.
Pair the following main dishes with a crisp refreshing white blend, in this case the 2010 d'Arenberg Stump Jump White – a blend of 28% Riesling, 27% Sauvignon Blanc, 25% Marsanne and 20% Roussanne from McLaren Vale, Australia.  It's very food friendly with juicy citrus and tropical fruit aromas balanced nicely with good acidity.
Pair the following dishes with the 2011 Burgáns Albariño Rias Baixas a crisp, fresh food-friendly white wine from Spain with a crisp apple, apricot and peach character. 
Pair these dishes with a Chenin Blanc from the Loire Valley in France. I recommend the 2011 Pascal Janvier Jasnières.  It shows a core of tangy apple, citrus fruit complemented by a mineral undertone. 
Pair these desserts with a Sauternes,  a sweet wine from the Sauternais region of the Graves section of Bordeaux. They are made from  Sémillon, Sauvignon Blanc, and Muscadelle grapes affected by noble rot.  Look for the 2005 Guiraud Sauternes.  It has a full-bodied, honeyed, lemon tart, baked apple, baking spice, and  vanilla cream character
Pair with these desserts with the Yalumba Muscat Museum Reserve, a dessert wine from Australia with rose petal, ginger and orange peel aromas, and rich raisined fruit, and spice flavors.
Please join on us via Twitter for #SundaySupper on December 2, 2012, throughout the day. In the evening, we will meet at 7 PM EST for our weekly #SundaySupper live chat
. 
All you have to do is follow the 
#SundaySupper
 hashtag or you can follow us through
 TweetChat
.