I've been into, as I refer to it, "the wine thing" for a few years now, including starting this blog in 2010. And each year I've found myself becoming more and more fascinated, not just with the finding and consuming wine, but also with how wine is produced. Not so much how wine is made, but more so the decisions made along the way from the vineyard to the bottle.  So when Ridge Vineyards announced their #Harvest2012 celebration tasting, a unique experience including:
A brief talk from (and Q & A session with) a key member of our Monte Bello Vineyard Team
A multi-media presentation from a staff member embedded with the Vineyard Teams
A five-wine Single-Vineyard Estate flight that concludes with a very special library offering
I RSVP'd in the affirmative quick, fast and in a hurry!
As we headed up the winding road up the mountain to Ridge, I was eagerly anticipating our arrival because it was a spectacular day weather-wise.  And as I hoped, when we arrived,we were rewarded with spectacular panoramic views of the Bay Area.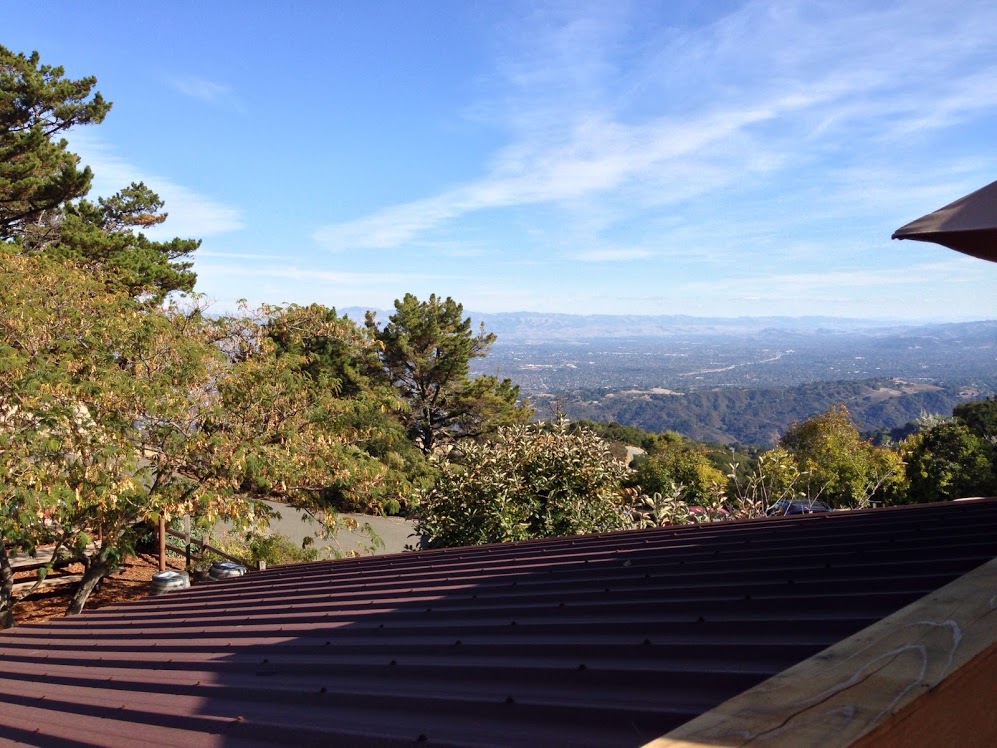 The Monte Bello Suite patio was an ideal place to be on such a beautiful day.  There was only one challenge…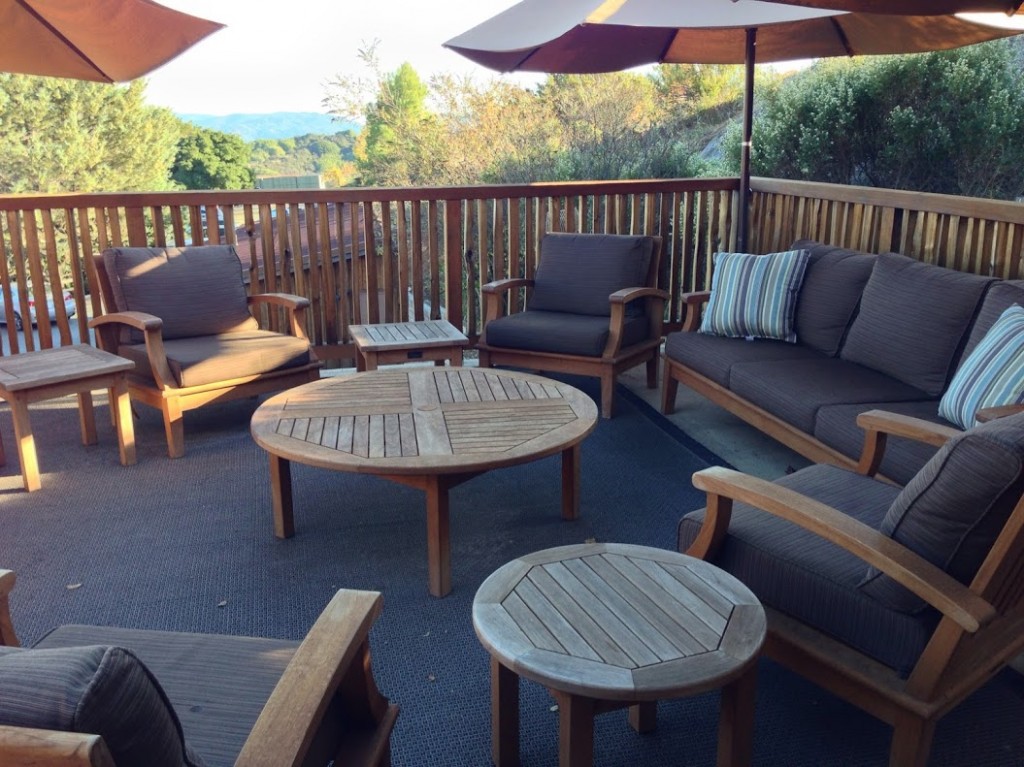 The wine was in this beautifully rustic room…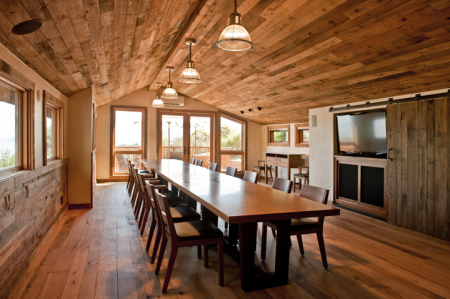 After our all the members of our group arrived and we were all gathered around the table, Christopher Watkins, Ridge's indefatigable ambassador and Tasting Room Manager introduced us a couple of members of the Monte Bello vineyard team –  Kyle Theriot, Monte Bello Viticulturist and Sam, whom I know from the Tasting Room, but who got his start Operations side of Ridge.
After some brief introductory comments by Christopher, the wine and the conversation began to flow.
Here are some factoids presented by Ridge for their #Harvest2012:
282.5 ton grapes picked
First grapes harvested; Chardonnay/Last grapes harvested; 63-year-old Cabernet Sauvignon
Lowest ton/acre = Cabernet Sauvignon: 1.5 tons/acre
Highest ton/acre = Merlot; 3.63 tons/acre
.50 tons of grapes – 1 barrel – 24 cases – 288 bottles
40% of vines harvested on Monte Bello are certified organic
There was plenty of good conversation about the Harvest, and of course the flight of five wines we were served ( not to mention some fine charcuterie and cheeses!)
Among the things I found more interesting were:
There is Zinfandel planted on Monte Bello!; The fruit goes into the Three Valleys bottling
Santa Clara County  was the epicenter of California viticulture before prohibition
One of the questions asked was "Are the grapes ever washed"?  I must confess I'd never thought about it before.  The answer was "No" because washing would wash off the native yeast.
The differences in how wine ages in a  half bottle (375ml) compared to a full bottle ( 750ml).  This came up because the '92 Monte Bello we tasted was poured from a 375ml bottle.  Sam indicated that's because it was felt the wine was showing better from the  smaller bottle.  Why?  Because, it aged faster in the smaller bottle.  Presumably, because of the relative differences in surface area for a given volume, wines in smaller bottles age faster than wines in larger bottles.
During the course of our conversation with the Monte Bello team, one another and the wine (you do have a conversation with your wine don't you, or is it only me? 😉 this video was cued up:
It's a fascinating look at the the grape picking process via a "canopy cam". It was amazing to watch the skill and speed with which grapes were harvested…
As our dialogue continued, the topic of a "wine build to age" arose.  This is a question, I've wondered about many times.  I've wondered is the grapes? Is the barrels, Is it the length of time in barrel?  It turns out the answer is "all of the above", and then some.  Of course the best fruit is picked, then Sam mentioned the importance of sorting said fruit on a contraption called a mistral sorting table.  The mistral is a sophisticated machine that sorts the fruit in such a way that only the cleanest, purest fruit gets crushed. A relative small number of wineries use mistral sorting tables (I'm sure they cost a bunch-o-money, so it's cost prohibitive).  Once the fruit is picked, sorted and crushed, there are also differences in how the fruit is processed (frequency of pumpovers, percentage of new barrels used for aging, etc.) Fascinating stuff in my mind…
As for the tasting itself, my tasting notes follow: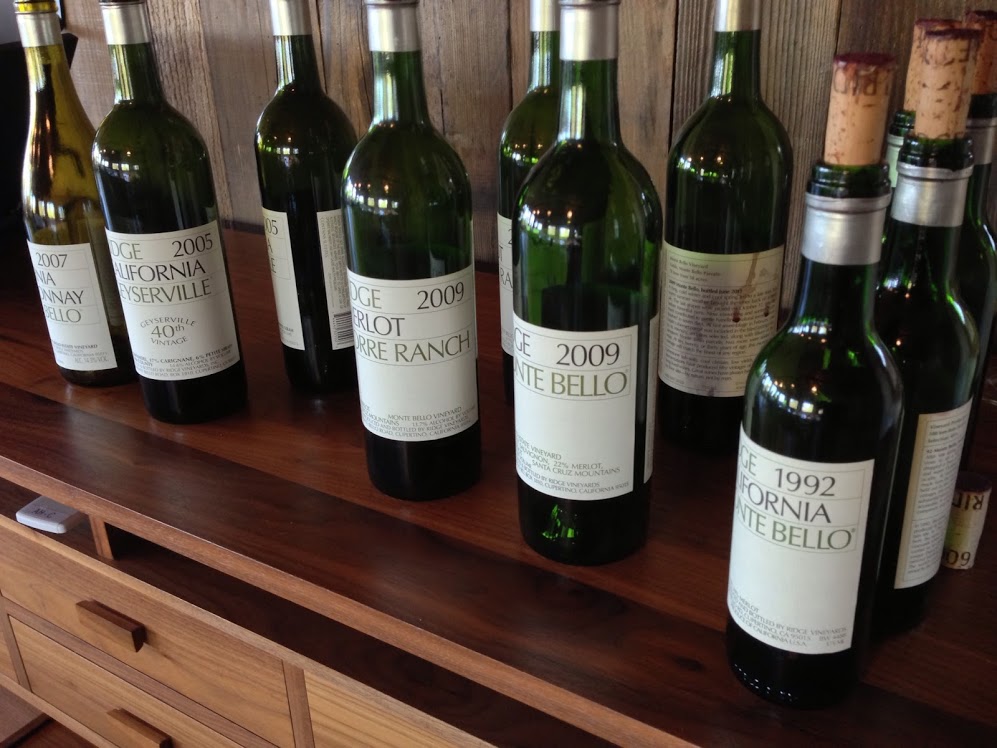 2007 Ridge Chardonnay Monte Bello – USA, California, San Francisco Bay, Santa Cruz Mountains
Medium straw yellow color with creamy tropical, apple, mineral, and a hint of creme brulee aromas. On the palate, it's medium-full bodied, with a creamy plush mouthfeel followed by apple, citrus, mineral, and sweet oak flavors. Medium-long finish. (92 pts.)
2005 Ridge Geyserville – USA, California, Sonoma County
Medium garnet color with black cherry liqueur, plum and dried herb aromas. On the palate, medium-bodied and focused with wonderful acidity and savory black cherry, raspberry, and vanilla flavors. Long finish.(90 pts.)
2009 Ridge Merlot Torre Ranch Monte Bello Santa Cruz Mountains – USA, California, San Francisco Bay, Santa Cruz Mountains
Violet color with aromatic beautiful black and fruits, violet, and spice aromas. On the palate, it's light-bodied, fresh, complex, and balanced with smooth tannins and blackberry, raspberry, cassis and mineral flavors. Long finish. (92 pts.)
2009 Ridge Monte Bello – USA, California, San Francisco Bay, Santa Cruz Mountains
Garnet color with perfumed earthy black cherry, cassis, licorice, sweet oak and a bit of dark chocolate aromas (it really depends on when you sniffing it. It's showing a wonderful complexity which is manifest in evolving aromas with time spent in the glass – hell even when the glass was empty the aromas were still very present and inviting). On the palate, it's medium-bodied, complex and balanced with dusty tannins and black cherry, cassis, licorice flavors. Long finish. Double-decanted 30-45 minutes prior to tasting. Showing better than when I tasted a couple of months ago. Still young, but already a classic! (94 pts.)
1992 Ridge Monte Bello – USA, California, San Francisco Bay, Santa Cruz Mountains
Medium garnet color with earthy, cassis, black cherry aromas. On the palate, it's medium-bodied, fresh, complex, and balanced with well-integrated sweet tannins, and cassis, black cherry, and mineral flavors. Long finish. From 375 ml (92 pts.)
The burning question at our end of the table after tasting through the wines was "Do you prefer the '92 Monte Bello,or the '09 Monte Bello?".  There were 8 of us who participated in the discussion.  What I found interesting about it is that the preference was based on gender.  All the men (3) preferring the '92,and the women preferring the '09. Hmmm…
It was a brilliant learning, sensory, and fun experience, and one I highly recommend!