My Wine Of The Week for November 3rd-9th is the 2005 Goldeneye Pinot Noir Anderson Valley.
The Winery
Goldeneye winery in the was founded in 1996 by Dan and Margaret Duckhorn of Duckhorn Vineyards, producers of one of Napa Valley's most iconic Merlots.  The winery is located in Philo, which is located in the Anderson Valley in western Mendocino County.  Essentially, their vision for Goldeneye is to make terroir driven wines equal in stature to their Merlot.
"At Goldeneye, in the heart of Anderson Valley, we focus on elegant Pinot Noirs and small production wines from the extensive palette of flavors offered by our estate vineyards"
While focused on Pinot Noir, they also produce a Vin Gris of Pinot Noir, Gewürztraminer, and Pinot Gris.
For a vineyard perspective, Goldeneye has more than 200 acres of estate vineyard planted to Pinot Noir, with more than 20 distinctive clones. For a complete profile, click here
If a  winery being ecologically sensitive is important to you, Goldeneye is one of a handful of California wineries that has earned the Leadership in Energy and Environmental Design (LEED®) Gold certification from the U.S. Green Building Council®.
My wife and I discovered Goldeneye on our return trip from the Mendocino Crab Festival several years ago.  We saw this gorgeous property and decided to drop-in.  I'm glad we did. We had one of the best tasting experience we've had a Goldeneye.  It's a sit-down tasting in a very tastefully decorated elegant living room with a stunningly beautiful view of their patio, vineyards and Redwood trees.
 The Wine
My wife and I have been holding onto this bottle of wine for nearly 4 years!  During our tasting we discovered that this was one of the wines (along with the 2007 Duckhorn Sauvignon Blanc) served at President Obama's 2009 Inauguration lunch (click here for menu).  We purchased a magnum (our first) with the intent of opening it on  Election Night 2012.  With that in mind, I tucked into the back of the wine fridge (out of sight…out of mind!)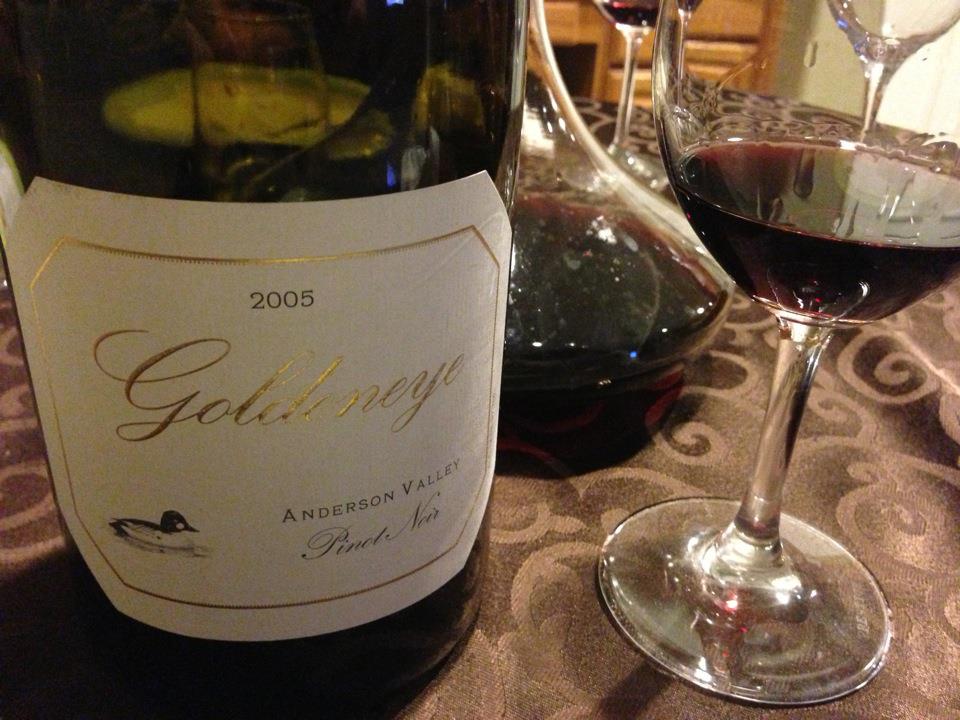 On Election night we invited friends by to share the wine and catch some must-see TV – the election results. I must confess, I was a bit concerned that the bottle may have been corked, or the wine might be getting on in age (according to Cellartracker, a crowd sourced wine review and cellar tracking tool, the drinking window is 2008-2012) I'm pleased to report the wine is drinking beautifully!
My tasting notes follow:…
Medium garnet color with damp earth sweet cherry, and spice aromas. . On the palate it's full-bodied, fresh and silky smooth with ripe cherry, hints of cranberry, spice and raspberry. Long finish. – 90pts
We enjoyed the wine (and the election results) immensely!
The Wine Geek Stuff:
Alcohol: 15.2% alcohol.
Closure: Cork
AVA: >California> North Coast> Anderson Valley
Varietal(s): Pinot Noir
Cooperage: 16 mos. in oak, 75% new; 1 yr in bottle
Retail: $112 (1.5L)
Cases produced: Unknown
 Follow me on Twitter @martindredmond, Facebook, or Pinterest