My Wine Of The Week for October 27-November 2 is the 2008 Loring Wine Company Close Pepe Pinot Noir.
The Winery
Loring Wine Company ("LWC"),  an urban winery is owned by brother and sister – Brian, and Kimberly Loring. Brian is the winemaker,and self-proclaimed "Pinot-Freak".
You know how most wine lovers start modestly with "starter" wines?  Brian did not.
While in college, he worked at a wine store in Southern California where one of the owners was a Burgundy fanatic. Brian's first experiences with Burgundy were from the some big-time Burgundy producers such as Domaine Dujac, Henri Jayer and the iconic Domaine Romanee-Conti.
After college he worked as a software engineer before getting hooked on the wine business.  He got his start working the '97 crush at Cottonwood Canyon Winery, and ended up making two barrels of Pinot Noir.
Loring has been a darling of Wine Spectator ("WS") for a few years now, consistently earning 90+ point scores for their wines.  That's actually how I came to know about Loring.  When I subscribed to WS a few years ago, I was reading an issue and amazed at how many high scores Loring received.  I found out who they were, and purchased a bunch of wines from their vaunted 2008 vintage.  Subsequently, when my wife and I arranged for a private tasting  hosted by co-owner Kimberly Loring.  Brian was also on hand.  They were very gracious hosts,and we came away impressed.
While they focus primarily on Pinot Noir and Chardonnay, they also produce a Cabernet Sauvignon/Mourvedre blend called Divergence which has also received critical acclaim.  It's expensive though at $100/bottle.
The wines are sold through a mailing list and there is widespread retail distribution. Tasting is by appointment in the "Lompoc Wine Ghetto". The tasting room is open Friday through Sunday from 12:00 to 5:00 (Monday through Thursday by appointment – 805-742-0478).
The Wine
This wine is sourced from the Clos Pepe Vineyard, an example of LWC sourcing first-rate Pinot Noir grapes from prestigious vineyards. The vineyard is located in the Santa Rita Hills AVA, an area that is ideally suited for growing Pinot Noir and Chardonnay Grapes.
The list other wineries who have sourced grapes from the same vineyard is a testament to the quality of the fruit, and reads like a Pinot Noir All-Star line-up.  Aside from LWC, other wineries who have sourced their fruit from Clos Pepe include A.P. Vin, Arcadian, Bonaccorsi Wine Company, Brewer-Clifton Winery, Carr Vineyards, Copain, Ken Brown, Kenneth Crawford, Hartley-Ostini Hitching Post Winery, Loring Wine Company, The Ojai Vineyard, Roessler Cellars, Siduri and Tyler.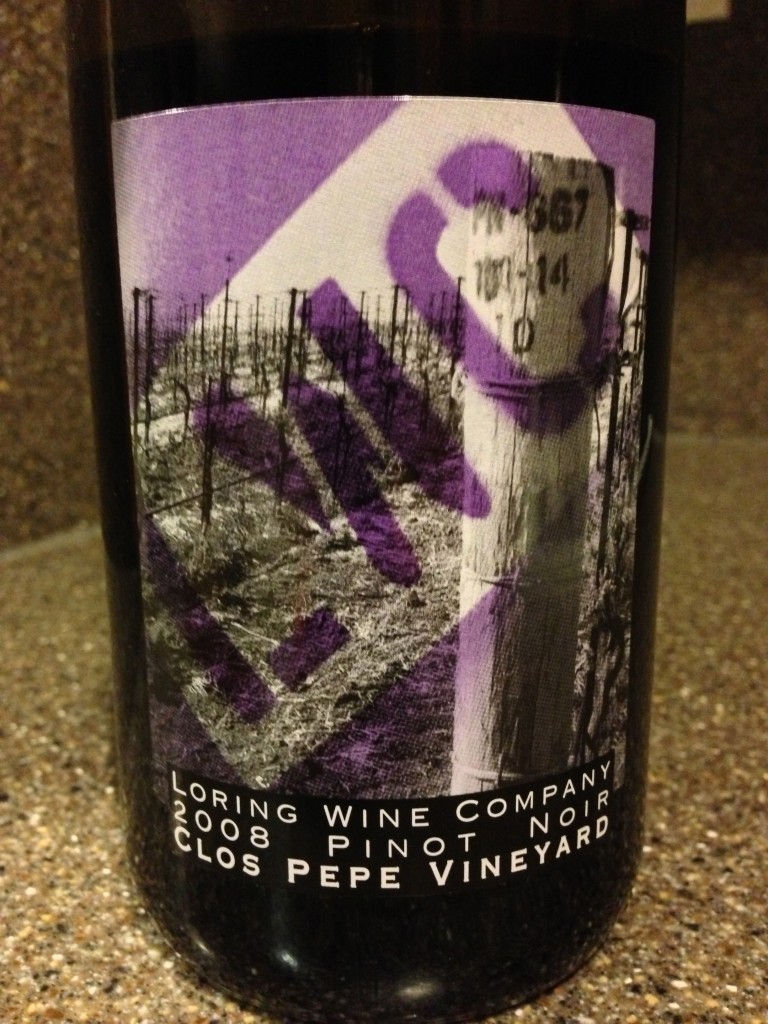 Stylistically, LWC wines are "New World" style.  And for that reason they can be polarizing. They tend to be unapologetically "big" ripe wines (I vividly recall Brian describing one of his Pinots as a "steak Pinot"…and you know what?…it's true!) that some believe to overly ripe.  Although, I have seen the alcohol level trending down the last couple of years.
My tasting notes follows:
Dark ruby color with cherry, plum, cola and spice aromas. On the palate, it's intense, fresh, medium-full bodied, and silky smooth with cherry, cola, and spice flavors. Long finish. – 91pts
Recommendation: Highly recommended, especially if you prefer a more fruit-driven (though still well-structured) style Pinot.
The Wine Geek Stuff:
Alcohol: 15.2% alcohol.
Closure: Screwcap.
AVA: > California> Central Coast> Santa Rita Hills – Sta. Rita Hills
Varietal(s): Pinot Noir
Cooperage: Unknown
Retail: $43
Cases produced: 200
Related post you might be interested in: