This week's #SundaySupper theme is all about soul warming foods.  You know, those soups, chili, stews, and other soul warming treat we seek when the weather turns cold.
When I first saw the theme, my first thought was of "Soul Food". I'd  bet that "Soul food" is one of those phrases that if you ask 10 people what it means, you'd get 10 different answers!  Soul Warming foods and Soul food are one in the same to me, and when I think of Soul food, the first dish that comes to mind is Gumbo!  We have a tradition in our family of making Gumbo each New Year's day, but it's  a soul-satisfying meal whenever there's a chill in the air.
Since I'm a Wino with latent foodie tendencies, I decided let my foodie nature rise up, and do a dish, and wine pairings this week!
Here's my Seafood Gumbo (we …OK make that "I", call it "Yumbo" – lame right?..but I like it!)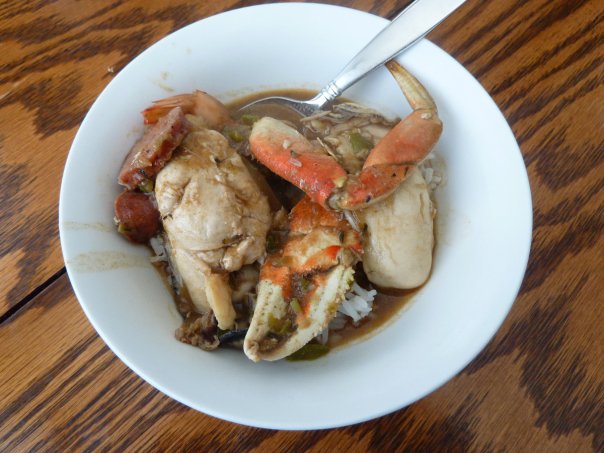 For me, there are two things you've got to get right to make a gumbo – the "roux" (I prefer mine to be dark brownish), and you must have stock that is chock full of flavors.  Sure you could take a short-cut, and go with store-bought (I've done that for a  " quick and dirty" version of this dish, but the flavors are not as complex and intense for me. If you get those couple of things "right", it's clear sailing thereafter!

Seafood Gumbo and Wine Pairings for Soul Warming #SundaySupper
Author:
Martin D. Redmond
Adapted from Emeril's Classic Seafood Gumbo recipe
Ingredients
¾ cup vegetable oil
1 cup all-purpose flour
1½ cups finely chopped onions
¾ cup finely chopped green bell peppers
¾ cup finely chopped celery
2 tablespoons minced garlic
One 12-ounce bottle amber beer
6 cups Shrimp and Crab Stock
¼ teaspoon dried thyme
2 bay leaves
2 small Dungeness crabs
2 teaspoons Worcestershire sauce
1 tablespoon salt
½ teaspoon cayenne pepper
2 pounds medium shrimp, peeled and deveined
1 tablespoon Emeril's Original Essence
2 cups shucked oysters with their liquor
¼ cup chopped fresh parsley
½ cup chopped tender green onion tops
Instructions
Follow directions for cleaning and prepping crab to be cooked (click here, except remove crab legs and claws. Follow directions for Shrimp and Crab stock, except add crab shell and crab butter (roe) along with shrimp.
Place an 8-quart stockpot over medium heat, and add the oil. Allow the oil to heat for about 5 minutes, then add the flour to the pot. Stir the oil and flour together with a wooden spoon to form a roux. Continue to stir the roux for 20 to 25 minutes, or until the color of milk chocolate. Add the onions, bell peppers, and celery to the roux and stir to blend. Stir the vegetables for 5 minutes, then add the garlic. Cook the garlic for 30 seconds before adding the beer and Shrimp and Crab Stock to the pot. Season the gumbo with the thyme, bay leaves, crabs legs, Worcestershire, salt, and cayenne. Bring the gumbo to a boil and lower the heat to a simmer. Continue to simmer the gumbo for 1 hour, skimming the foam and any oil that rises to the surface.
Season both the shrimp with 1½ teaspoons Essence. Stir the shrimp into the gumbo and cook for 2 minutes. Add the oysters to the pot and cook, stirring often, for an additional 5 minutes. Taste the gumbo and season if necessary.
Garnish with the parsley and green onions and serve in shallow bowls over white rice.
Notes
Recommended Wine Pairings - I paired this with the Navarro Vineyards Edelzwicker, a blend of Riesling, Gewurztraminer, and Pinot Gris. It would also pair well with Viognier, a dry Rosé, or White Zinfandel. If you elect to go with a less spicy version try a Pinot Noir!
Take a look at the culinary cornucopia the #SundaySupper team has put together for this week's gathering around the #SundaySupper table! My recommended wine pairings (click on the name of the wine to find out where to purchase) are italicized.
Main Entrees: 
Pair these main dishes with Pinot Noir.  Look for the 2010 Davis Bynum Pinot Noir. It's a silky smooth Russian River Valley Pinot Noir with a core of raspberry  and spice aromas and flavors, with caramel edge. Why it works: Pinot goes with just about everything.  It's a white wine, in red wine clothing, which makes it incredibly flexible with dishes and methods of prep.  Pinot is sublime with poultry, and complements foods that are slow roasted, or braised.
I recommend a Chardonnay for these dishes.  Look for the 2009 MacMurray Ranch Chardonnay Sonoma Coast. It's a medium-full bodied Chardonnay that's undergone malolactic fermentation, that's moderately oaked.  The oak aging brings vanilla and caramel notes to the party to go along with its ripe apple, tropical fruit and lemon cream character.  Why it works: The texture, and weight of wine complement the dish, and it has enough acidity to "cut" the dish a bit and prepare the palate for the next mouthwatering bite.
Pair this dish with a Tempranillo from Rioja Spain.  I really like the 2007 Viña Eguia Reserva. It's shows great balance between oak and fruit with a cherry, dried herb, spice, leather and vanilla character.  Why it works: Tempranillo is an underrated food pairing partner.  It's tends to be a light-medium bodied earthy red wine. It's between a Pinot Noir and Cab.  It's fruity with moderate tannins, and acidity making it a good fit for somewhat spicy fare like Spanish, Mexican and similarly spiced fare.  
Pair this classic Italian dish with Sangiovese.  Try the 2010 La Mozza I Perazzi Morellino di Scansano. It's a blend of 85% Sangiovese, 5% Syrah, 5% Alicante, plus a couple of other indigenous Italian grape varieties from Tuscany  It shows juicy red and black berries, with some licorice and spice notes supported by soft dusty tannins.  Why it works: The food of a place and the wine of a place is always a good place to start when pairing wine and food.  On top of that, its high acidity, together with its medium-bodied character enable it to stand up to more substantial dishes.  Sangiovese is a wine that loves dished prepared with fresh herbs, rich thick soups, mushrooms and tomato based dishes
Pair this dish with an Edelzwicker, a blend of the "noble" Alsatian varietals of Riesling, Gewurztraminer, and Pinot Gris.  Look for the 2011 Navarro Vineyards Edelzwicker. It's an aromatic white wine with a stone fruit, spice, and hint of citrus character. Why it works:  The spicy character of the wine, along with some sweetness (spicy likes sweet) and acidity make a great match!
Chili/Stews:
Pair these hearty dishes with Cabernet Sauvignon.  One of my favorites is the 2010 Columbia Crest Cabernet Sauvignon "H3"  It's from Washington State, and is a bold wine that delivers delightful floral, dark fruit, cocoa aromas followed by plum, black cherry, vanilla and cocoa flavors. Why it works: Cab works well with red meats, dishes with earthy, herbal elements.  This youthful wine has plenty of fruit which make it a nice complement to longer cooked meats and stews.
Try these dishes these with a Cru Beaujolais (not to be confused with Beaujolais Nouveau hitting the store shelfs soon), a wine from France made from the Gamay grape. Look for the 2010 Georges Debœuf Moulin-à-Vent with a wild red fruits, and white pepper character that a juicy easy drinker.  Why it works: Like Pinot Noir, the Gamay grape is naturally high in acidity, and is light-medium bodied with low tannins. It pair well with dishes with veggies,earthy flavors. Great picnic wine too! Er..but I digress;-)
Syrah is a good match for these hearty flavorful dishes.  I like the 2009 Jacob's Creek Reserve Barossa Shiraz from Australia. It's has a fruity core of black cherries, plums, baking spices, and vanilla that balanced by some oak.  Why it works: Syrah is an ample full-bodied wine that likes thicker, fuller dishes like slow braises, stews (especially tomato-based), and one-dish meals.
Pair these dishes with the Sangiovese noted above:
Pair these dishes with the Pinot Noir noted above:
Pair this dishes with the Tempranillo from Rioja noted above:
Soups:
Pair these soul-warming soups with a Sauvignon Blanc from the Pouilly-Fumé region of the Loire Valley in France. Look for the 2011 Patient Cottat "Le Grand Caillou" Sauvignon Blanc.  It has a lovely tropical fruit, citrus, spice and mineral character with a tangy acidity.  Why it works: Sauvignon Blanc with its "green" (gooseberries, lime, green olive, papaya character and a mineral component attributable to the terroir of the Loire Valley make this a good match for vegetarian soups, spicy (hot) fare, dishes with acidic ingredients.  It's a very versatile food pairing partner in that it work nicely as a complement or a contrast.
Pair these satisfying soups with Pinot Gris.  I recommend the 2011 King Estate Pinot Gris Signature Collection from Oregon. It has juicy lemon-lime, stone-fruit, green apple, pineapple and spice character.  Why it works: Pinot Gris likes ethic foods, especially coconut-milk based curries. 
Pair the rest of the soups with the aforementioned wines as noted in parentheses:
Desserts/Beverages:
Pair this Hot Fudge Pudding Cake (That Skinny Chick Can Bake) with the Terra d'Oro Zinfandel "Port", a dessert wine made for chocolate! I like the what the Wine Enthusiast says about it…"The first duty of a Port-style wine is to be dazzlingly rich and sweet yet balanced in acidity, and this bottling is all that. Waves of blackberry jam, cassis and dark chocolate are brightened with zesty acidity…
Join on us on Twitter throughout the day during #SundaySupper.  And join us at 7pm EST, for our live weekly #SundaySupper chat.   All you have to do is follow the #SundaySupper hashtag or you can follow us through TweetChat.
And be sure to check out the #SundaySupper Pinterest board. We'd love to feature your Sunday Supper Soul Warming Recipes and share them with all of our followers.