When I saw the theme for this week, "Pairing Wine with #SundaySupper Comfort Food Favorites", my mind was flooded with thoughts of some of my favorite comfort foods.  The thoughts seemed to come in chronological order.  My first thoughts were of my favorite comfort food when I was a child – Grilled Cheese sandwiches prepared with a ton of butter slathered on the bread, with a couple of sliced of American cheese, and a tomato! Then came my adolescent years and Beef Stroganoff, made with ground beef, popped into my head.  Isn't it amazing how you connect food to certain memories in your life?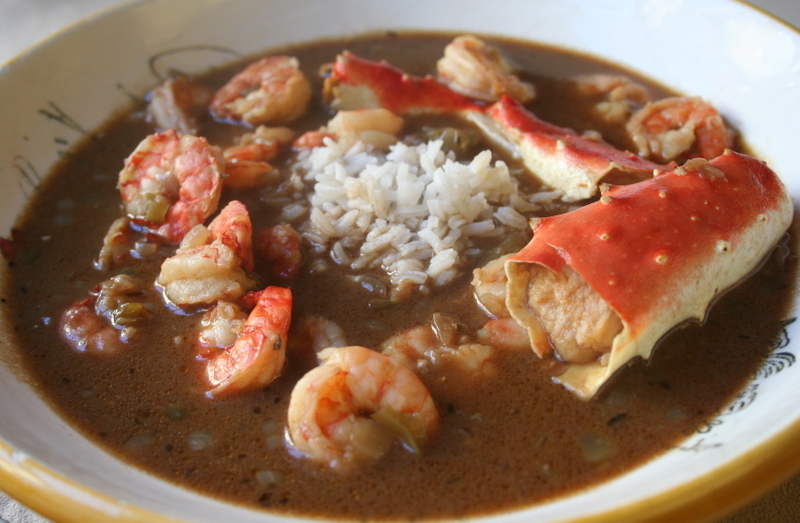 Then I had to ask myself the $64,000 question – If you HAD to pick one favorite comfort food what would it be. After what was a few seconds, but seemed longer, of running through a myriad of possibilities, I ultimately came back to my first thought – Seafood Gumbo.  I make it each year for New Year's Day.  We invite my folks, kids and friends by to share the deliciousness and good times.  Thinking of it puts a smile on my face.  For me, that's the essence of the #SundaySupper movement – breaking bread with family, and friends, and making memories!
Check out this week's dazzling array of comfort foods from the #SundaySupper team!  My recommended wine pairing are italicized.  Cheers!
Pair these soups with Chardonnay.  Look the 2010 La Crema Sonoma Coast Chardonnay, which is widely available. It displays aromatic citrus, pear and hints of floral aromas that are followed by citrus, buttered toast and a hint of honey flavors.
Pair these soups with an Old World Sauvignon Blanc, which tends to have more minerality that New World Sauvignon Blancs. Look for the 2011 Domaine Cherrier Père & Fils Sancerre from France.  It displays a delightful lemon curd, verbena and herbal character.  
Pair these soups with a red Rhone Blend.  I recommend the 2011 Tablas Creek Patelin de Tablas (the white wine version is recommended for some main dishes below), a blend of Syrah, Grenache, Mourvèdre and Counoise. The Syrah adds dark fruit, flavors and spice.  The Grenache brightens the flavors and add acidity, while the Mourvèdre adds meatiness,  and the Counoise adds a bit of complexity.
Pair these main dishes with a Blanc de Noir style sparkling wine.  A Blanc de Noir is made with dark-skinned grapes used to make red wines like Pinot Noir , Pinot Meunier and/or other grapes.  I recommend the Gloria Ferrer Blanc de Noir.  It's made with  90% Pinot Noir, and has wonderful red fruit and vanilla aromas are followed by creamy red fruit and citrus flavors. 
Pair these dishes with a Chardonnay.  Look for one that is moderately oaked such as the 2010 Wild Horse Unbridled Chardonnay Bien Nacido Vineyards Santa Maria Valley. It has a been aged in French oak for a few months.  It has a creamy lemon, green apple, and creme brulee character accented by fresh acidity and a touch a minerality.
 Pair these dishes with a white Rhone blend.  What's great about blends is that the combination of grape varietals creates vinous synergy – a wine that is greater than the sum of its parts. Look for the 2011 Tablas Creek Patelin de Tablas Blanc.  It's a blend of Grenache Blanc, Viognier, Marsanne, and Roussanne.  It's a crisp and aromatic wine with honeysuckle and stone fruit aromas that follow onto the palate.  It also has very good acidity and an appealing minerality that make it versatile food partner. 
Pair these dishes with Sauvignon Blanc.  Look for the 2011 Stoneleigh Marlborough Sauvignon Blanc, a Sauvignon Blanc from New Zealand with enticing grapefruit, and tropical aromas with juicy stone fruit,  and tropical fruit flavors. This one is available at Costco.
Pair these dishes with Pinot Noir.  I recommend the 2011 Hahn Winery California Pinot Noir. It has wonderful cherry, lavender, and spice aromatics, that follow onto the palate.
Pair these dishes with a Sangiovese. Look for the 2009 Ninety+ Cellars Reserve Lot 57 Rosso Toscana.  It's a blend of mostly Sangiovese (80%) with the balance split between Cabernet Sauvignon, and Merlot.  Therefore it's a what's referred to as a "Super Tuscan".  It's loaded with blackberry, black cherry, and spice character.
Pair these hearty dishes with a hearty wine.  I recommend the 2010 Bonny Doon Vineyard Contra Old Vine Field Blend.  It's a rich blend of Carigane, Syrah, Zinfandel, and Petite Sirah loaded with dark fruit, spice, and a bit of smoke aromas and flavors.
Pair these dishes with a hearty Zinfandel.  Look for the 2009 Artezin Mendocino County Zinfandel.  It's a well-balanced Zinfandel with plum, clove and spice aromas, followed by raspberry, plum, black cherry, and spice flavors. 
Pair these desserts with a sweet Moscato wine.  Try the 2011 Ecco Domani Moscato with its slightly spritzy mandarine orange, nectarine and honeysuckle character.
Pair this dessert with the 2011 Frisk Prickly Riesling a blend of 89% Riesling and 11% Muscat Gordo. It's a slightly fizzy wine with very fresh acidity, that displays pear, guava, citrus and floral aromas, followed by peach, pear and a hint of mango flavors.  Available at Costco. 
Pair these wine delightful desserts (except the Smores Hot Cocao which will be just fine on its own!) with Graham's "Six Grapes" Port. 
We have a very special guest this week, Lee Woodruff, wife, mother of four, author, CBS This Morning contributor and  founder of ReMIND.org.  We would be honored to have you join us on Twitter throughout the day during #SundaySupper.  We'll be meeting up at 7:00 pm(Eastern) for our weekly #SundaySupper  live chat where we'll talk about our favorite Comfort Food Recipes.
All you have to do is follow the #SundaySupper hashtag or you can follow us through TweetChat.
We'd also love to feature your easy go to recipes on our #SundaySupper Pinterest board and share them with all of our followers, too.
Related Posts: