When I received media samples that included a trio of 2011 Castello di Amorosa Gewürztraminer, I was intrigued.  First, Gewürztraminer, it isn't a well-known, or for that matter appreciated grape varietal ( I enjoy it ).  I like what Karen MacNeil says about Gewürztraminer in the Wine Bible…
Like Lucille Ball or Goldie Hawn, Gewürztraminer is a little eccentric in a lovable way
I was also surprised that Castello di Amorosa, as what I consider to be a "destination winery" would produce a Gewürztraminer because it doesn't have that name recognition. In my experience, destination wineries tend to focus on wines that the average consumer knows a little something about – the Cabs, Chards, Merlots, and these days Moscatos of the world.
My wife and I last visited Castello di Amorosa last year. We took my brother-in-law and his wife, who were visiting us from British Columbia, there.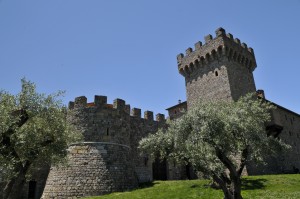 The castle is impressive.  It's an authentic European castle conceived by Dario Sattui of V. Sattui Winery (click here for history and details behind the construction of the castle) I definitely recommend taking tourists there to check it out.
The Wines
Gewürztraminer is a wine with a peculiar heritage.  Most believe it to be of German descent, but long before it found a home in Germany and Alsace, it was grown in the Trentino-Alto Adige region in northeast Italy where it known as "Traminer"  The prefix "gewürz", which mean "spicy" was added in Germany because the wine has spicy aromas.
The three wines I received were:
"Gewürztraminer" a dry wine
"Dolcino" an off-dry wine
"Late Harvest" is a dessert wine.
All are made from Anderson Valley fruit ( Alsatian varietals like this Gewürztraminer, Pinot Gris, and Riesling tend to do very well in Anderson Valley), and fermented in stainless steel.
I tasted the wines from the driest to the sweetest.  My tasting notes follow…
Pale yellow color with aromatic lychee, sweet grapefruit, and spice aromas. On the palate it's light-medium bodied, and dry with zippy acidity and lychee, ripe white peach and spice flavors. Medium finish. Stainless Steel fermented. 13.5% Alcohol; Residual sugar-3.9 g/L; 1,100 cases.  Very good value at SRP of $23! – 90pts
Next up was the "off-dry" "Dolcino"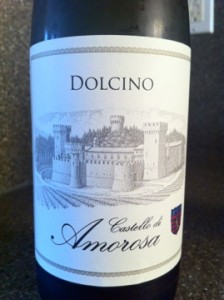 Medium straw yellow color with fruity lychee, pear, and honeyed clove aromas. On the palate it's medium-bodied, a tad sweeter than off-dry, with a wonderfully viscous mouthfeel and pear, white peach, honey, and spice flavors nicely balanced with very good acidity. Medium-long finish  12% alcohol; Residual sugar-36 g/L;  1,849 cases; SRP – $24 – 91pts
Lastly, I tried the Late-Harvest Gewürztraminer…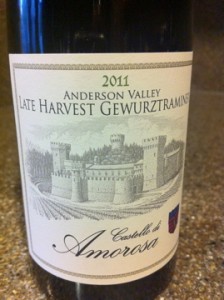 Pale golden-yellow color with honey, honeysuckle, and apricot aromas. On the palate it's full-bodied with honey, apricot, and vanilla flavors and good Medium-long finish. 11.2% alcohol; Residual sugar-173 g/L; 2, 964 cases. $36 SRP – 91pts
The late harvest wine is made from grapes infected by Boytrytis cinerea (a.k.a. "Noble Rot") which  give the wine honeyed aromas and flavors.   What made the 2011 a unique vintage was that Noble Rot is rarely takes place in vineyard.  And it's even less likely to affect the Gewürztraminer grape because of its thick skin.  According to Castello di Amorosa…"In an average year for late harvest wines we see 25-35% boytrytis infected bunches, but in 2011 it was 80% or higher".
All the wines were outstanding!  Highly recommended.
Pairing with food
Gewürztraminer can be a challenge to pair with food. Because of its low to moderate acidity, it's not as versatile a food pairing partner as other white wines such as Riesling, or Sauvignon Blanc for example.  But it compensates by pairing well with some unexpected, and challenging foods like eggs dishes such as frittata or quiche, strong cheese or sauerkraut. It's also a white wine that can stand up to smoked, grilled, or blackened foods.
I decided to pair the dry Gewürztraminer with fried catfish and shrimp.  It was a very good pairing, especially because the catfish and shrimp were a bit salty. The Gewürztraminer offset that saltiness and made the seafood taste better.
Then I paired the off-dry "Dolcino" Gewürztraminer with Spicy Jerk Salmon, Rice and Beans, and Fried Plantains.  That pairing was better than the first as the sweetness quelled the heat of the Jerk seasoning.  Gewürztraminer is also a good match for foods with aromatic spices like cumin, cinnamon of which there are plenty in Jerk seasonings.
For the Late Harvest dessert wine, I decided to try with a couple of different desserts. As I was considering which desserts to pair with the wine, I checked the Castello di Amorosa website and was surprised to see "Chocolate Torte" mentioned as potential pairing.  I must confess that chocolate isn't a top of mind choice for pairing with a botrytized Gewürztraminer ( Port or Banyuls comes to mind), but I was intrigued by the possibility.  I headed of to my favorite gelateria, and picked up two desserts…
The first dessert I paired with the wine was this Pistachio Rose Cheesecake…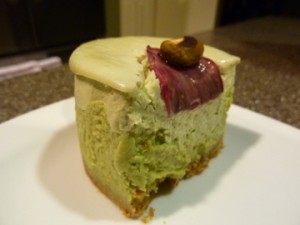 It was a very good pairing, the cheesecake wasn't super sweet and the pistachio and rose flavored melded effortlessly with the honeyed flavors of the wine.  The cheesecake even seemed to bring out a bit of hazelnut flavors in the wine, I hadn't noticed previously.
Then I paired it with this Crème Brulee Tart, which was covered with a mixed caramel and chocolate ganache…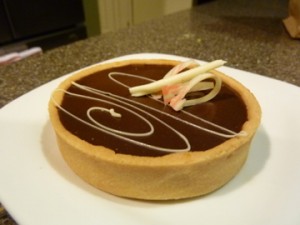 JACKPOT!!…I hit the wine and food pairing lottery!  The wine and the Crème Brulee Tart together was an otherworldly pairing as the individual flavors of the wine and the tart created a third entirely different and even better flavor.  I hereby change my mind about chocolate and Gewürztraminer together as potential pairing partners!  I'll be back for more of this insanely divine pairing!
Thanks to Castello di Amorosa for the samples!