The 2009 Lone Madrone Points West White is my Wine of the Week ("WoW") for August 26th-August 31st.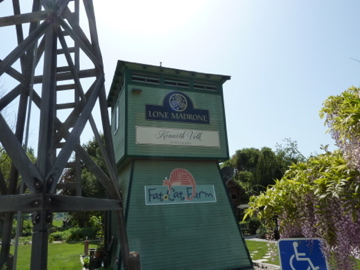 The Winery
Lone Madrone is located in Paso Robles.  It was founded in 1996. It co-located with Kenneth Volk Vineyards, and the oh so cool Fat Cat Farms where they been growing organic herbs for 20 years (they have over 30 kinds of basil).  All that goodness make for a great stop if you're in Paso, though Lone Madrone was the star of the show for me.
I discovered Lone Madrone earlier this year.  While at Tablas Creek, I asked for recommendations for other wineries in the area.  Our tasting room attendant recommended Lone Madrone, and told us it was owned by Neil Collins, the wine maker at Tablas Creek.  The way she put it is that Neil can make wines at Lone Madrone he can't make at Tablas Creek.  Since Tablas Creek is one of my favorite wineries I decided to stop by on the last day of our Central Coast wine tasting trip.  I was impressed by the winery and the wines (we purchased a half-case).  I highly recommend the winery…especially if Rhône blends are your thing!
Here's a bit Neil's of bio from the Lone Madrone website…
Neil has been working in the wine industry for 21 years, spending time at Wild Horse Winery and then Adelaida where he became winemaker alongside the notorious Mr. Munch. In 1997 he moved his family to the vineyards of Chateauneuf-du-pape in southern France where he spent a year learning the cellars and vineyards of the famed Chateau de Beaucastel, one of the oldest and most highly regarded estates in France. Neil returned to Paso Robles to take up the new role of winemaker and vineyard manager at Tablas Creek Vineyards, the California property of Château de Beaucastel. Since that time, great success has been achieved by Tablas Creek, success in which Neil's hand has been significant. Neil's experience in French winemaking complemented his earlier training as a French chef in hometown of Bristol, England.
Lone Madrone definitely does some interesting wines.  For example, they produce a Grenache Blanc/Albariño blend called "La Mezcla", a stainless-fermented Zinfandel built to be served chilled, a Tannat, a couple of Italian varietals – Nebbiolo, and Barbera, and wine that needs a better name, "Barfandel" – a blend of Petite Sirah, Zinfandel and Barbera. They make cider too!
The Wine
The 2009 Lone Madrone Points West White is a blend of the four of the five white Rhône varietals Roussanne, Viognier, Marsanne, and Picpoul Blanc (For a great description of the principal white Rhone varietals by clicking here).  The combination of Roussanne, Viognier, and Marsanne isn't that unusual for a white Rhone blend, but in my experience, adding Picpoul Blanc to the blend is.  And it added a bracing acidity to this wine that makes balances out the fruit, and makes this a very food friendly wine.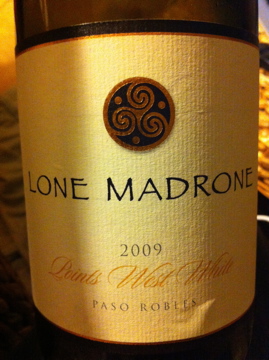 My tasting note follows:
Golden yellow color with aromatic stone-fruit, honey, floral and mineral aromas. On the palate its rich, full-bodied fairly viscous with ripe white peach, honey, melon and slight mineral flavors that are underscored by nervy acidity. Medium+ finish.  
Recommendation: This was a very good wine.  It would be a great match with spicy Indo-Paki, or Asian Cuisine, or seafood.  I enjoyed with steamed Mussels and a Spinach Salad.
Details: 
Alcohol: 15.4%
Closure: Cork
AVA:  > California> Central Coast> Paso Robles
Varietal(s): 42% Roussanne, 27% Viognier, 22% Picpoul Blanc, 9% Marsanne
Production: Unknown
Suggested Retail: $30 USD